ON any normal winter day the fields and woodland atop the Hotondberg, in Belgium, are deserted. Not much passing trade stops at the inn which butts up against the redundant stump of the whitewashed windmill on the edge of the ridge. This is the highest point in east Flanders, standing above Ronse, at the southernmost edge of a rolling area of wood and farmland known as the Flemish Ardennes.
We left London at 4am to spend the bulk of our Sunday stood on this exposed hilltop. The sun failed to make an appearance and the sky remained a complete blanket of grey. After such balmy weather in northern Europe, it was as though autumn had been completely bypassed and at this slight altitude, it felt like we had been plunged directly into winter.
We were not alone... disembarking from shuttle buses, marched thousands of cycling fans
We were not alone. Up from the village to the north, disembarking from shuttle buses, marched thousands of cycling fans. Passing the riders' village, a temporary community of multi-coloured mobile homes in a field by the road, some stopped to see their favourite riders warming up, whilst others continued up to the course to watch the early races.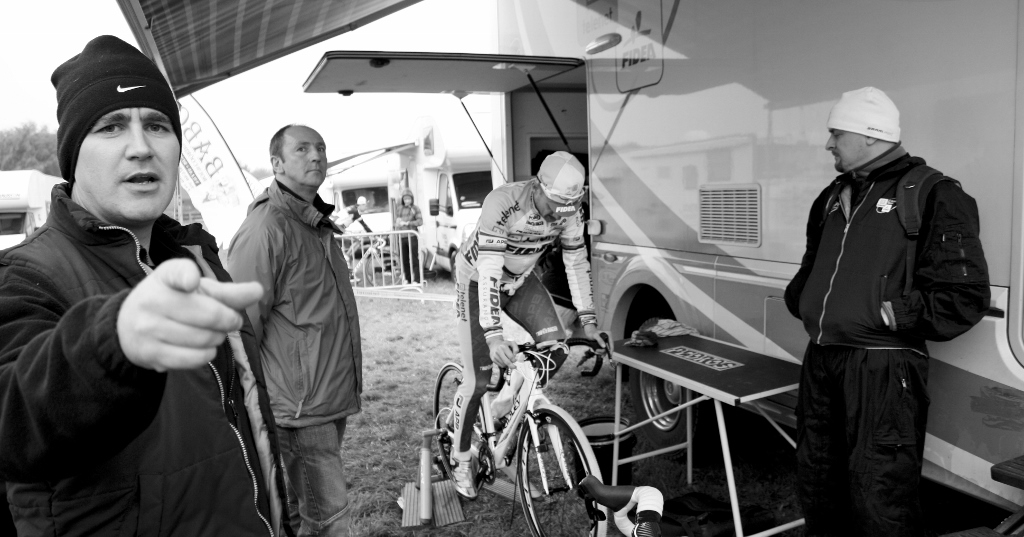 By three o'clock in the afternoon the sideshows and beer tents had emptied and everyone was clamouring around the barriers, even on the most vertiginous slopes, for a view of the main event, round two of the season-long Trofee series, featuring the cyclocross glitterati: superstar Sven Nys versus Belgian Champion Niels Albert versus World Champion Zdenek Stybar.
After an hour of action on a brutal course it was the quietly-spoken Kevin Pauwels who held off Stybar for the win. The jubilant Pauwels fans were in fine, raucous voice as we moved to the 'back of a truck' podium positioned opposite the inn.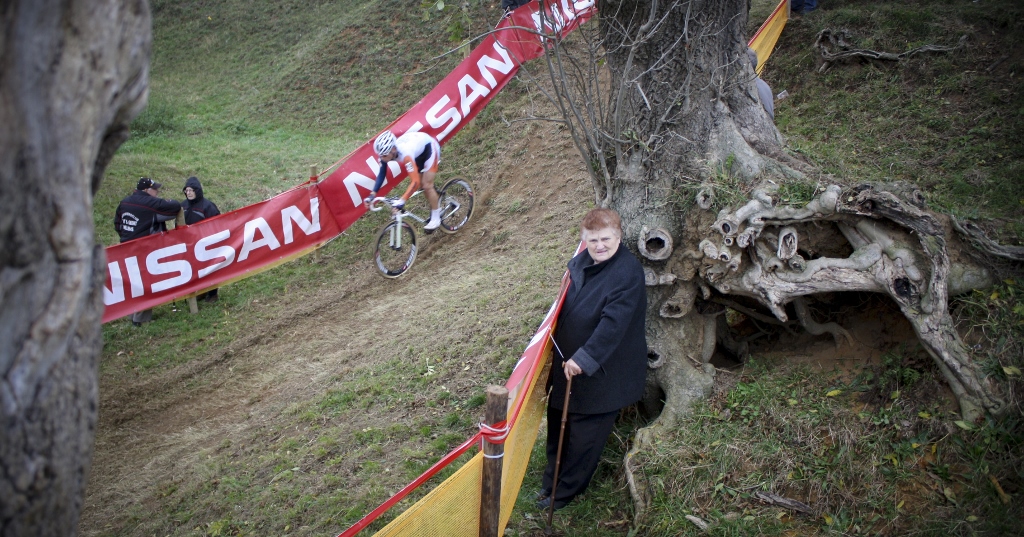 The Hotond's ancient windmill has witnessed its fair share of two-wheeled drama standing sentinel over World Championship road races (twice hosted by Ronse). The climbs of the Hotondberg and neighbouring Kruisberg are also regularly included in the parcours of both the Tour of Flanders and Omloop Het Nieuwsblad (the Koppenberg lies six kilometres to the north).
There are numerous races in Flanders and northern France, besides the popular Koksijde, that are within a striking distance from southern England (or further afield) and if you are so minded some can be taken in on long day trips like ours.
Have a look at the UCI 'cross calendar and take your pick.
The 2015 bpost bank Trofee race at Ronse will be held on Sunday October 11th. Our 2014 preview is here.
This is adapted from an original article published on www.rapha.cc in 2011.