Alex talks to BTB TV after Ellison Park in the US.
Your American racing adventure, how and why did it come about?
Coming to America to race is something I've wanted to do for some time since well before the Worlds in Louisville in 2013. Because of the easier travel around Belgium I ended up racing there first. I always knew the racing would be good, and the level more appropriate for me in America, but circumstances have just made it not work out until now.
So, did you decide on America instead of Belgium this season?
It became my decision to pursue an opportunity to race in America after negotiations broke down with sponsors in Belgium for this season back in August. I'd been preparing for racing internationally at some point, somewhere, and despite it being a very turbulent period of my life emotionally and mentally, and thus also physically, I was determined to try to work out a way to do it.
Did you also want to try something new - a new place, new people, different weather?
Of course, visiting new places, meeting people and racing somewhere new is hugely appealing to me - ideally America would have been one stage of a bigger season-long campaign, but that quickly became incompatible with the people I was negotiating with.
Having the opportunity to race in unfamiliar conditions, on courses that aren't to my strengths, is something that I am going to make the most of and learn
What do you expect to learn or gain from racing in America?
I didn't have any expectations of myself here in the US, other than giving my best performance and making the most of this great opportunity to participate in high quality racing at a level that should be slightly more within my grasp than has been the case in Belgium. Saying that, there are challenges that I am trying to be philosophical about appreciating - such as the layout of the courses, the speed and heat that I am experiencing - all things that are quite new to me, as I have generally only raced in cold temperatures and damp conditions. Whether I am naturally more inclined to go better in those races, or if it just comes down to my experience racing more often in worse weather or more challenging terrain, I don't know - but having the opportunity to race in unfamiliar conditions on courses that aren't to my strengths is something that I am going to make the most of and learn (ie. suffer) to make this trip as worthwhile as possible.
Do you think that this new experience could be easier for you and therefore more enjoyable because there is no language barrier?
For me the aspects that are different between being in America versus Belgium for racing aren't especially language oriented. I speak French and have picked up a fair amount of Dutch/Flemish, and funnily enough the battle is getting people to hold off on talking to me in English so that I can practice and improve in their language. The main difference I've noticed is in the general attitude of the riders and team staff, mechanics and fans. While it's all professional in the upper ranks in the US, just like everywhere, people's nature is different here - everyone is, generally speaking, more open and curious about things that are happening aside from just pure competition, somewhat more collegial (comradely - Ed), which is definitely in contrast to the scene in Belgium. Saying that, my experience in Belgium has been totally unique, and I have been able to enjoy the passion and support of the Belgian fans that is generally only on offer to the absolute best - Niels Albert, Sven Nys and the like.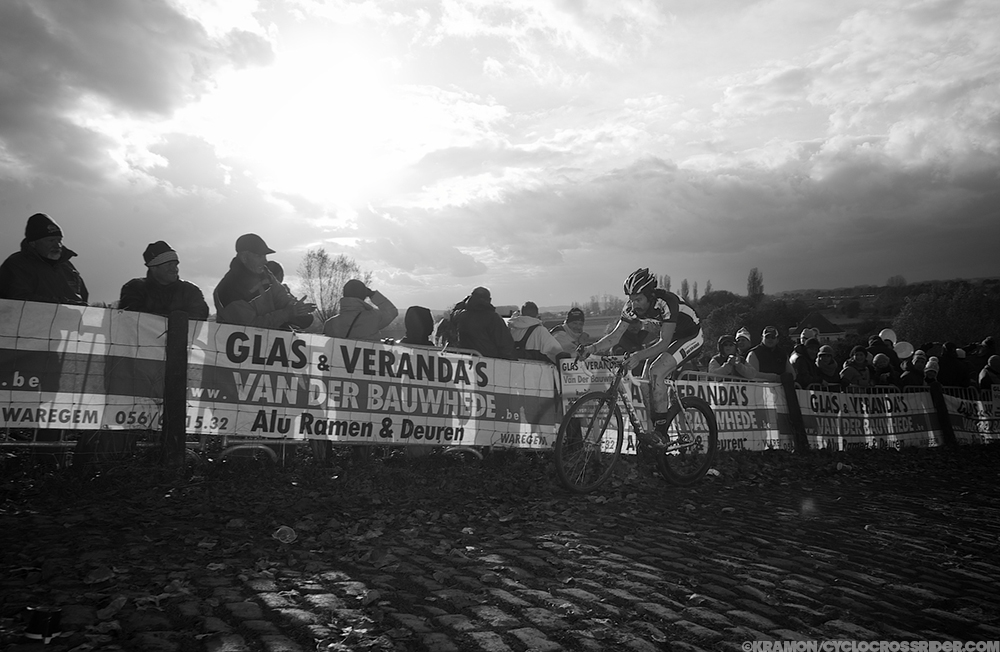 Alex racing in the Koppenbergcross in 2012. Coincidentally Alex's US sponsor Kris Auer is the man behind the elite women being awarded equal prize money in next month's Koppenbergcross.
You've been based in Baltimore. Why and who supported you there at the races?
I've been in Baltimore because of Kristopher Auer, who runs the C3-Twenty20 Cycling Co. team and the Charm City CX weekend in Baltimore. I'd been in touch with him on the recommendation of a friend, and while we didn't manage to work it out last year, we were both keen to make something happen at some point. After my Belgian plans fell through Kris was positive about working together for a bunch of races in the Mid-Atlantic/North East. The races in Baltimore were super hot, dusty and fast! I really struggled with the combination of the heat, speed and relentlessness of the courses on top of my jetlag from arriving a few days before from New Zealand, but it was a great event and definitely helped get my body going again in preparation for the coming month of races. Gloucester, Night Weasels Cometh, Providence, Rochester and HPCX were the other races and most of them were double day weekends, so I squeezed plenty into my schedule. Kris and the team were at most of the races to support me, along with the generosity of strangers who are also hosting and transporting me - another thing that is great about the 'cross community in America.
Last season you raced for Nichelson Bicycles. Lately we have seen you riding a Niner equipped with disc brakes, what do you think about discs versus rim brakes?
In Belgium I had Nichelson as a sponsor and in New Zealand Niner have been generous – or taken pity on me - but I have enjoyed riding both. Disks are probably more fun, definitely more satisfying, and when conditions are at their worst they are more functional. But they can be slightly more fiddly to get multiple wheel sets synchronised, and (at this stage) don't transfer to many road bikes like a rim-braked wheel does. So for the self-funded amongst us it's a consideration. But as was the case with mountain bikes over a decade ago, the technology is so much more sophisticated and who would elect to use a rim brake offroad now? Whether by push or by pull, the industry is clearly heading towards a disk-based preference.
What other sponsors are you getting help from this season?
In New Zealand I have had sponsorship from Ricoh, who covered my airfares to Belgium last year and a race in Australia this year. They're now covering my coaching with Mark Legg (Katie Compton's husband - Ed). I've had a few other people and brands helping me out in New Zealand - Mavic, FMB, Roadworks and Revolution Bicycles - but while I'm in the US I'm on Kris's Twenty20 programme and all of its own sponsors. This is great as it's all really good stuff too!
What bike have you raced in America?
I've been riding a couple of very juicy orange Specialized Crux 'cross bikes. Kris at Twenty20 got them in especially, and I've been loving them.
Editor's note: Bravo to Kris Auer at Twenty20 Cycling as he is also the sponsor responsible for the elite women receiving equal prize money in the Koppenbergcross on November 1st.
If an opportunity came up to race in say, Spain or Switzerland, then that would be of interest to me
Do you have plans for any races in Europe this season?
At this stage I have no plans to race in Belgium or Europe - I am very fortunate just to be here in America, thanks to a whole lot of cool people who are supporting me via a crowd-funding project I set up before I left to come here. I've been contacted by potential sponsors in Belgium, but I invariably never hear back from them. More strangely I sometimes hear from other people that the person who contacted me is preparing to offer me something, but meanwhile they haven't even replied to me or indicated in any way that they are acting on what I've discussed. It's the strangest world, and pretty much the biggest waste of time that I can conceive of a person undertaking. It's not all about Belgium though, so if an opportunity came up to race in say, Spain or Switzerland, then that would be of interest to me.
Does it depend on any money you can attract from sponsors whether you will race in Europe?
A fairly significant part of it does - obviously the travel itself is very expensive to get to Europe from New Zealand, and if I have to quit my job in order to have the time to commit to it (if I've even been able to find employment in the interim) then there are essential costs that I have to be able to cover both while I'm there racing and back at home. I love the sport, and I'm dedicating myself to it as best I can, but the reality of my situation, being poised between New Zealand's isolation and the lures of Belgian grandeur, ends up not being especially glamorous.
We know about your self-funding campaign "Help Alex and the moustache make it to the USA" via 'Pledge Me'. Can you tell us more and was it crucial to your racing in America?
Yes it has most definitely been crucial! Short of taking out a loan, and with no definite employment to go back to for paying it off, I wouldn't have been able to afford to come to the States. I was just about to throw in the towel, as I couldn't find a way to make it possible financially. Then the New Zealand Embassy in Belgium were able to send small amounts of some merchandise - that was made for me by a team I was riding with two seasons ago - for me to then send out to people who pledge contributions towards my trip. I've had a fantastic and overwhelming response, and it's made all this possible.
There is still the opportunity, if you are quick, to support Alex via his 'Pledge Me' site here.
"And that's a wrap! Almost," says Alex on his Facebook page. "My final race weekend in New Jersey at HPCX was a leafy extravaganza, unfortunately due to some minor hitches I wasn't quite able to race as well as I hoped, making 24th on day one and 15th on day two. But it was fast and windy and fun - thanks again to Kristopher Auer, the Twenty20 Cycling Co. and C3-Twenty20 Cycling Co. Team for the support and good times!"
"On the crowdfunding merchandise front, I'd like to thank Derek Cheng, Ben Knight (again) and Steve Day for their last minute additions! Only a day or so left to go, depending on your continent, for merchandisation to occur. It won't be long after it closes on Friday until I am sending it all out, so stay tuned!"
Read about Alex's racing in Australia and New Zealand in the second part of our Big Interview here.

photos: ©kramon/cyclocrossrider.com