"And your NEW world champion… Marianne Vos!" boomed the race announcer. True, the Dutch "Greatest of all-time" had just deposed defending champion Lucinda Brand in a thrilling last lap duel but there was nothing new about Vos being on the top step of the podium. The Dutchwoman pulled on her eighth cyclocross rainbow jersey and in doing so beat the late Erik De Vlaeminck's record of seven victories. Incredibly it is 16 years since her first title and eight years since her previous one.

"It is incredible, but you don't look back at much, you just focus on the race ahead," Vos declared post race. "It was such a difficult race and Lucinda is so hard to beat that I knew I had to stay calm. I have had great support from my family and team and I'm very grateful to be here," she added, perhaps in reference to two of her compatriots - Denise Betsema and Annemarie Worst - who did not make the trip in these times of Covid.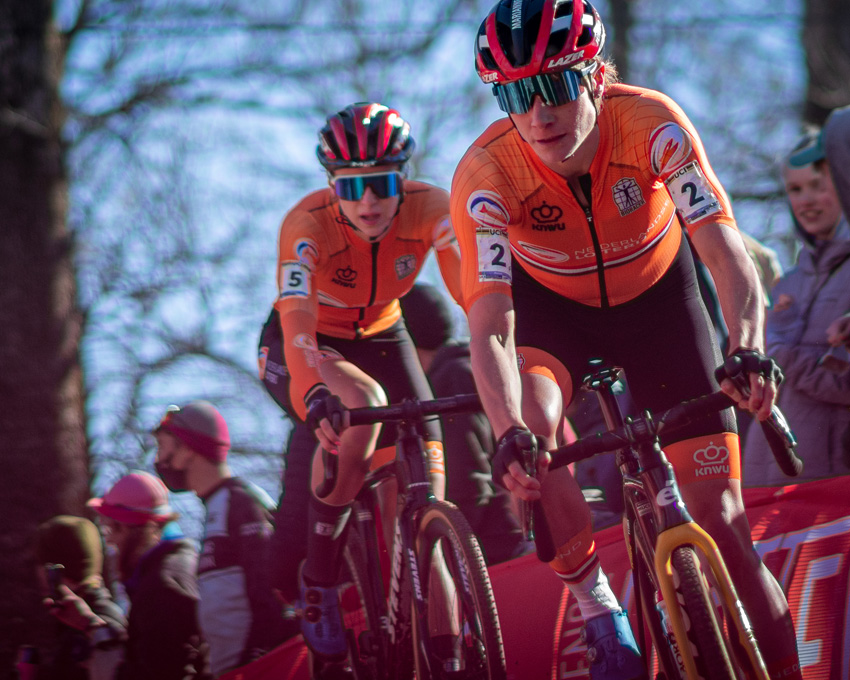 There was an early scare on the second corner for Vos as she lost control and her foot came out of the pedal, but pretty soon after that she looked to have the race very much in control as she kept Brand on the front for the entire first half of the seven lap race. Neither rider had the strength to crack the other over the hard and fast course and so it came down to a sprint.
"It was hard and it was difficult," said silver medalist Brand, "Being in second position was always going to be better for the sprint especially as Marianne is so fast but I could not get that so I went into the sprint as fast as I could."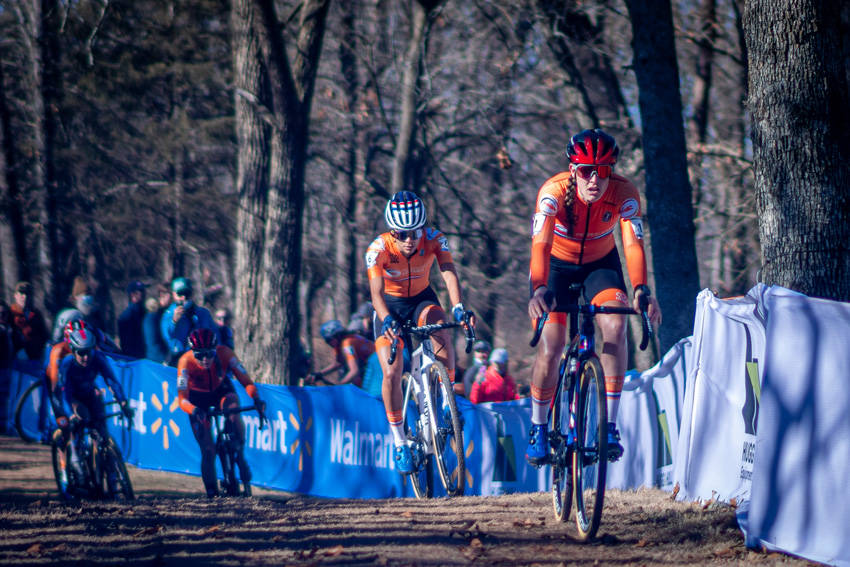 .....

Our Partners with CX bikes in stock
Browse Cube and Vitus CX Bikes HERE
.....
After only four minutes of racing Brand, Ceylin Alvarado and Vos were already moving clear of the rest with only Silvia Persico of Italy getting in among the Dutch armada in fifth place. As Persico almost made contact with the leading trio, Brand applied real pressure and decisively moved clear with Vos.
At half distance Brand eventually swung wide which forced Vos onto the front for the first time and Persico caught Alvarado to set up the battle for bronze now some 28 seconds behind the leaders.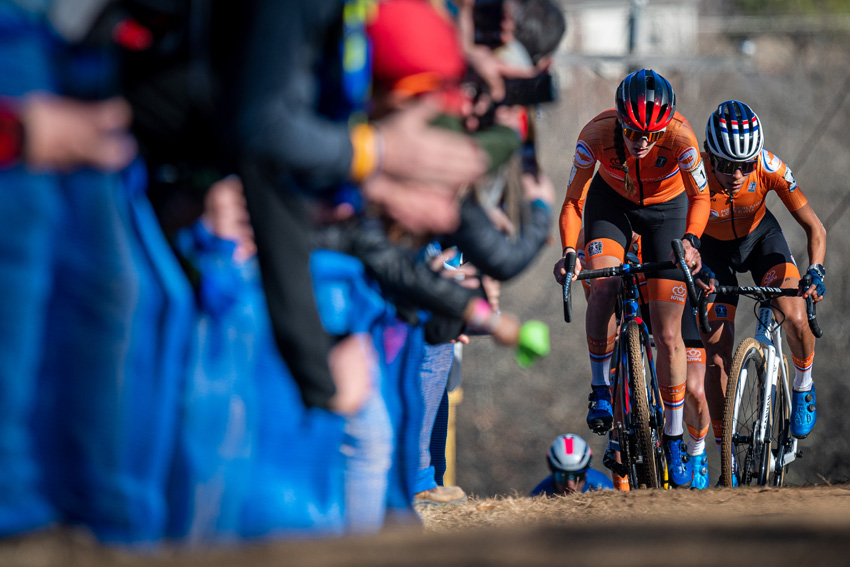 The big attacks between the leading pair began on the penultimate lap with Vos accelerating and slowing but each time Brand was able to respond. The pair traded more attacks around the last lap before almost coming to a track stand-style halt soon after the steps. Cannily Vos kept Brand on the front though and was clearly now waiting for the sprint in which she came from behind and won.
Meanwhile Alvarado crashed which allowed Persico to run away and take the bronze medal.
"My front wheel was slipping on the last soft descent and I crashed," Alvarado said afterwards, "There are some sections that are still wet."
Italian Persico was the revelation of the race - ranked 17th in the world - her fast leg in the mixed relay on Friday night was a foreshadowing of things to come today.
Results
1. Marianne Vos

55:00
2. Lucinda Brand

55:01
3. Silvia Persico

55:51
4. Ceylin Alvarado

56:04
5. Yara Kastelijn

56:05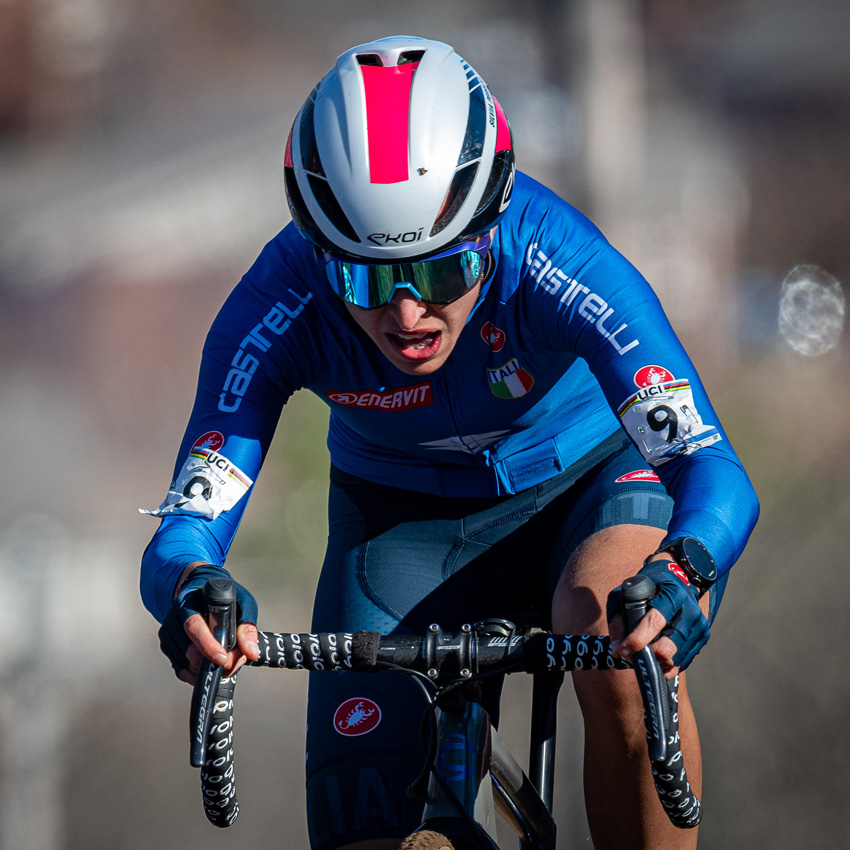 Photos: @dpmbrock