CHANGE is in the air in British women's cyclocross. This season has seen Nikki Brammeier and Helen Wyman, who have jointly dominated the British National Championship for over a decade, hanging up their tubs for good. Which leaves a giant vacuum of power at the top of UK women's 'cross.
The question of who is best placed to fill that void is one of the more intriguing sub-plots to the concluding weeks of the season. The favourites include riders we've featured on these pages before: Anna Kay (Experza Pro CX) - who we profiled here - is currently having a break-through season at the top of the sport in Europe, leading the Under-23 World Cup standings. Anna's former Storey racing team-mate Beth Crumpton (Tartelleto-Isorex) is also building important experience in Europe, with her lightening starts frightening the best. Plus, let's not forget Evie Richards (Trek Factory Racing) - read our 2017 interview with Evie here - who has won Under-23 World title twice plus the Namur World Cup race a couple of years ago.
However, back in the UK, there is one rider who is probably not on everyone's radar, but maybe she should be: Ffion James (Hope Factory Racing) is another former Storey Racing rider who might just have something to say when the British National Championship is settled in Shrewsbury on January 12th.
We caught up with GB international Ffion after her series win in British Cycling's National Trophy where she overhauled the ever-improving Sophie Thackray (SCOTT Racing) in the final round. As many readers will know, Ffion and her siblings are no strangers to cycling success, in particular her elder sister Becky, a World Champion and Olympic silver medal-winning Track sprinter.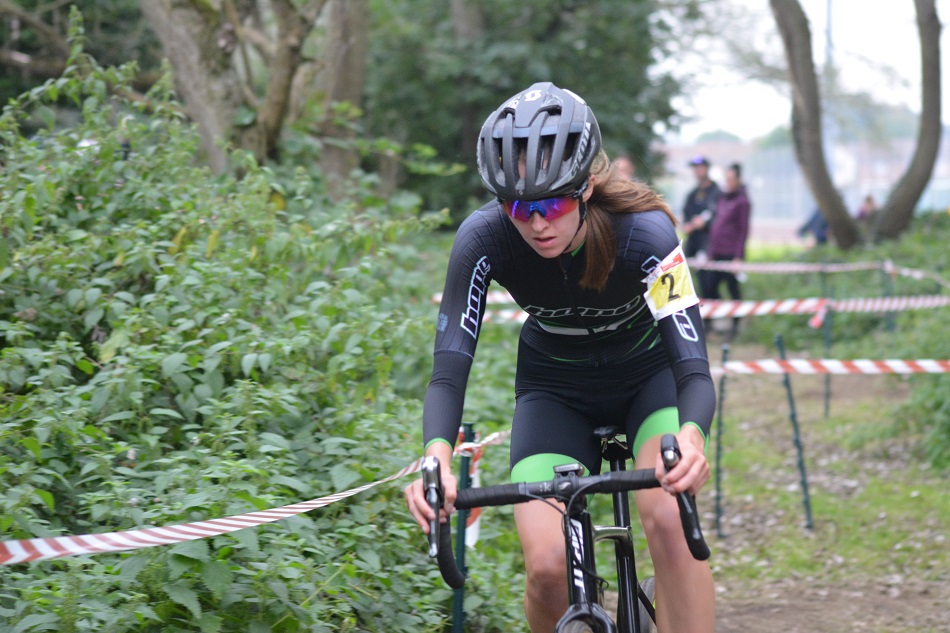 And, while Ffion prefers the challenges of off-road racing, she admits the source of her family's cycling talent remains a mystery: "I'm not really sure where it came from, as neither of my parents cycled when they were younger. At least one of them must be passing on some good genes though, but I won't make a guess as to which parent they came from!" Having raced alongside Ffion's mum in a Welsh regional event a couple of years ago, your humble scribe thinks he knows the answer! No offence dad!
Much of the family's cycling success can actually be traced to their deep involvement in the club scene: "I've ridden for my local club, Abergavenny RC, for most of my cycling career, which I think has played the most important part in my development. The club has a really great set up for the development of young riders, with sessions every week at Abergavenny Leisure Centre with the main focus being on skills."
Ffion is referring to a venue where UK National series and National Championship races have been held, organised by Ffion's dad Dai (David). This season David decided not to promote any races and instead focus on adding to the intergalactic mileage of the family Land Cruiser, supporting Ffion's travel up and down the country in the National Series and over the channel into Belgium. Given he has a full-time job and helps run the small family farm as well, this is exceptional dedication as Ffion attests: "I would never be able to do what I do without the support of my Dad, which I'm sure is the case for my older brothers and sister too. Cyclocross is a sport which you just can't do by yourself, and so my Dad is my taxi driver, pit crew and mechanic all in one! There's obviously lots of other people who help me in different ways, including friends I train with and who give me lifts to races, and other friends and family who are supportive of what I do."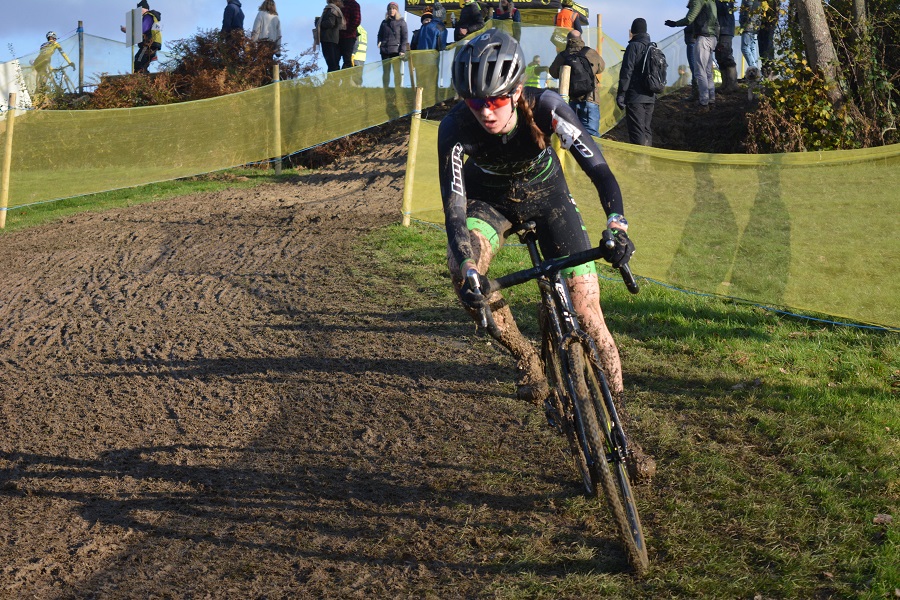 .....

Support our Partners
Browse Specialized CX Bikes HERE
Browse other CX Bikes HERE
Browse CX Bikes from £849 HERE
Browse Kinesis CX framesets HERE
.....
Ffion recalls her first cyclocross race was when she was about six-years-old. "I think I got dragged along to the race with my older brother and sisters, and I remember crying on the start line! I must have enjoyed it though because I've raced every season since, but only in the last few years have I started to focus on cyclocross as my main discipline, instead of MTB or road." Ffion turned 22 this December, which means she's been 21 for the majority of the season but ineligible for the Under-23s, putting her firmly in the elite category.
After that early debut, she continued to race as a Youth and Junior and was picked up on the British Cycling radar, joining the GB MTB talent academy: "those few years with GB gave me so much valuable experience, travelling all around the country and Europe on training camps and racing World Cups and World Championships." The years of racing MTB XC also give her a tell-tale riding style. No course is too technical, no conditions too tricky for her to both relish them and achieve success. This was evident at the 2017 Under-23 World Championship in Luxembourg: the course at Bieles was both frozen and highly 'technical' however Ffion says she enjoyed it and was in the race, only for a couple of dropped chains to slow her and limit her to an 11th place, behind the new generation of riders who are currently taking the sport by storm, including Worst, Verdonschot, Alvarado and Van der Heijden.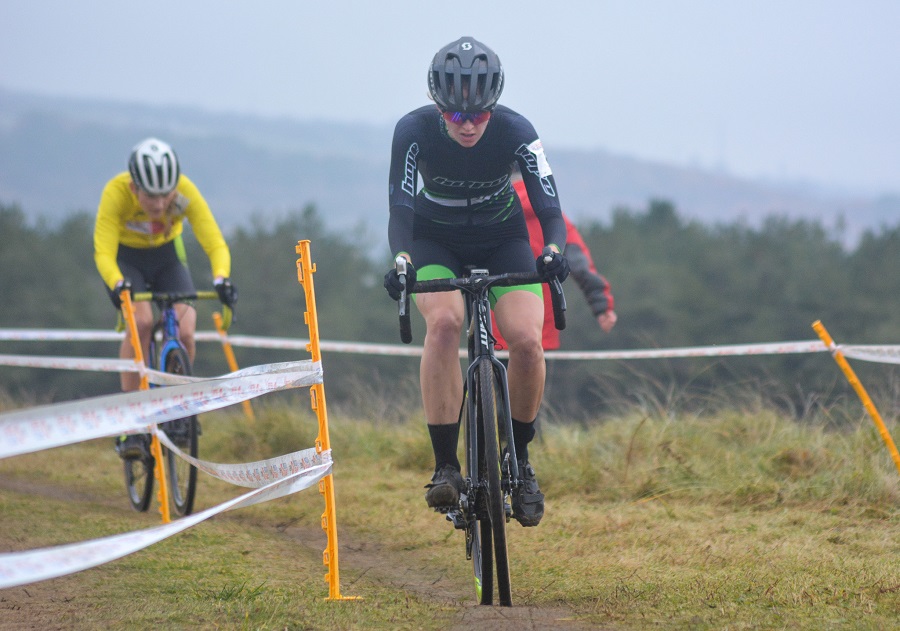 However last year Ffion joined Storey Racing for a full season on the road. Ffion admits it was "a completely new experience for me, but a year I really enjoyed. Being part of a team and getting to know all of the other girls who all come from completely different cycling backgrounds was actually really inspirational. Barney and Sarah Storey were obviously also great people to learn from, and were extremely knowledgeable about the sport and keen to help with my development."
Ffion raced a full national road calendar that year and competed in two races abroad which she feels set her up well for a strong 'cross season. After that very successful year with Storey Racing she took the decision to focus solely on cyclocross, signing for Hope Factory Racing, a team well known for 'cross but who also have a strong focus on the MTB scene.
The Three Peaks
Of course, Hope riders have also traditionally dominated the men's category in one particular race - the Three Peaks Cyclocross in Yorkshire - a brutal mix of fell running and gnarly downhill. However, in the women's Under-23 category the race had, recently, been dominated by one particular team: our own riders here at Cyclocrossrider.com. Naturally, we were keen to find out why she decided to have a crack at this year's event: "I've been thinking of trying out the Three Peaks for the last few years now, but it didn't always fit in with my plans and I was a bit worried I'd either focus my training too much on it or not enough, either being detrimental to my cross season or to the Three Peaks itself. Everyone speaks very highly of it, and I feel like it's a race that you have to do at least once in your cycling career, and there was no reason why this year wasn't a better year than any other to give it a go."
It turned out to be a good decision for both Ffion and Hope Factory Racing. She beat our four-time Under-23 champion Hannah Saville (Cyclocrossrider.com Race Team), and took second overall only a minute or so away from winner Kerry MacPhee (BikeLove-Genesis). "I absolutely loved the race! It was unique in so many different ways, and obviously very different to normal CX racing, but a lot of fun. It was also absolutely brutal - one of the hardest races I've done! I'd definitely love to give it another go, as I'm pretty sure I could go faster now I know what to expect, and I'd love to improve on both my time and result. I also loved the sense of community and atmosphere at the event, so I will definitely be back, hopefully in the very near future."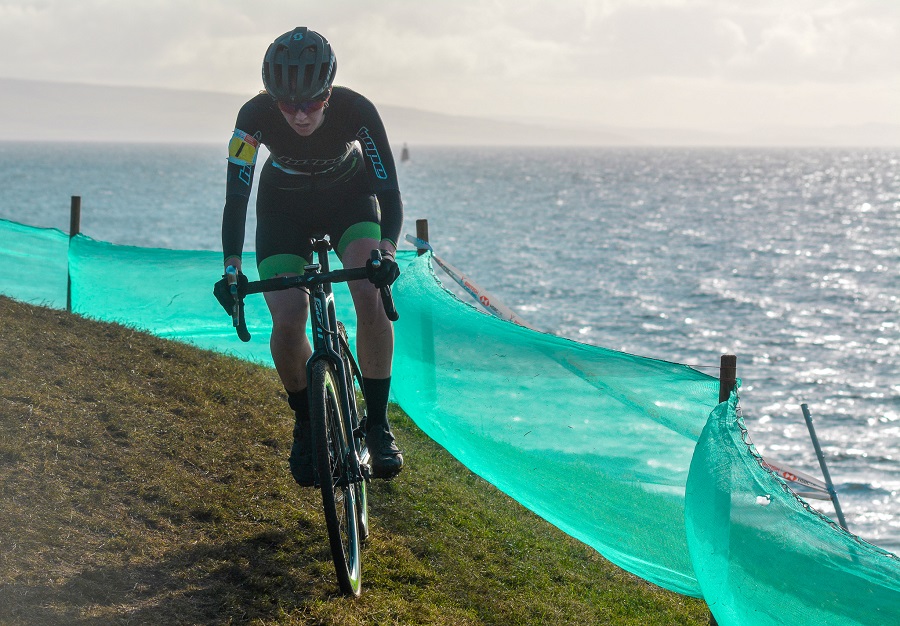 Other benefits to joining Hope include access to their range of cycling products, and Ffion's Giant 'cross bikes this year have been tricked out with Hope wheels and disc brakes, which she seems to like: "I'm not just saying this but they are the best brakes going. And the purple calipers look so bling on my all-black bikes! I will also be using Hope cranks and chain rings very soon – they're in the process of being made for me with 172.5mm cranks. I'm looking forward to seeing what they're like, and most importantly what colour they are!"
The Hope connection came about in a fairly random way, though Ffion's University cycling club: "a friend from university has a very close connection with Hope, and so from there I got chatting to Rachael Walker who manages the team, and she offered me a ride. It sounded like an ideal situation for someone who wants to get the best results possible but who can't commit fully and doesn't want any pressure. Hope have been incredibly helpful and never seem to be able to do enough for me! I love riding for them and feel proud to represent such a high-quality, UK-based brand."
Balancing studies and sport
Ffion's decision to go to University and combine this with top level racing must have been difficult. She's now in her third year studying Chemistry at Cambridge University: "I won't lie, it's not been an easy few years! But I seem to enjoy a bit of a challenge. It just involves very good time management and a bit of clever thinking to make the most of the long holidays you get as a student! The cyclocross season fits my academic year pretty well – I have all summer to get the miles and hard yards in, then the start of the academic year is when all of the races are, and most of my training is short and sharp then anyway."
Part of that time management decision making has been around coaching and Ffion recognises that over the years she's had great help from coaches, sports doctors, physios, nutritionists and other riders. But she's also taken some of the responsibility for her progress on her own shoulders: "I've also coached myself at different points, including now. I'm definitely getting better at it, but I've still got a lot to learn. If I want to get the best race results I possibly can, I find having a coach the most beneficial, as long as it's someone I'm very comfortable with and am not scared to question and have discussions about training with. This year I've decided to go back to coaching myself just because it's my last year at uni' and I find having a coach who sets me training an added stress to an already stressful enough lifestyle!"
This season Ffion has committed to the British National Trophy series where "participation and standards have risen massively since I started racing elite women's races about five years ago. I raced a Central League earlier this season and there must have been about ten rows of women lined up behind me, which was just amazing to see. There are also so many promising young riders appearing every year, and I'm often the oldest rider in the top five at a National Trophy at only 21! The number of riders also making the step up to race in Belgium has risen, which probably comes from seeing other British riders such as Anna Kay perform so well at that level."
Speaking of the cyclocross motherland, we wondered what it's like racing with the big names of 'cross and appearing live on national TV? "Racing in Belgium is so much fun! The atmosphere is amazing, the courses really tough and technical, and the fields obviously world class. Lining up with the best riders in the world is always a great feeling, and when you actually end up racing with some of them it's a bit surreal. There aren't many other sports where pretty much any rider can compete against the best riders in the world if they want to."
Ffion's willingness to race in Belgium gave her a best ever result and plenty of TV time at the C1 in Overjise, Belgium last season. Despite the memory of slo-mo replays of a couple of spectacular crashes that day, it turns out also be her favourite race to date: "I've raced Overjise for the last few years, but sadly won't this year. The course suits me so well – hilly and technical, and that's where I had my best Belgian cross result, placing 6th last year. I spent most of the race battling with riders such as Eva Lechner, Alice Arzuffi and Loes Sels. That race gave me some confidence and made me realise that I am good enough to be not just racing but competing at that level."
This year, where possible, Ffion has kept tabs on her former Storey Racing team mates racing over in Belgium: "last year was a lot of fun battling with Beth and Anna every race. We came to know each other's riding styles very well, and even though we are super competitive when racing each other, we are good friends off the bike and I have so much respect for both of them. Anna is a super punchy rider, and being very small, she seems to be able to squeeze through gaps and flick around corners incredibly quickly. Beth on the other hand is a really strong rider, with a lot of experience behind her and so knows how to win a race. She also gets off to a flying start!"
So, what does Ffion consider to be her own strengths? "I'd definitely consider my strengths to be on technical features of the course, but I've also got a surprisingly good sprint on me if I ever need to use it!" The was evident during the Scottish round of the National Series where Ffion dropped to fourth at one stage but pushed hard for the last 20 minutes "the hardest ever" she said after the race and outsprinted Anna Flynn to take second behind a very rapid Katie Scott.
What's next?
We finished by asking Ffion what's next? It's clearly decision time once more: "I was really hoping that I could win the national series overall for the first time this year, after coming pretty close for the last two years. I wanted to finish the series on a high [she did - Ed]. I'm heading out to Belgium before Christmas for the Namur World Cup, and then back out around the New Year for a few races that I've been wanting to do for ages. Then after that it's all in for the [National] Champs in Shrewsbury."
UPDATE FROM BELGIUM - Ffion was pretty disappointed finishing 25th in the Waaslandcross on December 21st and finished 45th at Namur the following day where she was the fifth Briton behind Evie Richards, Harriet Harnden, Anna Kay and Josie Nelson. She will be happy that her results are going in the right direction though after finishing 23rd in the Diegem Superprestige on December 29th and 15th at Bredene on December 30th (behind Brits Kay, Richards and Crumpton).
"With regards to the next few years, that's a bit harder to say as I'm quite unsure what's going to happen over the next year or so. I would really like to make a step up from where I've been for the last few years, but I know that will take an increase in commitment from me. Seeing Anna make such a massive step up this year is so inspiring and gives me and I'm sure other British riders the belief that they can do it too. Racing a full season in Belgium and getting some international results is something I'd really like to do, and I do believe I have the ability to do it. Hopefully within the next few years it's something I'll be able to do."
"Cycling or studying has been the question on my mind for so long now, and when I finished my A-levels it seemed to be the time that I had to make that decision. But I didn't see why I couldn't do both, and that is what I've done! Cycling and University gave me two very different experiences in life, but I'm very happy and feel lucky that I got to experience both of them. Now I'm coming to the end of my undergraduate degree, I feel like I'm asking the question to myself again – cycling or studying! Maybe it's time that I give cycling a proper go…"
Words: Ted Sarmiento & Phil Ingham.
Photos: Sue Thackray.