Harriers versus Cyclists in Walsall, England in 1925 (silent - won by cyclist)
AS FAR as we are aware the 'Harriers (or runners) versus cyclists' race is a peculiarly English event pitching cyclocross racers against cross-country or fell runners over the same course.
On Saturday November 15th the annual 'Harriers versus Cyclists' race will take place for the Fishermans Cup in the Pennine hills near Bingley in west Yorkshire.
The race was first held as long ago as 1927 and is organised by the well-known Bingley Harriers running club with the trophy awarded to either 'the runners' or 'the cyclists'. The course is naturally designed to give each discipline a roughly even chance with steep climbs or soft ground where the cyclist will have to carry, but also fast sections where they will have an advantage. The route climbs steadily to the top of Hope Hill, rocky at the top, and is six miles (10km) in length.
Bingley Harriers are one of the oldest English running clubs - founded in 1893. Mick Watson, who wrote the club's history, says "The race ran for a few years from 1927, but then disappeared for decades. I rediscovered it whilst researching the club's centenary and decided to revive the race in 1988."
Cyclocrossrider editor Konrad Manning, a former cross country runner and fell racer before switching to race cyclocross, explains the traditional team concept used, "In running it used to be referred to as a 'mob match' between usually two 'teams' - sometimes more - and all one team or club's positions were added up and compared with the other - so absolutely everyone's finishing position mattered."
"In Bingley, it's the first ten from each discipline that count, so it's how the first ten cyclist's positions compare with the first ten runner's positions. Lowest score wins of course," explains Manning.
In England there has long been a connection between the running and cycling fraternities
In England there has long been a connection between the running and cycling fraternities and it's not uncommon for people who've raced in one sport to transfer to the other or do a mix of both.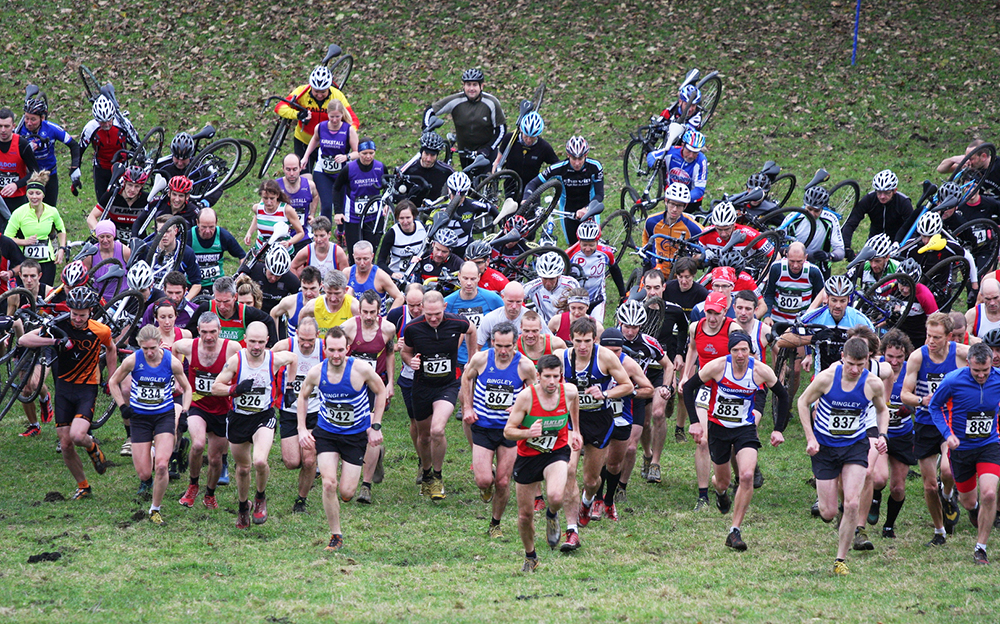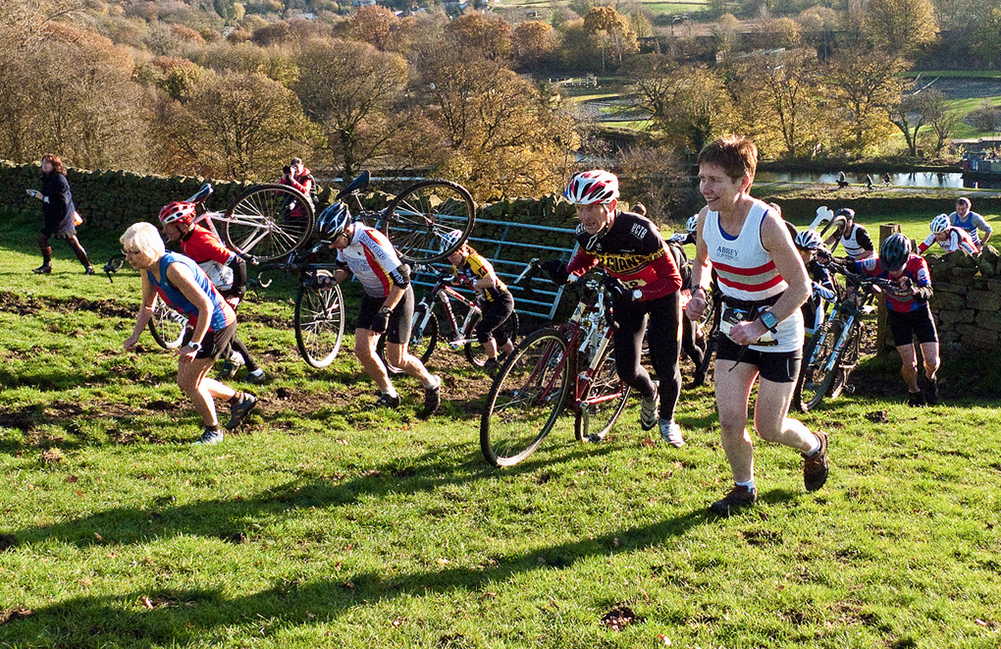 Rob Jebb, eleven-time winner of the famous Three Peaks Cyclocross Race, is the man best known for successfully combining both sports. Jebb is both a fell running and cyclocross international who has won this race at least three times and competes for the organising club, Bingley.
Jebb versus Brownlee
In 2008, Rob Jebb won the race on a bike from a certain Alistair Brownlee, the first runner, by nearly two minutes. Brownlee, along with his brother Jonathan, has of course gone on to become one of the world's leading triathletes. In 2009 a runner did win the race when Jebb was beaten by Simon Bailey and in 2012 Tom Adams was only 9 seconds behind cycling winner Jebb. Twelve months ago though, Adams went one better and scored another running victory so the pressure is on the cyclocross riders this year.
The Bingley course record, of 32 minutes 09 seconds, is held by Ian Taylor, a podium finisher in the Three Peaks Cyclocross race, who set that time winning (on a bike) in 2011.
When Cyclocrossrider's Konrad Manning grew up, not far away near the Lancashire-Yorkshire border, there were also links between the two sports.
"One of the top veteran runners in my Harriers club when I was young was Alan Ramsbottom – it was much later when I read that Alan had ridden the Tour de France with Tom Simpson. Alan finished 16th in the 1963 Tour and was eighth in Liege-Bastogne-Liege. After his cycling career he turned to running," says Manning.
As we can also see from the entertaining and amusing British Pathé News films from 1925 and 1963 below – runners and cyclists have been challenging one another for quite some time! Famous British 'cross rider Keith Mernickle, the 1976 British champion, is the first cyclist in the 1963 race from Banstead Woods in Surrey.
So all that remains is to see who wins on Saturday - runner or cyclist!
UPDATE: The 2014 winner on Saturday was - on a bike - Rob Jebb.
Event website:http://www.bingleyharriers.co.uk/events/harriers-v...
Below: Andy Peace (left) and Ian Holmes are friends, rivals, team mates and both English fell running internationals (photo: Mick Watson).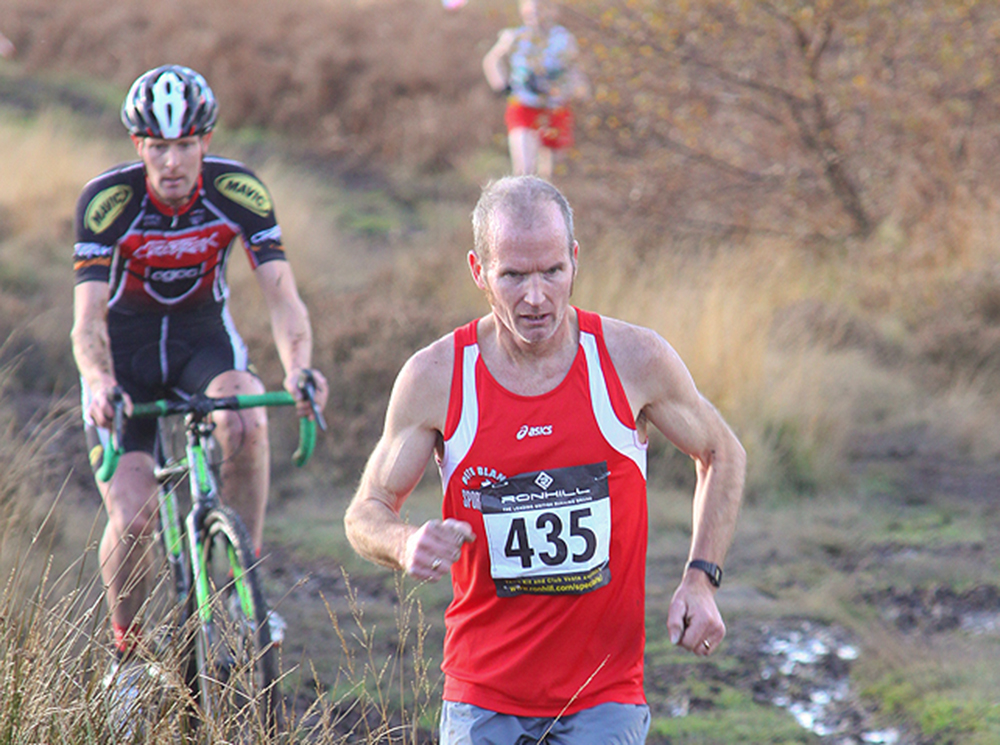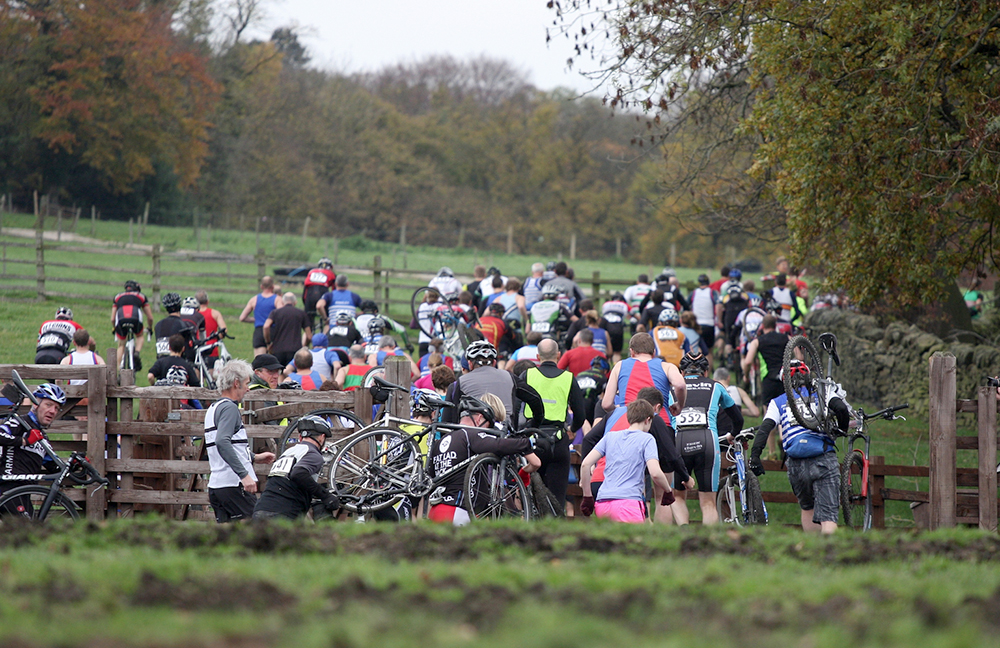 Harriers versus Cyclists in Surrey, England in 1963 (won by a runner)
2013 Fishermans Cup - Harriers versus Cyclists (won by a runner)
2011 Fishermans Cup - Harriers versus Cyclists (won by a cyclist)
Photos: Many thanks to Jo Allen, Mick Watson & Richard Seipp.