IT is the second season in succession that the Superprestige has gone right down to the wire – twelve months ago Sven Nys clinched it in Middelkerke as series leader Niels Albert crumbled and lost a four point lead. A surprise result looked pretty unlikely last year and despite it being even tighter this year (two points) a change at the top actually looks less likely!

The Superprestige – won a record 13 times by Sven Nys since 1999 – has been a thriller with a handful of riders fighting it out and whatever happens today a new series winner will be crowned. It will be decided in Middelkerke between Mathieu van der Poel and second placed Kevin Pauwels - third placed Lars van der Haar is not completely out of the running but he'd need Van der Poel to have a disaster and also to beat Pauwels to take the series.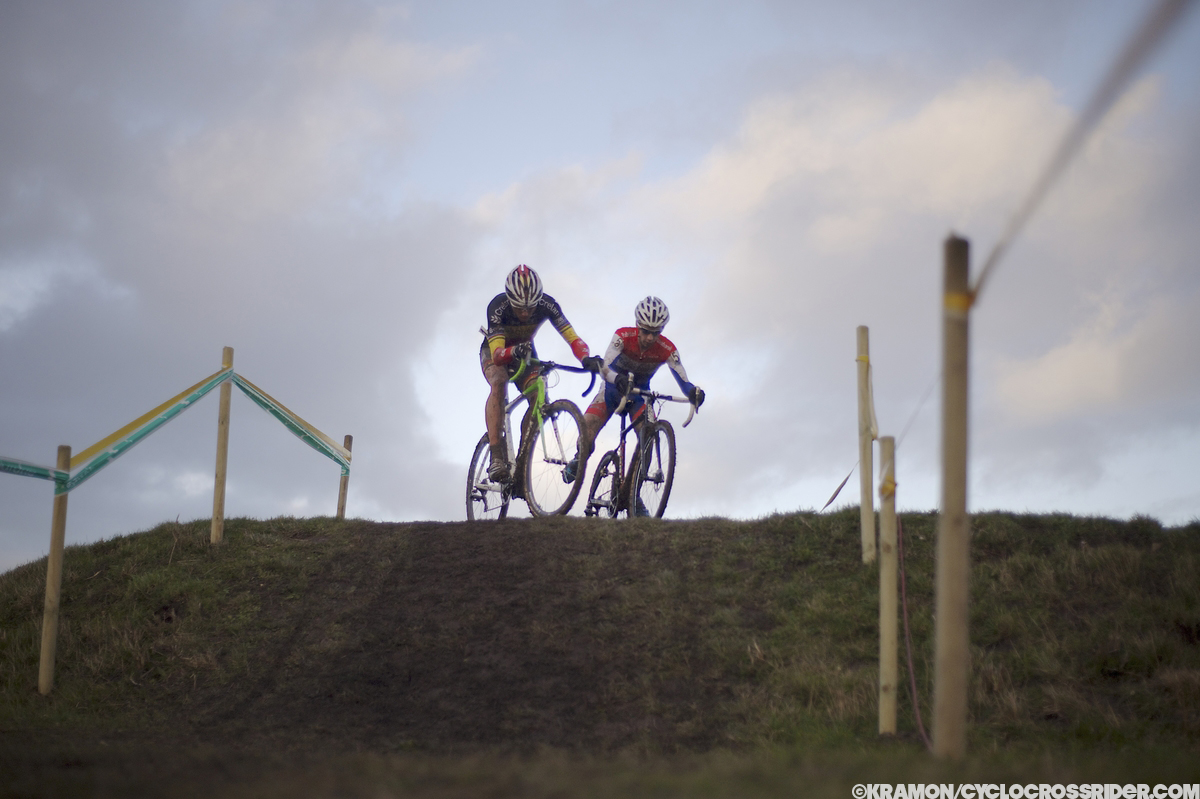 Sven Nys battles with Lars van der Haar in Middelkerke twelve months ago - Nys won and also won the Superprestige.
Van der Poel, holding a two-point lead, is going to be difficult to beat though – just a week ago he won his first-ever back-to-back weekend victories in Lille and Hoogstraten. And won them both easily. The Superprestige would be his first elite klassement victory.
"To win the final ranking was not an aim at the start of the season, but after my good results I am now committed to it. Two points ahead of Kevin is not much though and Lars van der Haar is not out of it either," Van der Poel told press this week.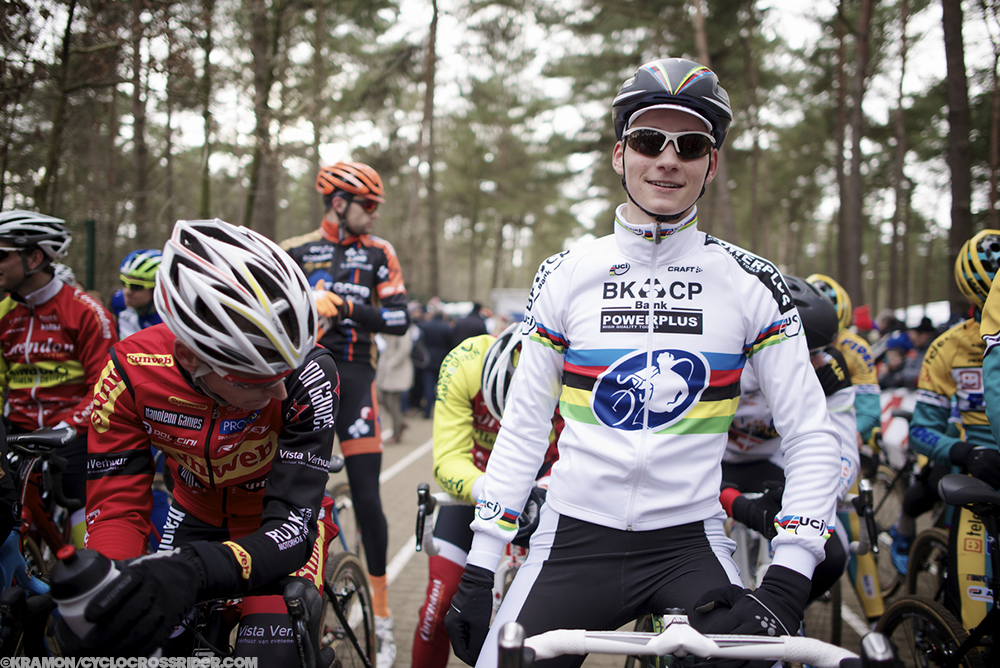 Kevin Pauwels (left) is perhaps the only rider who can realistically stop Van der Poel taking his first klassement.
Van der Poel has won three rounds of the Superprestige whilst Pauwels has two to his name. Mathematically if Pauwels was to win the final race then Van der Poel would have to finish second to take the title. If another rider was to win then Van der Poel can afford to tie on points with Pauwels as he would take the title with the greater number of race wins.
A perhaps more likely scenario though – where the calculators will not be needed - is Van der Poel beating Pauwels and who is to say that the younger rider will not dominate the race in the same way that he has notched up some six straight wins in 2015.
The other two categories in the Superprestige however are decided – Michael Vanthourenhout (Under-23) and Eli Iserbyt (junior) cannot be overhauled.
If Van der Poel does win the Superprestige series to add to the Dutch and World title that he's won in 2015, it will leave him with just the bpostBank Trofee and UCI World Cup to tick off next season.
Before that though, assuming he wins in Middelkerke, he'll also be trying to maintain his unbeaten 2015 record by winning in Eeklo on Sunday as well!
2014 Result: 1 Tom Meeusen, 2 Pauwels, 3 Nys. Elite women: Helen Wyman.
Live coverage today comes from Vier.be (starting at the later than usual time of 15.45 CET)
Main races: 13.30 (CET) Elite women, 15.00 Under-23 men & 16.30 Elite men.
Overall standings (after 7 rounds)
1 Mathieu Van der Poel

92 points
2 Pauwels

90
3 Van der Haar

87
4 Meeusen

81
5 Vantornout

75
Bumper day of viewing on Vier.be
15.45 Live two-hour Broadcast from Middelkerke starts (125 minutes).
16.30-17.30 Elite men's race.
17.50-18.40 Superprestige Season Review (50 minutes).
19.45-21.10 Superprestige Presentation Show from the Casino in Middelkerke (85 minutes).
Here's a teaser of some fun the 'cross toppers had this week filming ahead of the annual Presentation Show
Highlights of penultimate round in Hoogstraten