EUROPEAN champion Eli Iserbyt survived a first lap chain problem and an increasingly slick course to take the opening round of the UCI World Cup and claim his fourth win of the season. Toon Aerts - the winner in Gieten a week ago - was one of a number of fallers as rain made the Tarmac section treacherous, he battled on to eventually finish sixth.

After a series of crashes by early leader Quinten Hermans, Aerts and most seriously Thibau Nys who did not finish, it became a not-so-friendly, two-horse, nine lap race between Iserbyt and his teammate Michael Vanthourenhout who finished second.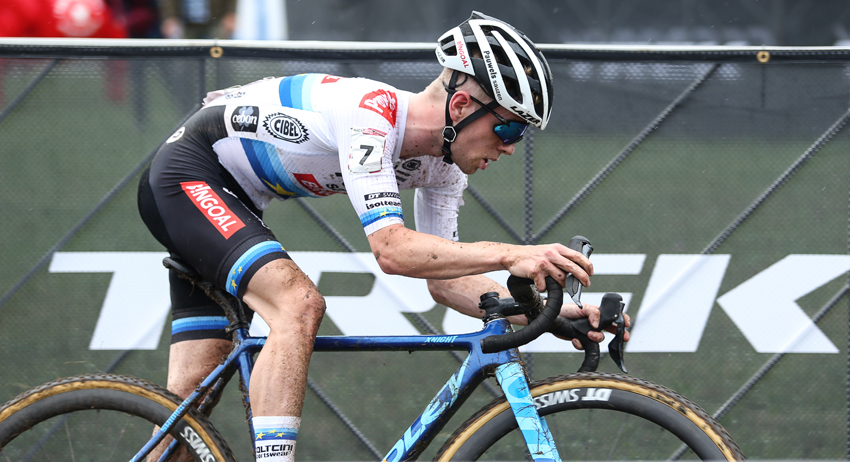 "I think that was the first really big race of the season. This week I did a little bit less than normal," Iserbyt (above) told reporters, "[After the rain] I knew I had to search for the grass, on the grass there was a lot of grip and on the brown there was really no grip. Michael was better in the corners I think, but on the uphill I was the best guy today."
"With jet lag still in the legs I'm content with second place," Vanthourenhout said after the finish, "Eli was stronger today so I'm happy with that being the highest I could have placed."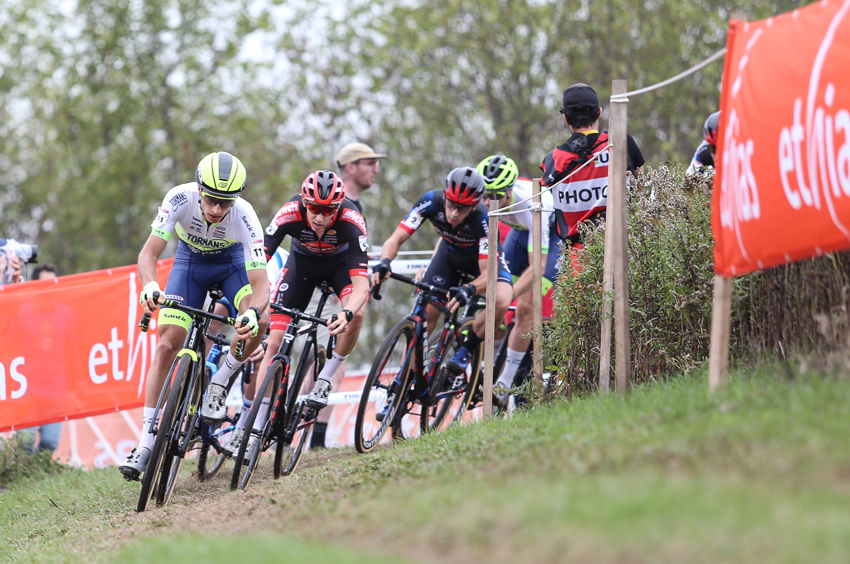 Hermans took the lead early - tracked by Vanthourenhout - and looked an altogether stronger and more confident rider than last season, no doubt aided by finishing the Giro d'Italia earlier this year. Very soon though Iserbyt disappeared from the front of the race, due to a chain issue, dropping from third to around twelfth or thirteenth.
At the end of the first lap, Dutchman Lars van der Haar was in third place and Aerts in fourth and they were six seconds down on Hermans and Vanthourenhout.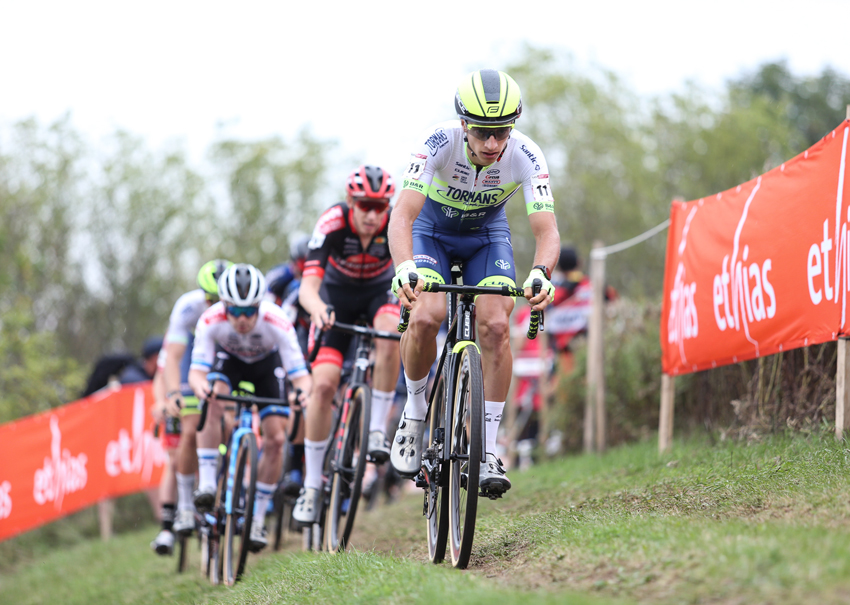 Rain began falling on the second lap and chaos ensued. First, Hermans lost his front wheel after the fast cambered descent onto Tarmac, then Toon Aerts. Emiel Verstrynge was the next to have issues there and then Thibau Nys went down heavily and was laid down for some considerable time (suspected broken collarbone).

The carnage left Michael Vanthourenhout (below) clearly out front, Iserbyt was suddenly up to second and, our bet for a podium place, Daan Soete in fourth place. Almost immediately Vanthourenhout slipped and he had Iserbyt for company. With the rain now falling heavily, the grip on the course was changing quickly. Quinten Hermans crashed a second time and it became obvious that the track was now super slick.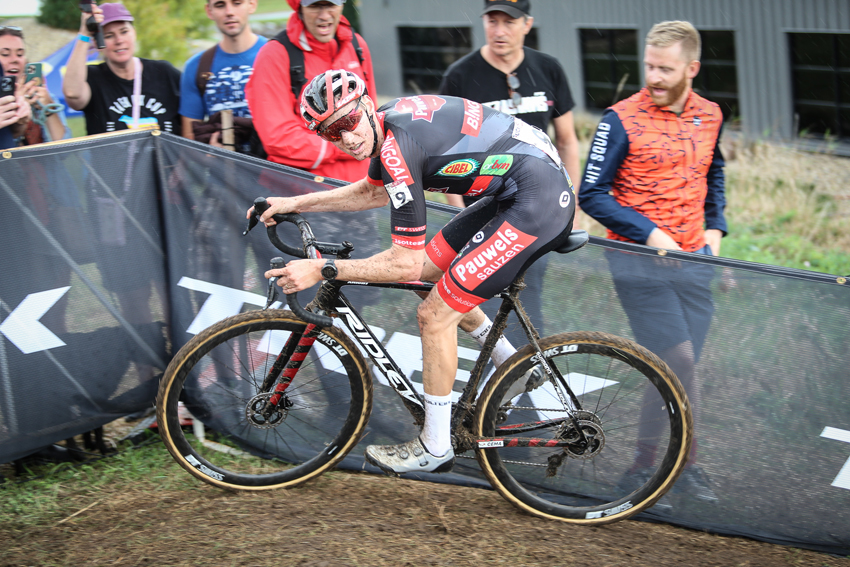 On the third lap the leading pair held 12 seconds over Lars van der Haar, Ryan Kamp and Daan Soete. No sooner had Soete - who won on the same course on Friday - moved into third place, he promptly crashed and sank quickly down to 19th place. European champion Iserbyt did not seem concerned where Michael Vanthourenhout was (on his wheel) and was seemingly not looking for any help. Hermans was back up into third at 21 seconds and Toon Aerts was still a long way back at 52s.
Michael Vanthourenhout's Achilles' heel appeared to be the steep run up and it left him struggling to hold Iserbyt 's wheel. Rather than teammates the pair now appeared to be rivals. Reaching halfway though, Vanthourenhout finally took over on the front but pushing the pace a little too hot he ran wide and rubbed along the course sacking which allowed Iserbyt to retake the lead and get a small gap.

Meanwhile Quinten Hermans had started to test himself again in third place. With four laps remaining, Hermans was closing in at 17 seconds off the front and Lars Van der Haar in fourth.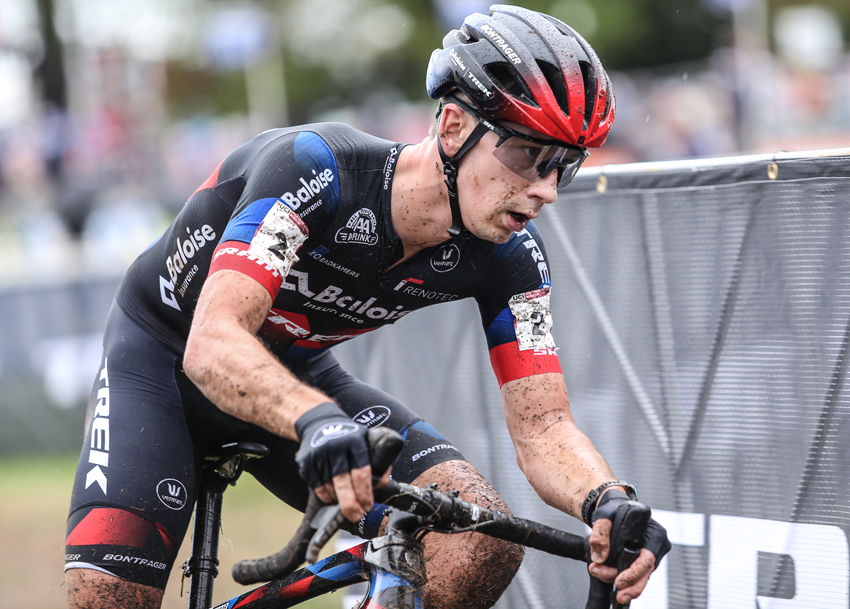 With the race approaching 40 minutes, Vanthourenhout began to lose touch and Iserbyt capitalised again on the run up, Michael closed again but Eli then attacked on the long wooded hill hard and pretty quickly built an eight second lead and never looked back.
The change in weather had another significant influence on the race - the first two laps were fast, so it was calculated to be a nine-lap race and the ensuing slower muddy conditions made for a 'long' 69-minute plus race.
At the bell, Iserbyt led Vanthourenhout by 28 seconds with Hermans only five seconds further back. Lars van der Haar held fourth and Toon Aerts fifth. Belgian Iserbyt scored only seven victories last season and already he has four after surviving this first lap scare in Waterloo. Michael Vanthourenhout finished safely in second, but Toon Aerts was just beaten for fifth by compatriot Niels Vandeputte.
Result
1 Eli Iserbyt (BEL)
2 Michael Vanthourenhout (BEL) @30s.
3 Quinten Hermans (BEL) @43s.
4 Lars van der Haar (NED) @ 1:05.
5 Niels Vandeputte (BEL) @ 1:38.
Photos: Jeff Corcoran.
.....
Support our Partners
.....