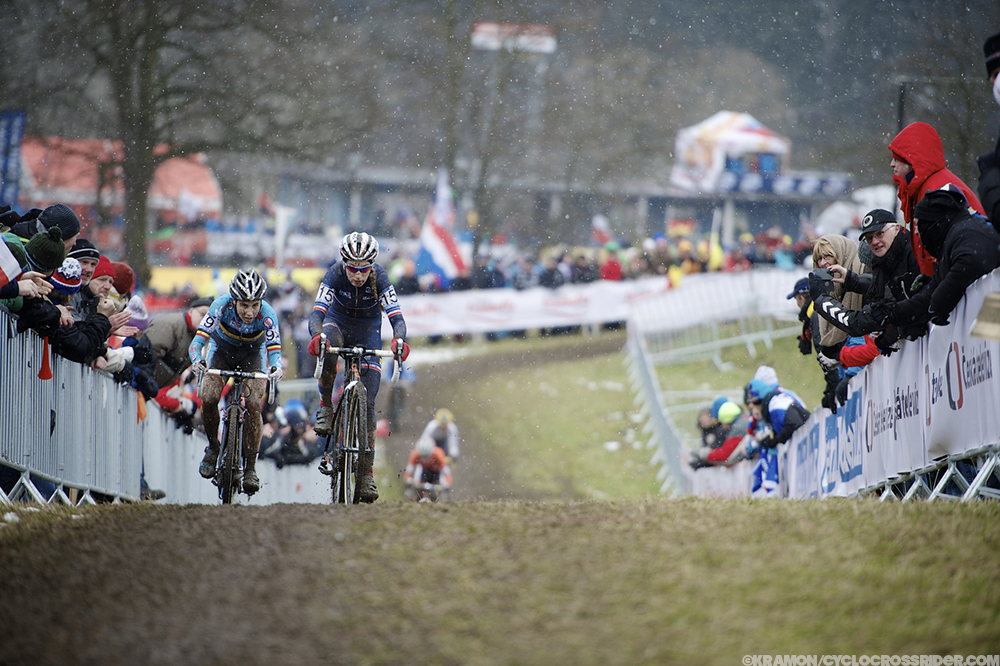 FRENCH 'cross champion Pauline Ferrand-Prevot became a double World champion in Tabor - to dethrone, and also follow in the wheel tracks of, her trade team mate Marianne Vos - in a thoroughly nail biting race. Five riders went into the final lap with a chance of victory in a race that eventually came down to a sprint between Ferrand-Prevot and Belgian champion Sanne Cant.
"I did not expect to win," Ferrand-Prevot admitted after the race, "It's my second World title in just a few months so it's been a really great season."

In September the multi-talented Frenchwoman took the World road race title and today she added the 'cross title succeeding her Rabo-Liv team mate Marianne Vos in both disciplines. In France, Ferrand-Prevot or PFP, as she is commonly referred to, holds the national titles in 'cross, road, time trial and mountain biking and was also the World junior road race champion in 2010.
Treacherous conditions
The frozen course had developed a slippery top surface as flurries of light snow hit Tabor before and during the women's race. The Italian champion Eva Lechner, one of the pre-race favourites, was the first to find out how treacherous the conditions were. Lechner crashed hard in one of the very early corners and a resultant problem with her bike (which looked like a break of the rear drop out) forced her to run half a lap with her back wheel in her hand. The Italian went onto record the fastest lap of the race as she bravely climbed back to finish 31st.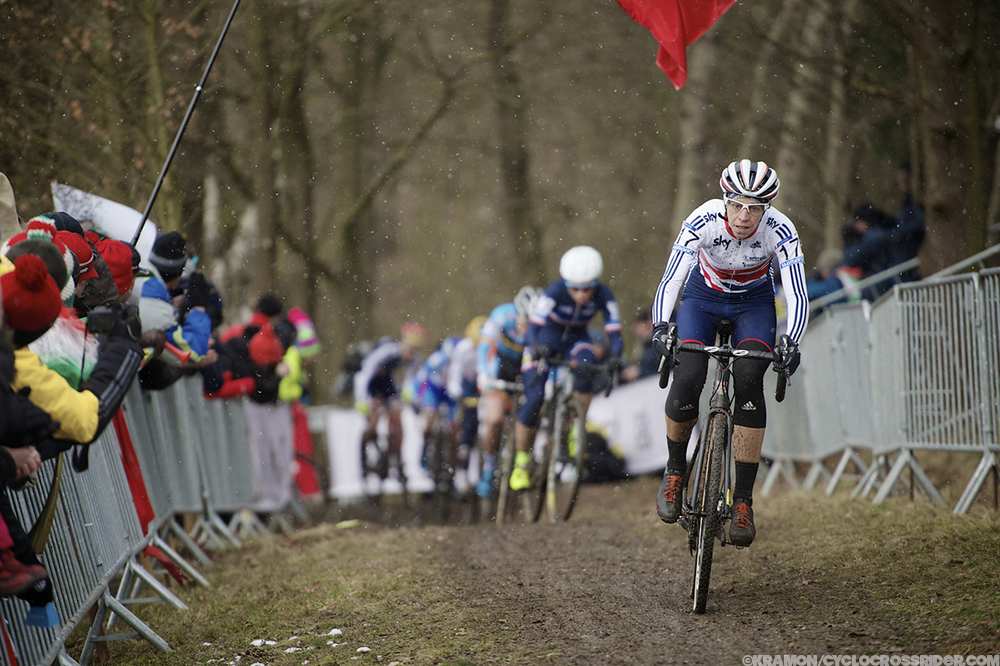 British champion Helen Wyman was the early leader though before Frenchwomen Lucie Chainel-Lefevre broke away from the field and built up a seven second lead after the opening lap (of five). Marianne Vos, Sanne Cant and Ferrand-Prevot were the three closest chasers and they were destined to share the three medals. American champion Katie Compton, who had said beforehand that she felt unable to mount a serious challenge for the title (due to continuing allergy problems), was in 11th place.
Ferrand-Prevot was the first to reach the race leader on the second lap, and took the lead briefly before allowing Chainel-Lefevre back in front. This allowed a large chasing group to make contact and at the start of the third lap there were six leaders and our prediction of a tight race with a number of potential winners was about to be played out.
Cant, PFP, Vos, Chainel-Lefevre, Czech champion Katerina Nash and Nikki Harris were the selection of six with British champion Helen Wyman 15 seconds behind.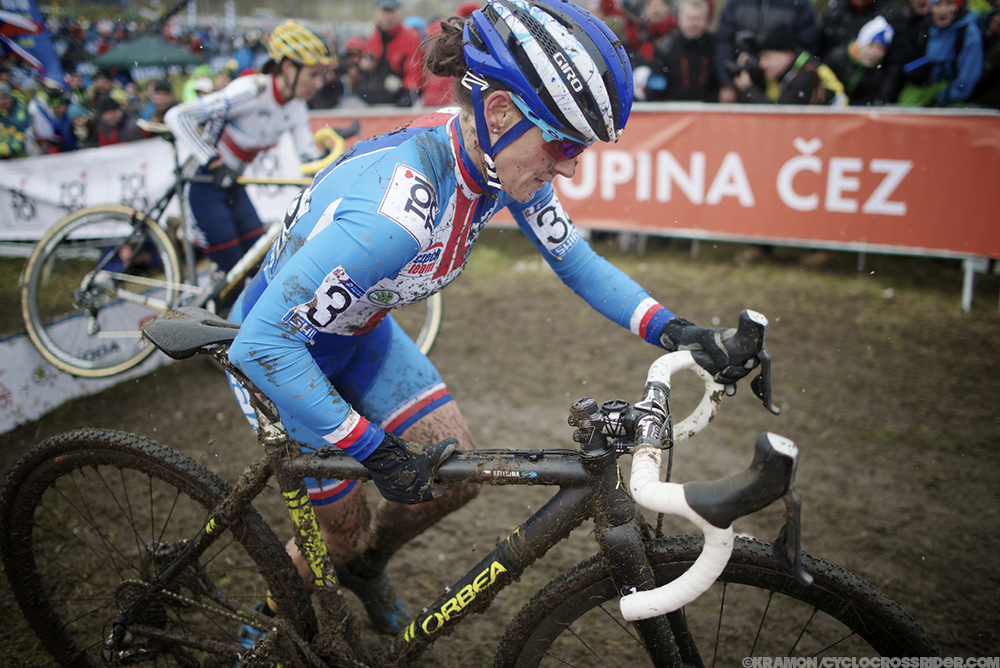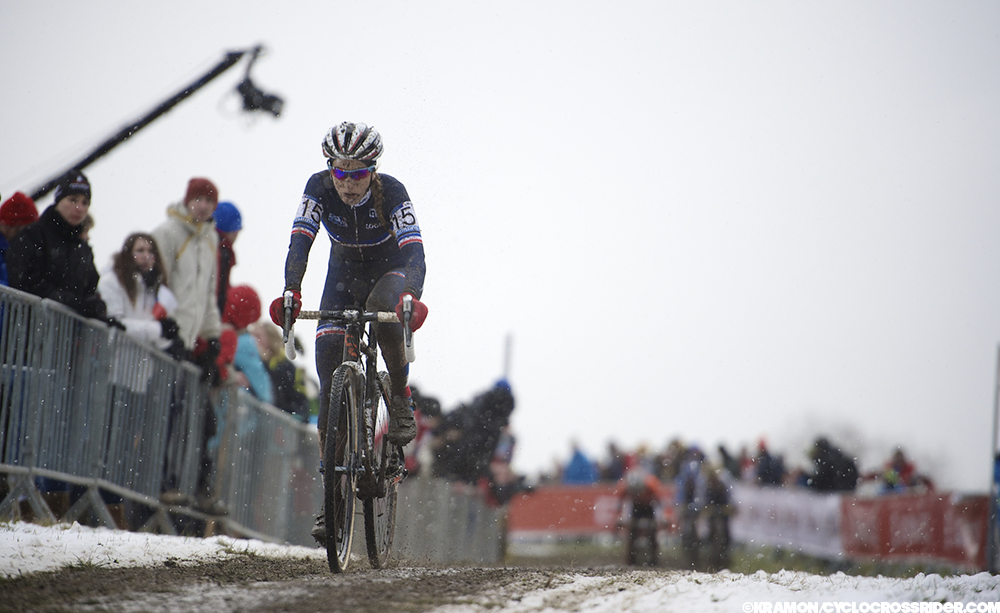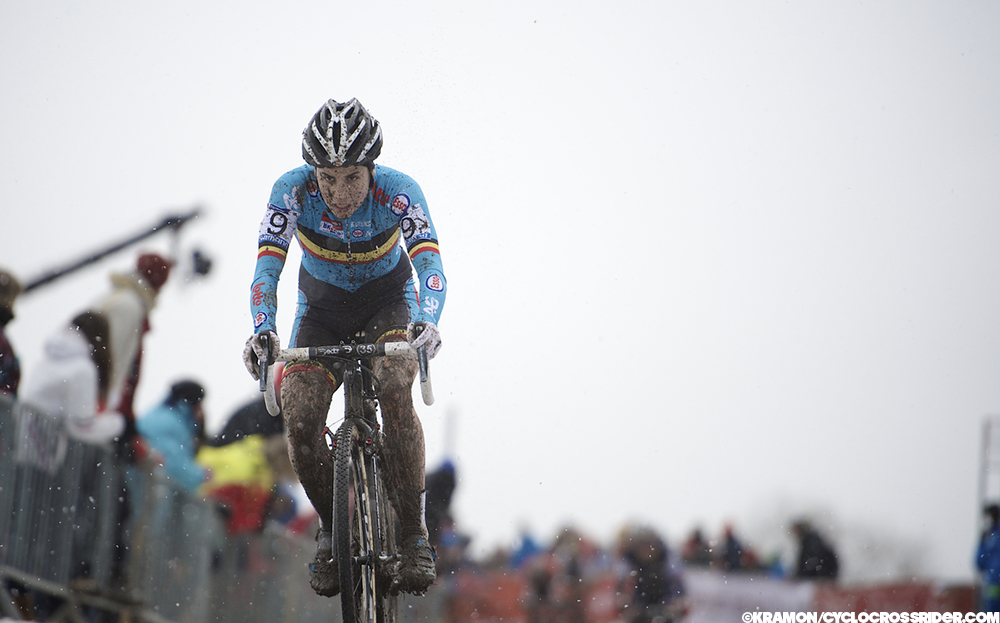 PFP stretched the group out around the third lap and built up a six second lead over Nash, Cant, Vos and Harris, but in these conditions there was always the feeling that there was more to unfold. PFP duly hit the deck on the penultimate lap and lost a few seconds of her slender lead. Sanne Cant was the rider to chase, catch and then attack PFP as the Frenchwoman faltered on a steep rise and had to dismount.
This exciting race was still not over as Cant and PFP took the bell together with Vos, Harris and Nash seven seconds behind and still not out of it. The leading pair exchanged the lead and the chasing trio swapped places several times in a tense final lap.
Cant tried hard to ride Ferrand-Prevot off her wheel, but the Frenchwoman stuck
Cant tried hard to ride PFP off her wheel, but the Frenchwoman stuck and used a different line around a double chicane to retake the lead and eek out a small lead. Surprisingly Vos pitted with half a lap remaining and had became certain that it would be a straight duel between the two leaders.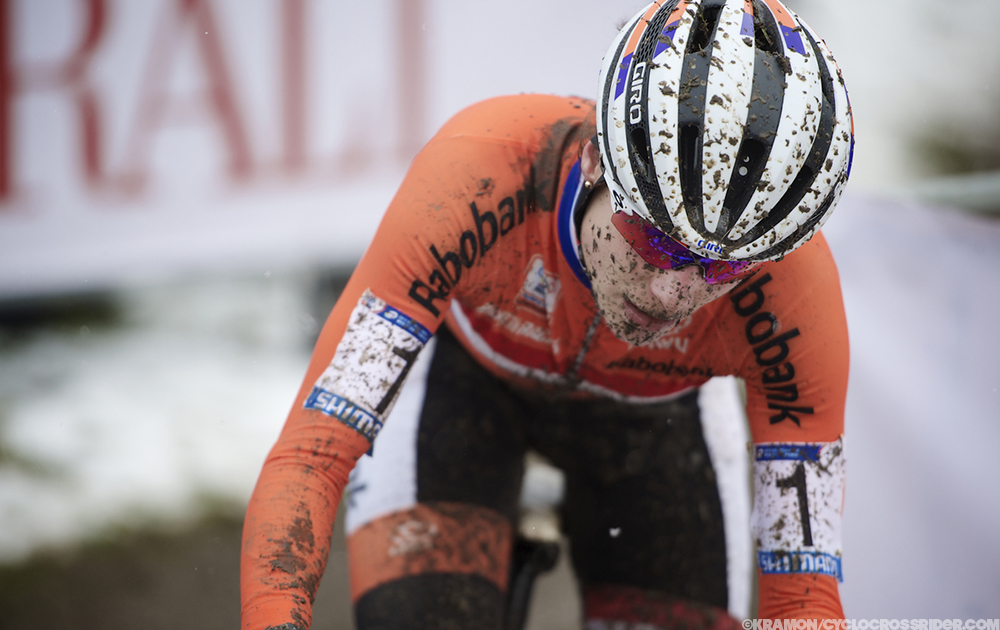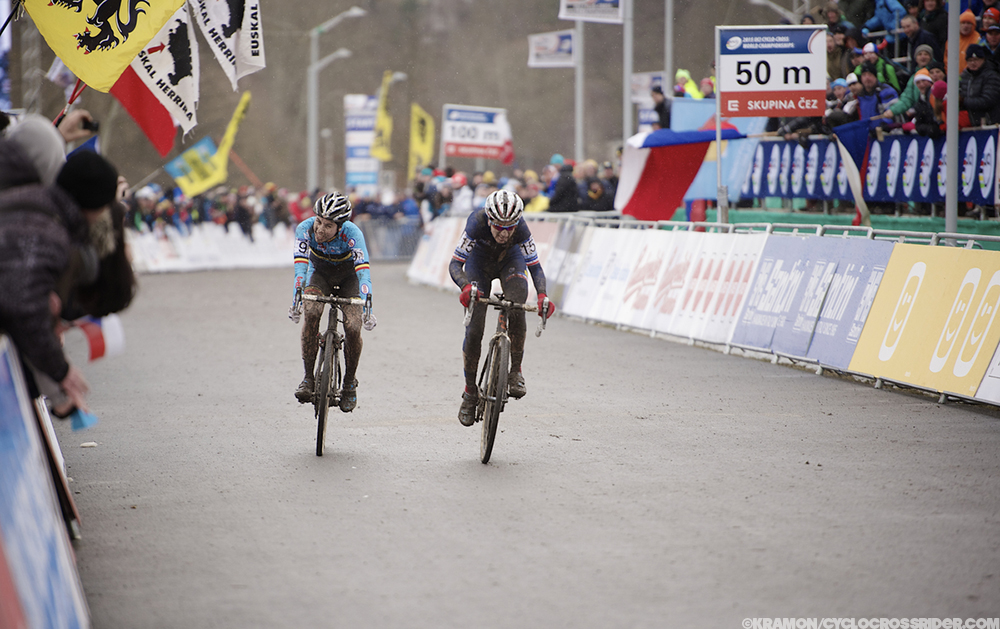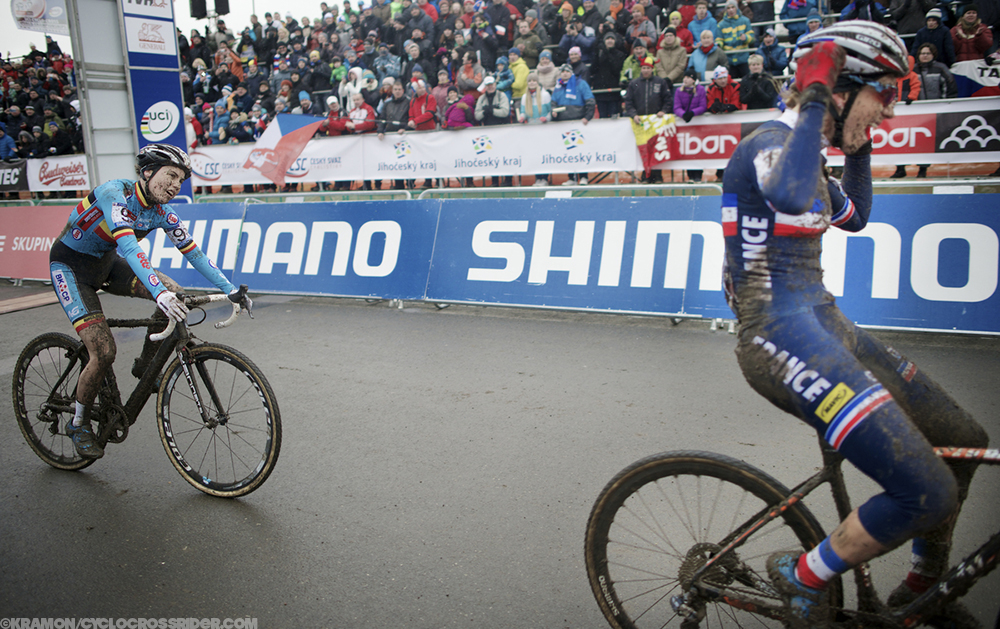 Cant had bravely closed onto PFP's wheel by the last corner but the effort had been too much and Ferrand-Prevot held her off in the sprint to win by a single bike length.
The chasing trio remained in close combat for the bronze medal, but two crashes by Nash handed it to Vos as Harris took an excellent fourth place. The first six riders all finished within a minute.
"I tried to be very clean with my lines," PFP commented on the thrilling final lap, "I knew I had to pass at the top of the lap and then I went full gas to the line."
Briton Nikki Harris (fourth at 21 seconds) had mixed feelings after her highest ever placing at the Worlds. "I'm happy but also disappointed, because third was so, so close," she told us after the race, "I tried everything today and I was pretty confident. I really gave it everything and I didn't have anymore. I think a lot of people would have watched that race and thought it was exciting."
Ferrand-Prevot referred to herself as "not a cyclocross specialist" after the race, but let's hope that she races more 'cross next season in order to show off her second set of rainbow stripes. The reality sadly – below in the post-race quotes – is that she will perhaps race only two months of the season.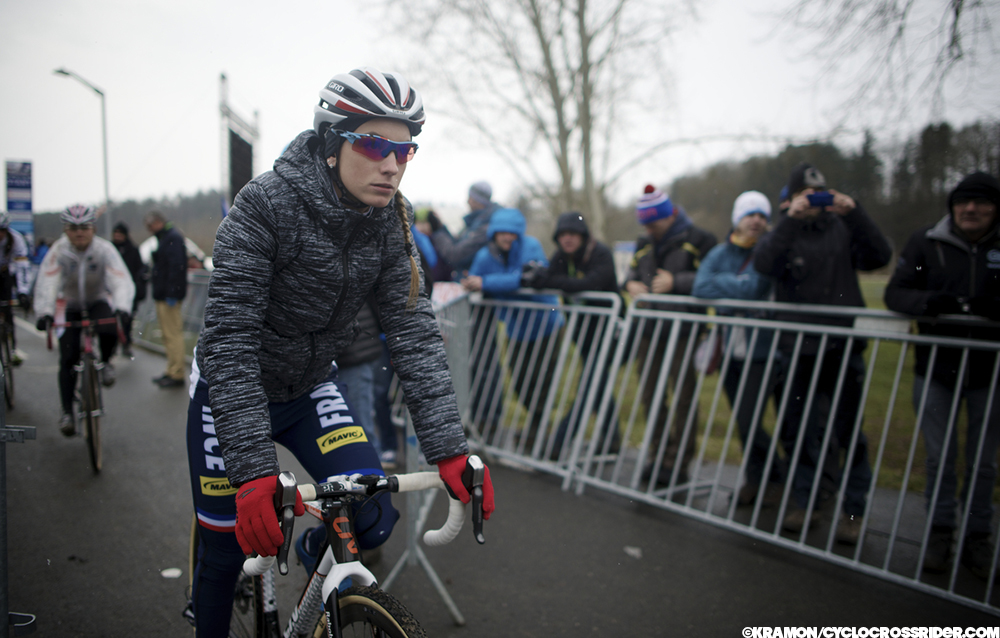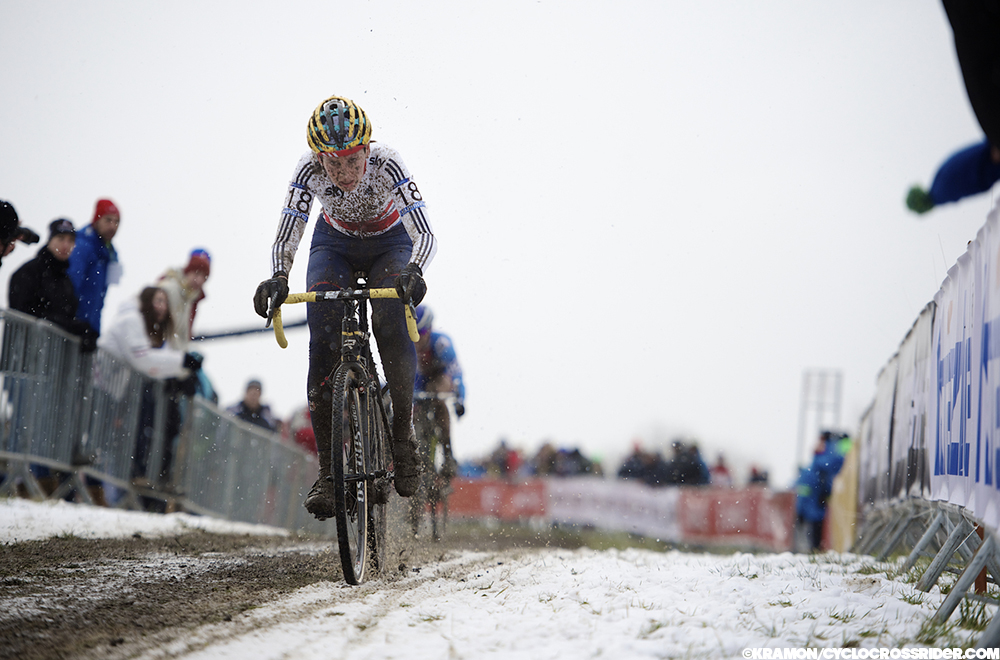 POST-RACE PRESS CONFERENCE
Asked for her feelings on taking the title from Marianne Vos, PFP said: "First I wanted to say thank you to Marianne as she's been the best 'coach' for me. Of course I'm very happy but it's a strange feeling to take her jersey, but that's cycling. I'm sure next year we'll battle again."
Marianne Vos on her bronze medal: "I could not do more today and I did not necessarily expect to win a medal."
Sanne Cant was asked if she felt she had won silver or lost gold: "Before the race I would have been happy with silver, but now after the race I feel that I lost gold. I know Pauline is fast in the sprint so I made a mistake to not stay in front (on the last lap) - it's my own mistake. I tried to pull away uphill earlier but she was able to follow."
Vos on PFP: "I saw her as a young rider and I thought she's the biggest talent that I've ever seen so it's not really a big surprise and it's great to work with her."
PFP on racing 'cross, road and MTB - she was asked if she thinks that she can continue to combine three disciples: "I think in women's cycling its possible. My 'cross started at the end of November and ends now, so for me it's not a full season, only half a season."
Results
1 Pauline Ferrand-Prevot

2 Sanne Cant

+0:01
3 Marianne Vos

+0:15
4 Nikki Harris

+0:21
5 Katerina Nash

+0:36
6 Lucie Chainel-Lefevre

+0:56
7 Helen Wyman

+1:21
8 Ellen Van Loy

+1:35
9 Christine Majerus

+1:54
10 Caroline Mani

+2:13
Other British team riders reactions:
British champion Helen Wyman (7th at 1:21):
"I had a good start and the plan was to stay out of trouble and then settle in as this isn't my type of course and it was getting icier by the minute. I got back into that front group but they rode away again. Maybe I was slowing down a bit too much on the icy corners towards the end, maybe I didn't take enough risks, or this is maybe the best I can be on this. I'm happy, it's the best I have ever done in these conditions"
Seventeen-year-old Amira Mellor (28th at 4:49):
"Oh, it was hard. The conditions kept changing and it felt a lot icier in the final laps - my back wheel was all over the place and I fell off a few times. It's a bit surreal being here as I never thought I would have been selected. It's so nice to be here and experience the whole thing, it's been amazing today and an amazing year. We really focused on 'cross this year."
Hannah Payton (34th at 5:38):
"Yeah, that was fun, but unfortunately I was in three crashes, none of them my fault. It's really annoying when it's not your fault! I just want to enjoy my last five races and the rest of my season in Belgium now."
Watch again here (geo-restricted)
Photos: ©kramon/cyclocrossrider.com