The Elite men's World Championship – Live here 14.00 (CET) Sunday (unless geo-blocked)
THERE are at least seven men who can win Sunday's Championship crown in what is clearly the most open Worlds for many seasons. What's more, with Marianne Vos still carrying an injury, we'll also name seven riders who are capable of winning the women's title – none of whom are a clear favourite.

Unpredictable winners and unpredictable conditions will make for a tense and exciting weekend of racing in the southern Bohemian town of Tabor.

The elite men's race will contain only one previous elite rainbow jersey wearer – Sven Nys – so the strong likelihood is that a first-time winner will be crowned world champion. Missing from the field this season, of course, are Niels Albert (retired) and, sadly for the Czech hosts, the out-going champion Zdenek Stybar whose image in victory adorns the race poster. A member of that trio has taken the rainbow jersey for the past six seasons.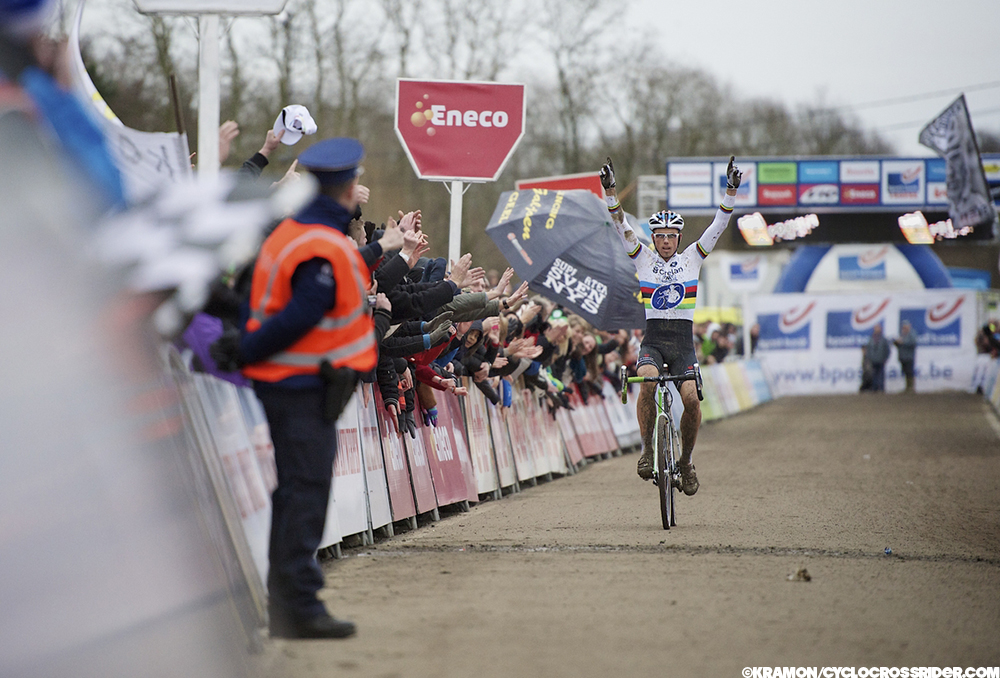 Sven Nys is the only previous champion in the men's race.
The era of the 'Big Three' (Nys, Albert and Stybar) is well and truly over, but the rider who made the Belgian press change that phrase to the 'Big Four' during the 2010-11 season – Kevin Pauwels – is still being mentioned as a favourite by many in Tabor. Stybar has also tipped the quietly spoken Pauwels as his successor.
Coup d'état?
Racing the elite World Championship for the first time are the 'new generation': Dutch champion Mathieu van der Poel and Belgians Wout Van Aert and Gianni Vermeersch. This trio claimed the medals in the elite World Cup in Hoogerheide a week ago and it would be an amazing long shot if all three were to stage a complete coup d'état of the podium in Tabor. Remarkably the chances are high that two of them may succeed.
Sven Nys told Nieuwsblad.be this morning (Friday): "I'm a realist. A podium for me alongside those two young guys (Van der Poel and Van Aert) would be fantastic. That would be as high as a world title before their arrival. It's the transfer of power - you could call it."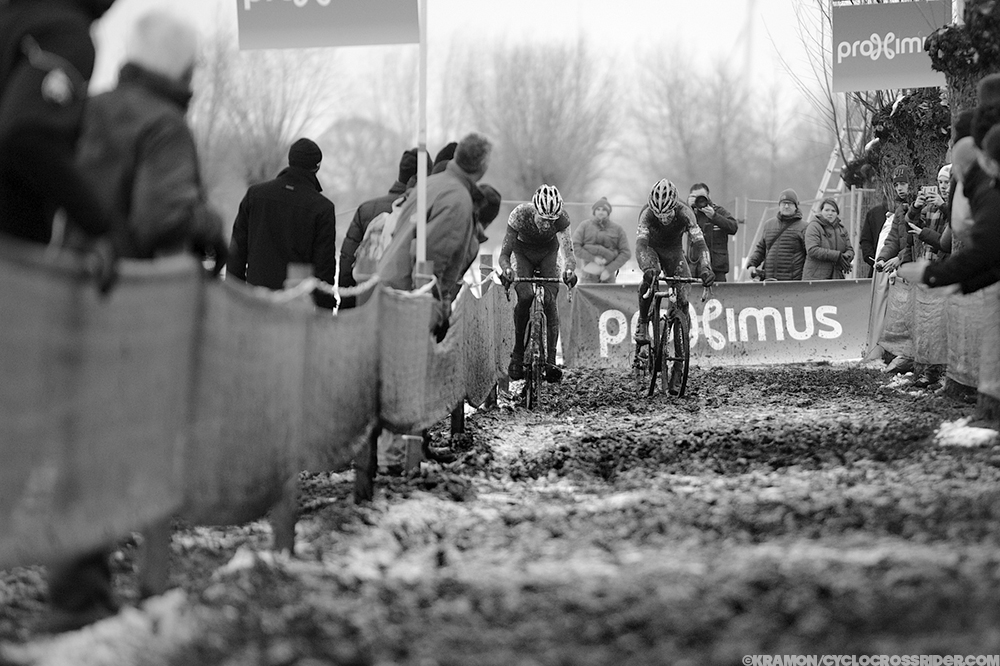 Van der Poel (left) and Van Aert battle it out in Loenhout.
The missing generation?
Strictly speaking, without these prodigious young talents in the race, 2015 should have been the year of Pauwels or Vantornout or Meeusen. This is the trio who could, were none of them to win on Sunday, become part of a 'missing generation' as the post-'Big Three' era goes on to be dominated by the younger riders - Van Aert, Van der Poel, Vermeersch - and those behind them like Laurens Sweeck (a favourite for the Under-23 title).
The 'UCI ages' of our seven contenders are in descending order: Nys 39, Vantornout 33, Pauwels 31, Meeusen 27, Van der Haar 24, Van Aert 21, Van der Poel 20.
Double World champion Nys has, of course, experienced such an indifferent mid-season that perhaps only a special set of circumstances (like problems for the main favourites) would see him win a third rainbow jersey. Along with Lars van der Haar, Nys is one of the outside contenders who could end up with a medal, so perhaps that leads us to five main contenders… (in alphabetical order) Meeusen, Pauwels, Van Aert, Van der Poel, Vantornout.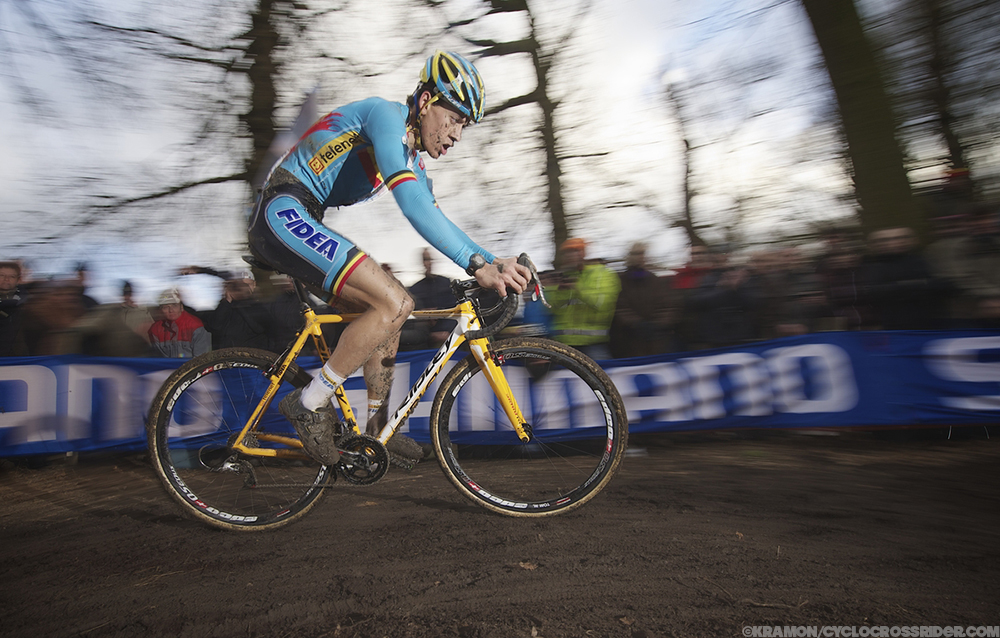 Tom Meeusen (above) has not had the most ideal run-in to Tabor after the Belgian selection saga that saw him not selected initially and perhaps his main chance of victory is if Tabor wakes up to a heavy snowfall. So, does that narrow it down to four main favourites?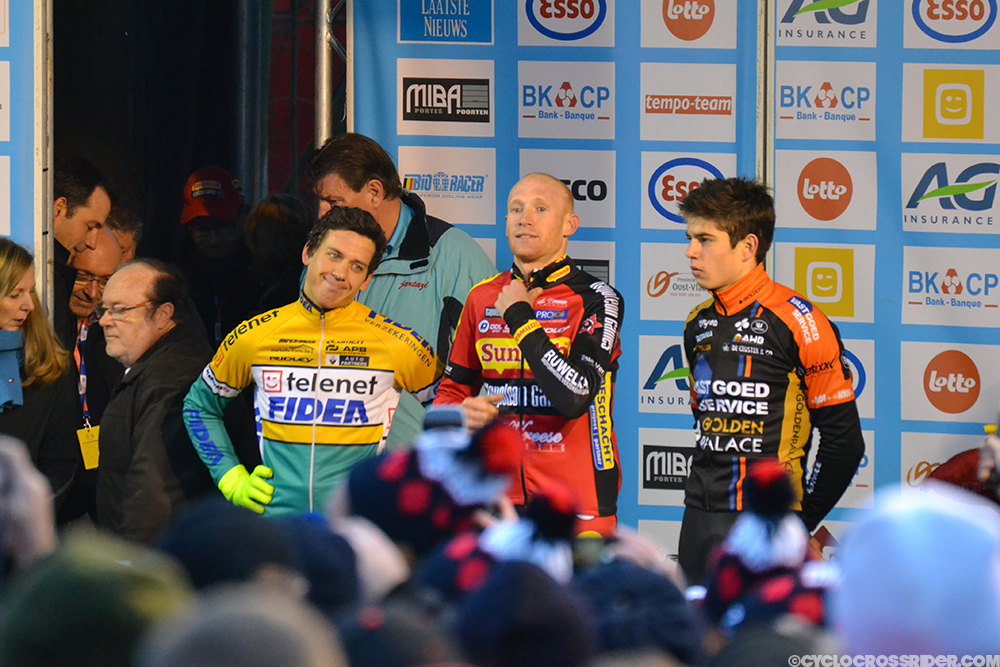 Three of the Belgian favourites are the medalists in the Belgian Championship: (l-r) Meeusen, Vantornout and Van Aert.
The variable weather and racing conditions in Tabor are set to play a major part in all races and the seven men all have their own unique strengths in a varied range of surfaces. One of the aspects that makes the race so unpredictable though is that the surface is expected to vary considerably around the circuit as parts remain frozen and other sections become soggy (perhaps).
There is still also the possibility of a sizeable snowfall (highest chance on Sunday according to forecasts) that could offer up another different set of circumstances. So with the conditions unknown - until just before 14.00 hours on Sunday - here are seven main contenders and how they might stack up in three potentially 'predominant' circumstances.
Frozen ground: Van der Poel, Pauwels, Vantornout, Meeusen, Van Aert, Nys, Van der Haar.

Snow: Pauwels, Vantornout, Meeusen, Van der Poel, Van Aert, Nys, Van der Haar (Update: the Tabor weather has eliminated the chance of these conditions).
Heavy mud: Vantornout, Van Aert, Van der Poel, Meeusen, Nys, Pauwels, Van der Haar (Update: the Tabor weather has eliminated the chance of these conditions).
The reality, of course, is that the conditions could be a varying combination of those three scenarios!
There are also outsiders with the potential to break into that top seven: Francis Mourey, Vermeersch, Rob Peeters, Philipp Walsleben, Jeremy Powers and Czech Martin Bina are chief among them.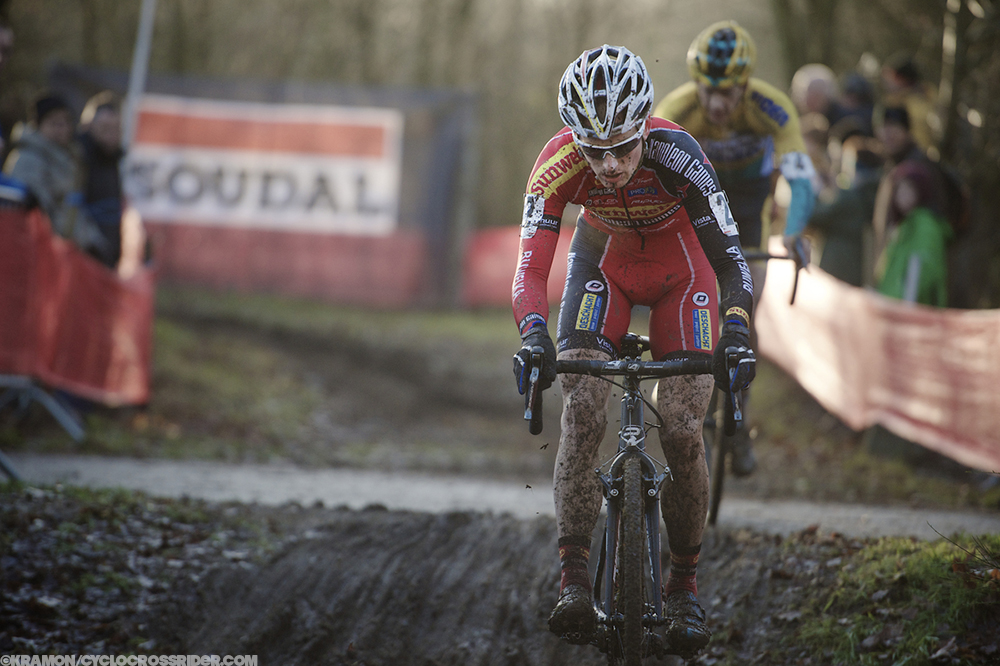 Many people's favourite for the title Kevin Pauwels.
Team tactics can come into play in the Worlds, but at the end of the day every man races for themselves. The large number of Belgian contenders can sometimes work against their individual chances as, for example, Peeters and Vermeersch may be inclined to work briefly for their trade team mates Van Aert, Pauwels and Vantornout. Mathieu van der Poel and Sven Nys perhaps benefit slightly from being 'free agents' in this respect.
So, the three medalists… don't ask me in which order: Pauwels; Van der Poel; Van Aert; and Vantornout. Oh, is that four!
Tabor course map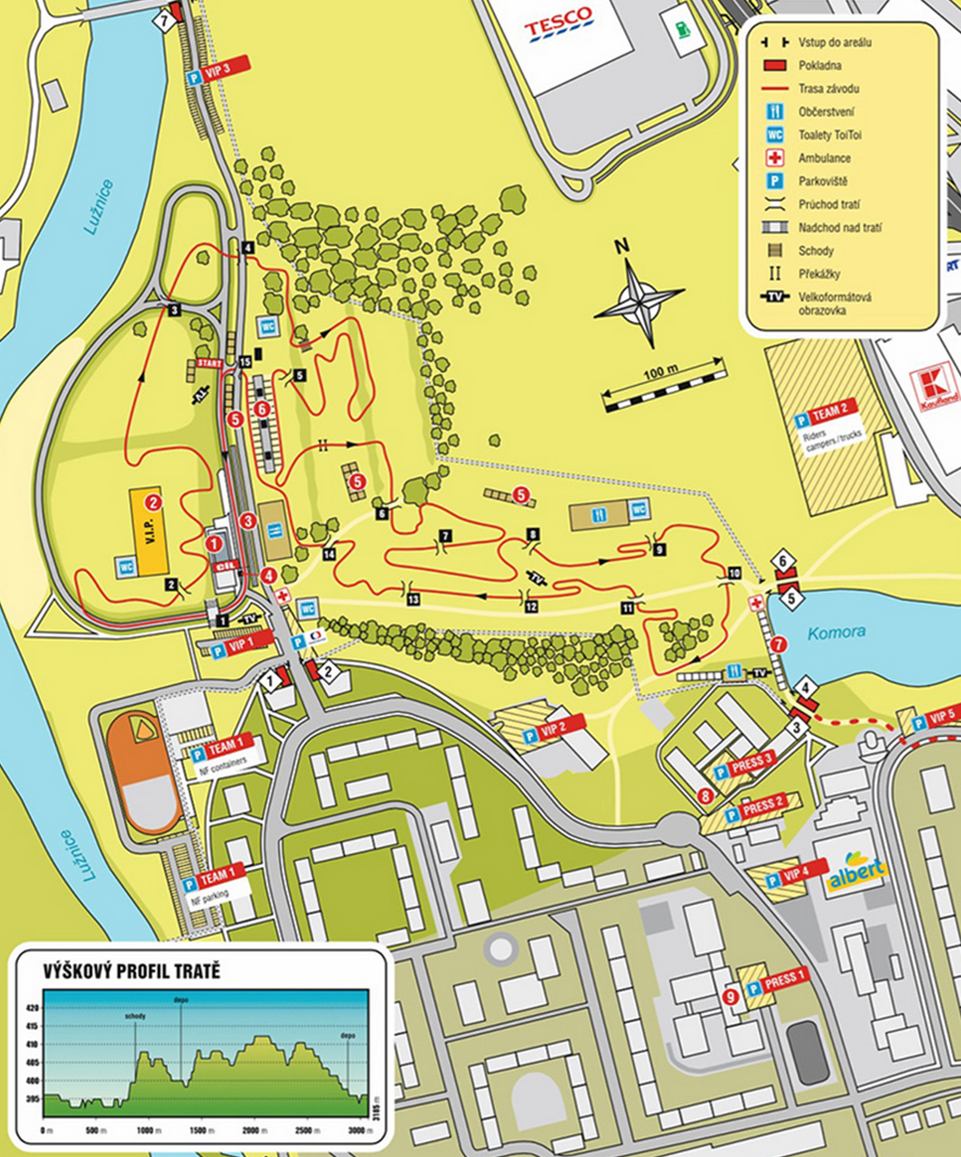 Tabor timetable