WORLD champion Wout Van Aert's pre-season - off the bike - appears to have gone from bad to worse as he looks to find a way out of his 2019 contract with road team boss Nick Nuyens. Van Aert's relationship with Nuyens has been strained for some time and the twenty-three-year-old told Het Laaste Nieuws that he has felt used, isolated and in the dark about his immediate future on the road. This week Veranda's Willems-Crelan boss Nick Nuyens negotiated a merger with Team Roompot-NL Loterij, but Van Aert is keen to extract himself from his current contract and has spoken of a road "sabbatical" in 2019.
"I'm consulted five minutes before the press release goes out," he told the Belgian newspaper. Van Aert feels unhappy that many of those close to him have left over the past 18 months including staff, team mates and soigneurs. Former World champion Niels Albert also announced this week that he will no longer be advising Van Aert.
"The complete structure of the team that started so promising at the beginning of 2017 is gone," Van Aert added, "It was my intention to respect my contract until the end of 2019, but I want to revise that opinion."

Van Aert is set to join Lotto NL-Jumbo in 2020 and moving to the Dutch World Tour team early could now be likely. Dutch supermarket chain Jumbo is expected to become the pro team's sole sponsor next year and they were keen to sign a high profile Belgian rider as Jumbo plan to expand into Belgium and open 20 new supermarkets.
The newly merged Belgo-Dutch pro continental road team will be known as Roompot-Crelan from 1st January, 2019 and according to Het Nieuwsblad responded by stating, "Wout van Aert still has an ongoing commitment with Sniper Cycling until 31st December, 2019. We are loyal to existing agreements and trust that our riders do the same."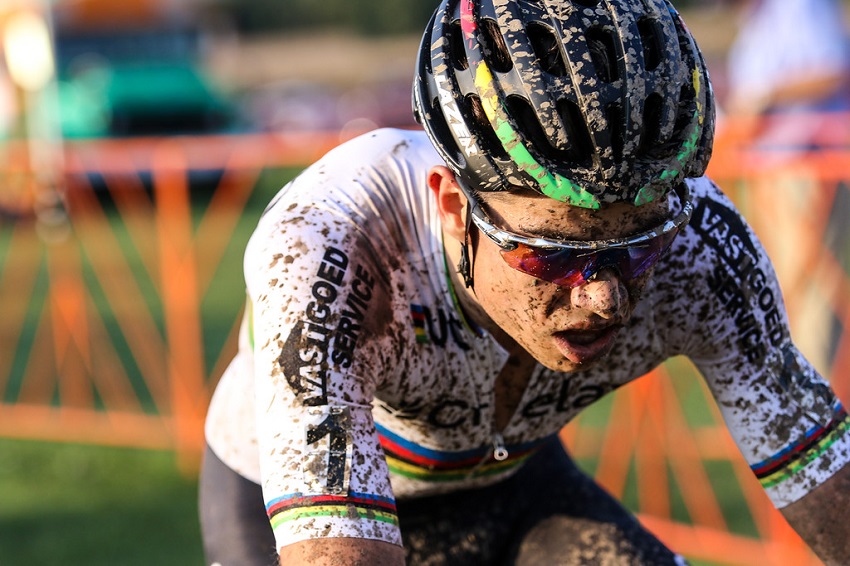 In other news…
MVDP TAKES ON MTB WORLDS AHEAD OF CX SEASON:
Mathieu van der Poel has been selected by The Netherlands for the UCI World MTB Championship in Lenzerheide, Switzerland on Saturday 8th September. Earlier in August the Dutchman suffered a bad day in the European MTB Championship in Glasgow before bouncing back to win the silver medal in the road race. Last weekend the Dutch Corendon-Circus rider secured second place in the UCI World Cup with fourth place in La Bresse as well as a win in the short track race. Once again the Dutchman in on fine form with the cyclocross season about to start. The pro cyclocross season in Belgium kicks off the weekend after Lenzerheide as the Brico Cross series begins in Geraardsbergen (16th September) which is then followed by the opening round of the 2018-19 UCI World Cup in Waterloo, Wisconsin, USA (23rd September).
Photos: Jeff Corcoran.