Course pre-ride
The return of Stybar and first big clash of European women
THE 28th annual, bpost Bank-sponsored, Trofee series gets started on Sunday with the GP Mario De Clerq over the rough, Hotond course above Ronse in the Flemish Ardennes. De Clerq, a three-time World champion, retired from 'cross a decade ago, but is still on the circuit as a team manager with the Sunweb-Napoleon Games team of Kevin Pauwels and Klaas Vantornout. The men's Series winner will walk away with a €30,000 first prize.
You may be aware by now that World champion Zdenek Stybar will make a return to 'cross in Ronse after his road season was disrupted by a heavy crash in the Eneco Tour in August. Stybar won the Binche-Chimay-Binche road race on Tuesday so is on great form to challenge the top 'crossers (news and footage of his road win here). Stybar will wear race number one as current World 'cross champion.
It is the first time that we will see Stybar race Sven Nys since the pair met in the World Championship in January and when you add in Mathieu van der Poel (winner in Gieten) and World under-23 champion Wout van Aert it promises to be a very interesting race.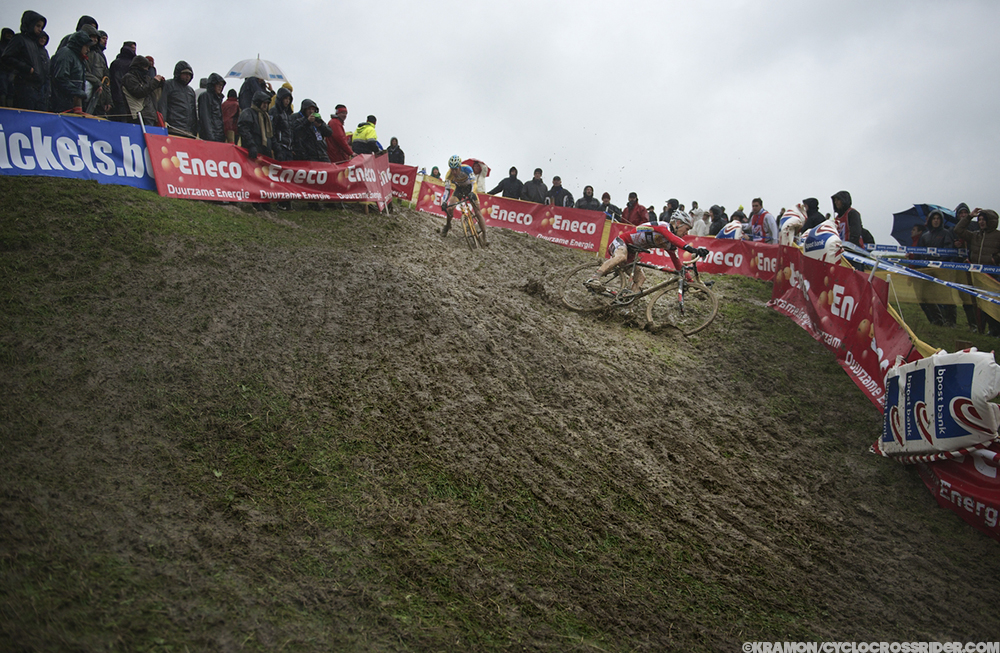 Kevin Pauwels loses it twelve months ago and ended up sliding under the advertising banners.
The course is largely run over bumpy farmland on an exposed hilltop. It's one of the hardest courses that the pros face with huge run-ups and tricky, sometimes rutted descents around a large bowl on the hillside which forms a natural amphitheatre. Twelve months ago heavy rain made it into a treacherous course and it was no surprise to see, the then World champion, Sven Nys triumph (main image).
Sunday's women's race will be the first time that three of the biggest names have met this season. Last year's winner Nikki Harris (in action in the UK recently here) faces her compatriot British and European champion Helen Wyman, who has been racing in America, and Belgian champion Sanne Cant (the winner in Neerpelt).
The series will, for a third season, be decided on overall time (instead of accumulated points) with time bonuses at the finish line and an intermediate 'sprint'.
Start times (all CEST)
Nieuwelingen: 10.00 CEST. Juniors: 11.00. Under-23 men: 12.00. Elite women: 13.45. Elite men: 15.00 CEST.
The Ronse race is a great trip for spectators if you want to see the pros up, close and personal as we did here.
2013 Results
bpost bank TROFEE, RONSE: NYS AND HARRIS CONQUER THE HOTONDBERG.
RESULTS: Elite men: 1 Sven Nys 57:06; 2 Bina @ 17s; 3 Albert @ 20; 4 Klaas Vantornout @ 1:08; 5 Meeusen same time; 6 Van Amerongen same time; 7 Van Der Haar @ 1:30; 8 Walsleben @ 1:36; 9 Bart Aernouts @ 1:58; 10 Van Den Brand @ 2:11… 20 Pauwels @ 4:34. Classification (after time bonuses): 1 Nys 56:46; 2 Bina @ 22s; 3 Albert @ 35s.
Elite women: 1 Nikki Harris; 2 Wyman @ 1:07; 3 Cant @ 1:31.
2013 video
Last lap (and others) here.
Main photos: ©kramon/cyclocrossrider.com Pre-ride footage courtesy of IntheMud.cx