YOU'VE gotten a new, disc-equipped cyclocross bike and, if you're like me, you'll be wanting to get it out on your local trails, and maybe some races, as soon as possible. One of the first things you may notice is how bad your new brakes are. Most likely the bike has come with standard stainless steel rotors of the wavy and vented variety and there will probably be organic pads in the callipers. When you take your bike into its first sloppy, muddy race you may find the brake pads wear out surprisingly quickly.
In an earlier article on Cyclocrossrider, Alan Dorrington talked about pad choice which you can read here.
Here, I'll cover what you need to know about rotors when purchasing disc brakes for 'cross. We will be focusing on standard and 'floating' or 'semi-floating' stainless steel rotors, 140-160mm. Most cross bikes are currently spec'd with 160 front rotors and 140 rear while some are using one size both front and rear.
Dry to soft conditions ideally call for organic pads and wavy, vented rotors. Sintered pads work equally well in dry conditions if they're your preference. The wavy and vented rotors will aid in clearing any debris that could contaminate your pads.
Wet conditions ideally call for solid rotors with sintered pads. With solid rotors you can confidently run either sintered or organic pads, whichever is your preference.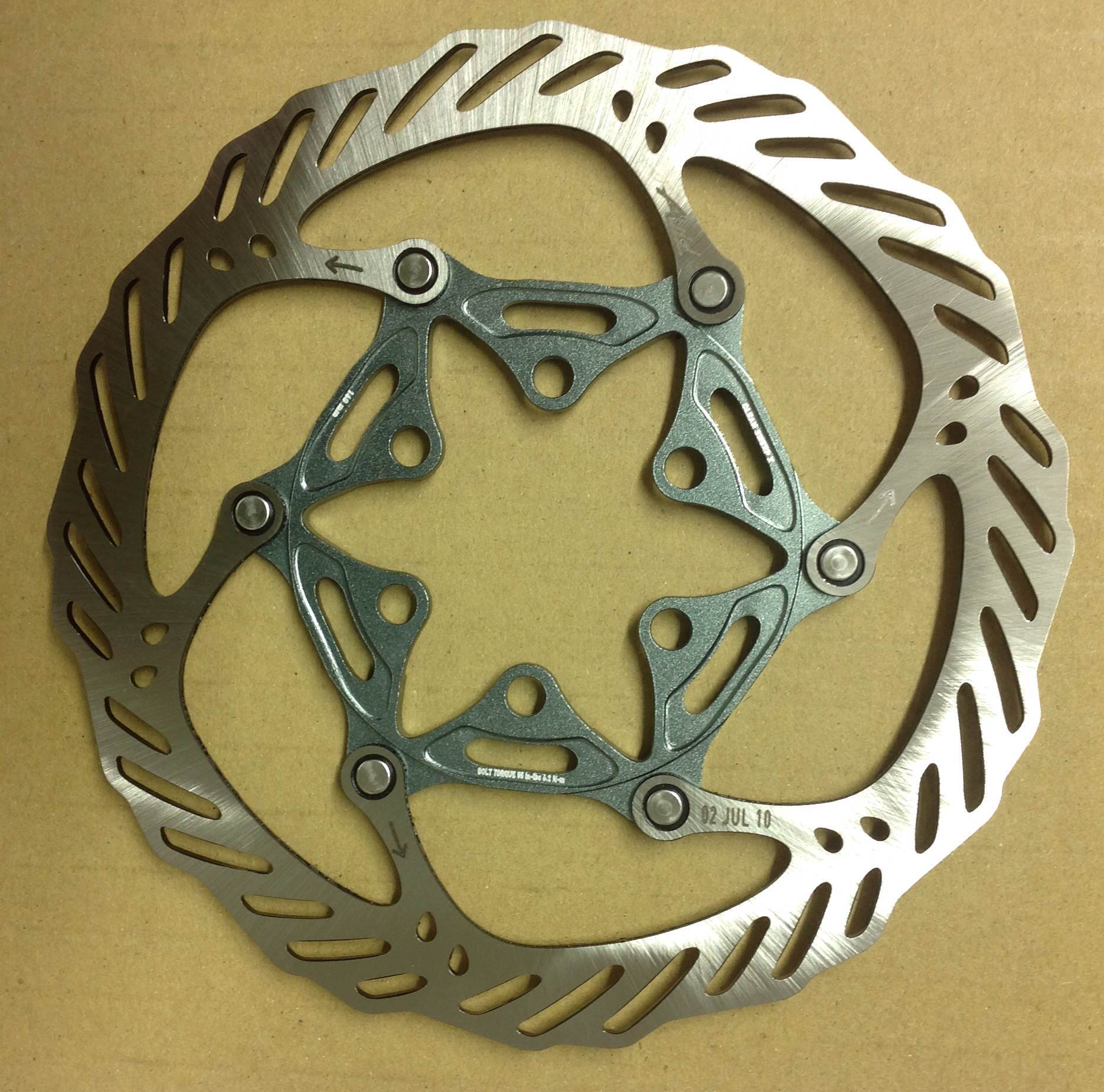 A new Avid Clean Sweep XX 'semi-floating' vented rotor.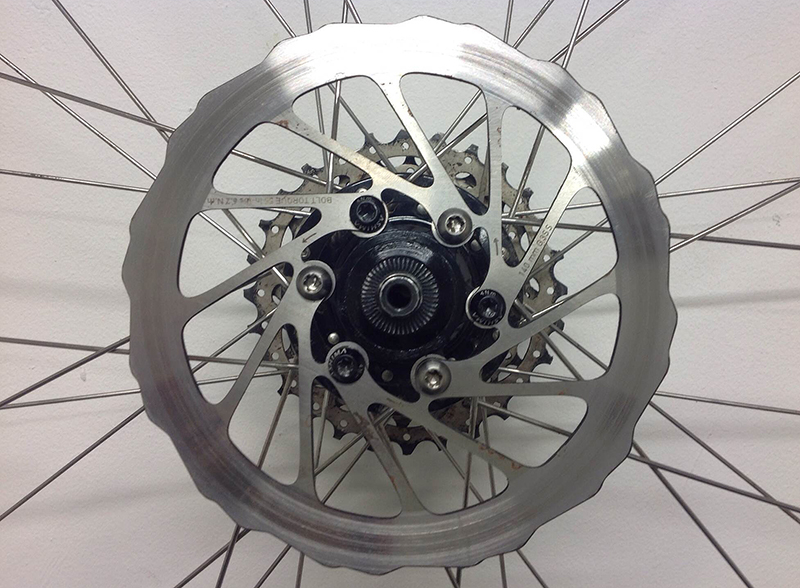 An Avid Solid Sweep solid rotor used for one season in muddy races only.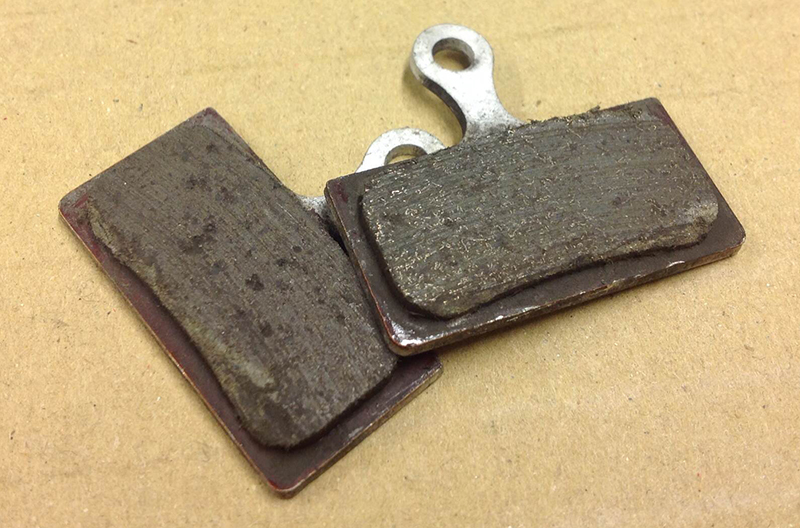 A pair of Shimano G01A organic pads used for one season (with solid rotors used for muddy races).
Unfortunately stainless steel solid rotors aren't readily available anymore and carbon/ceramic rotors are prohibitively expensive for many riders - there are however a couple of mostly solid rotors on the market that could be pad savers in sloppy conditions. If your local races are regular mudfests check with your local bike shop (LBS) to see if they have some "new old stock" solid rotors and make sure to take some decent beer to the mechanic who found you the old stock!
Rotor and pad rub
Steel is fairly malleable and can bend quite easily causing the rotor and pads to rub. This can be okay as you can usually true a rotor just by pushing or pulling small areas by hand. If bent rotors are a problem you have regularly then going to a smaller one (ie 140mm) might be your answer as smaller rotors will be stiffer. Otherwise you can try 'floating' or 'semi-floating' rotors which have a carrier made from aluminium with the braking surface being steel or carbon/ceramic.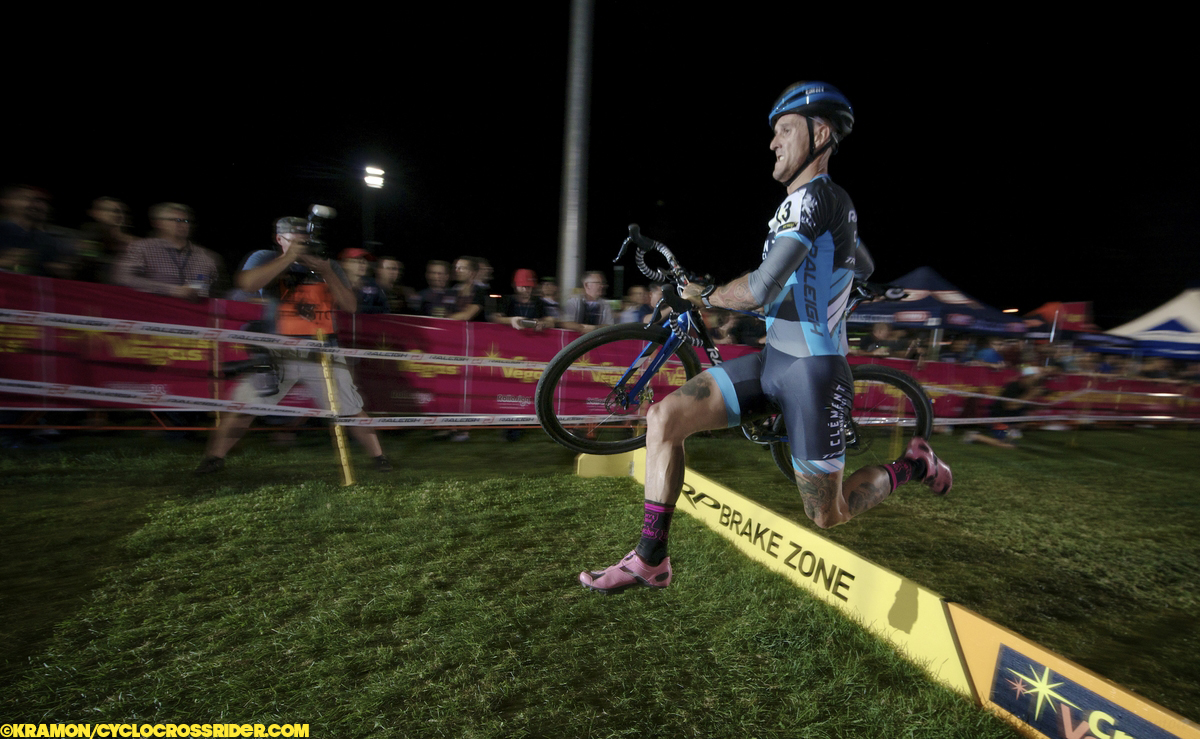 Ben Berden seems to have no problem with the extra weight of discs in last month's CrossVegas.
Aluminium is stiffer so bends less and will shed a few grams as well. These are a more expensive option and not a necessity, but will require a bit less maintenance. Semi-floating and floating rotors will have better brake feel compared with standard rotors even if your pads are worn or badly adjusted. They were originally developed for heat issues, but you're very unlikely to build up to fade inducing heat during 'cross.
The real issue... with disc brakes is that not all hubs set the rotor at the same distance from the centre-line
The real issue in 'cross with disc brakes is that not all hubs set the rotor at the same distance from the centre-line of your bike. Even hubs of the same make and model might not match. Most 'crossers will have multiple sets of wheels and this can pose a problem when swapping out wheels regularly. This mostly affects cable-actuated brakes but can affect hydraulics as well. But have no fear, you are not doomed to ill-adjusted brakes every time you swap wheels. The rotors can be spaced out with shims. Match all your wheels to your front and rear wheels with the most outboard rotor spacing.
It's a very time consuming process, but what part of prepping for 'cross isn't?
Main photo: Former American champion Jonathan Page has been racing a disc-equipped Fuji so far this season ©kramon/cyclocrossrider.com
Other photos: ©Mike Kangelos/PUSH Cycles.