LIVE Elite women's race - starting at 13.30 (CET)
LIVE Elite men's race - starting at 15.00 (CET)


Elite men
KEVIN Pauwels could secure his second UCI World Cup title at the Zolder motor racing circuit in Belgium today (with a race in hand). Pauwels (above at Zolder), the winner of the World Cup in 2011-12, leads Tom Meeusen by over 80 points in the six-race series.
This is turning into Pauwels' best season since the winter of 2011-12 and he won both the previous World Cup rounds in Milton Keynes and Namur (and finished runner-up in the first two). The Belgian Championship in Erpe-Mere in January and the World Championship in Tabor on February 2nd are both on courses that should suit Pauwels and who is to say that Kevin cannot win a 'Triple Crown' this season (he also leads the Superprestige series).
Back in 2004-05, Sven Nys won the UCI World Cup, Belgian Championship and World title all in the same season and Pauwels may well be in the form to emulate that fantastic achievement. Nys misses Zolder today as he continues the quest to refind his best form (we discuss his difficult year here) - the current Belgian champion had under-par results in the first three rounds of the World Cup (DNF in Valkenburg, 15th in Koksijde and 8th in Milton Keynes) and will return to racing in the Superprestige series in Diegem on Sunday (December 28th).
There is a slightly reconfigured course this year at Zolder with two new large bridges and an additional steep climb near to the end of the lap. Most of the main features of the course remain though - the steep bankings and drop-offs either side of the start and finish straight.
Non-starters: Klaas Vantornout stays on the sidelines with a viral infection; Thijs van Amerongen is also missing having been told he needs to rest; and Wietse Bosmans does not start either after it was discovered that he is still suffering from the effects of Lyme disease.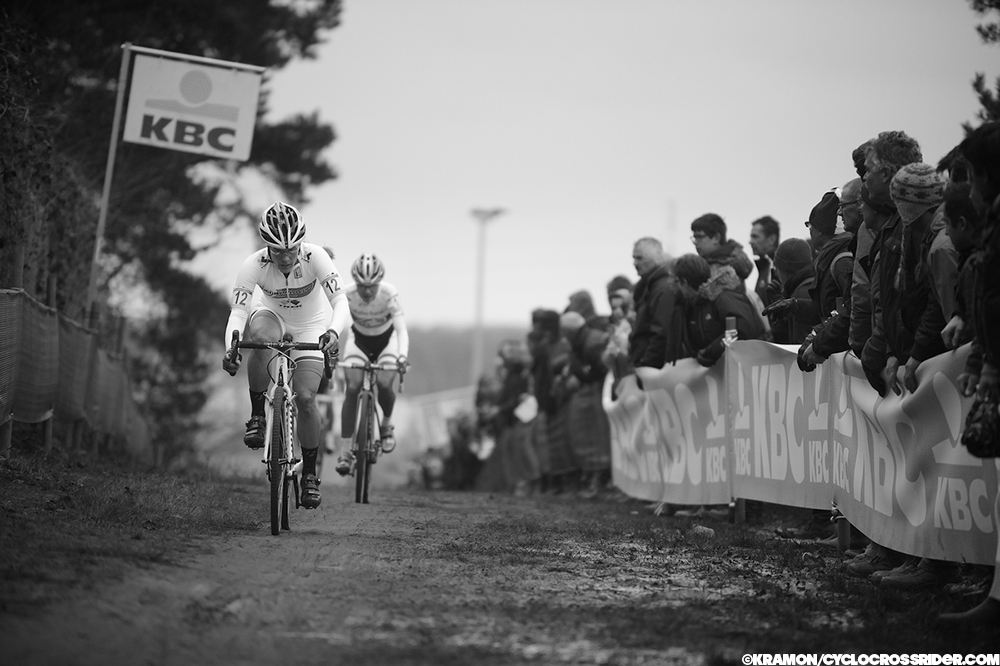 Elite women
There is another interesting women's race is in store in Zolder and the battle for the World Cup title, in contrast to the men, could not be tighter. Belgian champion Sanne Cant leads American champion Katie Compton (the title holder) by a single point.
World champion Marianne Vos will be starting her second race of the season after finishing runner-up to Katerina Nash in Namur so once again we are faced with a pretty unpredictable race where anyone of four or five riders could win. Vos does at least have Namur under her belt now and the sandier Zolder course may well suit her more.
Under-23 men
The Under-23s only contest four rounds this season and Wout Van Aert will be looking to extend his ten point lead over Michael Vanthourenhout. Dutchman Mthieu van der Poel currently lies third in the standings.
World Cup standings (after 4 rounds): 1 Pauwels 300 points; 2 Meeusen 223; 3 Van Kessel 218. Elite Women: 1 Cant 178 points; 2 Compton 177; 3 Van Loy 146.
2013 RESULT: 1 Van der Haar; 2 Bina; 3 Stybar. Elite women: 1 Compton; 2 Vos; 3 Cant.
Race programme (CET): 10.00 Junior men; 11.10 Under-23 men; 13.30 Elite women; 15.00 Elite men.
Live links at top of page.
Photos: ©kramon/cyclocrossrider.com