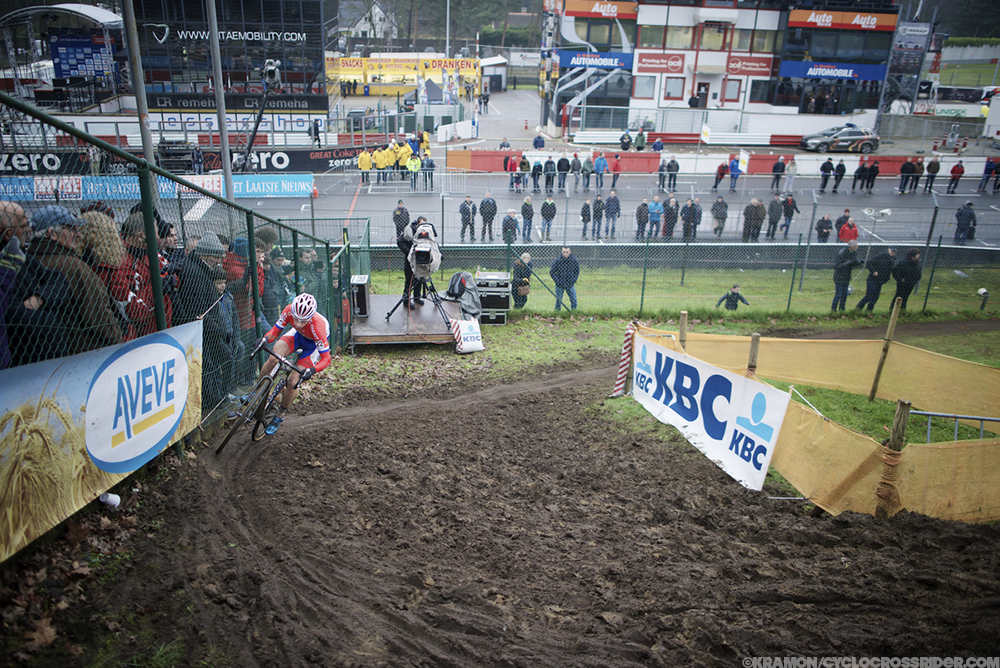 THE elite men's UCI World Cup will be decided in the final round in Hoogerheide on January 25th after all as Lars van der Haar's impressive victory in Zolder prevented today's runner-up Kevin Pauwels from walking away with the Dutchman's title with one round remaining.

Pauwels is still favourite to win the series though (with an 80 point lead) as Van der Haar needs not only to win the final round but for Pauwels not to score a single point in Hoogerheide. If that were to happen Van der Haar would retain his title with three race wins to Pauwels' two.
I just needed a bit of luck to finish things off - Van der Haar
"I've been in good shape," Van der Haar told TV reporters, "but I just needed a bit of luck to finish things off. I saw an opportunity when Kevin was a little way back and I decided to make a big attack."
Dutchman Corne van Kessel was fastest away but Pauwels immediately tried to stick his nose in front before settling into third place and when asked beforehand what the ideal scenario for today was, Pauwels had answered simply, "To win the race."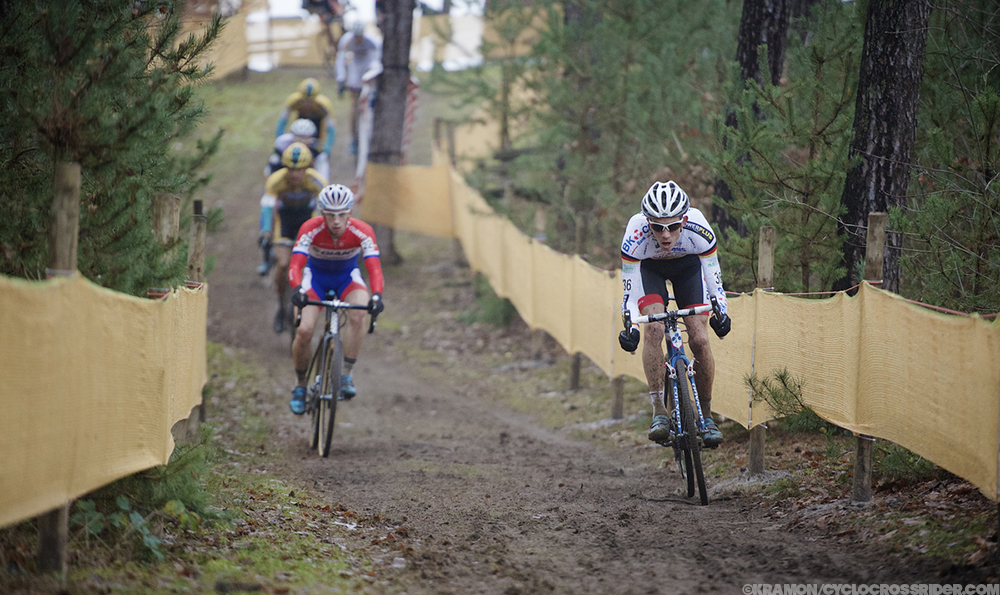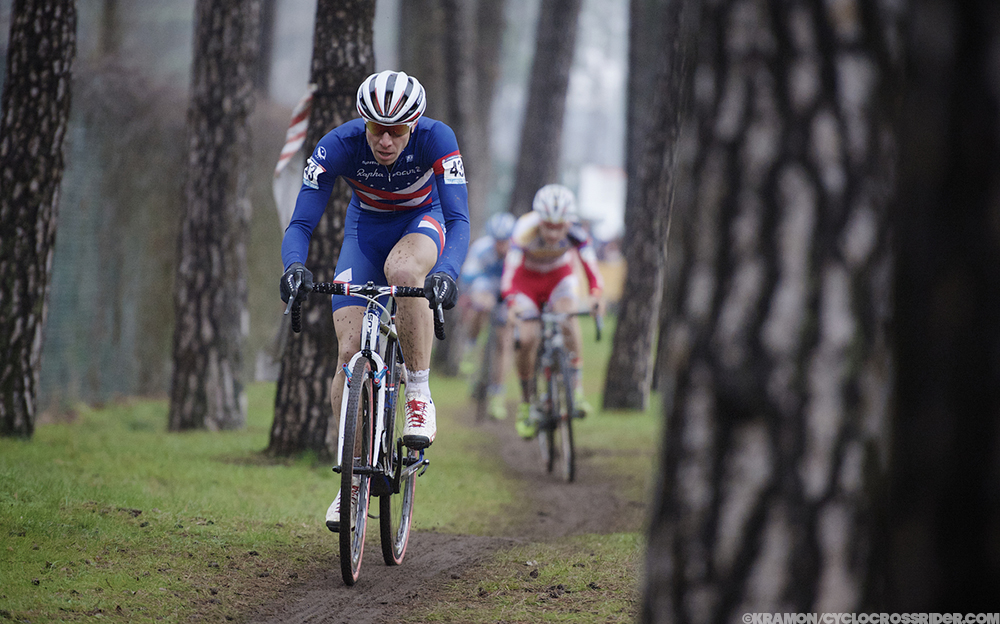 American champion Jeremy Powers (above) was riding in 11th place early on from his front row gridding with Briton Ian Field in 23rd place. The day's unluckiest rider was Marcel Wildhaber – the animator in Namur last Sunday – who snapped his chain on the first lap and had a long run to the pits. Powers was first home of the English-speaking nations in 18th with Jonathan Page down in 38th place and Ian Field, not fully recovered from illness, failing to finish.
At the end of the first lap the leading group of seven riders consisted of: Van der Haar; Tom Meeusen; Van Kessel; David van der Poel; Philipp Walsleben; Pauwels and Jens Adams. A lap later, Van der Haar, Van der Poel; Walsleben and Meeusen had a four second lead over Pauwels and Van Kessel and when Van der Haar looked for pace-setting help and found none he took off.
Over the third lap Van der Haar built up a decent lead and a sign that the Walsleben-led chasers were not gaining was that Julien Taramarcaz was able to join them.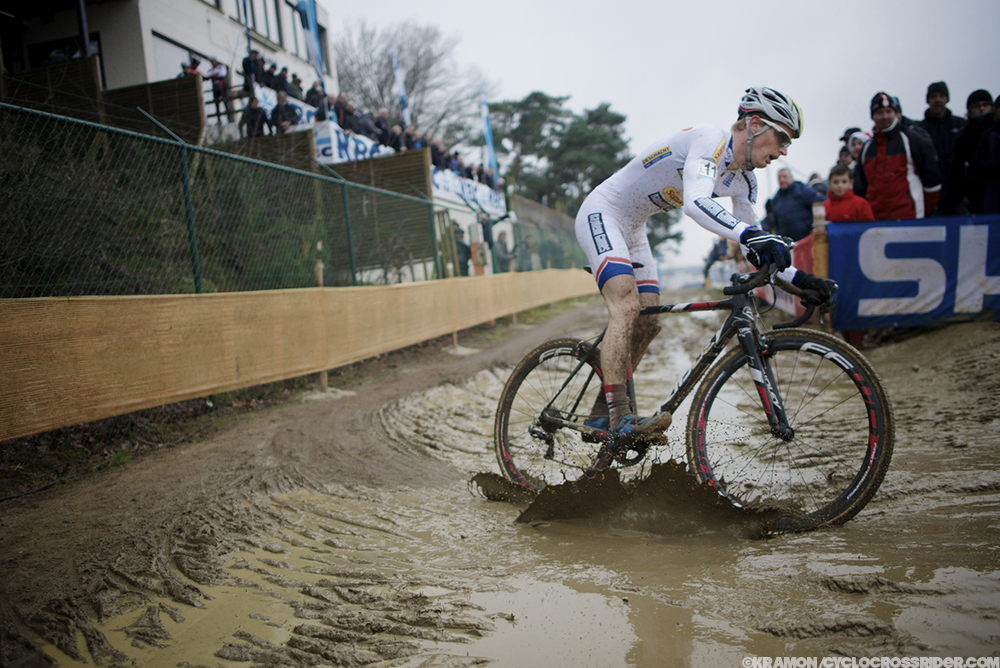 Van der Haar's lead had grown to 13 seconds as Tom Meeusen began to lead the chase into the fourth lap before Pauwels (above) finally made his move. After 20 minutes racing Pauwels worked his way to the front of the chase group and his acceleration immediately began to stretch them out. Meeusen tried to respond to Pauwels, but the big surprise was that he suddenly dropped down to eighth place (and eventually finished 17 th).
Race already decided?
Around the middle of the nine-lap race Pauwels was alone 12 seconds behind Van der Haar and would have to be nearly three seconds per lap quicker to catch the Dutchman. Behind Walsleben was at 18 seconds and the fading Meeusen was with Van der Poel and Taramarcaz at 29 seconds.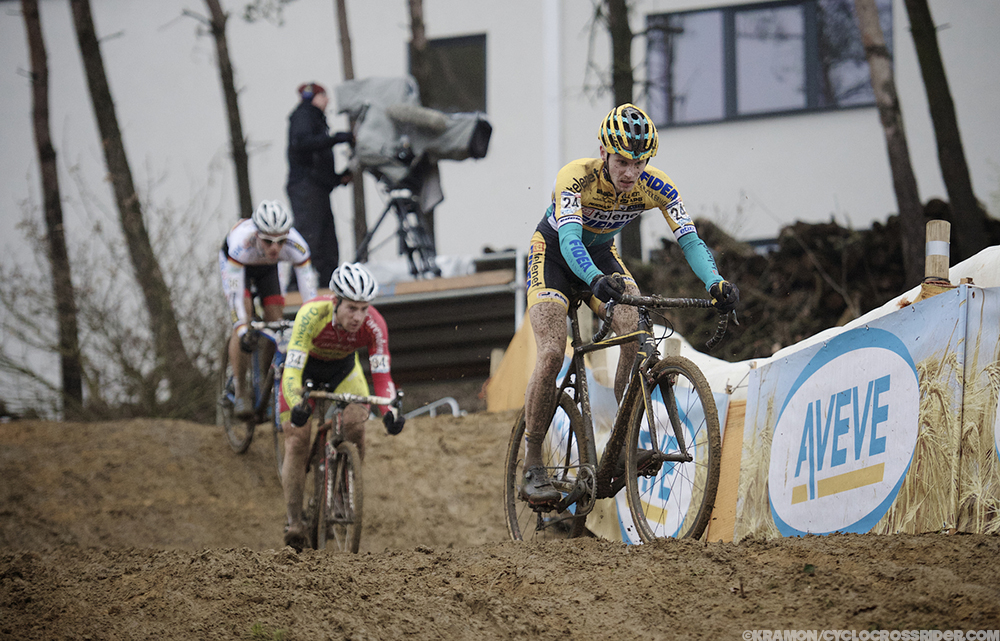 Van der Haar: his first victory since Valkenburg in October and only his third UCI win of the season
German champion Walsleben was soon caught by Taramarcaz and Van Kessel and so began a long fight for the third podium place. Up front Van der Haar's lead was growing as he looked for his first victory since Valkenburg in October and only his third UCI win of the season.
With three laps to go Van der Haar's lead over Pauwels was 24 seconds as Walsleben, Taramarcaz and Van Kessel battled away 58 seconds back. On the penultimate lap Van der Haar's chain bounced off on a sandy descent and the fact that he stopped to refit it and yet only lost one second of his lead was the indication that Pauwels had already settled for second place and 70 points.
Laatste ronde
At the bell, Van der Haar was almost guaranteed to win at Zolder for the second year in succession and the interesting battle was still for third place. Corne van Kessel attacked up the final climb (a new addition to the course) but Julien Taramarcaz chased as the pair left Walsleben and David Van der Poel behind. Taramarcaz, having his best race of the season, led out the sprint but agonizingly Van Kessel came around him in the final metres.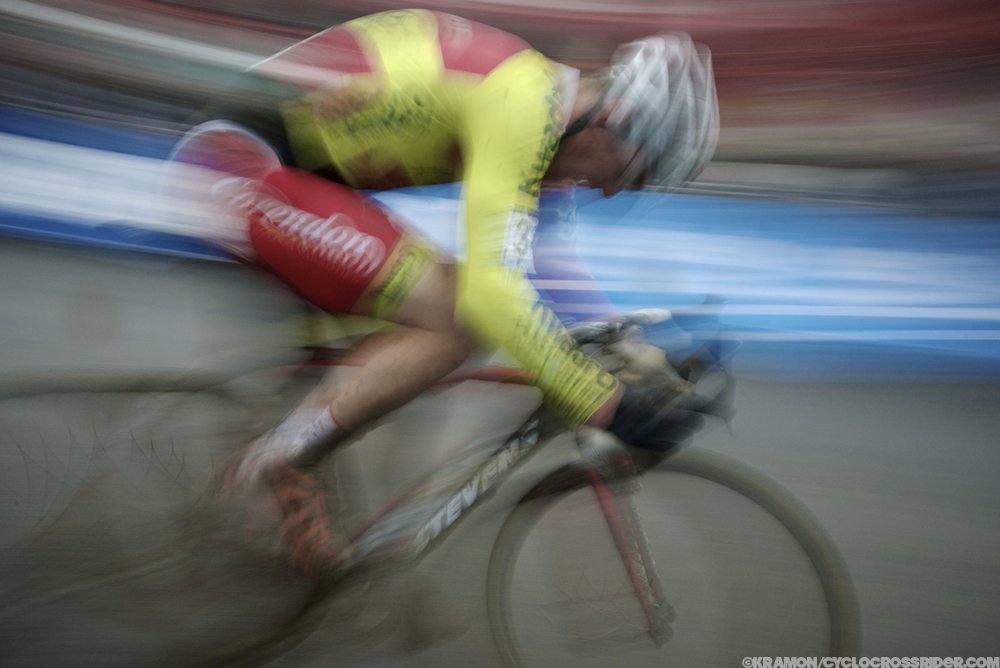 Above: Julien Taramarcaz narrowly missed out on the podium producing his best World Cup ride for a few seasons. Below: Sascha Weber finished in the top ten again.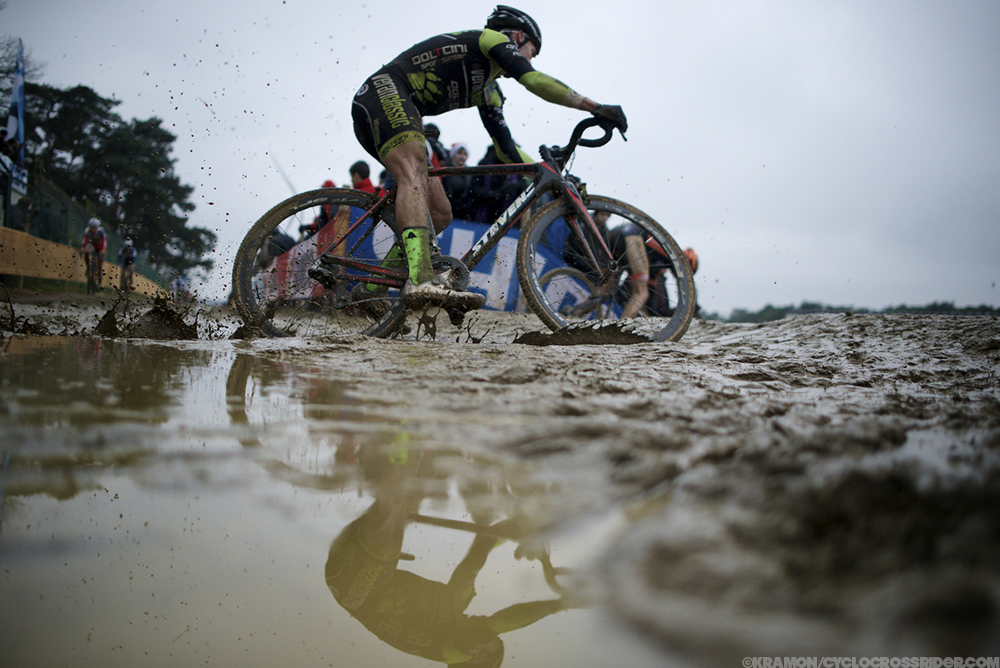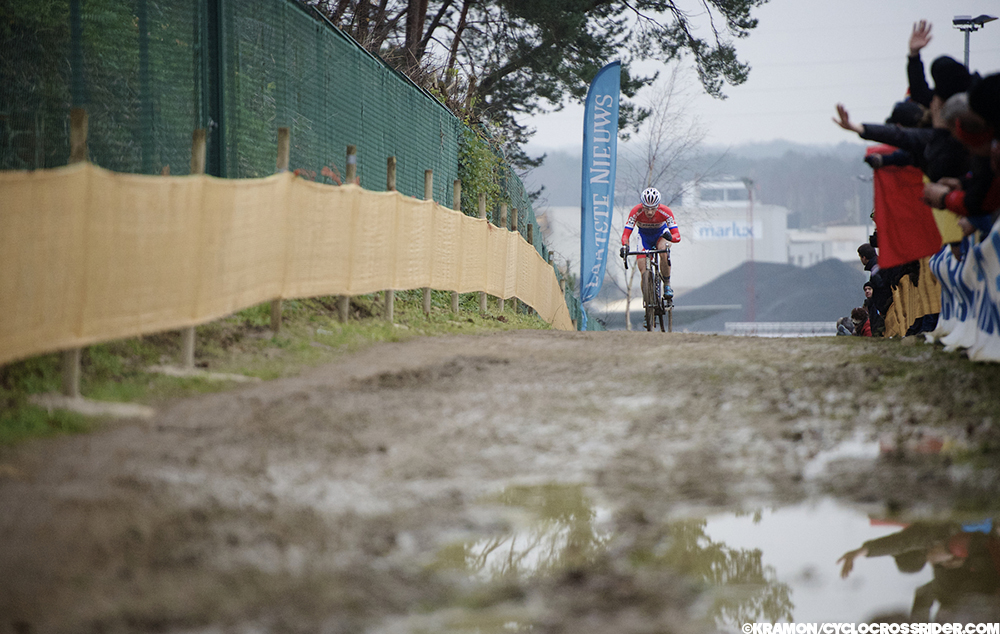 Elite men
1 Lars van der Haar

2 Kevin Pauwels

3 Corne van Kessel

4 Julien Taramarcaz

5 Philipp Walsleben

6 David van der Poel

7 Gianni Vermeersch

8 Sascha Weber

9 Martin Bina

10 Jens Adams

Overall standings (with one race remaining)
1 Pauwels

370 points.
2 Van der Haar

290.
3 Van Kessel

283.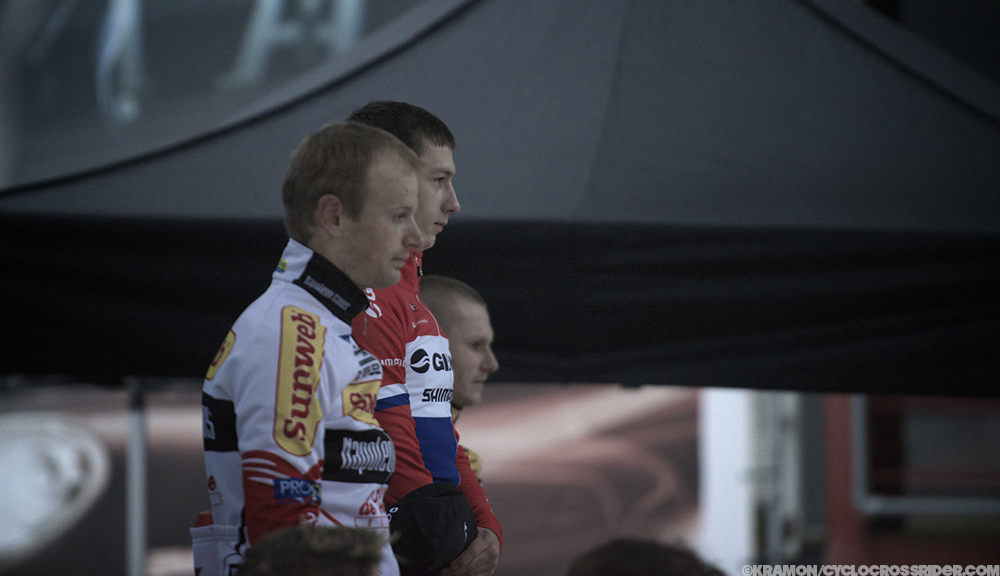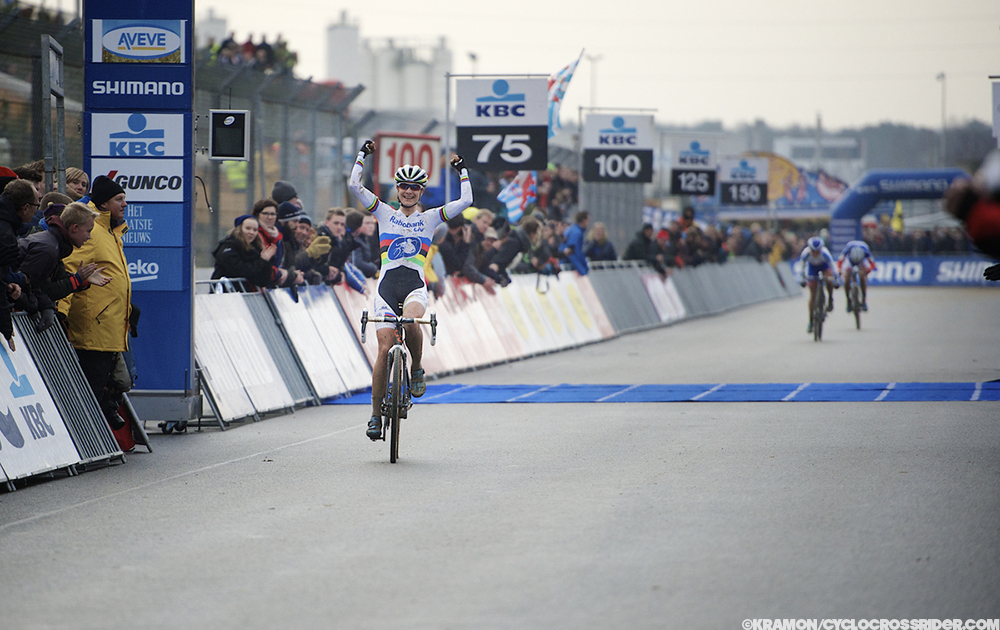 Elite women: Vos survives flat for first win of season
The World road race champion Pauline Ferrand-Prevot got away to a fast start but pretty soon her team mate and World cyclocross champion Marianne Vos took over lead duties.
Vos did not seem like she would have to look back and led around the halfway mark by 24 seconds from Ferrand-Prevot and Katerina Nash, who were just ahead of World Cup leader Sanne Cant, Sabrina Stultiens and Eva Lechner.
American champion, and World Cup title–holder, Katie Compton was never really a factor and did not finish the race. It's understood that Compton's asthma issues could be caused by an allergy to mold and that she struggles with this in the damp European winter.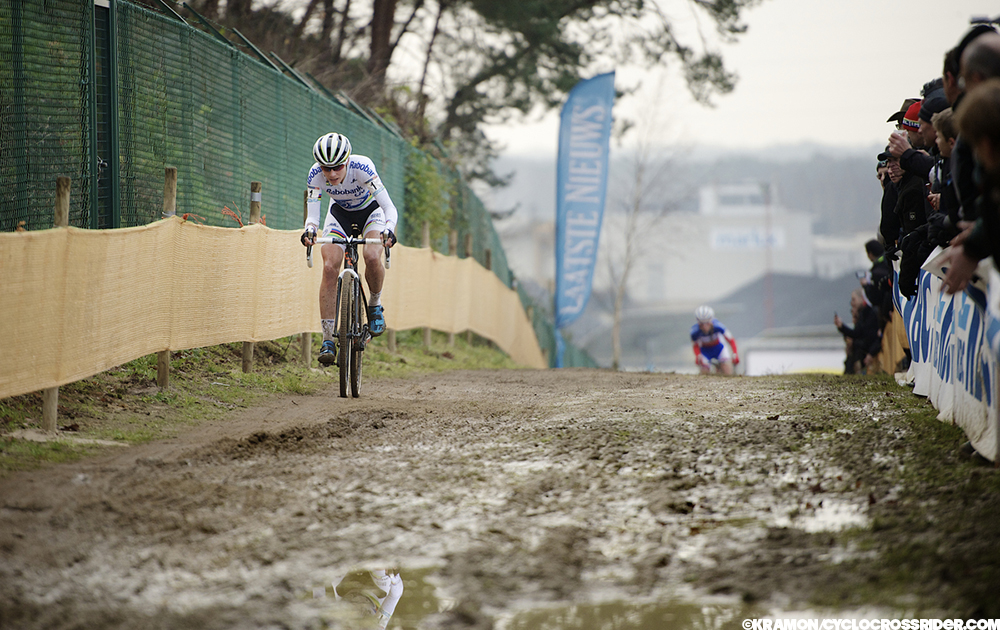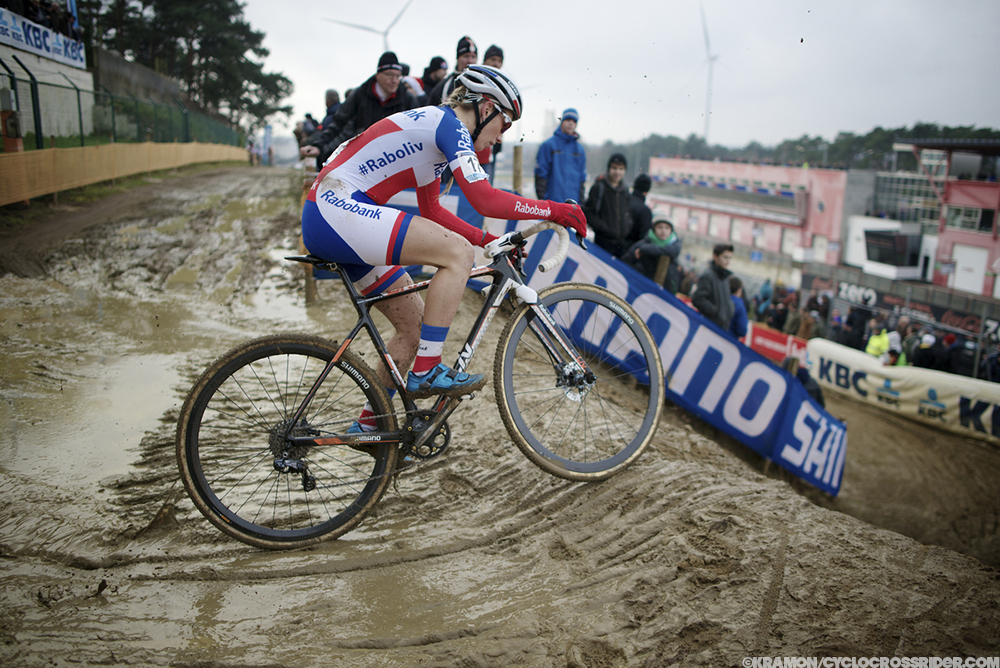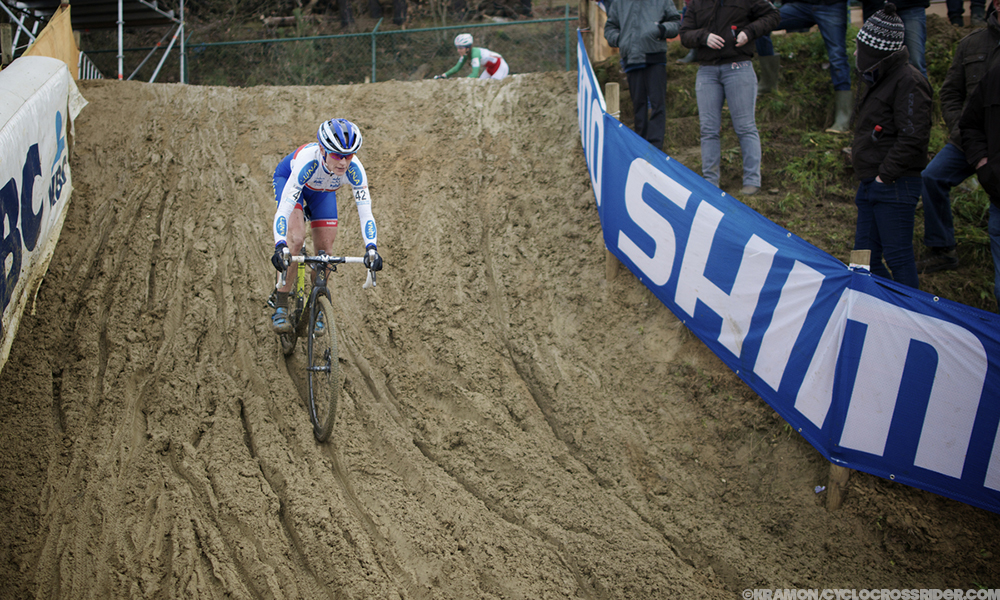 With two laps to go, Vos' lead had grown 31 seconds and when Nash changed bikes she lost a handful of seconds and the wheel of Ferrand-Prevot – it was half a lap before Nash could make contact again and move back into second place. Somewhere out of camera shot Sanne Cant broke several spokes that buckled her rear wheel badly. She stopped to open up the rear brake and dropped back to seventh place before changing bikes.
Approaching the bell Czech champion Nash and French champion Ferrand-Prevot suddenly had Vos back in their sights though (and Vos was concerned with a soft tyre) - the gap had fallen to just a single second with Stultiens at 11 seconds.
When Vos pitted with the puncture she dropped to third place and Ferrand-Prevot tried to seize the initiative. It was an eventful final lap and the unfortunate Nash ended up on the ground twice.
Nash tried to cut inside on a sharp left hand corner only for Ferrand-Prevot to strongly hold the inside line which put Nash on the ground and Vos momentarily held up. This did not deter Nash, the winner in Namur, and she took the lead with an attack before the big banking as Ferrand-Prevot was put on the back foot and back in third. The move was doomed though as Nash slipped on the bottom wooden step of the run-up and that allowed Vos back in front.
The World champion attacked up the steep, new climb towards the end of the lap and drove away to win by four seconds as Nash won the battle for second.
Britons Nikki Harris and Helen Wyman finished 11th and 13 th respectively.
"I did not really want it to be such an exciting last lap, but with the puncture it was good entertainment for the spectators," Vos said after the race. Cant retained her lead in the series with only one race remaining.
Elite women
1 Marianne Vos

2 Katerina Nash

3 Pauline Ferrand-Prevot

4 Sabrina Stultiens

5 Eva Lechner

6 Ellen Van Loy

7 Sanne Cant

8 De Boer

Overall standings (with one race remaining)
1 Cant

206 points.
2 Compton

177.
3 Van Loy

176.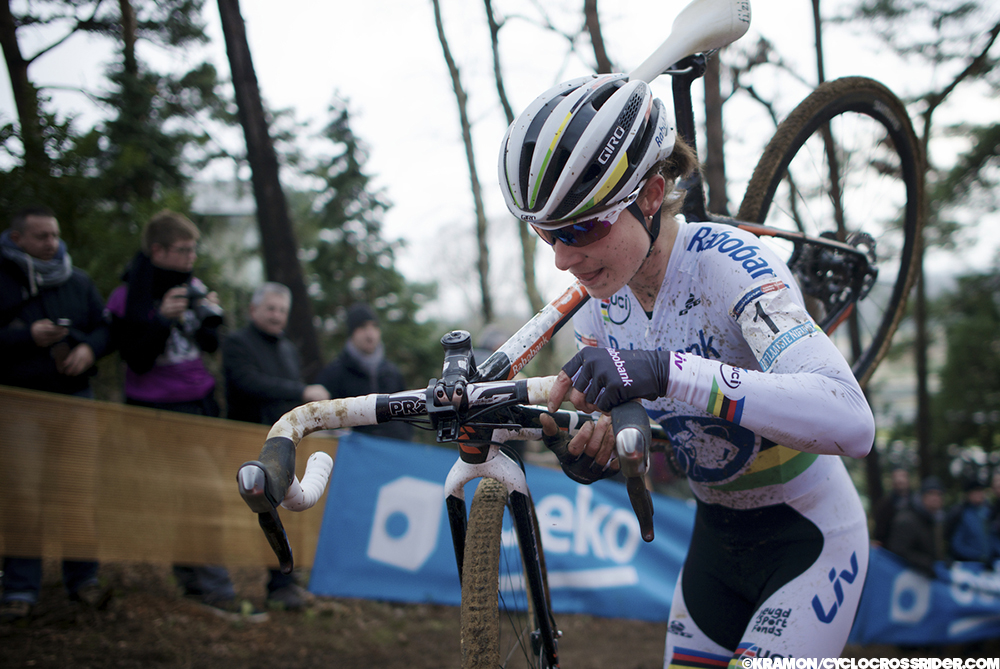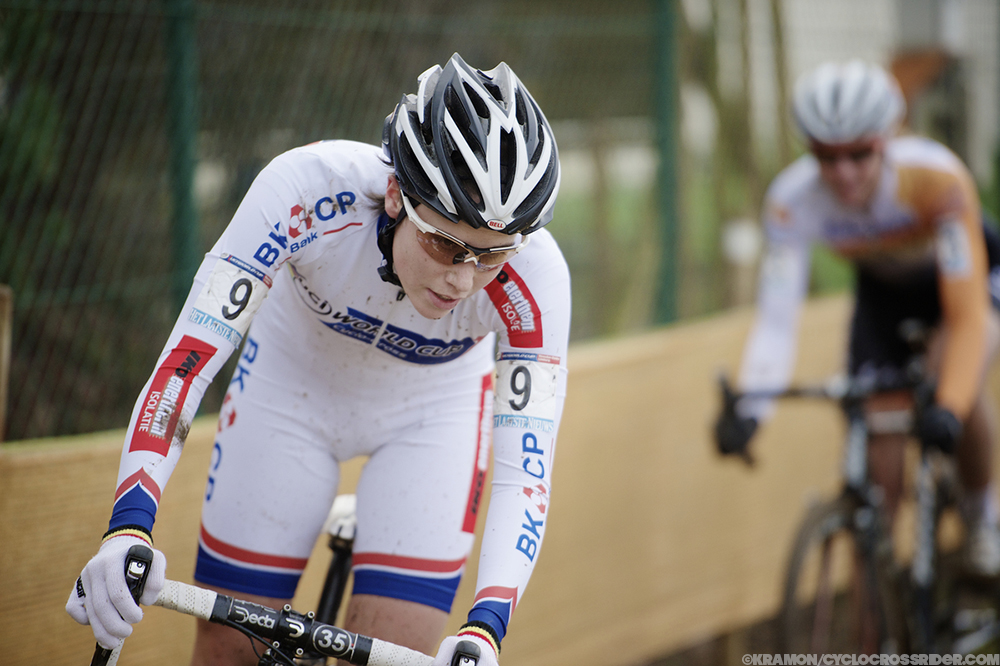 Photos: ©kramon/cyclocrossrider.com

Watch again - full TV coverage...