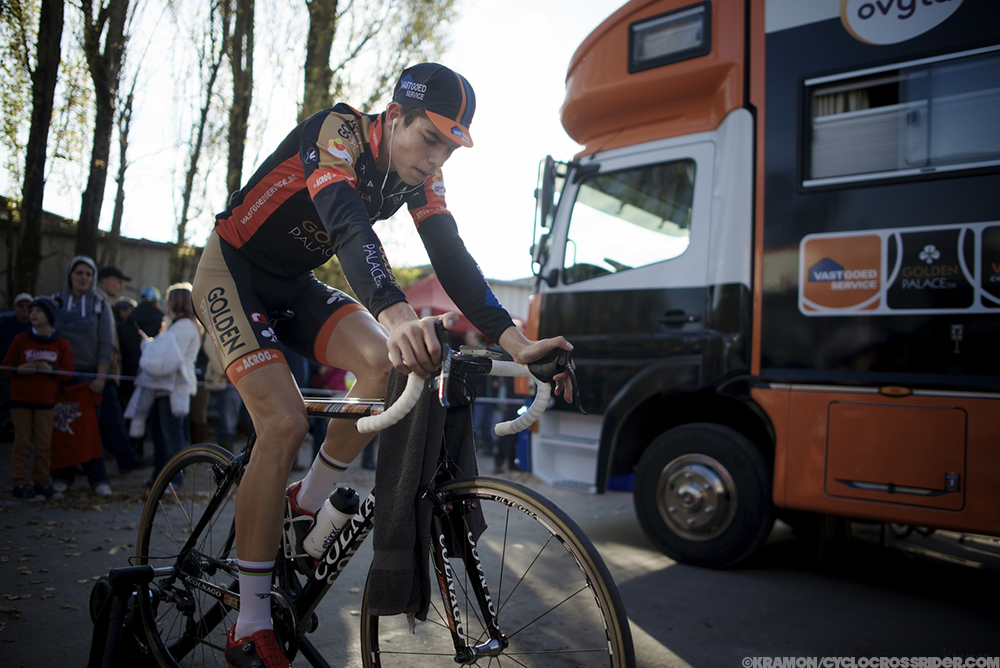 WORLD Under-23 champion Wout Van Aert did exactly what Trofee leader Sven Nys would have feared most today: taking off early; collecting the maximum time bonus along the way; and winning by over a minute.

It was a mightily impressive ride from Van Aert who made the heavy parts of the course look easy and also showed that he is one of the strongest runners in the pro peloton. As a youngster Van Aert ran and raced cross-country with his athletics club in Lille.
It's the first time I've led an elite series, but if I lose it again there is nothing wrong with that
"Of course I will defend my lead," Van Aert told reporters. "I had a plan to start fast with Rob (Peeters), but I did not think I would win easily. It's the first time I've led an elite series, but if I lose it again there is nothing wrong with that," said the twenty-year-old.
For Nys, who finished thirteenth and nearly three minutes down, it did nothing to reassure him about his current form issue and he promptly withdrew from Sunday's World Cup in Namur.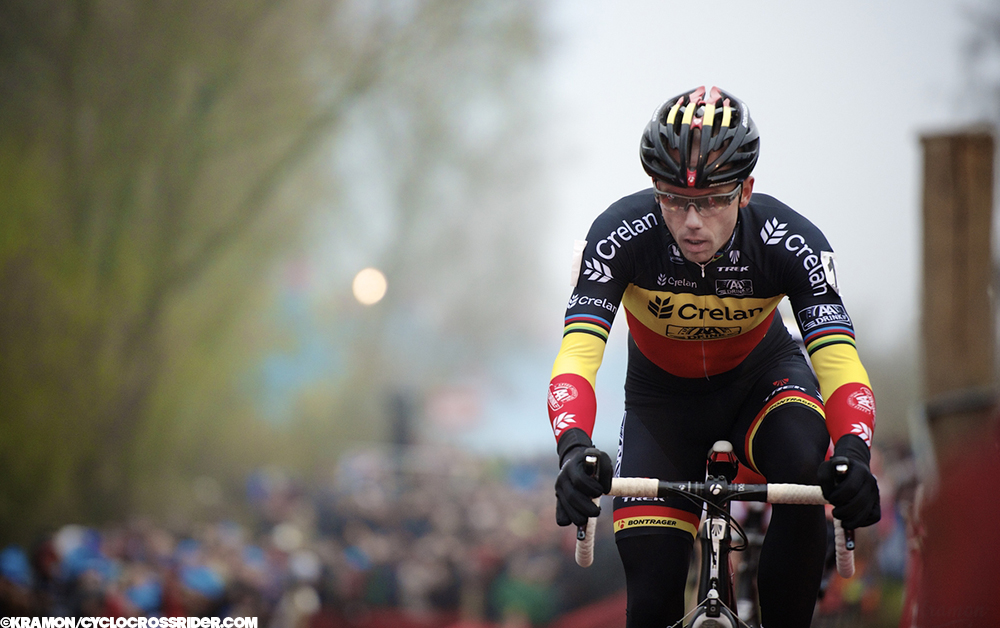 Belgian champion Nys made his announcement on twitter (below). After lacklustre rides in the first three rounds of the World Cup, Nys sits a lowly 20th in the overall standings and out of contention. It's unsure if Sven will race the next big race - another World Cup in Zolder (Dec 26th) or now wait until the Superprestige round in Diegem on the 28th. Nys is currently only three points off the lead in the Superprestige series.
Competitie stop! Geen Namen geen ...

— Sven Nys (@sven_nys) December 20, 2014
Dutch champion Lars van der Haar was the early leader in Essen, but he slipped back throughout the race and twisting an ankle in the deep mud did not help him towards the end. Nys, who had support tape on his left calf, got off to a good start in fourth place before settling into sixth around the opening lap.
It looked like Van Aert's Vastgoedservice-Golden Palace Team had a plan though as into the first running section he looked back before throwing the bike onto his shoulder and running hard. Team mate Rob Peeters moved into second place and then rode hard to join him. Tom Meeusen was the only other rider to really respond and he joined then at the end of lap one.
Peeters took the lead, allowing Van Aert to shelter, down the finish straight and they had a lead of nine seconds over the Sven Nys group.
At the end of the second lap the trio were already 17 seconds ahead of the Kevin Pauwels led chasers whilst Nys was now at 23 seconds.
Race decided
Thus the shape of the nine-lap race was set. Van Aert attacked alone on the fourth lap and immediately built a 13 second lead. Tom Meeusen established himself alone in second place on his hometown course and Peeters and Pauwels began a tussle for the third podium spot.
Two-thirds of the way through Van Aert had become the virtual Trofee leader as with the 15 second 'sprint bonus' he had cancelled out his 1:31 defecit on Nys before the start. Nys was in ninth place and expected to ride a strong last third of a race.
The order up front remained Van Aert, Meussen, then Pauwels and Peeters and then behind them: Walsleben, Gianni Vermeersch and Sven Vanthourenhout. Nys' strong finish never materialised and he dropped out of the top ten. An unseen mistake by Pauwels allowed Peeters to clinch a deserved podium place.
Elite men's results
1 Wout Van Aert

2 Tom Meeusen

+1:06
3 Rob Peeters

+1:40
4 Kevin Pauwels

+1:50
5 Philipp Walsleben

+2:02
6 Gianni Vermeersch

+2:07
7 Sven Vanthourenhout

+2:13
8 Joeri Adams

+2:22
9 Jens Adams

+2:27
10 Tim Merlier

+2:31
13 Sven Nys

+2:50
15 Lars Van der Haar

+3:28
Overall standings (after 5 rounds)
1 Van Aert

2 Nys

+ 1:50
3 Pauwels

+1:56
4 Meeusen

+2:27
5 Van der Haar

+5:46
Elite women
Dutchwoman Sophie de Boer is really making the women's Trofee series her own as she extended her lead over Belgian pair Ellen Van Loy and Sanne Cant. Briton Nikki Harris, returning to racing after injury, was the early leader before De Boer took charge. Sanne Cant chased De Boer, as Van Loy established herself in third place, but the Dutchwoman was too strong and won easily in the end. Harris will be pleased with fourth place on her return as Helen Wyman finished eighth. De Boer now leads Van Loy by 2 minutes 58 seconds on the overall classification.
Elite women's results
1 Sophie de Boer

2 Sanne Cant

3 Ellen Van Loy

Photos: ©kramon/cyclocrossrider.com