THE NEW season may only be a few weeks old but a newspaper column by former World champion Niels Albert yesterday (October 6th) in Het Laatste Nieuws launched the debate over which Belgians might make the national team for the World Championship and which riders might find themselves under pressure over the coming months.

Albert's Vastgoedservice-Golden Palace team protégé Wout Van Aert has made an unbeaten start to his season – winning all four of his races including the opening rounds of the UCI World Cup and Superprestige series - so in Het Laatste Nieuws yesterday Albert made some observations about where the threat to Van Aert might come from.
The Pauwels-Vantornout-Meeusen generation have the big problem - Niels Albert
The part of Albert's column that drew most attention was "Kevin Pauwels, Klaas Vantornout, Tom Meeusen and that generation are in for a difficult time."
"I am supposed to say that it is too early in the season to draw real conclusions, but I see what I see. Wout Van Aert is on top, but of course we are missing Mathieu van der Poel (injured). Sven's form has been a positive surprise and it is the Pauwels-Vantornout-Meeusen generation who have the big problem," wrote Albert.
Missing generation
Albert was actually only saying what we have already noted here at Cyclocrossrider.com – namely that with the rapid rise of Van Aert and World champion Mathieu van der Poel and others who are also reaching their peak does indeed mean that the late-twenty-somethings and early-thirty-somethings are indeed under pressure to achieve greater things before their powers wane.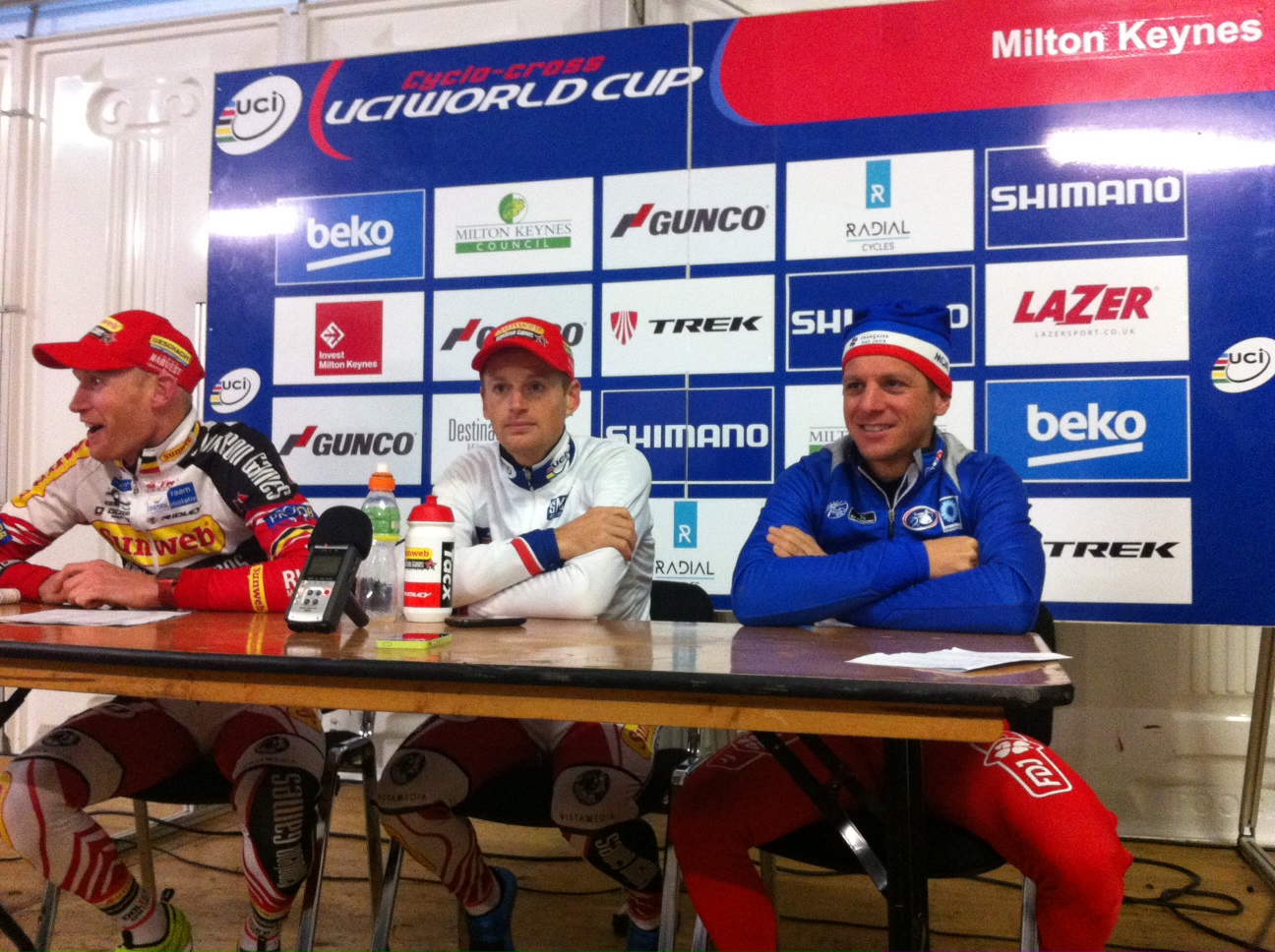 World Cup holder Kevin Pauwels (centre) is top of the UCI rankings..

They are Belgian riders who have been overshadowed to a large degree by the longevity of Sven Nys and his battles with Zdenek Stybar and Niels Albert. We wrote last season that they could become a kind of 'missing generation.'
Rainbow jersey
Between 2009 and 2014 the rainbow jersey changed hands between Nys, Stybar and Albert as (the Belgians) Vantornout picked up two silver medals, Pauwels three bronze and Rob Peeters one silver. Then last season in Tabor, of course, the podium was dominated by the 'younger generation' of Van der Poel, Van Aert and Lars van der Haar.
Four talented under-23 riders have all moved up early to race at elite level - Van Aert, Mathieu Van der Poel, Michael Vanthourenhout, Laurens Sweeck – and other younger riders Tim Merlier, Gianni Vermeersch and Wietse Bosmans will also be reaching their peak soon. It is far from a national crisis of course as apart from Van der Poel they are all Belgian riders.
Ages* of Belgians ranked in UCI top 30 (*UCI age)
1 Kevin Pauwels 31
2 Wout Van Aert 21
5 Tom Meeusen 27
6 Laurens Sweeck 22
7 Klaas Vantornout 33
10 Michael Vanthourenhout 22
11 Sven Nys 39
14 Gianni Vermeersch 23
22 Rob Peeters 30
23 Jens Adams 23
24 Toon Aerts 22
25 Tim Merlier 23
Albert's column immediately caused Sporza journalists to seek out a reaction from the chief sporting director of Pauwels and Vantornout's team former World champion Mario De Clerq.
Yesterday evening, Sporza reported that De Clerq and his Sunweb-Napoleon Games team are "not worried yet."
Kevin is in good shape and Klaas no less so - De Clerq
"The races will become heavier and then (Kevin and Klaas) we will be more of a threat. Kevin is in good shape and Klaas no less so," the three-time World 'cross champion told Sporza.
"Bullshit"
"Wout Van Aert is head and shoulders above everyone else at the moment – he has surprised me. Kevin (Pauwels) has the speed to match Van Aert, but he started badly twice. Kevin's lap times are good so in the next races let's see. I am convinced that on the heavier courses we will make the connection," said De Clerq, adding, "Everyone knows that there is a strong young generation knocking on the door, but to say that Kevin and Klaas should already be worried – I think that's bullshit."
Michael Vanthourenhout is the top young talent on De Clerq's team and he took third place in CrossVegas thanks to some good team work. "There is competition even within the team. I think that's perfect. Everyone stays sharp," De Clerq is quoted.
"Sven is looking better this season," added De Clerq, "so with Kevin, Klaas, Michael and Sven you have strong challenges to Van Aert's current dominance. On a fast course like Zolder, however Mathieu van der Poel will still be the big danger."
Psychology
With Pauwels, Vantornout, Michael Vanthourenhout, and Gianni Vermeersch the Sunweb-Napoleon Games team actually have almost an embarrassment of riches and should be the team with the most strength in depth this season. Albert's Vastgoedservice-Golden Palace team is still a young outfit and psychology is one of the cards they will have to play. Albert's summer signing of Sunweb's Tim Merlier was perhaps stage one of that particular battle.
Belgian podium placings this season (major races only):
Wout Van Aert: 4 wins
Sven Nys: 2nd, 3rd
Kevin Pauwels: 2nd
Michael Vanthorenhout: 3rd, 2nd
Laurens Sweeck: 3rd
Tim Merlier: 3rd
As our front page image by Paul Burgoine shows it's only ten months or so since Pauwels and Belgian champion Vantornout finished 1-2 at the Milton Keynes round of the World Cup – a competition which Kevin Pauwels won. It is clearly too early to know, but one thing is for sure, competition will be intense and even a rider like Sven Nys knows that he is not immune from the pressure. The real challenges will change as the season progresses and it will be interesting to see if the older riders cope with the pressure of a long season better than some of the younger riders.
Battle between the 'cross toppers recommences over the tough Hotondberg course near Ronse on Sunday in the opening round of the bpost Bank Trofee.