THE FAMOUS Superprestige series kicks off on Sunday in Gieten – a sandy venue that has hosted top level 'cross racing since 1976. Sleepy Gieten is in the far north of The Netherlands and, due to its long history, the race is a classic despite being so far away from the sport's Belgian heartland.

Sven Nys has won in Gieten eight times and practically all of the big names of the sport have won here: Liboton; Herygers; Vervecken; Adri Van der Poel; Groenendaal; Albert; the list goes on.
Although Gieten and the organisers will celebrate the 40th edition of the race tomorrow, it's a significant day for professional European cyclocross circuit for another reason. Not all of the Superprestige series will be broadcast by the mainstream Flemish broadcasters and this could well impact on viewers in other countries wanting to watch the live action online. Gieten is the first race affected and others such as Superprestige Spa-Francochamps and the French round of the World Cup may also be and perhaps switch from the Flemish stations people are familiar with and be broadcast on French-language channel RTBF.
Clash with Lombardia
For the past few seasons the Superprestige broadcast deal was with VIER a Flemish TV channel who also made the live broadcasts available online (on their website). Anyone around the world could watch the Superprestige racing live. This season though, Flemish 'terrestrial' broadcasters will only show a "relevant selection" of races live and Gieten becomes the first 'casualty' of this partly due to its clash with the Il Lombardia classic road race.
Those races not shown by Belgium's national broadcasters will be available to watch, but only on a subscription digital channel from Telenet.
On Sunday only highlights of Gieten are likely to be shown at the end of the Flemish national sports show from Sporza and Belgian fans must have a subscription to watch the racing live on the digital channel Telenet Play Sports (channel 11 - due to start at 14.30 CEST).
Livestreams?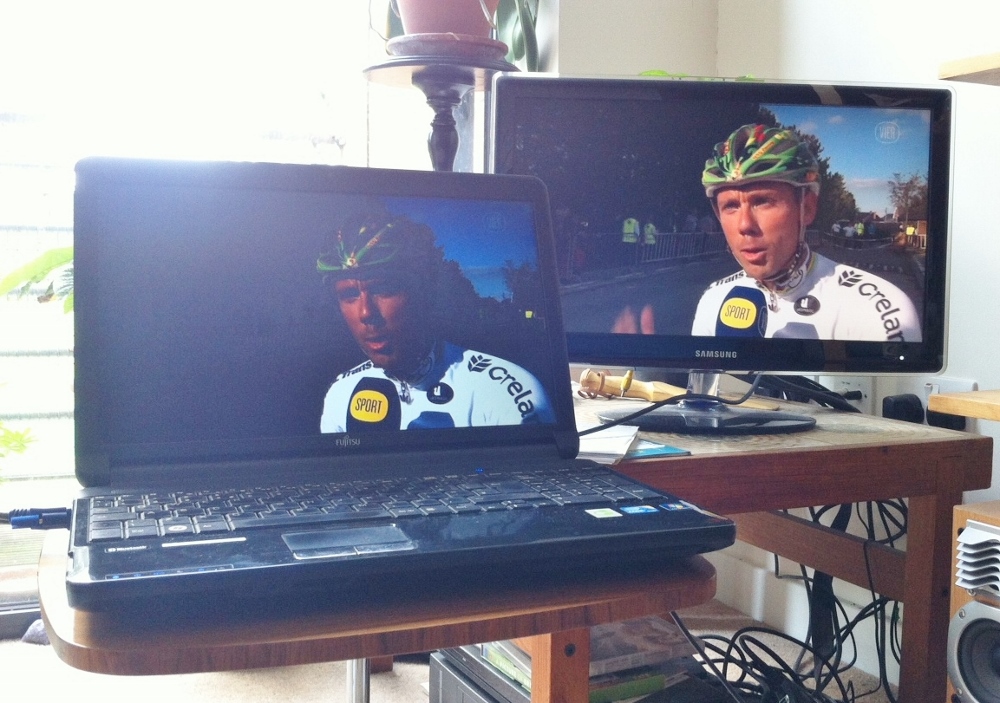 It remains to be seen if those mysterious people who source livestreams and supply feed links on various websites (Cycling Fans, Pro Cycling Live, Steep Hill etc.) will be able to find the live action from Gieten.
The new Telenet digital coverage is backed up by the launch of an app, but this will only allow subscribers to watch Play Sports on their tablets and smart phones in any place where Telenet Wi-Fi is available (ie. Belgium and possibly more specifically Flanders).
Luc Van Langenhove, manager of VRT Sport said in the summer: "Sporza and the VRT are very happy with this forthcoming cooperation. VRT guarantees to show a relevant selection of cyclocross races. The cyclocross races from the Hansgrohe Superprestige and the World Cup races that will not be televised by VRT will be available on Play Sports for all Telenet TV subscribers. Play Sports will also televise a number of new, individual cyclocross races."
The UCI World Cup is available for many to watch via the UCI website but in this case – with the new Telenet deal and reading between the lines - it may be the fans in Flanders who are missing out on watching the round in France for instance. For a sport with relatively small budgets and with a large fan base in just one part of one country this partial move away from the Flemish broadcasters is not good news (for UK readers the situation is akin to the BBC losing the TV rights to a UK subscription-only channel).
Surgery for Van der Poel
Dutch World champion, and last year's winner here, Mathieu van der Poel misses Sunday's Gieten race (because of the complications with a knee injury he sustained in the Tour de l'Avenir) and in his absence the way is open for in-form Wout Van Aert to add his name to the long Gieten honours board. Van Aert is unbeaten this season having notched up wins in Las Vegas, Erpe-Mere and Neerpelt.
Van der Poel underwent surgery – to remove damaged tendons - on Friday (October 2 nd) and it is certain to rule out his chances of retaining the Superprestige crown he won last season - he is set to miss three weeks of training. His team management have admitted that their main star is now realistically out of the running in all three major classifications (World Cup, Superprestige and Trofee) and his return is pencilled in for Zonhoven on October 25th.
New klassement for elite women
For the first ever season the Superprestige organisation has established an elite women's classification which will be sponsored by kitchen appliance company Boretti.
Belgian champion Sanne Cant immediately set her sights on the new 'klassement' saying, "Scoring in the rankings is definitely a goal and hopefully in Gieten I can immediately lay the basis for a possible victory. I am riding perhaps slightly better than last year and Gieten serves up a sand track and everyone knows that this is a surface that suits me perfectly." Cant was the winner in Gieten last season.
Start times in Gieten are as follows (all CEST local time):
09.45 Nieuwelingen
11.00 Ridley Cup voor Internationale Junior men
12.15 Topsport Vlaanderen Superprestige Under-23 men
13.45 Superprestige Boretti Womens Trophy
15.00 Hansgrohe Superprestige Elite
2014 in Gieten includes full TV re-run here
2015 Gieten highlights shown by Sporza after the racing