Elite women's race highlights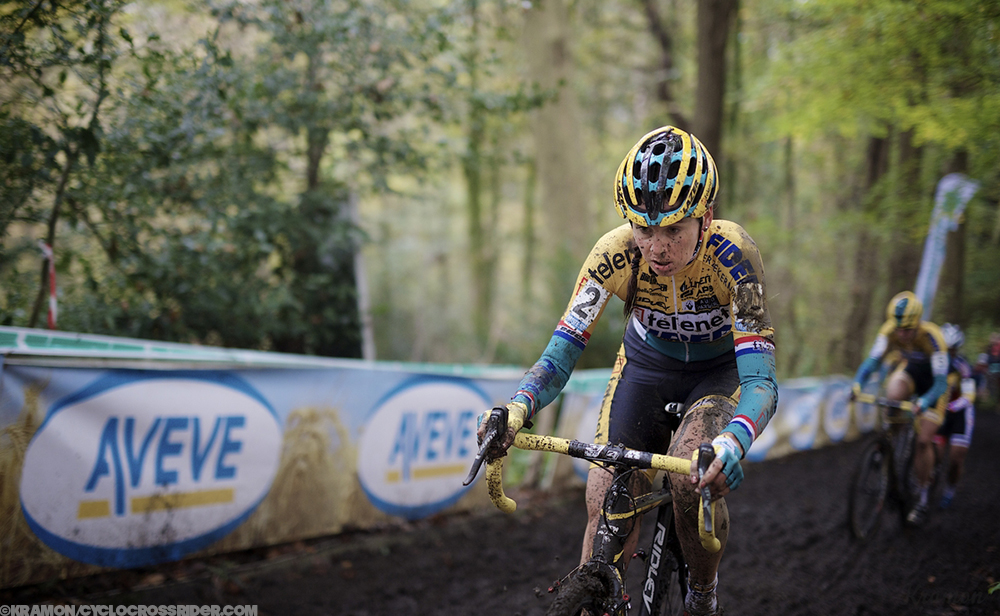 WHILST not a full dress rehearsal for next weekend's various national championships, the Soudal Classic in Leuven today will include some interesting pre-title battles.
The women's event may include at least two races-within-a-race. Reigning Belgian champion Sanne Cant had a great start to the season, but Ellen Van Loy is a serious threat on current form and both will be wanting to potentially gain an edge today. The British title is not a foregone conclusion either - Nikki Harris (above) and British champion Helen Wyman have been pretty closely matched this season and so their performances today (if Wyman starts) will give a big clue as to which one of the pair may be crowned national champion in Abergavenny on January 11th.
The favourite for the Belgian men's title, Wout Van Aert is training in Spain until Monday and misses Leuven as does Dutch champion Lars van der Haar (and Klaas Vantornout - still unwell). That still leaves an interesting battle today between the other Belgians who are hoping to win a medal next weekend - Kevin Pauwels and Tom Meeusen are perhaps the two riders who can give Van Aert the most trouble whilst defending champion Sven Nys continues to regain form.
And the riders that the senior Belgians will be trying to hang onto? Their biggest dangers today are likely to be Laurens Sweeck - a favourite for the Belgian Under-23 title (with Van Aert contested the elite) and young Dutchman Mathieu van der Poel (below) who will be a very real danger to Van der Haar in next Sunday's Dutch National Championship.
Leuven race programme (CET): 11.00 Nieuwelingen; 12.00 Junior men; 13.45 Elite women; 15.00 Elite men.

2013 result: 1 Nys; 2 Pauwels; 3 Meeusen. Women: 1 Vos; 2 Cant; 3 Harris.
Live race coverage on Vier expected at 14.30 (CET). Live link expected here.