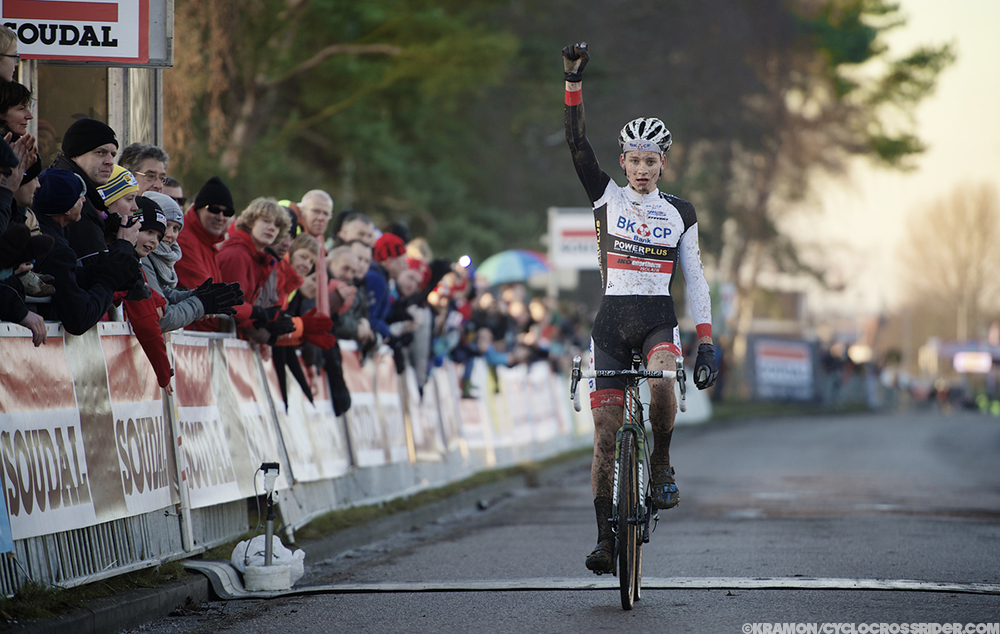 WITH Wout Van Aert away training in Spain, the stage was set for the Nederlands' own wunderkind, Mathieu van der Poel, to win the Soudal Classic in Leuven. The victory, which came despite a third lap puncture, will give the younger of the Van der Poel brothers a boost of confidence going into next Sunday's national title race where he will be attempting to dethrone Lars van der Haar (who won in Surhuisterveen on Friday).
Van der Poel showcased his brilliance on the very first lap as on a long slippery climb he moved up from sixth place to fly off the front with only Tom Meeusen able to accelerate onto his wheel. Early on, Belgian champion Sven Nys - the winner here twelve months ago - was in twelfth place just ahead of Kevin Pauwels.
Whilst Pauwels made it into the large lead group at the end of the first lap, Nys was just off the back and 13 seconds away from the front and although Nys regained contact, he remained in twelfth place as Pauwels was able to move up to sixth.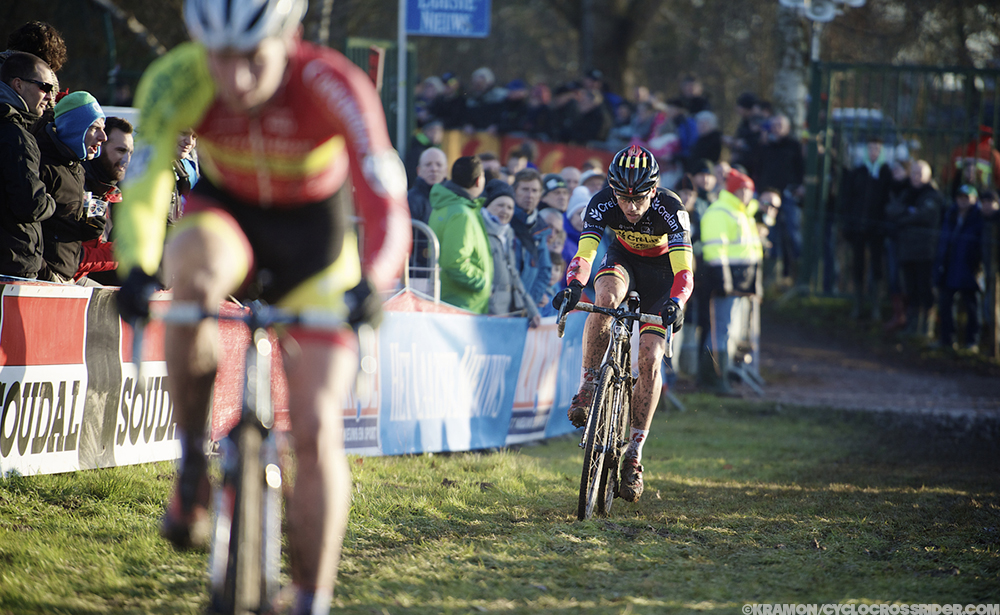 Nys (above) did not make any further impression on the race and it was a slight setback for his stated aim of trying to finish on the podium next weekend in Erpe-Mere. The cyclocross legend looked very disappointed after the race when surrounded by reporters and TV cameras.
Unless I'm sick, then I'll be lining up in Erpe-Mere - Sven Nys
"It was not good, that's all I can say," Nys told the cameras, "Perhaps I'm not fully recovered from Baal (January 1st) but unless I'm sick, then I'll be lining up in Erpe-Mere."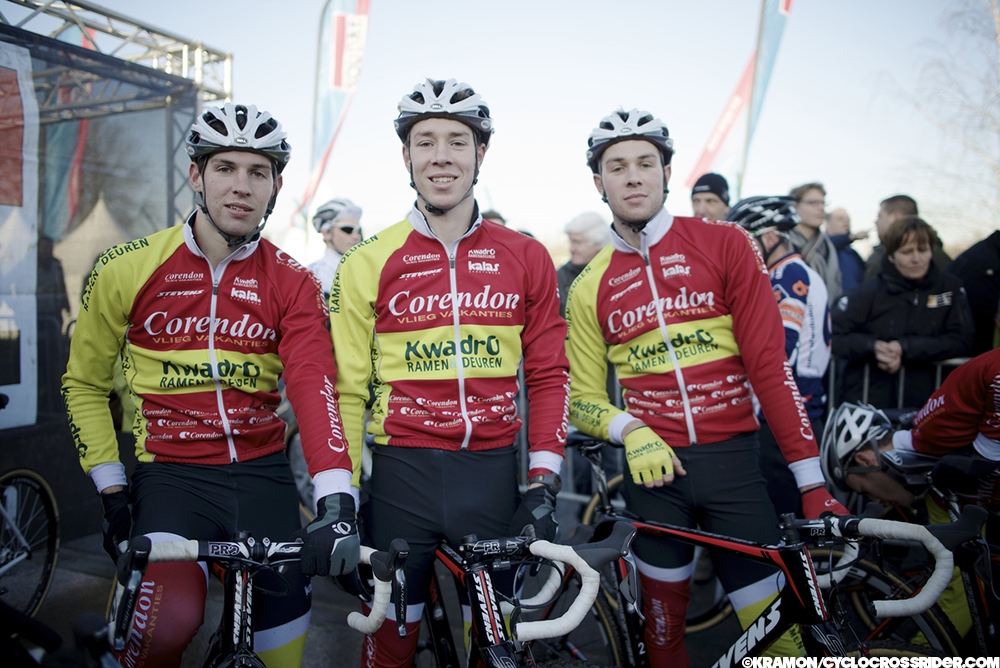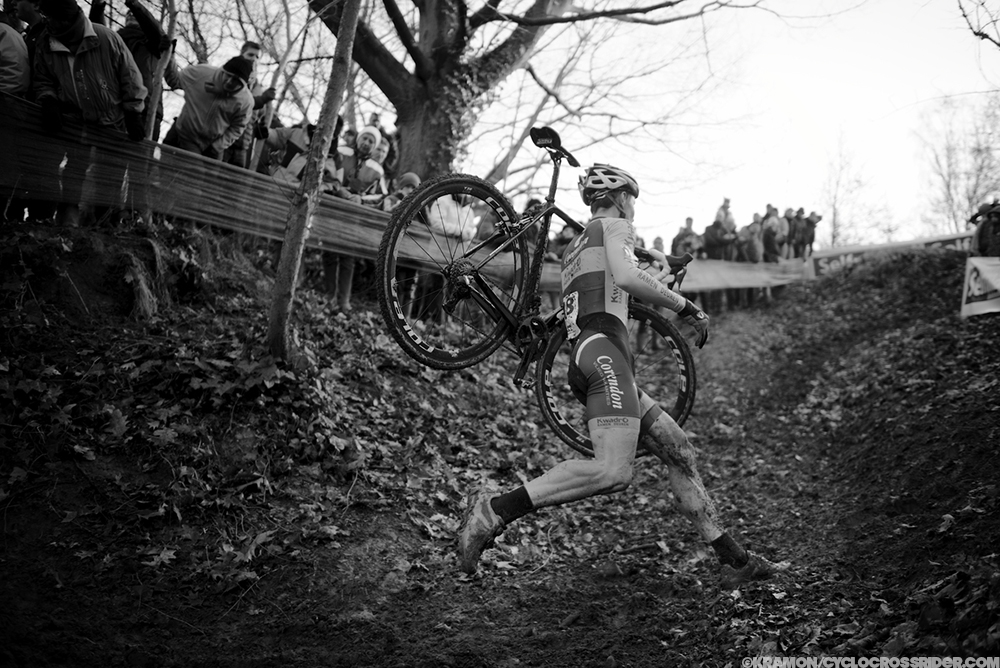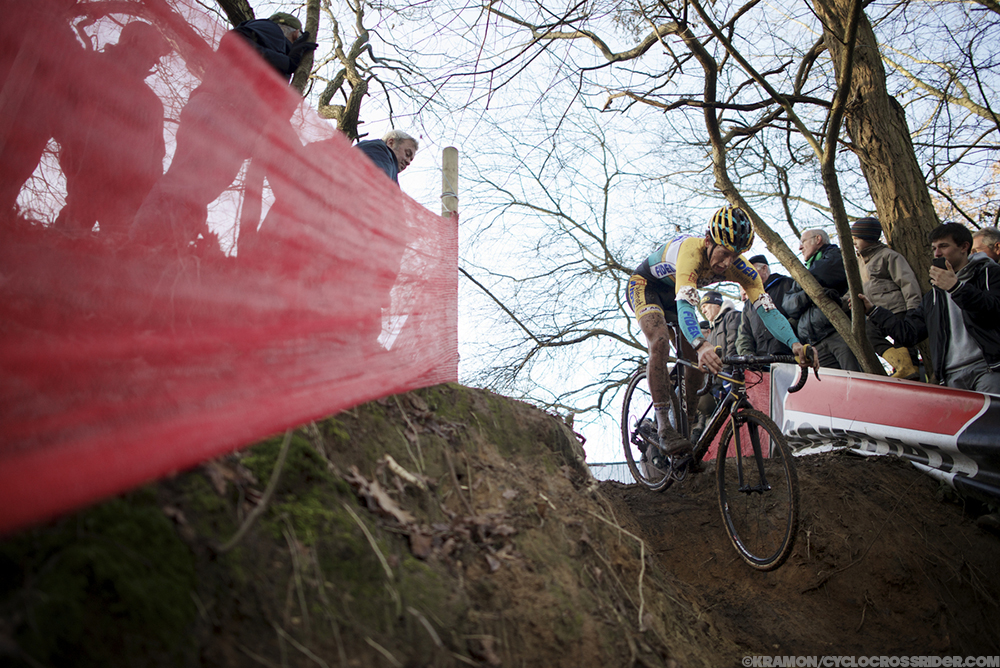 Local leader
At the end of the second lap it was Belgian Under-23, and Leuven-born, Laurens Sweeck who stirred things up and it created a five-strong leading group: Sweeck; Meeusen; Van der Poel; Pauwels; and Philipp Walsleben. Just as Sweeck and Van der Poel looked to be pulling away the Dutchman's head dropped and he started falling back with a puncture.
With Sweeck now alone up front, Meeusen made a big effort to bridge across alone on the fourth lap and at halfway this pair led Pauwels, Walsleben and Van der Poel by seven seconds. The five were soon back together though and the fifth lap (of the eight) became the slowest of the race.
As the quintet slowed and looked at one another with three laps remaining, Van der Poel launched his decisive attack and no one responded. Walsleben's recent bad luck continued when he slid out on a fast left-hander and he was destined for fifth place.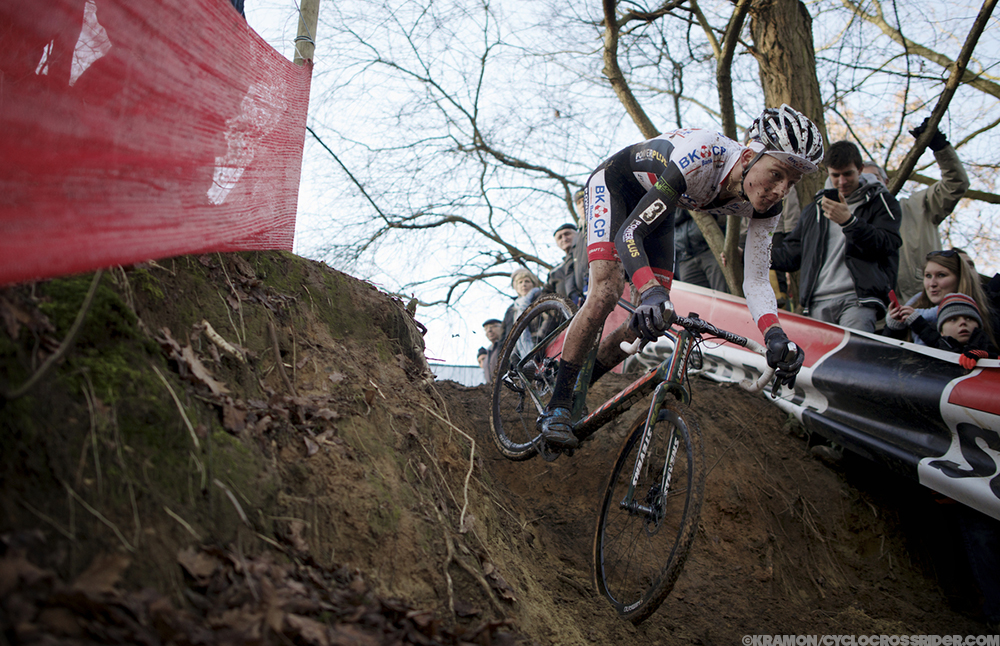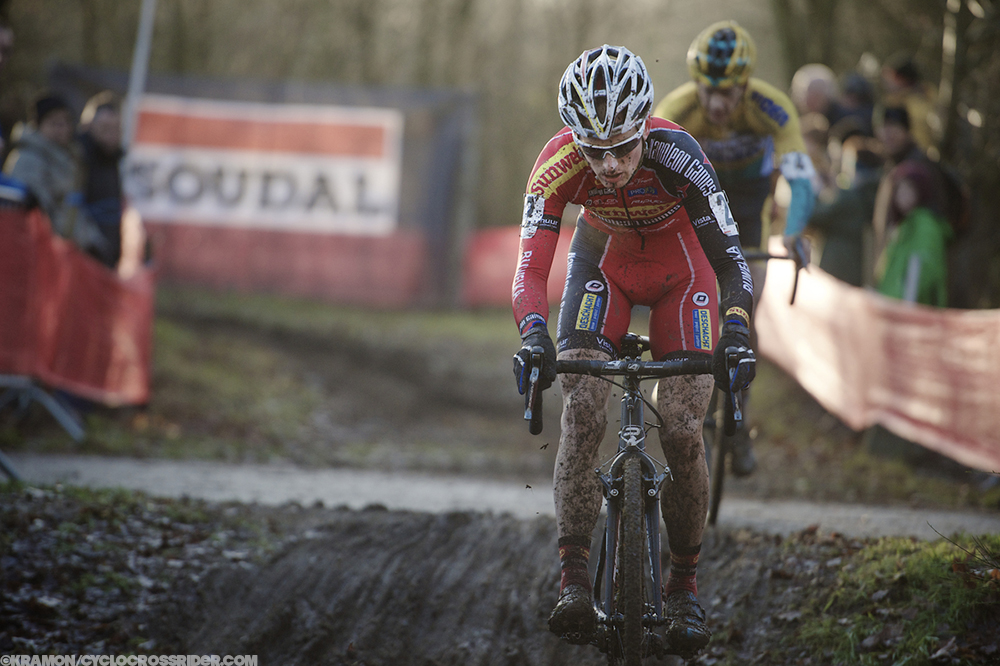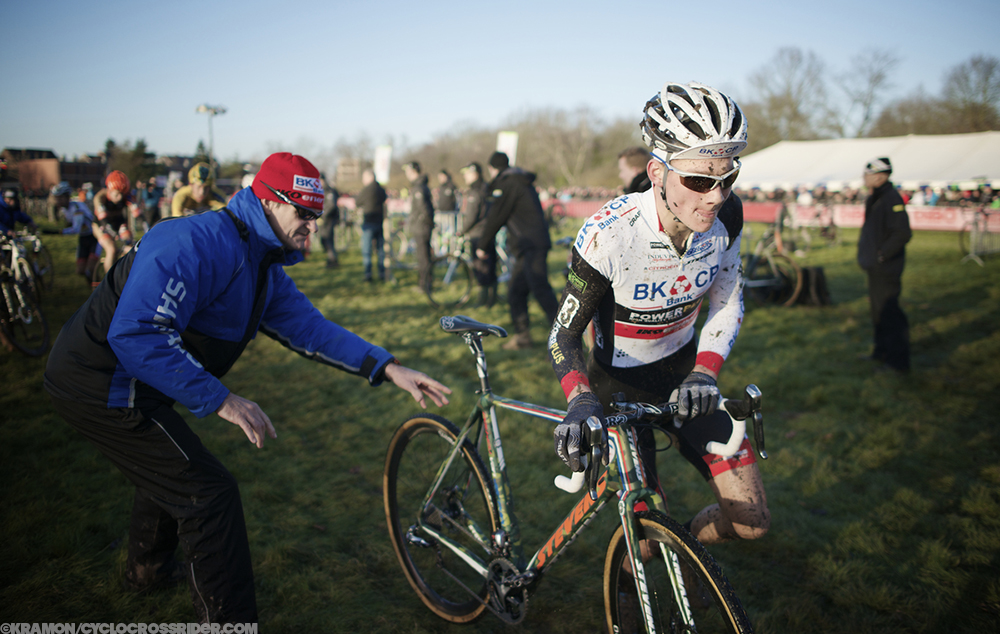 Styling it up
Despite being in attack mode the young Dutchman continued to 'style it up' over the artificial humps and his lead on the penultimate lap grew by a huge 27 seconds - to 39 seconds.
At the bell, Sweeck, Pauwels and Meeusen were still together and the battle for first placed Belgian was on. Meeusen, third in line, was momentarily slowed by Pauwels and forced to put a foot down as Sweeck pushed on to try and take advantage. Sweeck could not sustain his attack though, sat up and all three of them came back together before he launched another attack past the pits.
As Van der Poel crossed the line celebrating, the three-man sprint for second place began and Meeusen immediately gained two or three bike lengths with his attack from third in line. First Sweeck sat up and, as the line approached, Pauwels sat up and Meeusen gained the biggest boost ahead of next Sunday's Belgian Championship. Meeusen won the Belgian battle today, but next Sunday they will have to face Wout Van Aert.
Although Laurens Sweeck was disappointed with fourth place, he will start as one of the favourites for the Belgian Under-23 title on Sunday in Erpe-Mere. "The muddy track will be quite similar to today's conditions so I look forward to it," Sweeck said after the race.
Elite men
1 Mathieu van der Poel

2 Tom Meeusen

+0:35
3 Kevin Pauwels

+0:35
4 Laurens Sweeck

+0:44
5 Philipp Walsleben

+1:24
6 Joeri Adams

+1:40
7 Vincent Baestaens

+1:40
8 Corne van Kessel

+2:31
9 Martin Bina

+2:31
10 Radomir Simunek

+2:50
Full Elite men's race coverage from Vier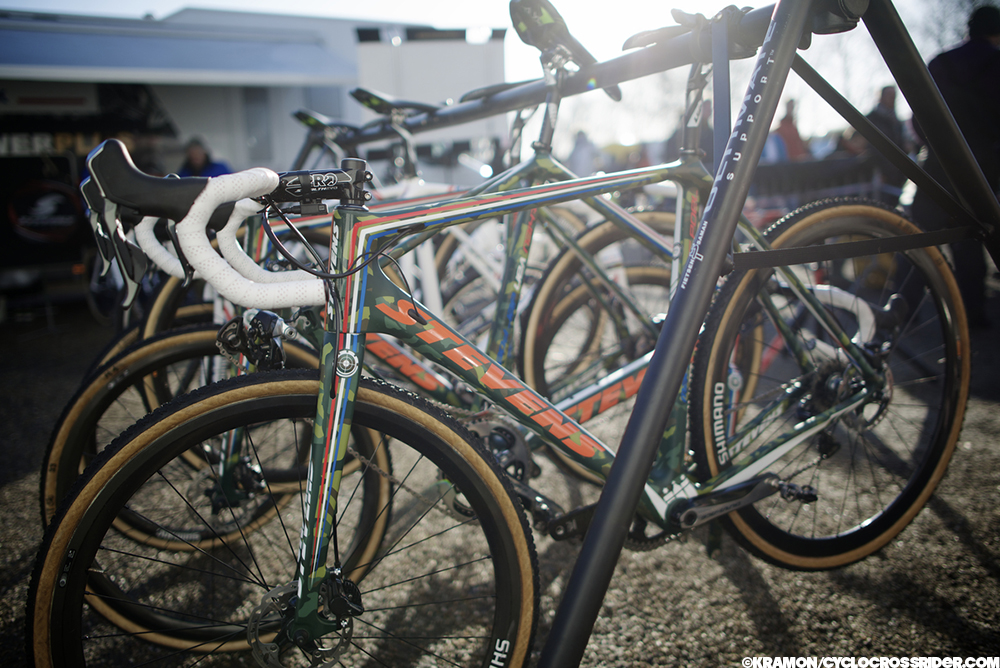 Elite women – Stultiens wins but no clues from the Belgians or Brits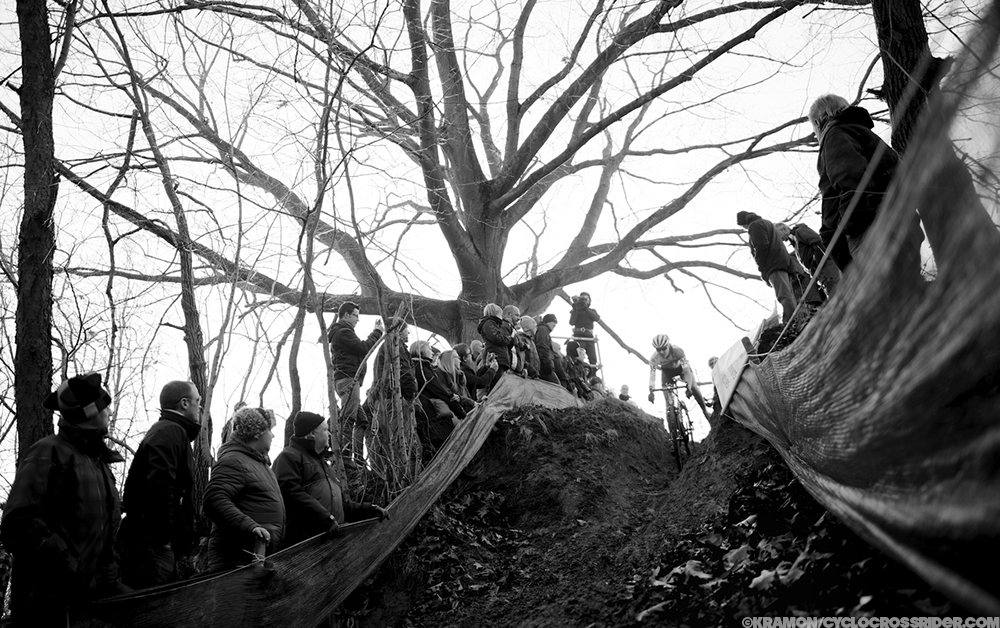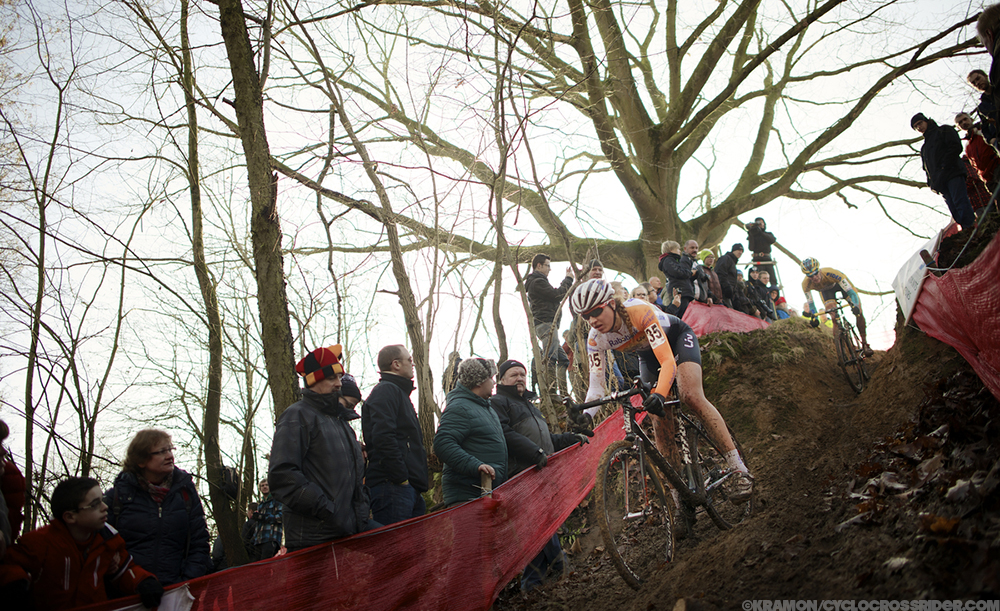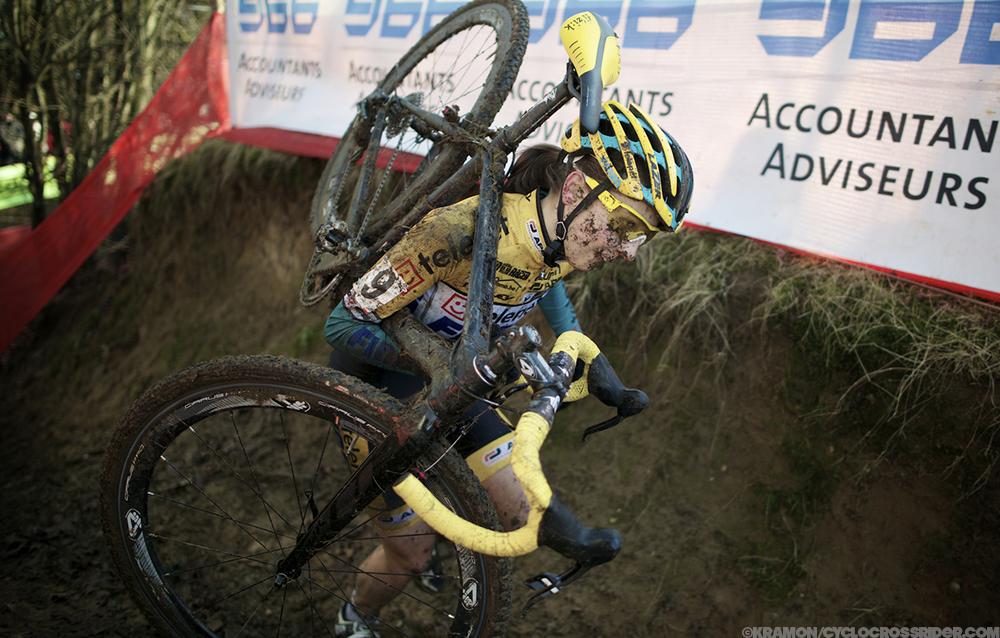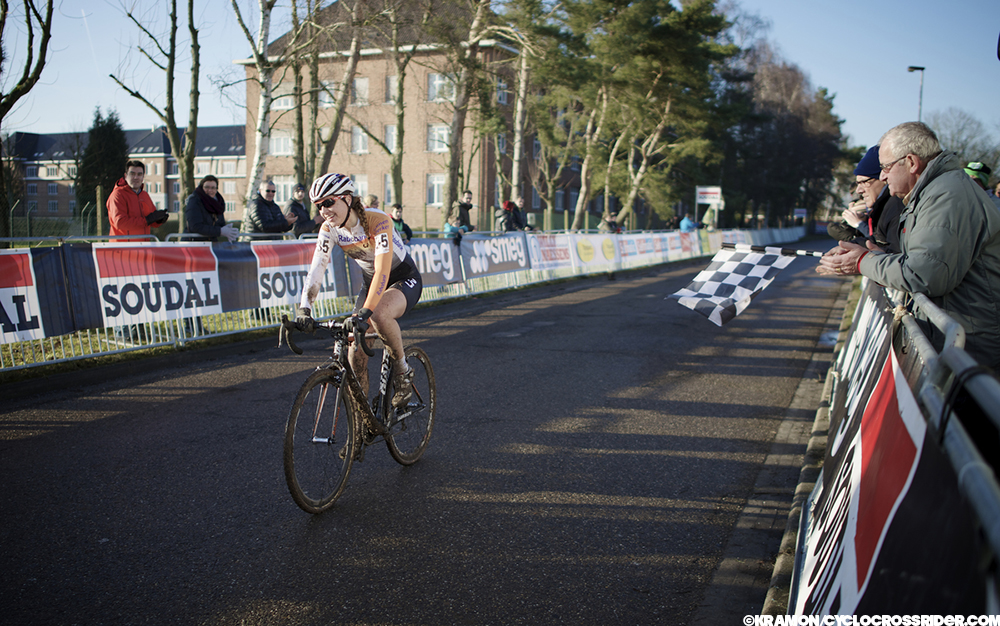 DUTCHWOMAN Sabrina Stultiens produced another good performance to beat Belgian Ellen Van Loy over the tricky course in Leuven today. Stultiens, the twenty-one-year-old Limburger, is the European Under-23 champion on the road as well as 'cross, but next weekend she'll have to face the formidable force of Marianne Vos (as well as Sophie de Boer) in the Dutch national championship in Veldhoven (both missing today).
One week ahead of the various national championships some of the intriguing pre-title race battles that we anticipated did not materialise. Ellen Van Loy was the leading Belgian as national champion Sanne Cant gave the race a miss. British champion Helen Wyman was also a non-starter and her title rival Nikki Harris retired whilst still in a podium position. Harris has been fighting what she calls "a battered body" since crashing heavily into a lamp post in Diegem on December 28th and needs some recovery this week before challenging for Wyman's title in Abergavenny next weekend.
Today in Leuven, Van Loy was the early leader and Harris briefly held second place before Stultiens moved through to take the lead and win easily in the end. Next weekend's national title races remain largely unpredictable though and should see some close and interesting racing.
Elite women
1 Sabrina Stultiens

2 Ellen Van Loy

+0:31
3 Jolien Verschueren

+0:59
4 Loes Sels

+1:30
5 Elle Anderson

+2:19
Photos: ©kramon/cyclocrossrider.com

Other results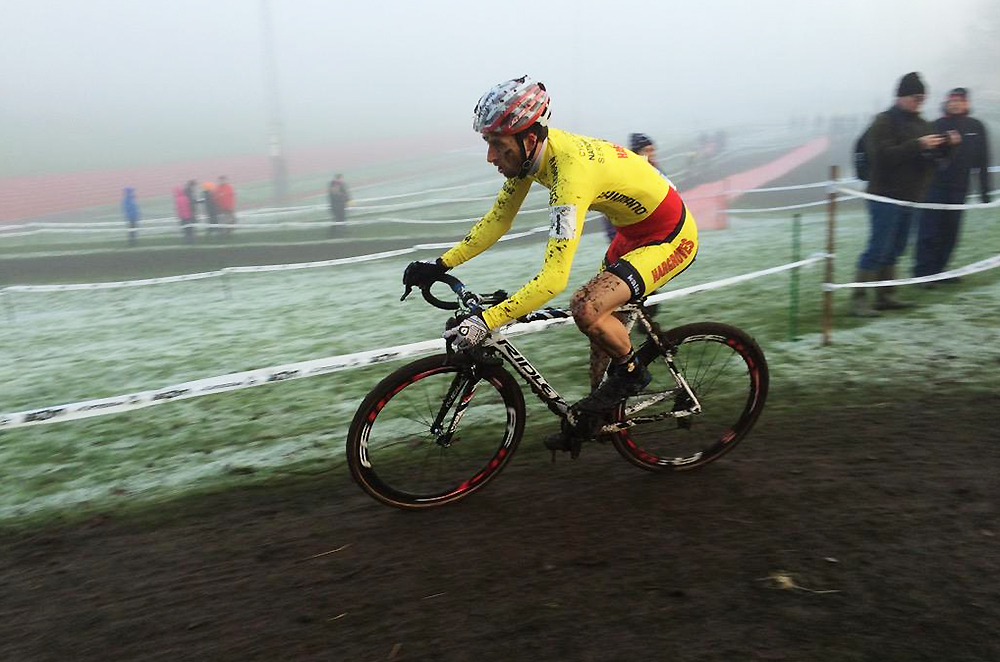 DERBY (GBR): In the C2-ranked UK National Trophy, British champion Ian Field (pictured) was surprisingly beaten by British Under-23 champion Grant Ferguson. Field was officially the senior race winner though and his win clinched the National series title for the first time. Field did not have a great Christmas racing period thanks to an unfortunate illness, but did get in a "big week" of training this week that took the edge off his performance a little today in cold and misty conditions.
"I sacrificed today a little bit," Field told Cyclocrossrider, "as I knew I only needed a respectable result to win the overall. I trained really hard in the week so that I'm good at Worlds." (on February 1st - Ed).
It will perhaps come as a slight relief to Field though that Ferguson will defend his Under-23 title next weekend in Abergavenny and not be in the senior race. Ferguson will be looking for a hat-trick of Under-23 victories next Sunday whilst Field attempts to win his fourth successive title.
Belgian Under-23 rider Yorben Van Tichelt, a winner in Britain twelve months ago, could only finish sixth after initially following Ferguson's pace, one place ahead of his team mate Angelo De Clerq.

Photo: ©GrahamFreer