Race Highlights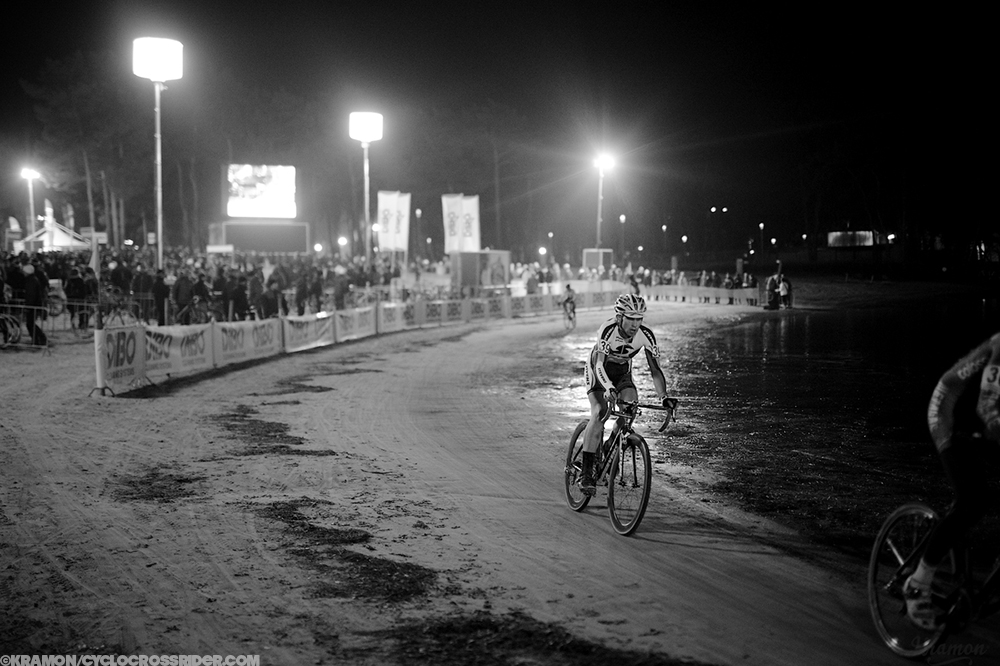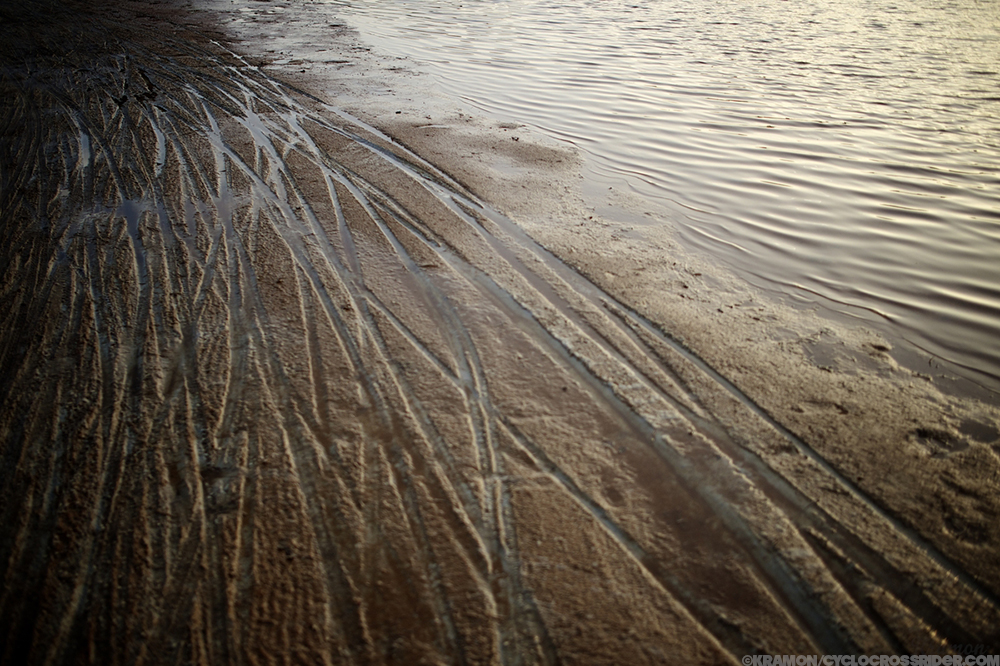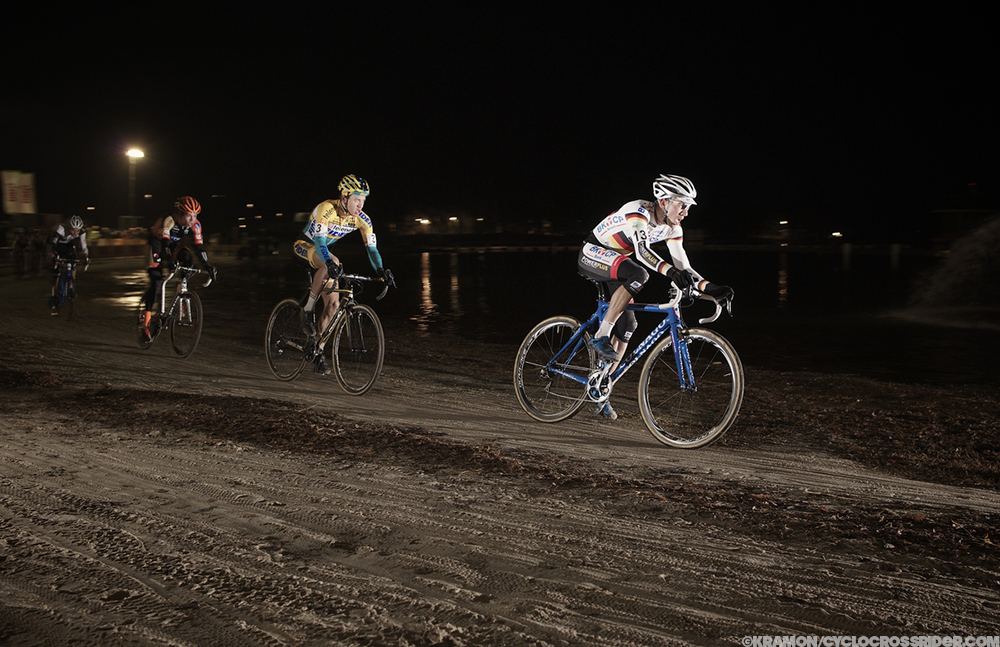 WORLD Under-23 champion Wout Van Aert scored his fifth victory against senior elite opposition tonight (December 14th) in Mol and it was a poignant victory for the locally-based Vastgoedservice-Golden Palace team (VSGP).
Zilvermeer near Mol is the famous lakeside venue that has hosted dozens of important races such as the Belgian Championships, the World Masters Championship (for many years) and the Boonen and Friends Charity races. It's also in the homeland of the Vastgoedservice-Golden Palace team – a team founded at the beginning of the year by the Peeters family and built initially around Belgian international Rob Peeters.
Sunday's evening race under lights was a successful new concept for the venue but the race organiser – Rob Peeters' father – François 'Swa' Peeters very sadly passed away just two and a half weeks ago. Rob Peeters himself had a very strong ride finishing fifth and was naturally emotional after the race.
"I'm very happy that it's been a success and that's very special," said Peeters before saying that his emotions at this home race had been "worse that at the funeral."
Rob's uncle and 'patron' of the VSGP team is Wilfried Peeters – the Omega Pharma-Quick Step DS - and Wilfried's son Yannick, a former European junior champion who is still only eighteen-years-old, also had an inspired ride finishing in 12th place.
Rob should be proud of how it went and his ride today - Wout Van Aert
Wout Van Aert said, with maturity beyond his years, after his victory, "Rob should be proud of how it went and his ride today. I did not think it would really be my day today and we thought about riding for Rob." Van Aert, who rooms with Peeters when the team is on tour, added that it was a good result in the hometown of the lead sponsor and that most of the team's riders are local to Mol.
Prior to the race one might have thought it would be a straight showdown between Under-23 rivals Van Aert and Mathieu van der Poel, but Van der Poel had won the Scheldecross yesterday so Van Aert was the 'rested' rider. Perhaps the unluckiest rider was fellow Under-23 Laurens Sweeck (above) who finished runner-up to Van der Poel yesterday, beat him today, only for the fresh Van Aert to beat Sweeck into second place again. For the second day running Tom Meeusen rounded out the podium in third place.
Oranje-men
After two laps of the nine-lap race there was still a large lead group and VSGP – referred to as the 'Oranjemen' by race commentators due to their team colours had three riders there with Rob Peeters, Wout Van Aert and Jens Adams. In a repeat of yesterday's action Sweeck was the first rider to start stretching it out and it was a tactic that worked both days – he got out front, stayed out of trouble and held onto a podium place.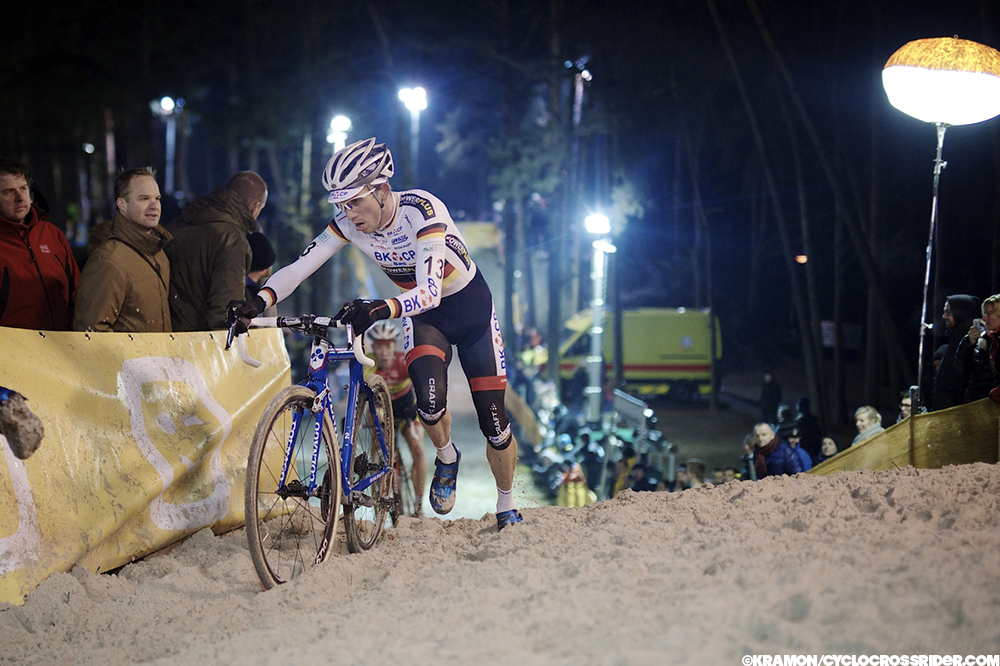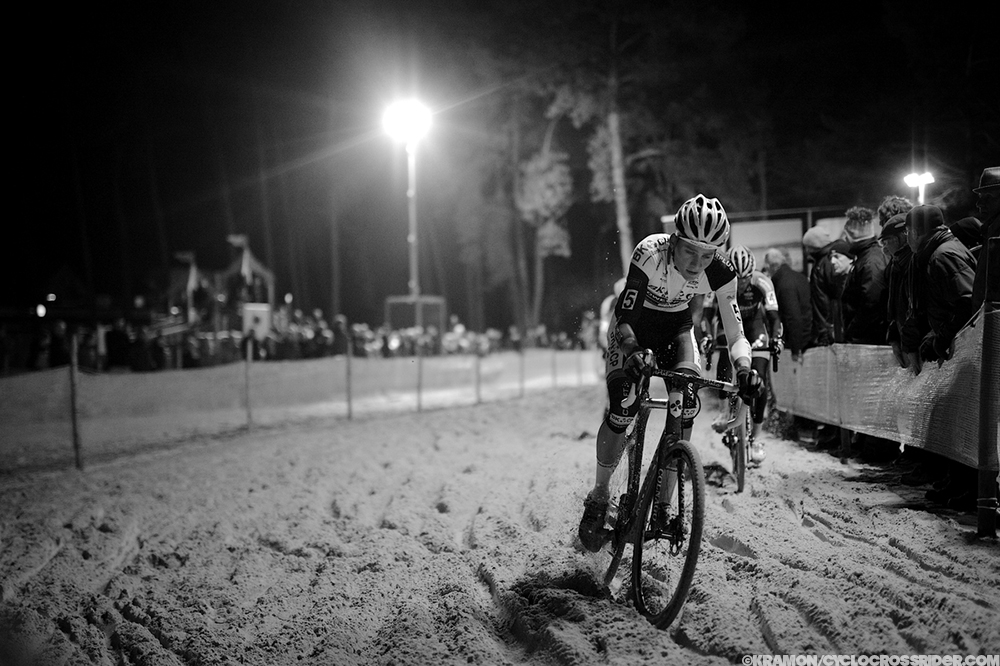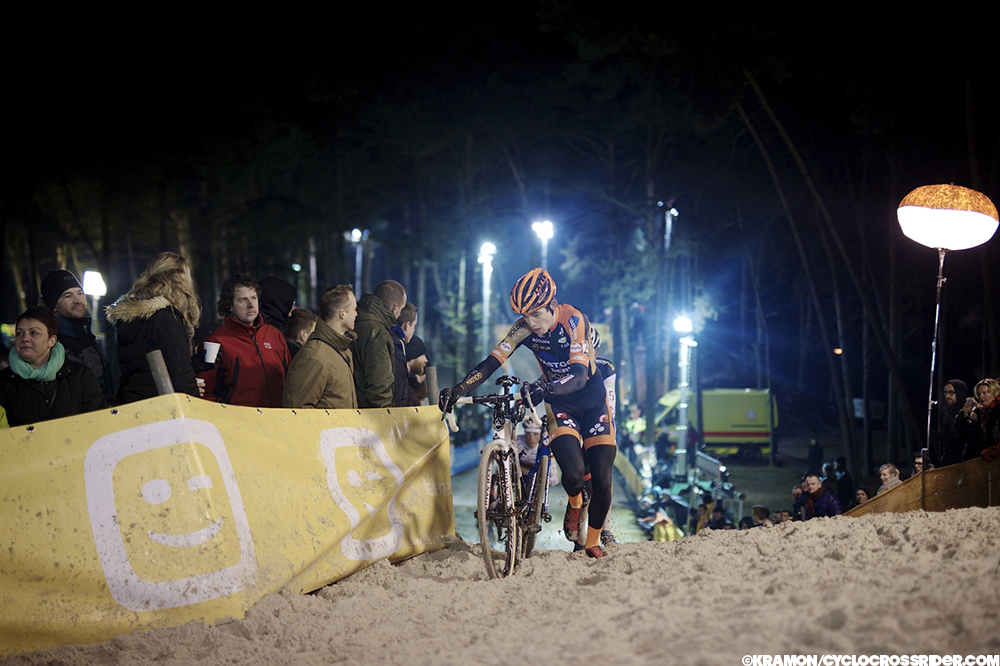 By half distance Sweeck had been joined by five others: Meeusen; Van der Poel, Van Aert; Peeters and Philipp Walsleben. In another repeat of yesterday Van der Poel went on the attack after 30 minutes of racing, but today he did not quite have the firepower left to break free.
With three laps to go Sweeck went again just before a mistake by Van der Poel caused disruption and delay amongst the chasers. This allowed Van Aert to start his pursuit of Sweeck alone as Walsleben tried to lead Van der Poel back into contention.
On the penultimate lap Van Aert caught Sweeck and a mistake and forced dismount by Sweeck allowed Van Aert to create a gap and ride in full attack mode all the way to the finish.
At the bell Van Aert led Sweeck by 15 seconds as a large group began the battle for third place. Meeusen was the only one riding over a large ditched concrete hurdle, or 'drempel' (speed hump) as the TV commentators called it, and this 'clearance' gave him the momentum to secure third place ahead of Van der Poel and Peeters.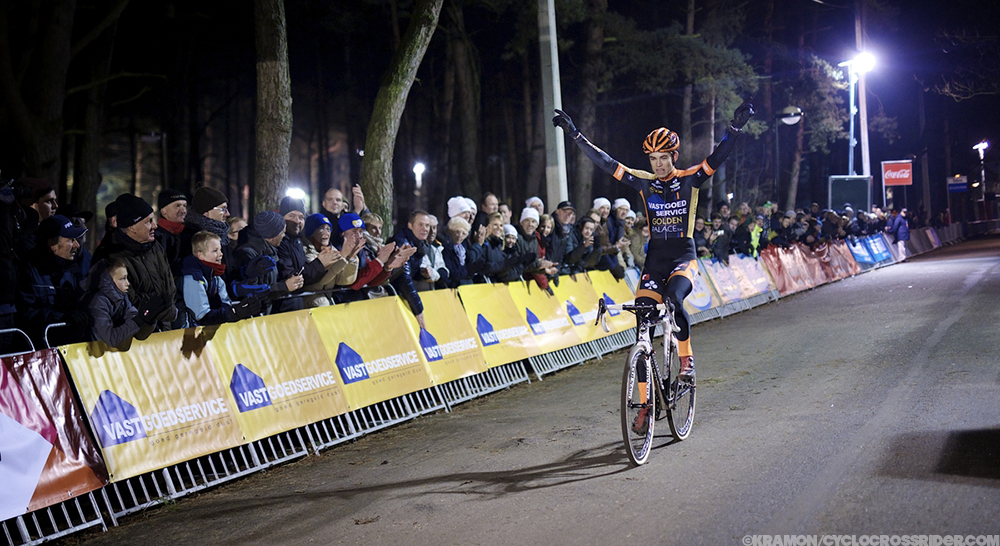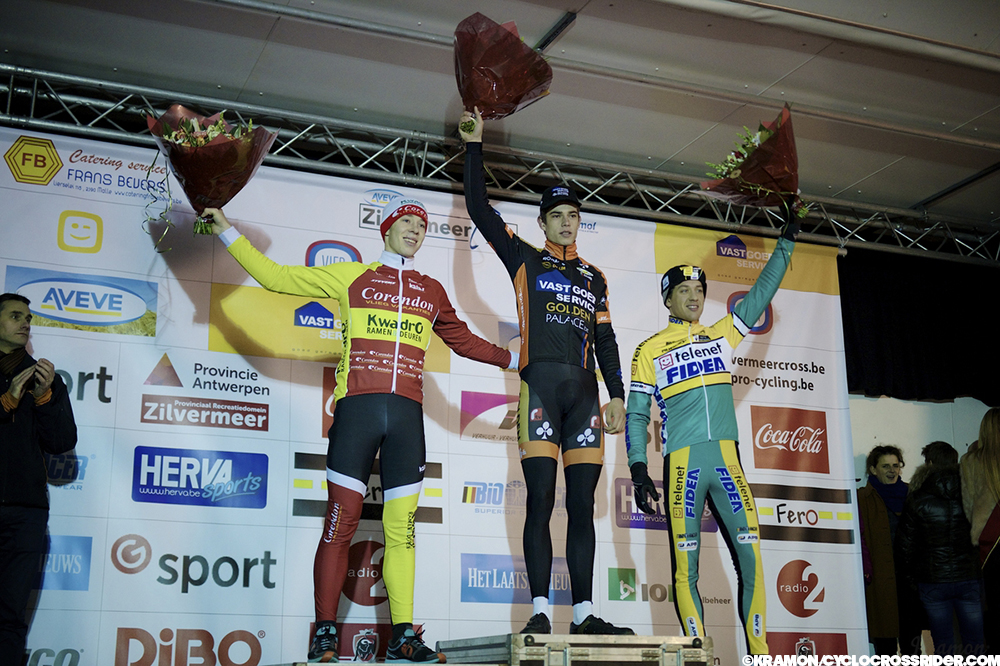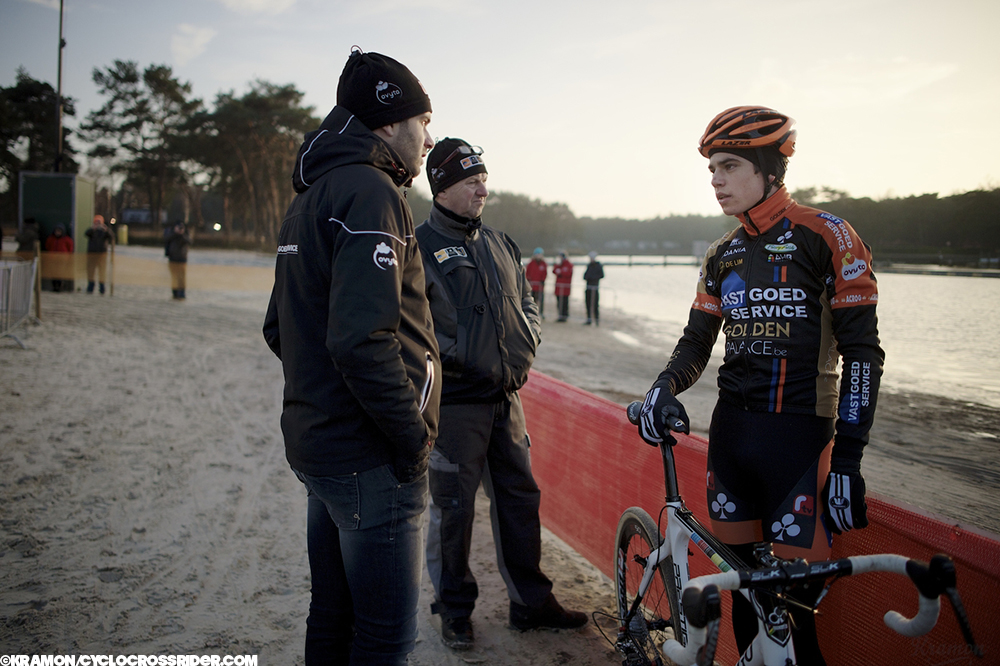 Elite men / Under-23
1 Wout Van Aert

2 Laurens Sweeck

3 Tom Meeusen

4 Mathieu van der Poel

5 Rob Peeters

6 Bart Aernouts

7 Corne van Kessel

8 Philipp Walsleben

9 Jens Adams

10 Wietse Bosmans

Meeusen clears the ditch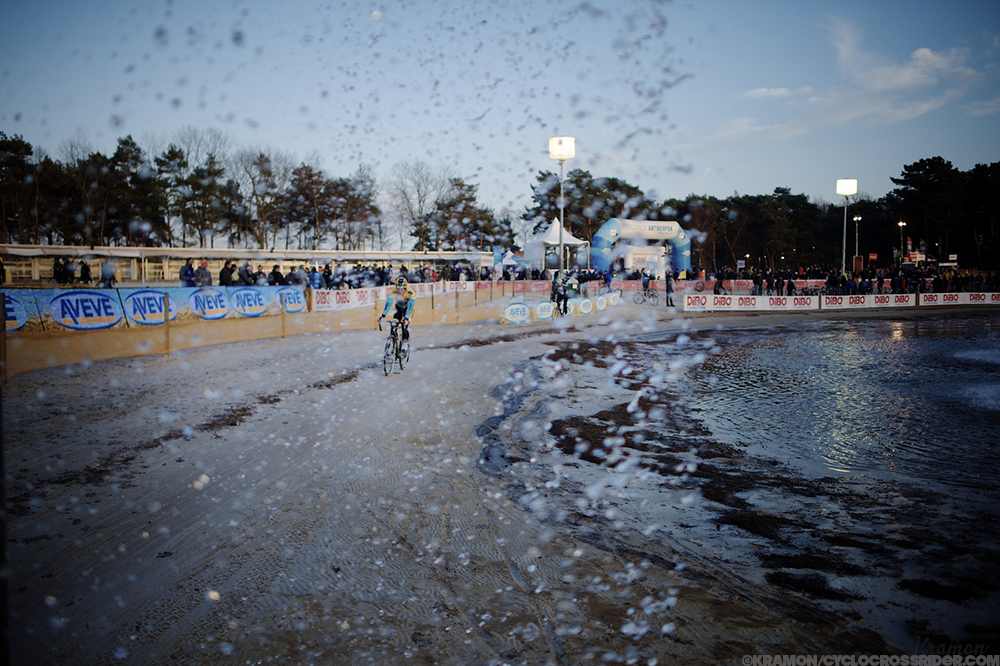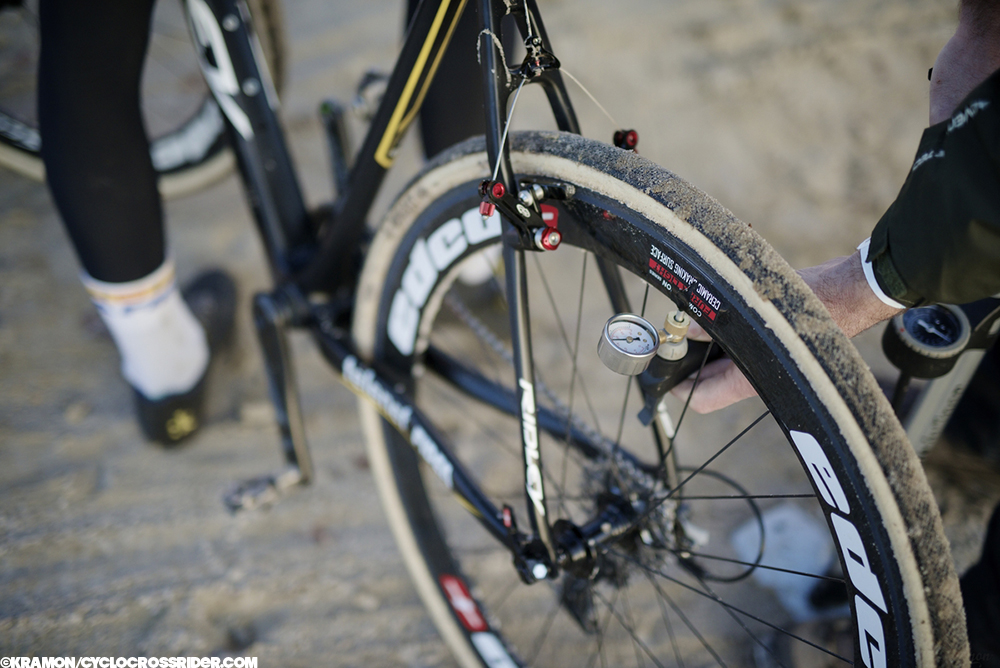 Elite Women's Highlights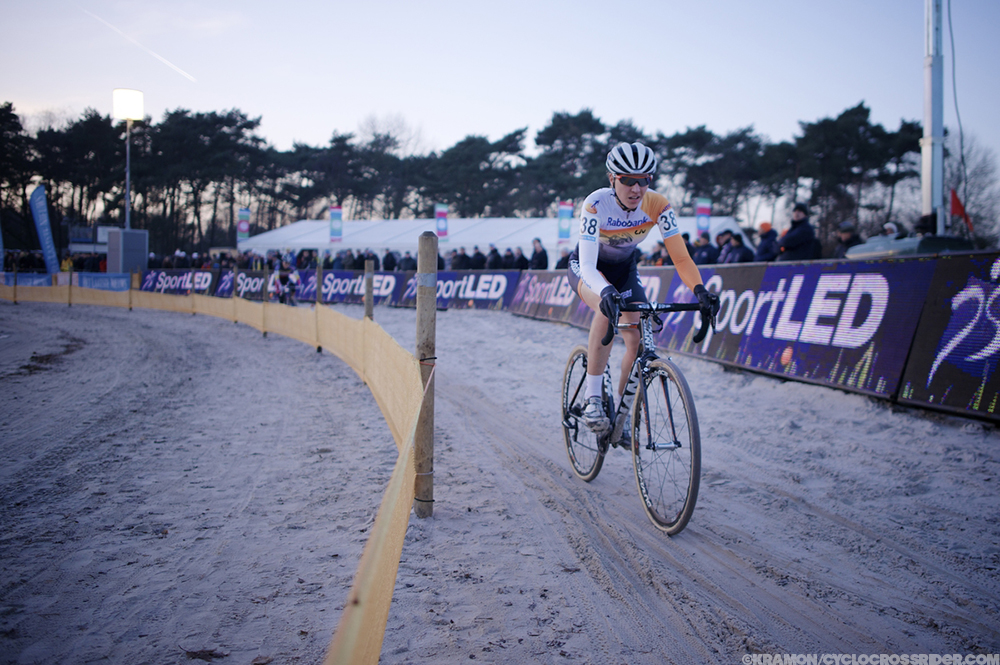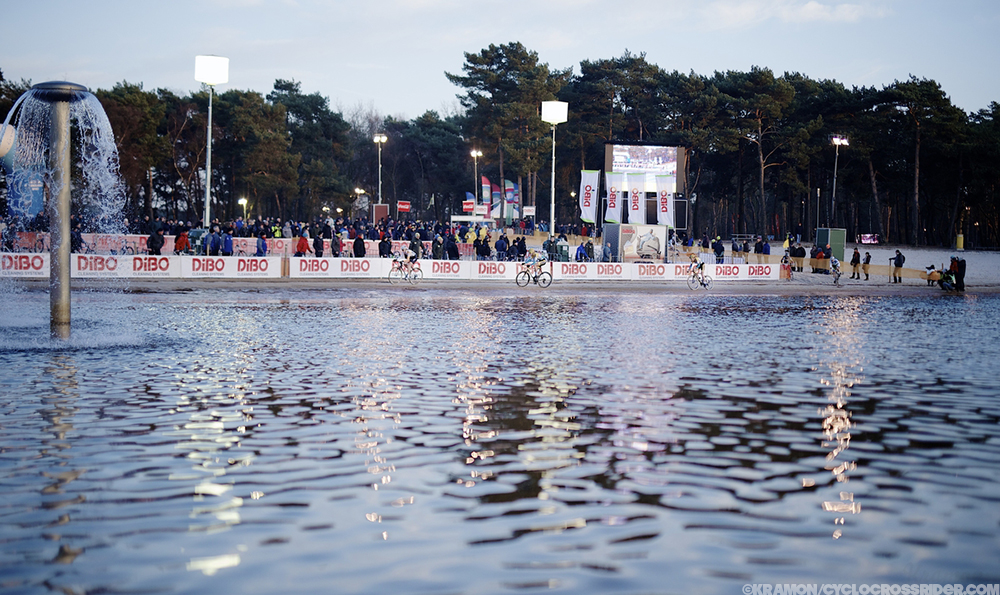 Elite women
1 Sabrina Stultiens

2 Ellen Van Loy

3 Sanne Cant

4 Loes Sels

5 Laura Verdonschot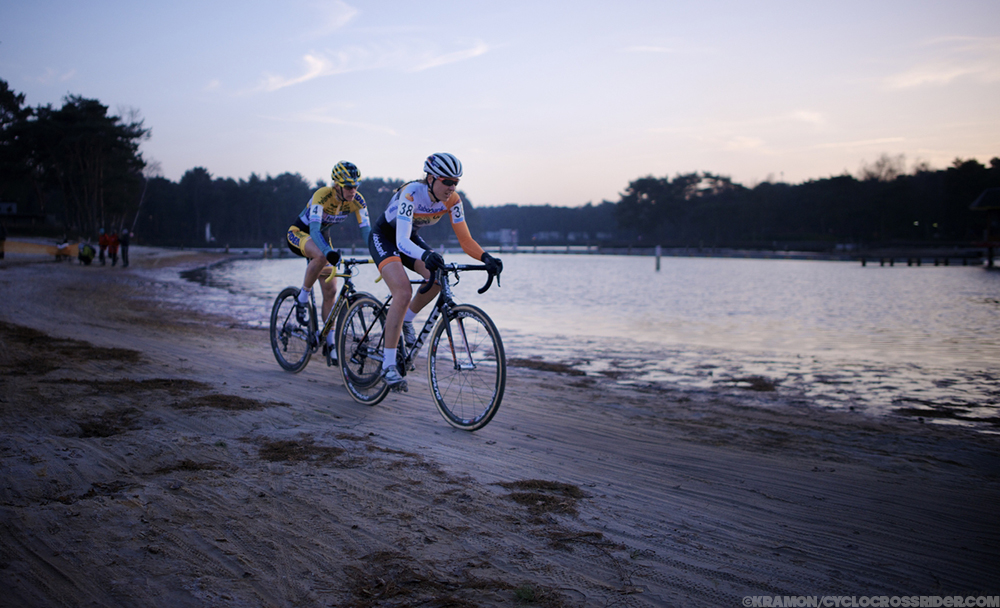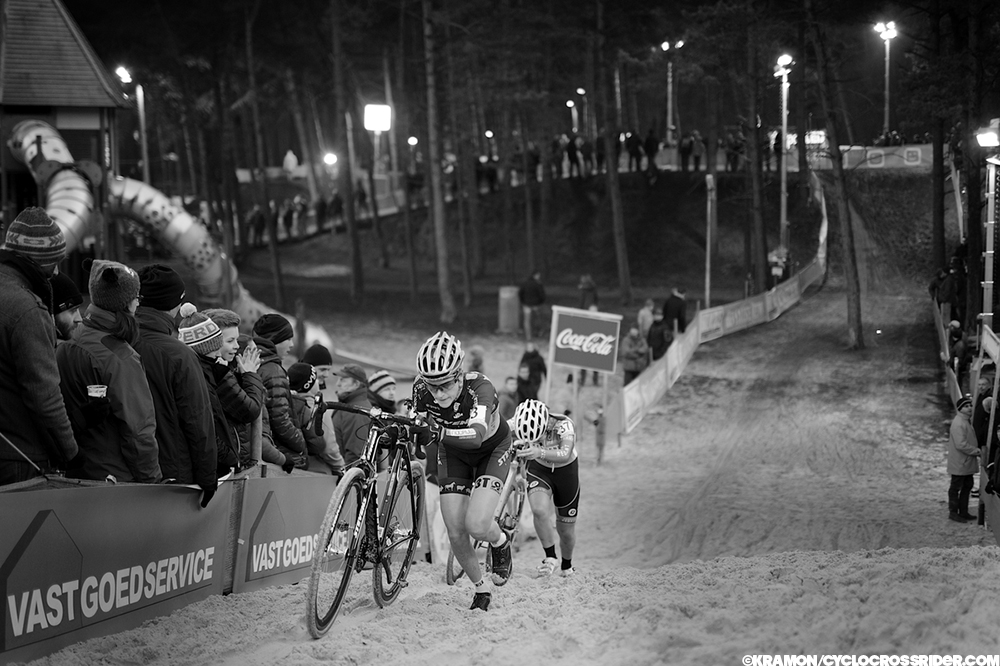 Junior men's Highlights
Photos: ©kramon/cyclocrossrider.com