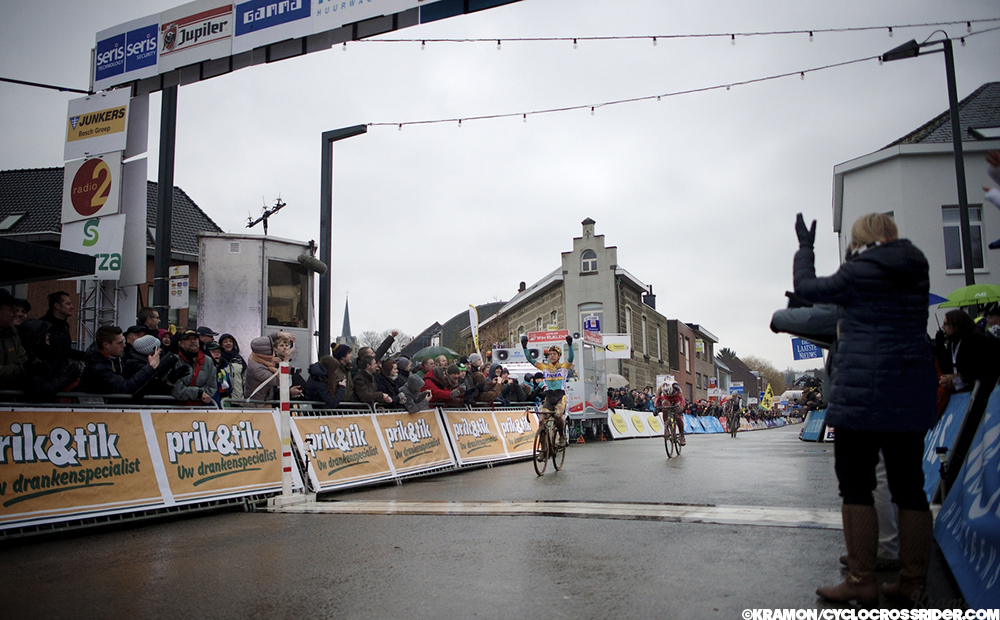 TOM Meeusen added his name to the long roll call of famous winners of the Vlaamse Druivencross in Overijse today in a tense final lap as, mysteriously, the winner for the past four seasons, Sven Nys, failed to finish.
"I've won some nice races in my career, such as the Koppenbergcross last year and Overijse fits neatly into that list," Meeusen told reporters afterwards.

Overijse is known as the 'Mother of all 'Crosses' and was first held in 1960 yet because of it also hosting Belgian Championships there have been over 75 editions of this prestigious race. It was a rainy, cold and blustery day and paired with the technical Overijse track we were surely in for another classic.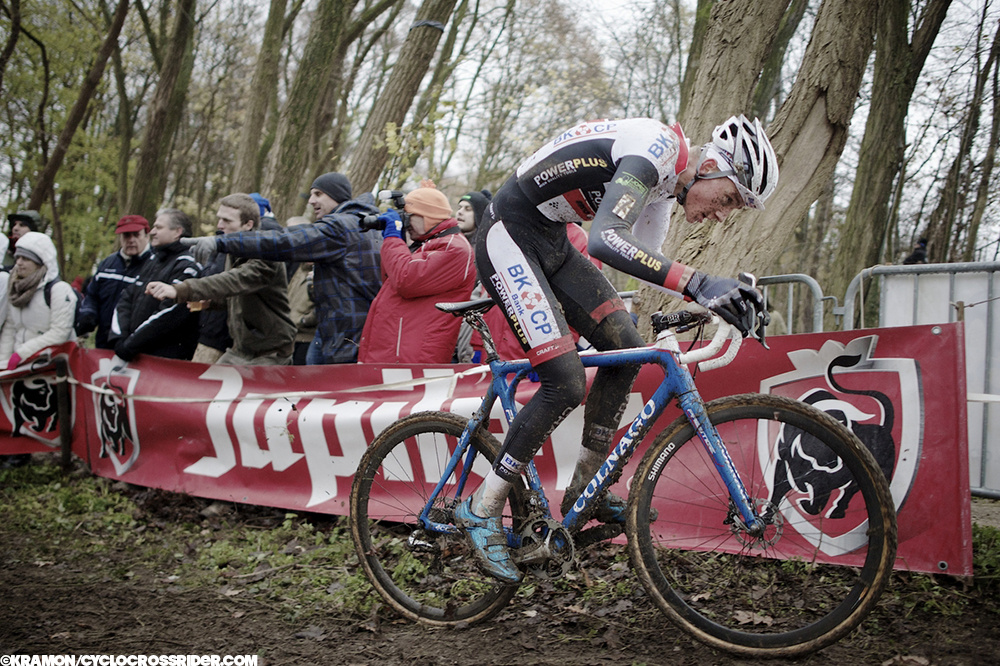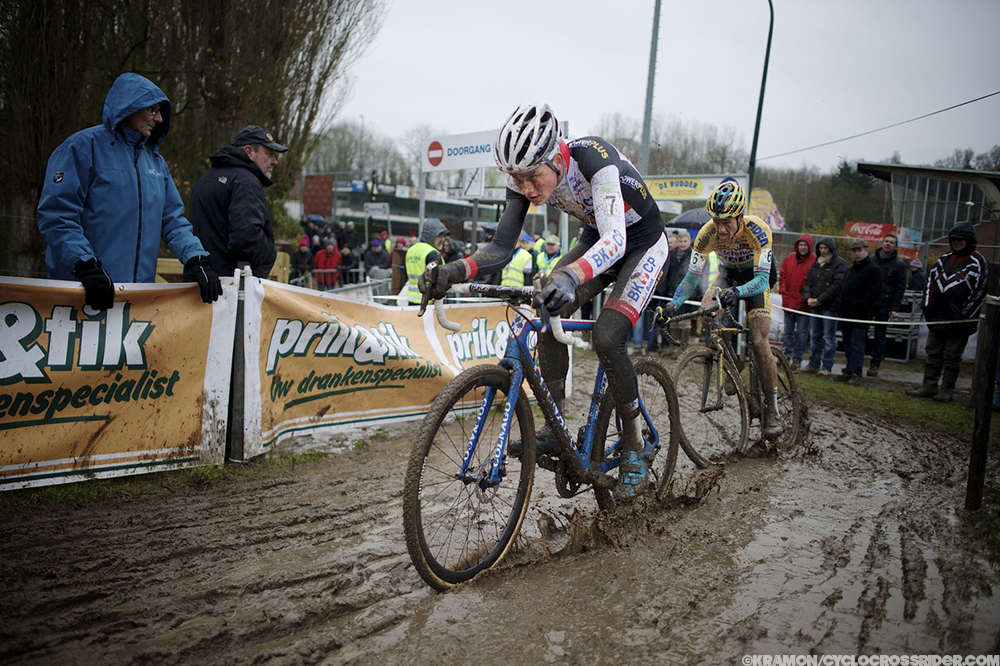 Young Dutchman Mathieu van der Poel (above) tried desperately to win the race that his father Adrie had won in 1994 by sometimes taking big risks on the slippery descents, but in the end it came down to a four-rider last-lap showdown.
Last lap battle
Meeusen, Klaas Vantornout, Philipp Walsleben and Van der Poel were the quartet that provided one of the best last lap battles of the season.
Meeusen led off the cobbles and onto the muddy running climb to the top of the hill just staying ahead of Vantornout – the best runner of the four - as these two looked to have the edge over the BKCP-Powerplus pair. Vantornout then took the lead into the woods as Van der Poel began to make mistakes and dropped to fourth in line. Meeusen retook the lead before the cobbled climb to the pits again as all four fought hard to conquer the muddy plateau before launching themselves down the wooded descent.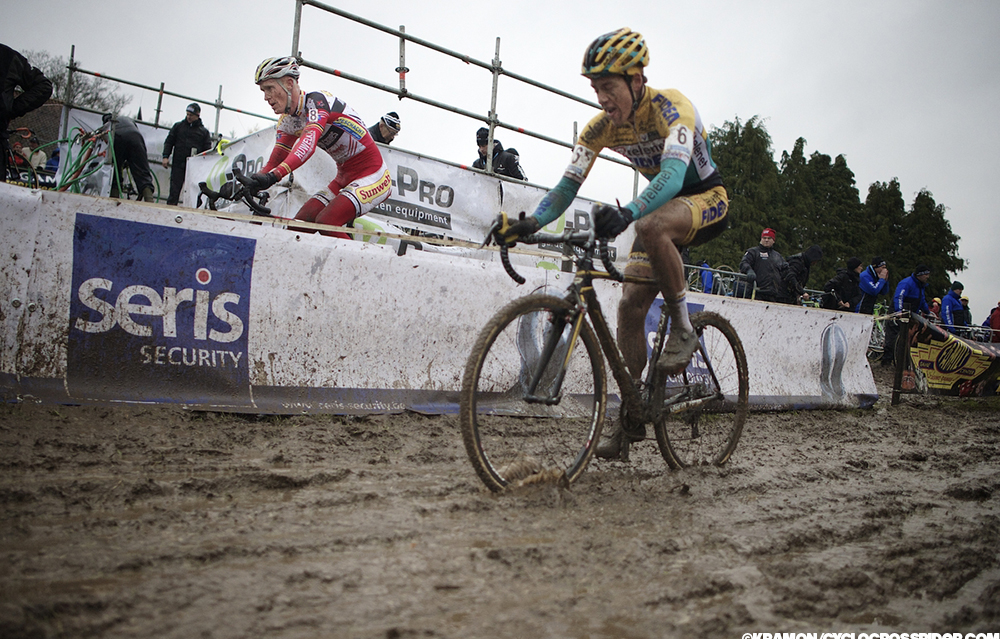 Vantornout tried in vain to pass Meeusen on the muddy bank climb away from the downhill hairpin, but Meeusen maintained pole position around the final tricky cobbled corners and led all the way down the finishing straight. Vantornout never quite got on terms but took second place from Van der Poel as Walsleben eased up.
Nys retired around halfway and will now go in search for a reason for his indifferent form this season
It was a deserved victory for Meeusen following a string of good results and he even led on the first climb before team mate Bart Wellens briefly took over. Belgian champion Sven Nys almost immediately began falling back through the ranks as it became quickly obvious it was not going to be his day. Nys retired around halfway and will now go in search for a reason for his indifferent form this season and try to put things right in a training trip to Mallorca.
Corne van Kessel was also present in the lead group nearing half-distance before Van der Poel began attacking and the final selection of four riders was made. Van der Poel soon threw caution to the wind and built up a ten second lead at one point but mistakes and tiredness brought him back to Meeusen, then Vantornout and finally Walsleben to set up the thrilling last lap.
Results: 1 Meeusen; 2 Vantornout; 3 Mathieu Van der Poel; 4 Walsleben; 5 Van Kessel; 6 Meisen; 7 Vermeersch; 8 Rob Peeters; 9 Sven Vanthourenhout; 10 Taramarcaz… 19 Page (USA).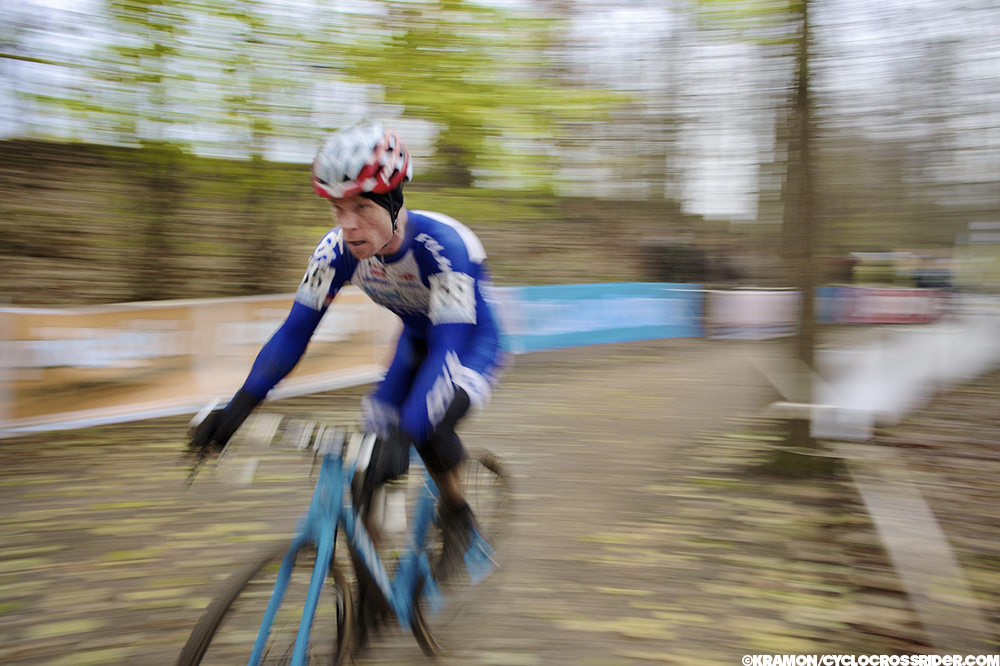 Elite women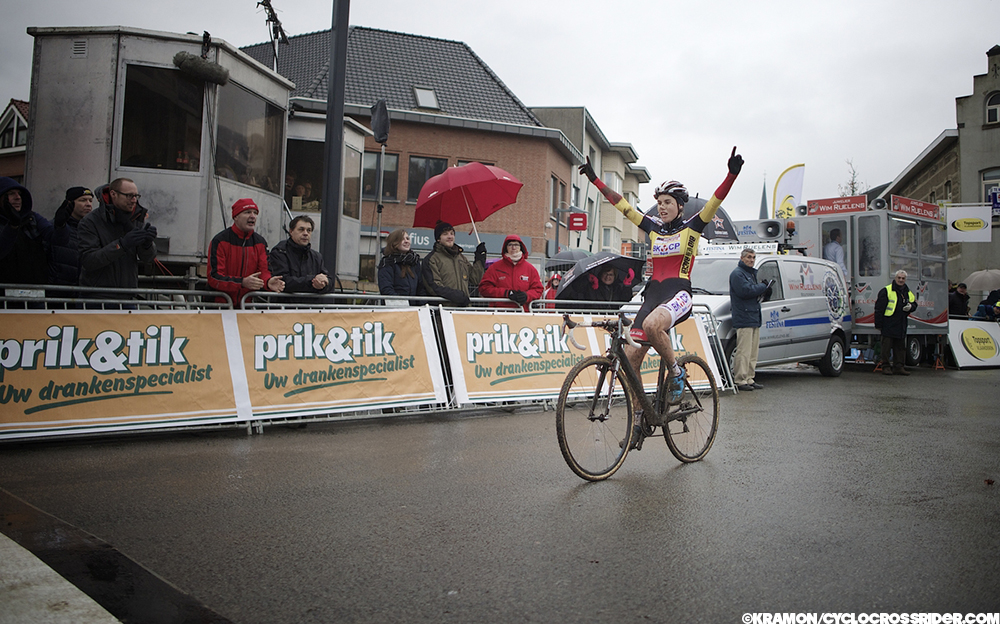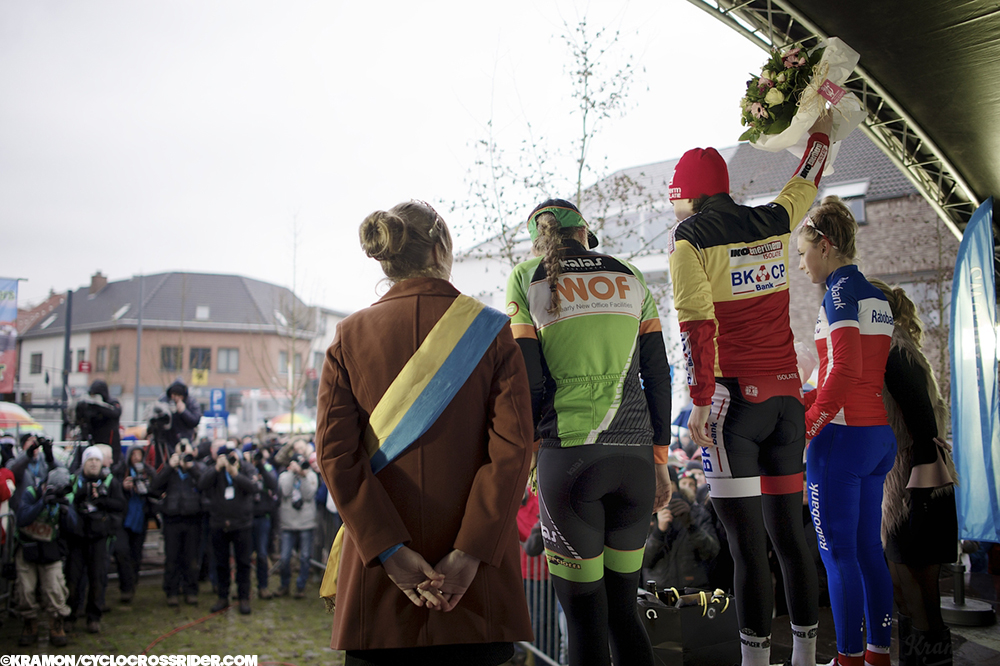 The women's race in Overijse became a two-way tussle between Sanne Cant and Pauline Ferrand-Prevot as the pair finished over a minute ahead of third placed Sophie de Boer.
Ellen Van Loy was the early leader before unluckily suffering a mechanical and a long run to the pits as then Cant and Ferrand-Prevot began exchanging the lead.
Ferrand-Prevot opened up a gap on Cant on the penultimate lap only for the Belgian to catch her and attack through the heavy pit area at the top of the hill the final time and race away down the tricky and technical descent. It was Cant's first victory in the Flemish Classic.
Results: 1 Cant; 2 Ferrand-Prevot; 3 De Boer; 4 Van Loy; 5 Havlikova… 7 Antonneau (USA); 9 Anderson (USA); 13 Payton (GBR); 16 Pacios Pujado (ESP); 18 Vardaros (USA).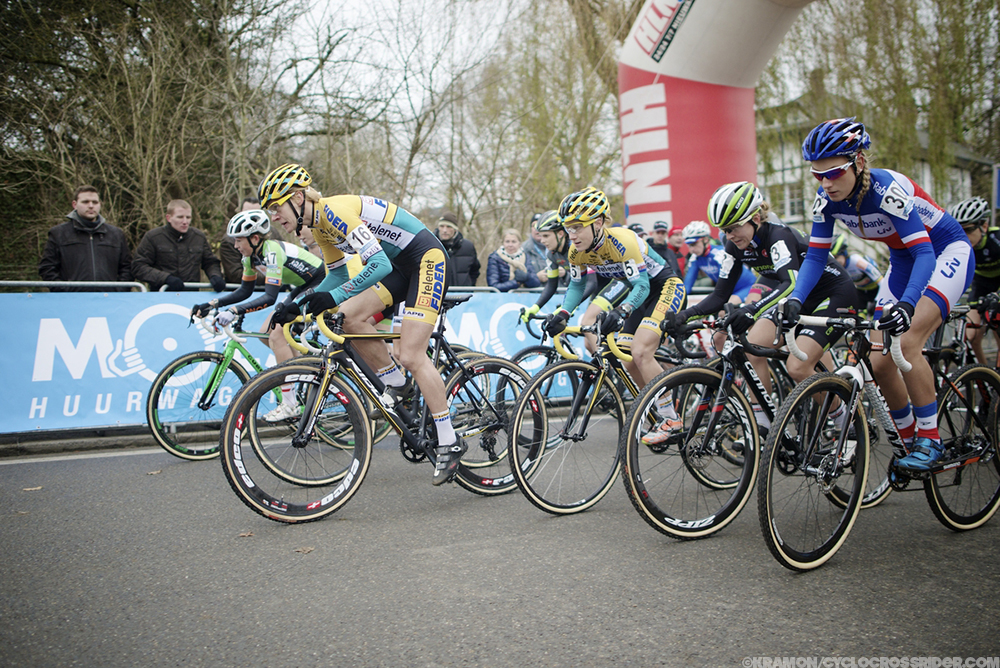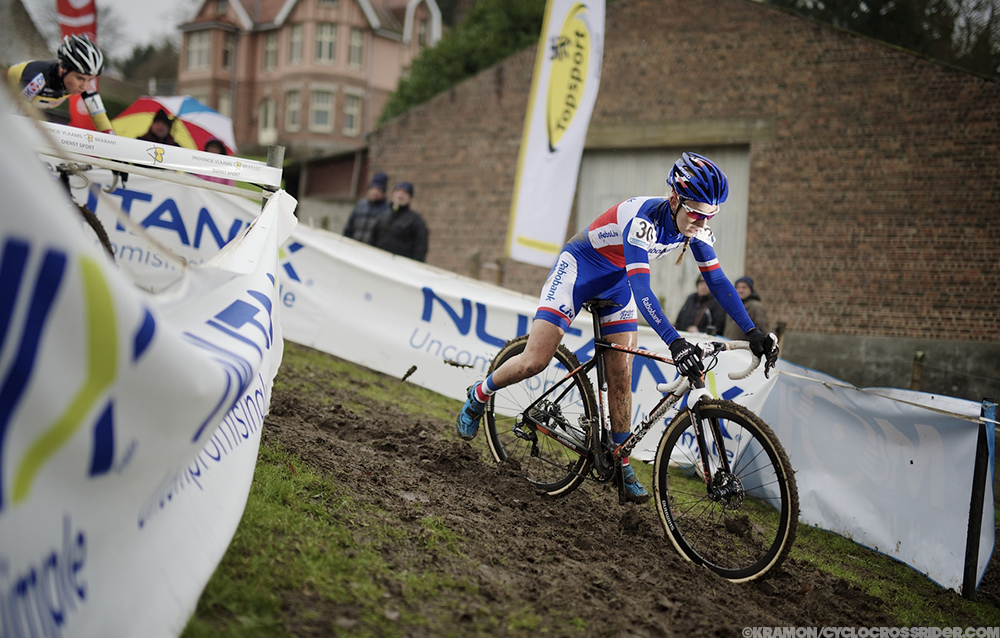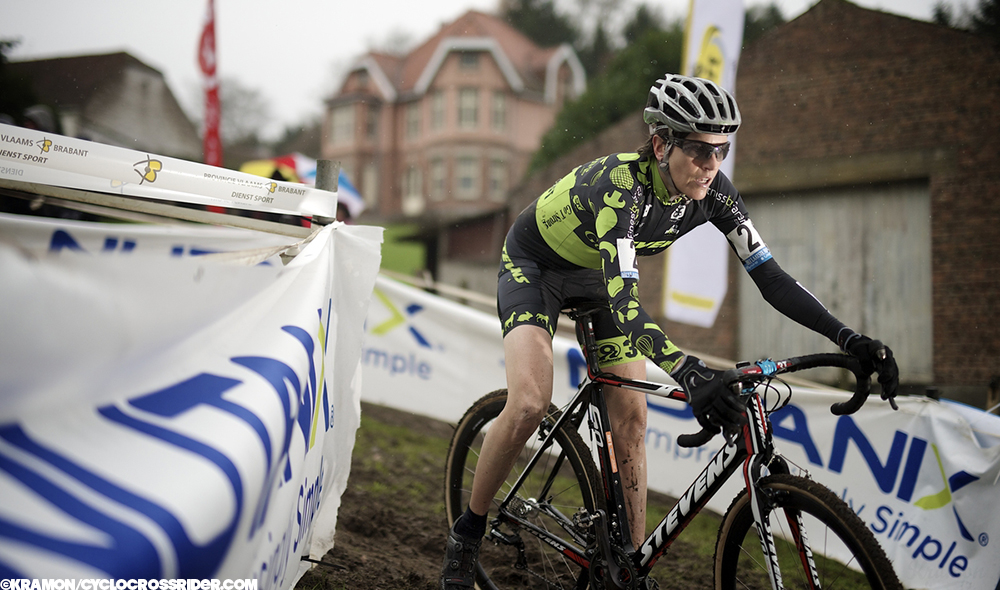 Junior men: Results: 1 Iserbyt; 2 Dekker; 3 Floren.

TV Highlights here: Sporza.be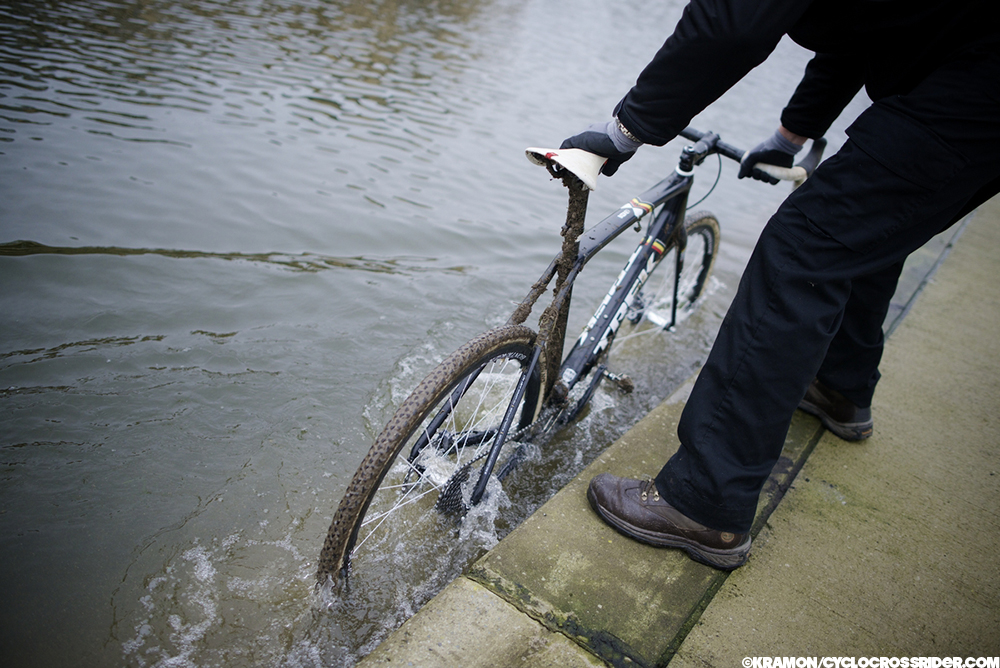 Belgian champion Sven Nys was out of sorts in Overijse and took an early bath - as did his Trek Boones (above).
Photos: ©kramon/cyclocrossrider.com