A glimpse of the last lap in Zonhoven...
Saturday October 24th: Polderscross, Kruibeke (non-UCI ranked)
Sunday October 25th: Superprestige Zonhoven (C1).
Driekleur jersey Vantornout returns

BELGIAN champion Klaas Vantornout returns to racing this weekend – starting in both the lower key Kruibeke Polderscross as well as the spectacular Zonhoven Superprestige round. The West Flandrian decided to miss the World Cup round in Valkenburg last weekend after some disappointing results in Ronse and Ardiooe. The results of blood tests suggested a viral infection and Vantornout was place on antibiotics for five days.

"My blood values were completely disturbed," Vantornout told the Belgian press. "My white blood cells count was too high caused by an infection."
Vantornout had to take to social media to quell remarks comparing his absence from Valkenburg to when he became ill in the run-up to last season's Belgian Championship and many speculated whether it was a tactic to be rested for the title race or not.
"I've had to explain this so many times," said an exasperated Vanortnout, "compare my body to that of Sven Nys or Wout van Aert and you'll see that with my build I am just much more susceptible to ailments of all kinds."
Van Aert defends Polderscross title
Twelve months ago the non-UCI ranked Kruibeke provided Wout Van Aert with an early elite victory when he beat Nys and Vantornout. The 2.7 kilometre course has been redesigned this year and moved away from Kasteel Wissekerke and will be contested by a modest and mainly Belgian field.
Sven Nys told reporters why he is still keen to race in the smaller races like Kruibeke, "I still love the focus associated with being an athlete. The results of recent weeks also make me hopeful and naturally I want to win as often as possible. I want to make the 'youngsters' know that they still have that 'old Nys' to contend with."
DIGITAL - NO LIVESTREAM: Coverage was on the Telenet digital channel and much to many fans' disappointment no feed seems to be available. Elite men start at 15:00 (CEST).
LOCAL TV HIGHLIGHTS: 12:00 (CET) on Sunday here.
Saturday/Sunday: Canadian Nationals
The Canadian National Championships are held today in Winnipeg (whilst Sweden holds theirs in Stockholm). Livestreams from Winnipeg are expected below
Elite women start 20:30 GMT Saturday
Elite men: start 21:30 GMT Saturday
Racing starting approx 19:45 GMT Sunday

Sunday: The scene is set in Zonhoven's 'Kuil'
THE huge 'de Kuil' sand pit near Zonhoven is one of the most spectacular sights in cyclocross and the roar of the crowd as the race enters it for the first time is something that every fan should go and witness. It's not an easy scene to capture but two of our favourite photographers Kristof Ramon and Benedict Campbell have managed to do just that.
Sanne Cant and Wout Van Aert defend their one point leads in the second round of the Superprestige. The sandy heathland course in Limburg always provides a treat for cyclocross fans so let's hope that livestreams become available as this one in broadcast on Telenet's digital platform and not national television.
Elite women start at 13:45 CET and the men at the regular kick-off time of 15:00 (CET).
Watch how Sven Nys prepares for the Pit... HERE.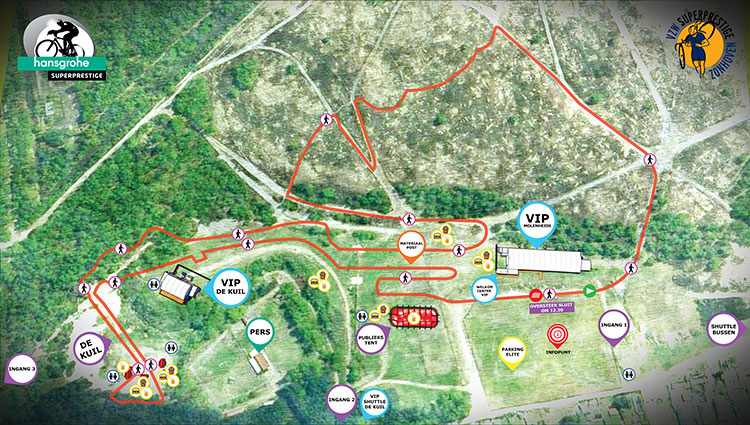 Zonhoven 2014: here