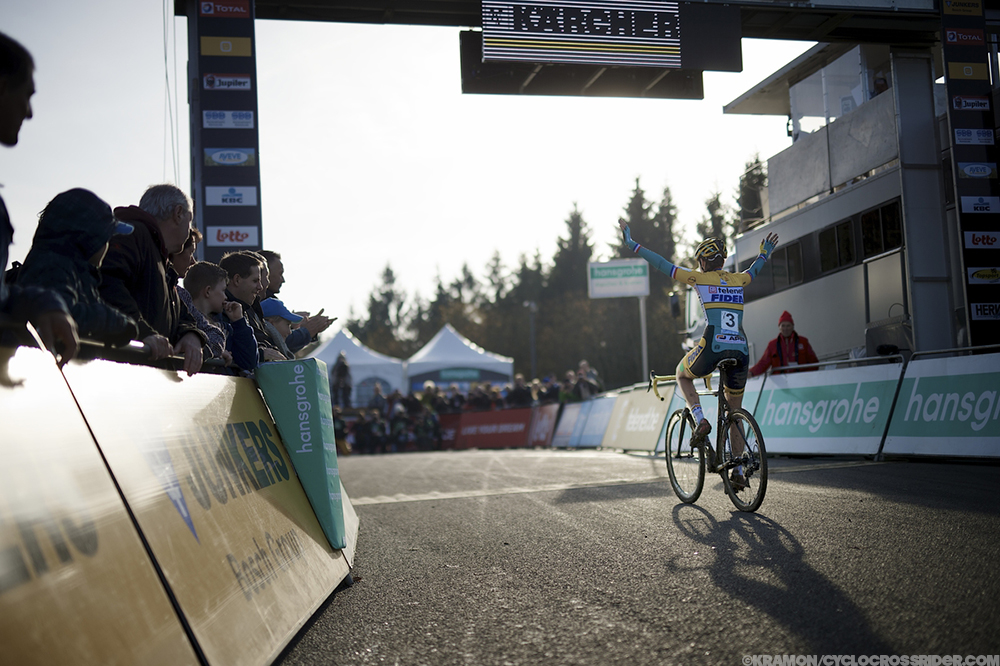 SIX days before the UCI World Cup arrives in Great Britain – the first time it has travelled away from mainland Europe – Nikki Harris and Helen Wyman scored a British one-two in the Superprestige race at Spa-Francorchamps. A repeat performance next Saturday in Campbell Park, Milton Keynes will have the British crowd in dreamland.
It was Harris' first UCI victory of the season and came over one of the toughest courses the riders have faced this season. That bodes well for Milton Keynes next Saturday and the two British women are bound to have a great deal of vociferous support racing on home soil.
I was in pain right from the start but I wanted to keep pushing and pushing - Nikki Harris
"I've been trying so hard over the last few weeks and having a bit of bad luck. Today it was a good day. I was in pain right from the start but I wanted to keep pushing and pushing. I'm really happy with the win," Nikki told TV reporters after the race.
Afterwards Nikki also joked about the severe 'Le Mur' banking the course climbed, "Steepest, longest run-up ever! Proper 'old school cross', great-full for long legs."
Runner-up Helen Wyman told Start-Box, 'I am happy with that result. Nikki was going really, really well on the first lap and got a gap. The Raidillon road climb that was tough, but Le Mur bank was the hardest – the run-up - except you couldn't really run, it was a case of stumbling up the hill!"
"I put in a hard week of training in Spain and next it's Milton Keynes. I am so excited," Wyman added. "It's going to be mega!"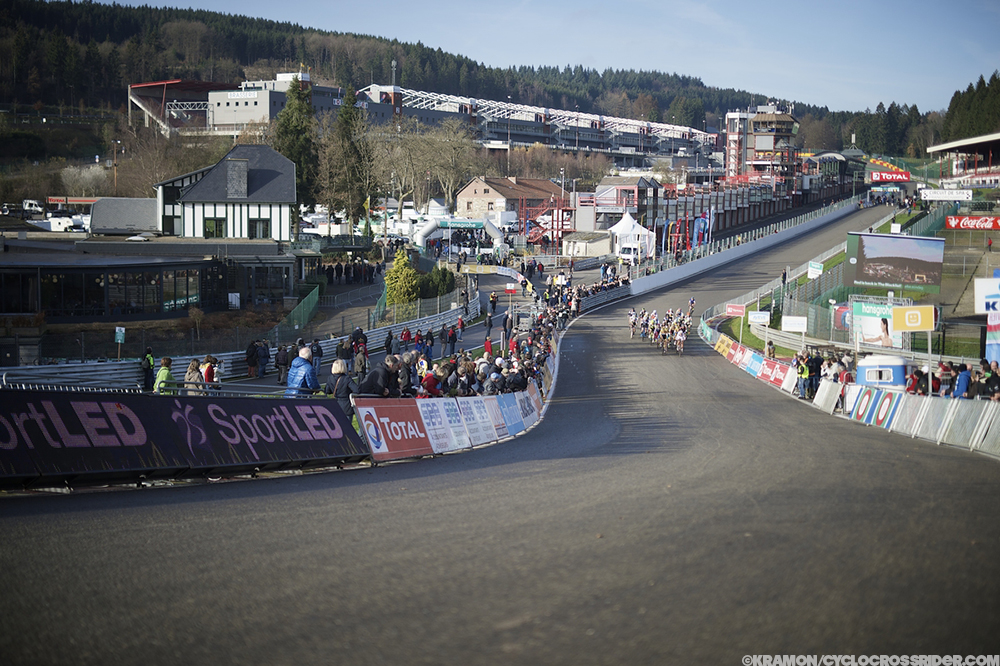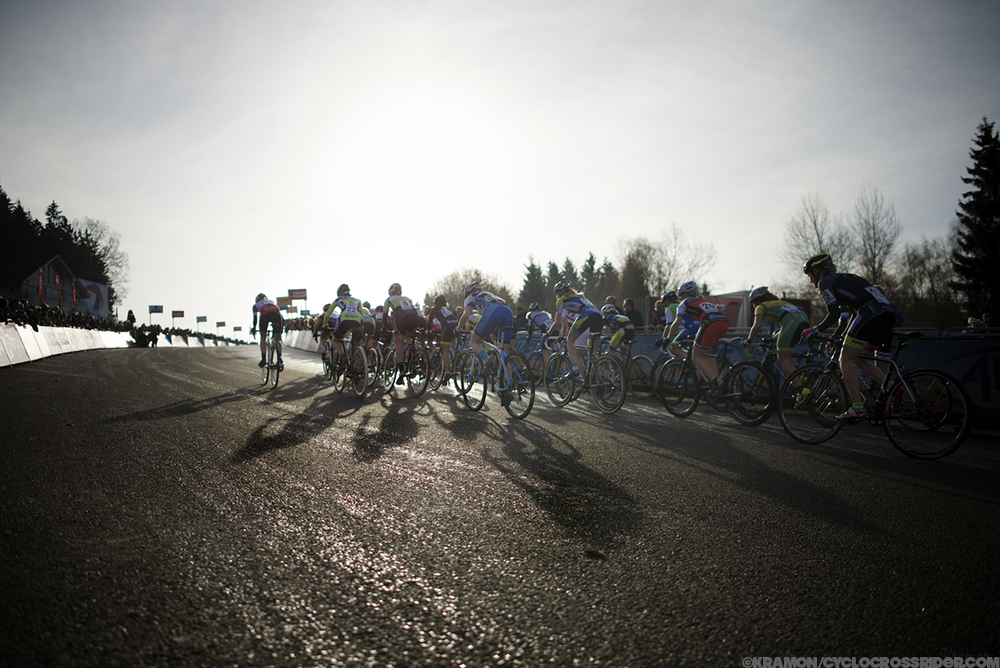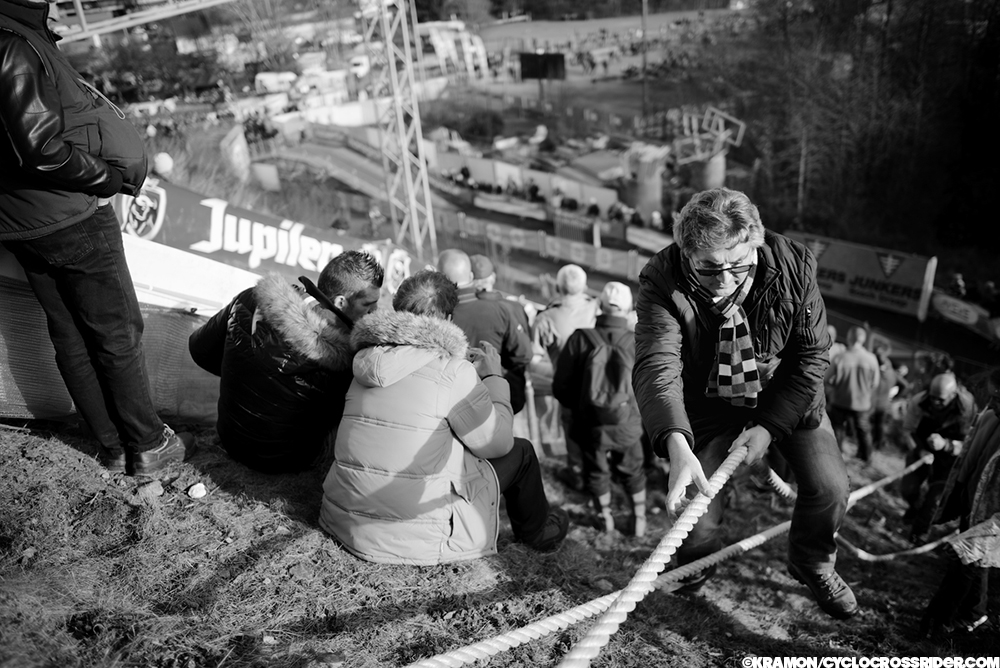 Harris made her intentions clear by leading early on, before first Sanne Cant and then Helen Wyman, who led them up the first climb of the near vertical 'Le Mur', went to front. On top of 'Le Mur' was a flat plateau of mud, traversed first in one direction and then the other, and it was Cant who descended back down from it in the lead tracked by Harris.
Behind Cant and Harris it was Belgian Ellen Van Loy who was now leading the chasers. It was on the second climb up 'Le Mur' where Harris established her lead as British champion Wyman moved into third place.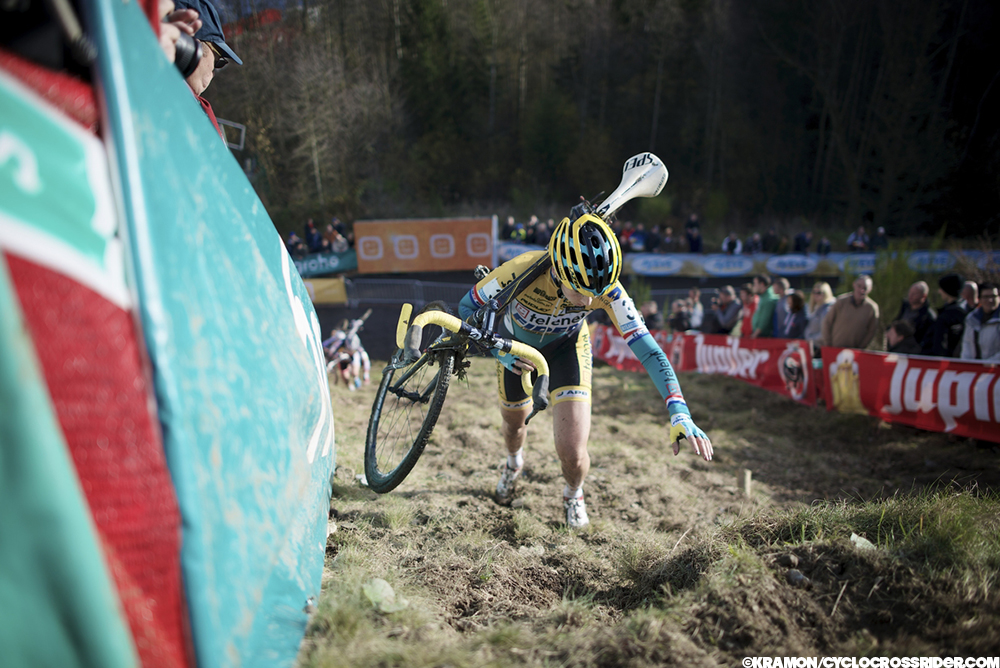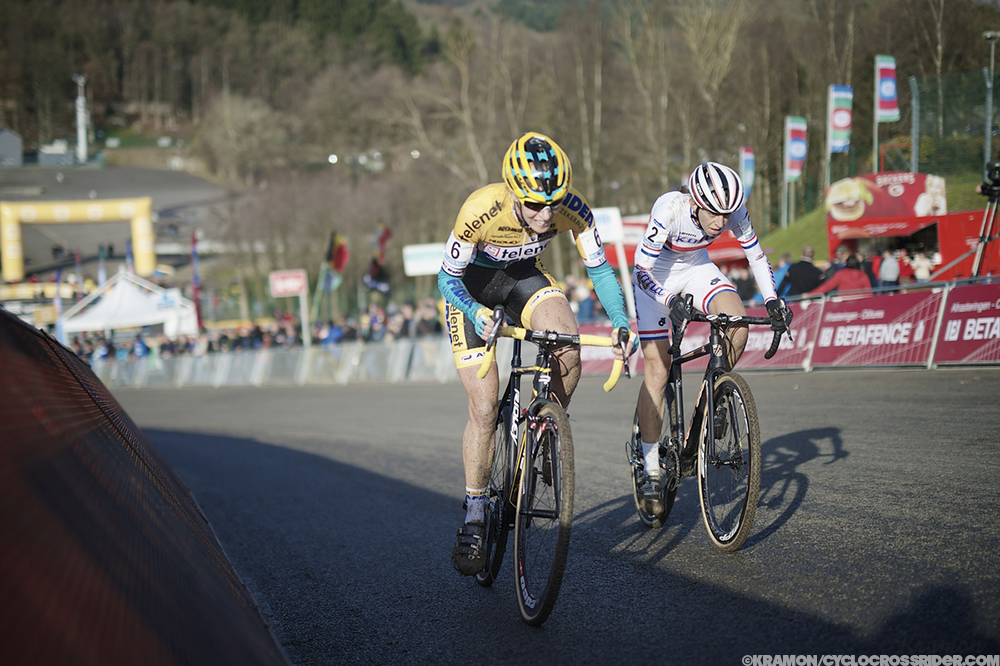 As Harris' lead grew - to 30 seconds at one point - four or five riders battled behind: Wyman, Jolien Verschueren, Cant, and Van Loy before Cant, the winner in Koksijde twenty four hours earlier, suddenly retired – stopping in the pits with a back problem on the penultimate lap.
Harris was safe though and crested the Raidillon the final time to win by ten seconds as Wyman won the battle with Van Loy for second place. By winning Harris also broke Sanne Cant's unbeaten run of six victories in her last six races.
Young Yorkshirewoman Amira Mellor (below), who has been selected to race in Milton Keynes, also impressed in thirteenth place ahead of older, more experienced riders. The British women – the number one ranked nation in cyclocross for three seasons – are really going to give the crowd something to cheer in Milton Keynes.
Result: 1 Nikki Harris (GBR); 2 Helen Wyman (GBR); 3 Ellen Van Loy (BEL); 4 Jolien Verschueren (BEL); 5 Martina Mikulaskova (CZE)… 11 Meredith Miller (USA); 13 Amira Mellor (GBR); 16 Elle Anderson (USA); 17 Christine Vardaros (USA).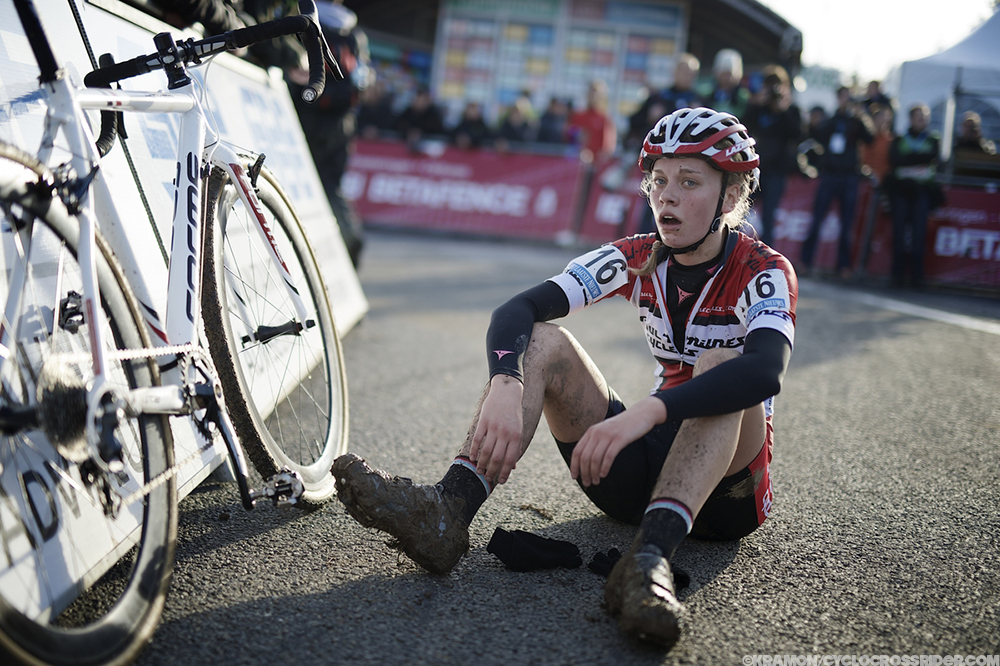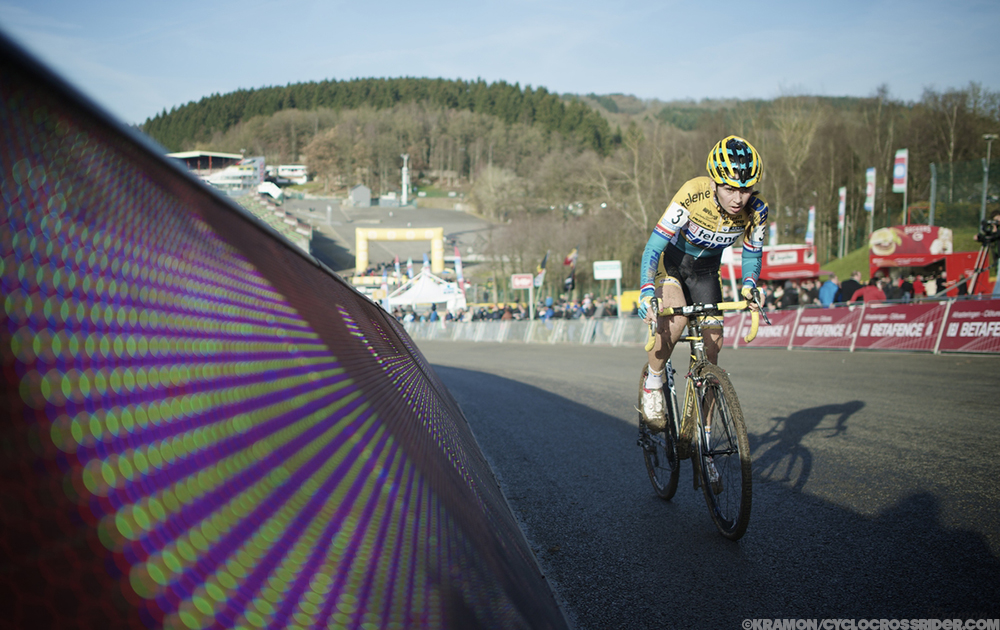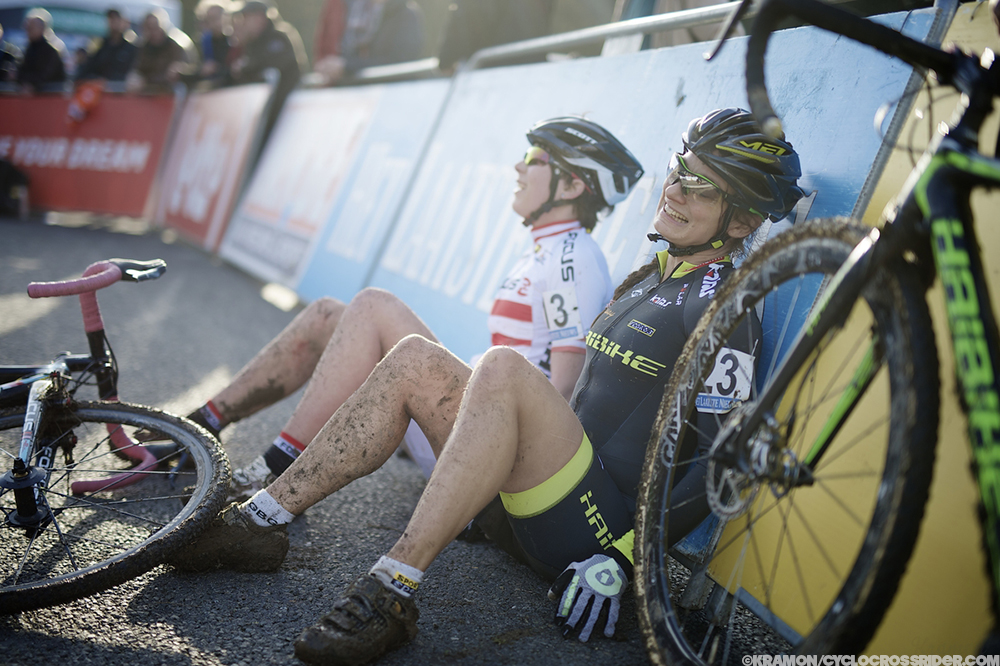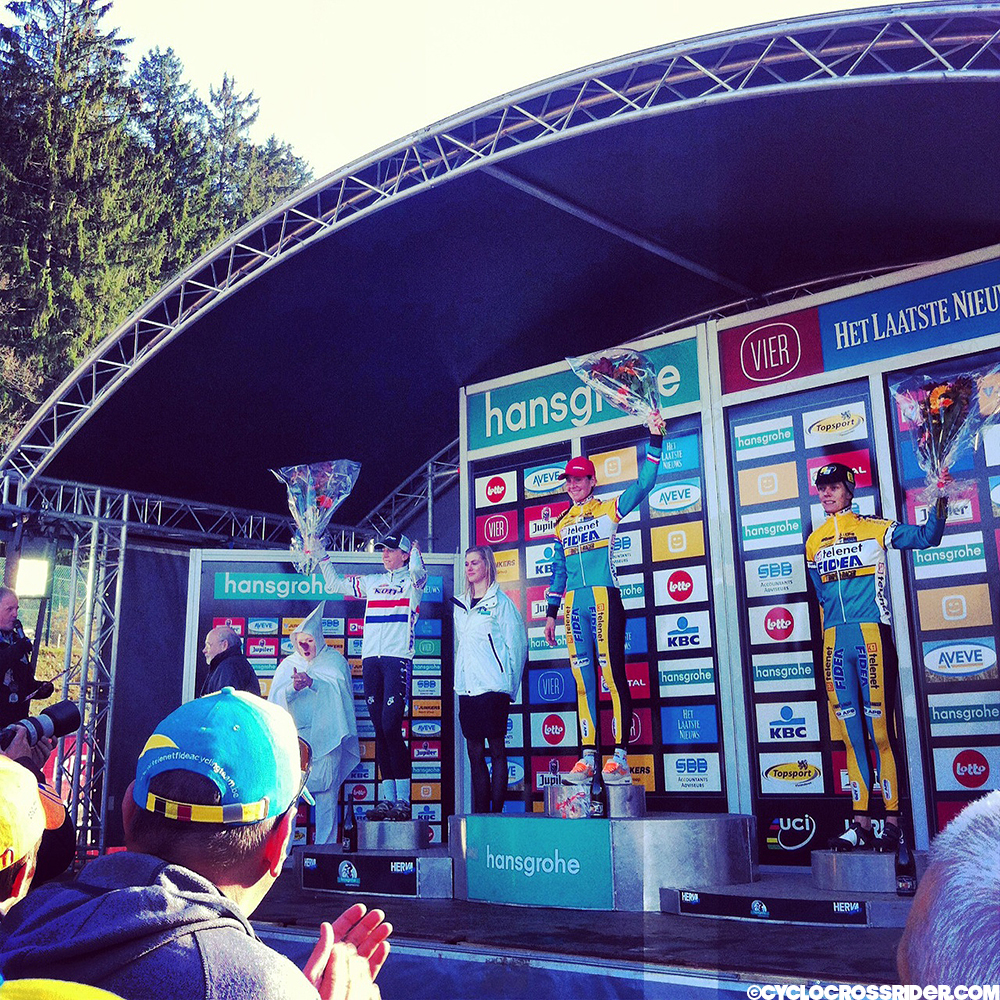 Photos: ©kramon/cyclocrossrider except Podium Instagram: http://instagram.com/cyclocrossrider