Full TV re-run from Middelkerke
KEVIN Pauwels won a tense and exciting Nordzeecross in Middelkerke – the last major series race of the season - but he could not prevent Mathieu van der Poel from taking his first elite klassement by finishing in second place.

The title battle went right down to the wire and Van der Poel's overall victory was not sealed until the final minute or so of the race. As Pauwels escaped to win over the final lap the destiny of the series title was actually being decided behind him where Van der Poel had to beat Wout Van Aert to claim second place and the Superprestige crown.
A late conclusion to the podium places was perhaps Pauwels' only option
Pauwels' main problem – starting the race two points adrift of Van der Poel - was that he needed other riders to be in the mix until the very end to try and get between himself and the young Dutchman. A late conclusion to the podium places was perhaps Pauwels' only option.
"I did not feel good," admitted Pauwels afterwards, "and I was struggling to stay in touch at times." Many of the riders were beginning to look tired at the end of a long season and there were minor mistakes from most around the tricky Middelkerke course with its steep bankings, wide ditches and awkward sand strips.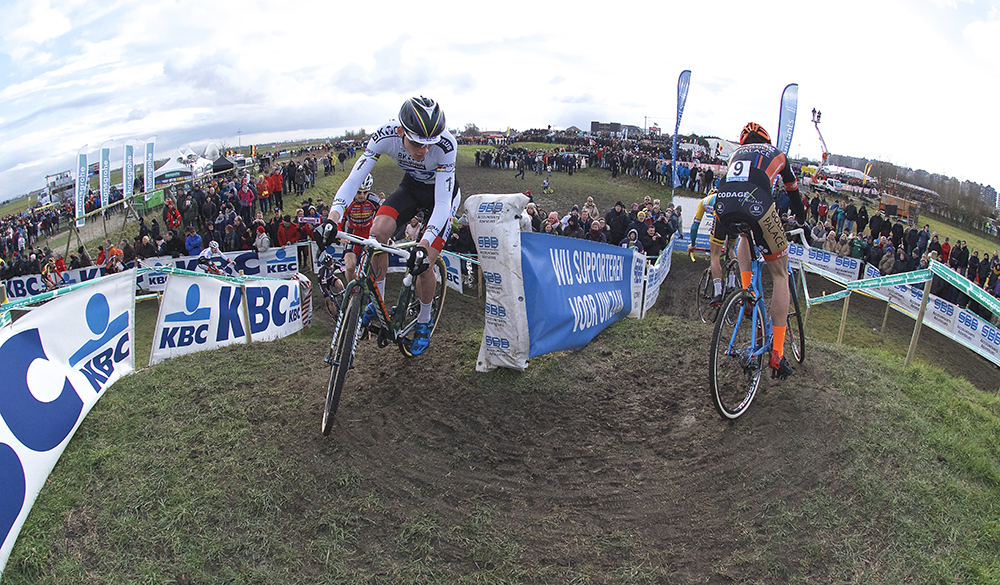 Outgoing Superprestige champion Sven Nys got a poor start and was outside the top 20 around the opening lap as the lead was exchanged from Wout Van Aert to Tom Meeusen. Towards the end of the first lap the leading riders were: Meeusen; Van Aert; Pauwels; Van der Poel; Lars van der Haar; Jens Adams; David van der Poel; and Klaas Vantornout.
Meeusen opened up a small gap on the second lap that immediately prompted Van der Poel into chasing and after only nine minutes of racing he took the lead as Pauwels rode fifth in line. At this point it looked like the Tabor World Championship podium of Van der Poel, Van Aert and Van der Haar were going to slip away and contest the spoils on their own. Pauwels chased though and got back into contention.
Solo show?
At the end of the second lap Van der Poel had accelerated out of the tricky final ditch and led Pauwels and Van der Haar by six seconds with Van Aert at ten. Just as it looked like yet another solo show from the younger Dutchman, his compatriot Van der Haar stormed through the sand and went straight over Mathieu and into the lead.
The race, and the destiny of the series, had not been decided early by Van der Poel and five riders were back together after three laps (of the 9-lap race): Van der Haar; Pauwels; Van der Poel; Van Aert; and Meeusen. Sven Nys had moved up to seventh place in a race-long battle with Klaas Vantornout (below).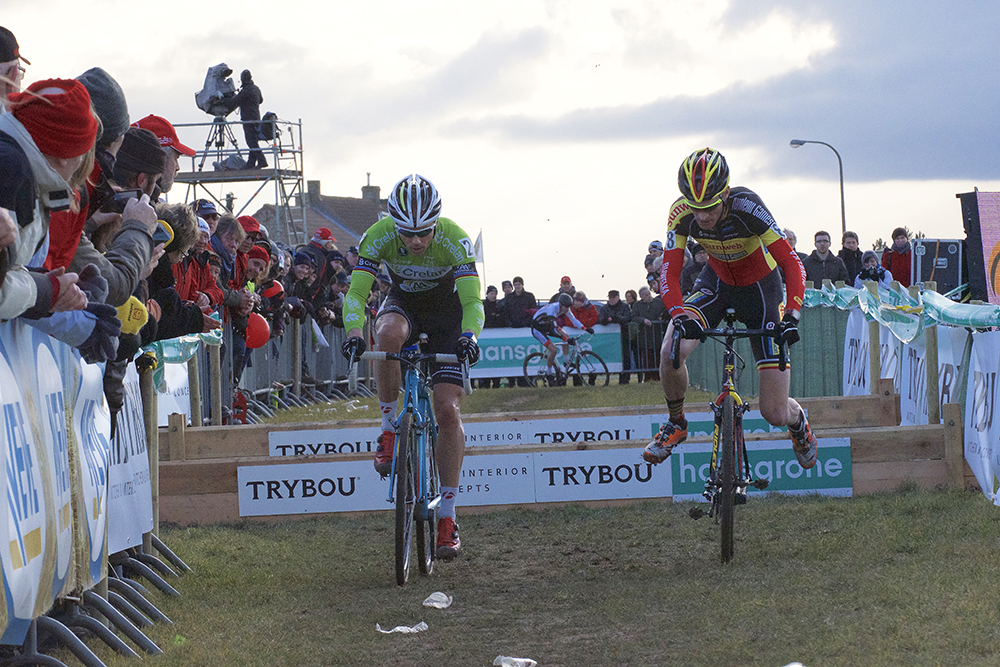 Tom Meeusen, the winner here twelve months ago, was the next to attack and at the end of the fourth lap he and Van der Poel held a small lead over the other three leaders.
With 30 minutes of racing reached, Van der Poel retook the lead and moved away - perhaps this was the moment he would ride away with the title many people were thinking. Van der Poel's move came to a grinding halt in the sand though and all five leaders were back together once again.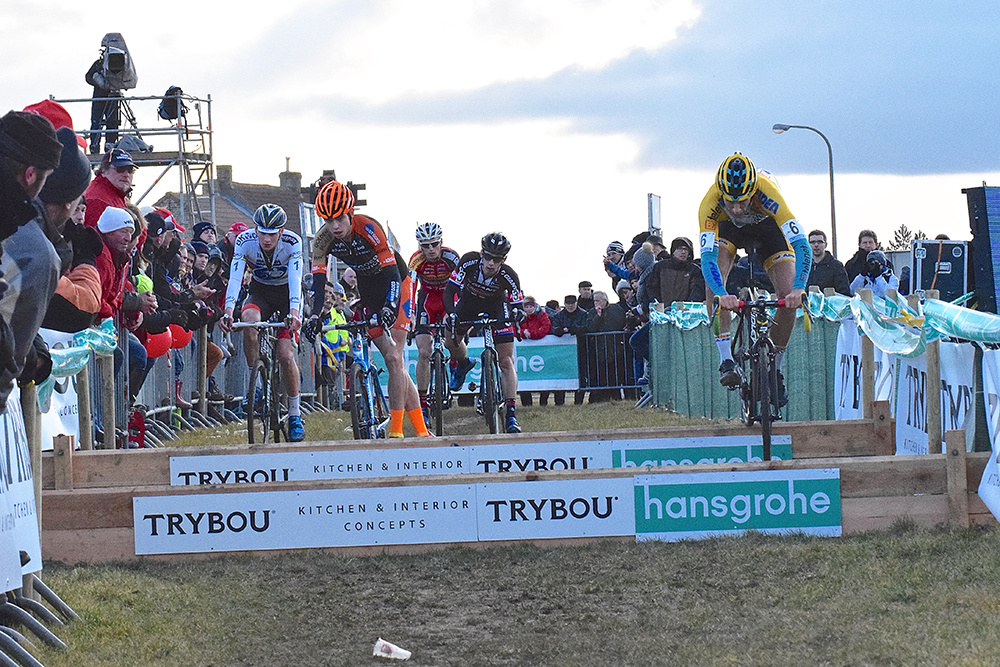 Wout Van Aert was the next to lead in this close contest before Van der Poel tried once again to slip away. With four laps to go Van der Poel held a four second lead, but another small mistake by him showed that he was not on the deadliest of form – the form that had brought him six straight victories since the start of the year.
A bigger mistake, on the tricky drop into a sand section followed as Van der Poel went over the handlebars and took a while to remount (it hurt his 'tender parts' he told reporters afterwards). As they reached the 'two to go' board there were four riders together: Van Aert; Van der Haar; Pauwels; and a shaken Van der Poel (Meeusen having dropped back now to be at 12 seconds).
Waiting game
Instead of seizing the moment and attacking the recovering Van der Poel, Kevin Pauwels had to continue to play a waiting game knowing that he still needed riders to finish between himself and the series leader to take the overall. With only four riders in the group though it looked like an almost impossible task.
Into the penultimate lap Wout Van Aert escaped again and created a scenario that could perhaps work for Pauwels – surely Kevin's best chance to win the overall was to catch Van Aert but somehow ensure that Wout took second and Van der Poel finished third. In the heat of battle though, Pauwels caught Van Aert 'early' with a lap and a half remaining and Van der Poel was still in contention but sitting slightly off the pace of the leading pair.
It did not look like the young Belgian had the legs to help things work in Pauwels' favour
Pauwels' best hope was to take Van Aert with him - away from Van der Poel - but in fairness it did not look like the younger Belgian had the legs to help things work in Pauwels' favour.
Faced with a difficult tactical decision, Pauwels moved away just before the bell and despite looking over his shoulder for Van Aert, he left the destiny of the Superprestige title, out of his hands, to be decided in the race for second place (Van der Haar was reduced to a bit part player now in fourth place).
Van der Poel immediately joined Van Aert and they started the final lap some seven seconds behind Pauwels who was now effectively going for the race win leaving Van der Poel to take second place in order to win the series.
Thrilling conclusion
The tense and thrilling conclusion to the season-long series continued, but Van der Poel drove hard through the longest sand section and left Van Aert adrift with half a lap remaining. The three up front – could this trio became known the new 'Big Three' – were each separated by a handful of seconds and one mistake by any rider could still have changed the result of the race and/or the series.
Over the last half-lap the positions remained the same though – Pauwels, Van der Poel, Van Aert – and the new, normally fearless and sometimes reckless, Superprestige (and World) champion Van der Poel even dismounted for the final ditch to, perhaps for the first time this season, 'play it safe'.
Van der Poel succeeds Sven Nys as Superprestige series winner (the youngest-ever), but Nys' record of 13 titles is unlikely to be surpassed even by the new Dutch wunderkind. Many feel sure that Van der Poel is so talented that his future is certain to lead him to a road racing focused program, although his contract with BKCP-Powerplus now runs into 2018.
Elite men
1 Pauwels

2 Mathieu Van der Poel

3 Van Aert

4 Van der Haar

5 Meeusen

6 Jens Adams

7 Nys

8 Vantornout

9 Baestaens

10 Merlier

Overall standings 2014-15
1 Mathieu Van der Poel

106 points
2 Pauwels

105
3 Van der Haar

99
4 Meeusen

92
5 Vantornout

83
6 Nys

79
7 Jens Adams

59
8 Van Kessel

45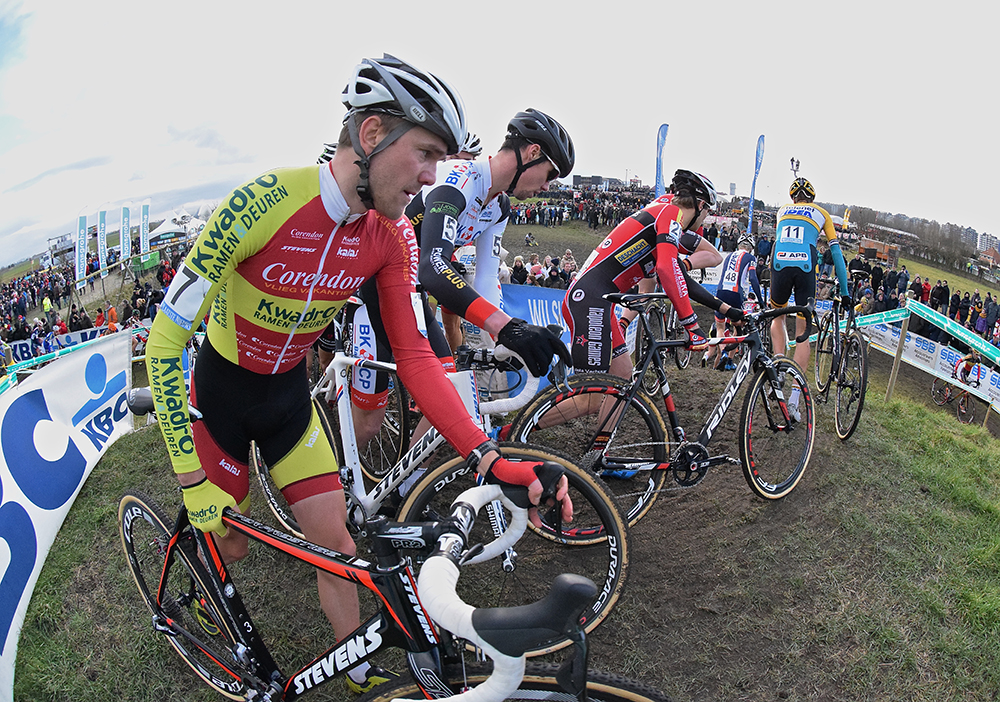 Bart Aernouts was racing his final Superprestige race after announcing his retirement this week.
The final race of the Superprestige series is quickly followed by an annual awards ceremony at the seaside casino in Middelkerke.
Shown live on TV there is always a humorous element to the show. Highlights here from a great show from VIER.
Photos: ©Paul Burgoine.