Canadian Champs: Re-run of Elite women & men
SVEN NYS will attempt to get his bad day - in the Valkenburg World Cup last Sunday - out of his system by racing two smaller (non-UCI-ranked) back-to-back Belgian races this weekend. The Belgian champion is breaking off from a ten-day training stint in Mallorca to fly back for the races in Kruibeke (Satuday) and Meulebeke (Sunday).
The Polderscross in Kruibeke, a new addition to the Belgian national calendar, is expected to be a muddy affair after considerable rain this week across Belgium and Nys will face Kevin Pauwels, Klaas Vantornout, Tom Meeusen, Wout van Aert and others.
Victories in 'cross are not easy though - you have to fight hard for them
Sunweb-Napoleon Games team boss Jurgen Mettepenningen talked up the chances of his leading pair this week."Klaas has not won since the opening race in Erpe-Mere, but Valkenburg showed that he is on a rising curve and that also goes for Kevin Pauwels - second on Sunday. Winning is just a matter of time, so why not in Kruibeke? Victories in 'cross are not easy though - you have to fight hard for them," said Mettepenningen.
Sunday's Berencross in Meulebeke also attracts the big names for the first time and after skipping Kruibeke, European under-23 champion Michael Vanthourenhout will be hoping to give another good showing against the profs after winning in Ardooie and the under-23 World Cup in Valkenburg.
After the weekends racing Nys will then return to his home on the Mediterranean island to put the finishing touches to his preparations for the important double-header of Koppenbergcross (the Trofee race on November 1st) and Zonhoven (the Superprestige race the following day).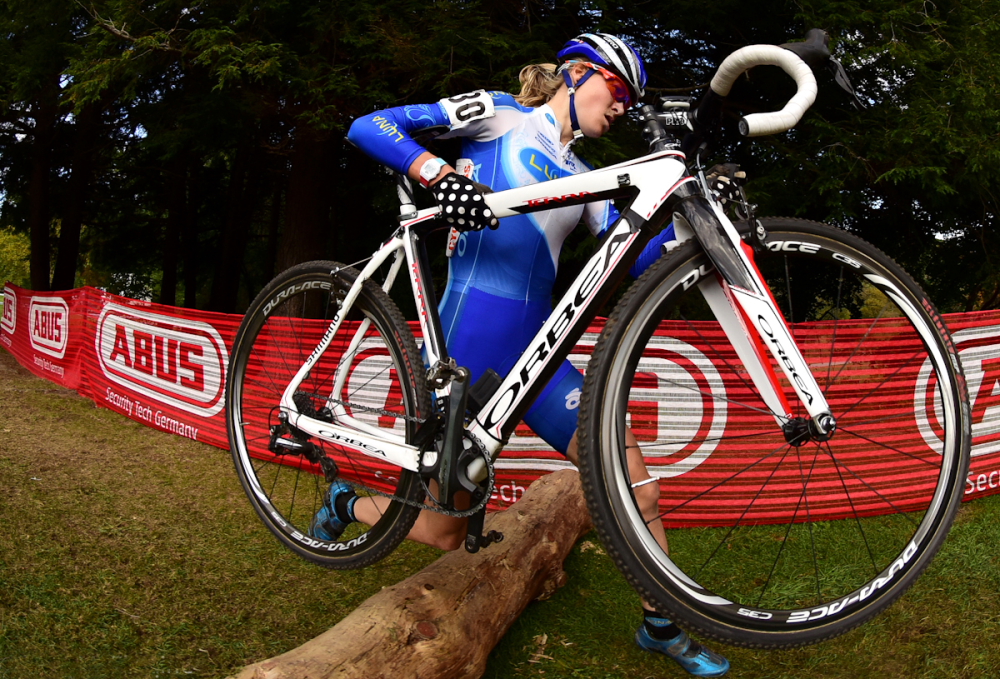 Quebec's Maghalie Rochette (Luna Pro Team) races to second place at Ellison Park, Rochester, USA. Photo: ©Dave McElwaine.
Canadian Championships
A handful of nations hold their National Championships outside of the traditional early January slot used by most of northern Europe, mostly for climatic reasons. America fell into line with the rest of the sport a few seasons ago, but the Canadian Championships remain early season and are held today (Saturday) in Winnipeg, Manitoba.
Geoff Kabush and Catherine Pendrel are the defending Canadian elite champions and the C2-ranked Manitoba GP follows the championship on Sunday.
Pendrel's team mate twenty-one-year old Maghalie Rochette (above) is a rider to also look out for in the women's race. The Luna Pro Team rider has had a string of great results.
"Probably we won't be racing together (as a team)," Rochette says about facing Pendrel. "We will be competitors. But we will play fair and we'll still be friends at the end."
Australia held its championships in August and the other countries where they are held outside of January are: Slovakia (December), Japan (December), Sweden (November) Finland (October) and New Zealand (which was a non- UCI recognized race this summer).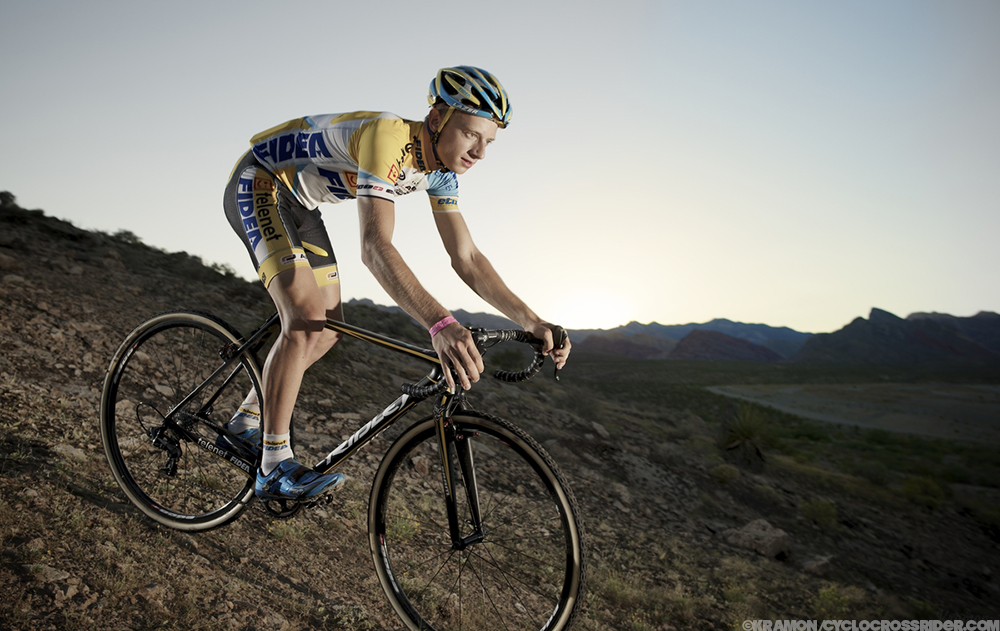 International action
Elsewhere there is a selection of C2-ranked races this weekend. In Switzerland on Sunday the 53rd annual Internationales Radquer Steinmaur is the big race and has attracted top riders including former US champion Jonathan Page.
A handful of young Europeans make the journey to Southampton in England for the second round of the UK National Trophy. Telenet-Fidea pro Quinten Hermans (above), who was fourth in CrossVegas, is the rider who will pose the biggest threat to three-time British champion Ian Field (below) who won round one in Shrewsbury. Hermans is still only nineteen-years-old and he's yet to replicate his Vegas form back in Europe although he finished seventh in Nacht van Woerden on Tuesday. Hermans' team mate Jens Vandekinderen and Bart Verschuren are the other Europeans in the main race.
Some northern European pros also travel to the GP Contern in Luxembourg as riders from around the world try to top up their UCI points. In America, it's the Gateway Cross Cup weekend of races in St. Louis, Missouri and there are also big races in Germany, Italy and Spain this weekend.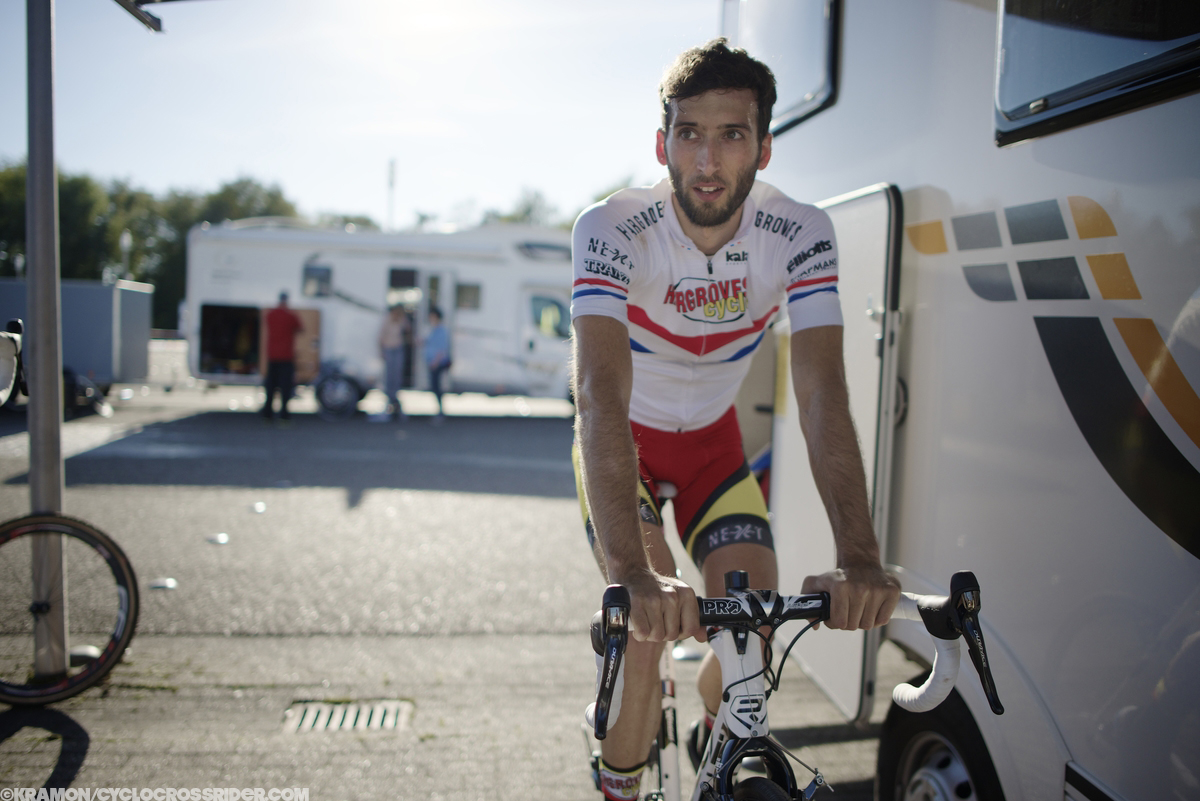 Photos: ©kramon/cyclocrossrider & ©Dave McElwaine.