Highlights: Polderscross (BEL): Van Aert is back with a win.
Highlights: Polderscross (BEL): Win for Sanne Cant.
Saturday's Result round-up
CANADA: Mike Garrigan and Catharine Pendrel became Canadian national 'cross champions on Saturday in Manitoba. Olympian Pendrel, the Commonwealth mountain bike champion, successfully defended her title on an interesting city centre course in Winnipeg. Garrigan beat defending champion Geoff Kabush whilst local rider Michael Van den Ham finished third. Watch the re-run of the racing in our link below.
EUROPE: World Under-23 champion Wout van Aert got back to winning ways, after his collarbone break, in the Poldercross in Kruibeke where Sanne Cant won the women's race. The men's race was a three-man battle until Van Aert escaped on the final lap with Sven Nys second and Klaas Vantornout third (highlights above). Tim Merlier won the Cyclocross Cup in Rhein-Neckar in Mannheim, Germany.
USA: Jamie Driscoll and Erica Zaveta won the UCI-ranked Gateway Cross Cup races in America.
GBR: In the concluding Rapha Super Cross race - a UK team series - held in London's Alexandra Palace Park, Hope Factory Racing won as former British champion Jody Crawforth took all three individual race wins. Special mention though for friend of Cyclocrossrider.com Ben Lewis (below) who won the open Senior support race - Ben raced for Cyclocrossrider in the famous Three Peaks race in September recording a respectable 3:34:34.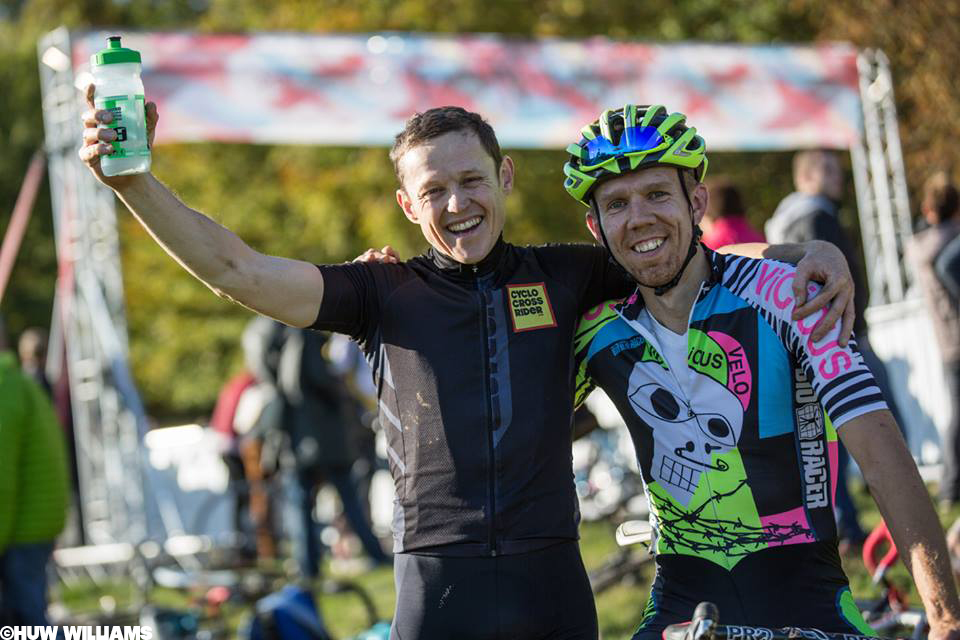 Canadian Champs: Re-run of Elite women & men
Sunday's Result round-up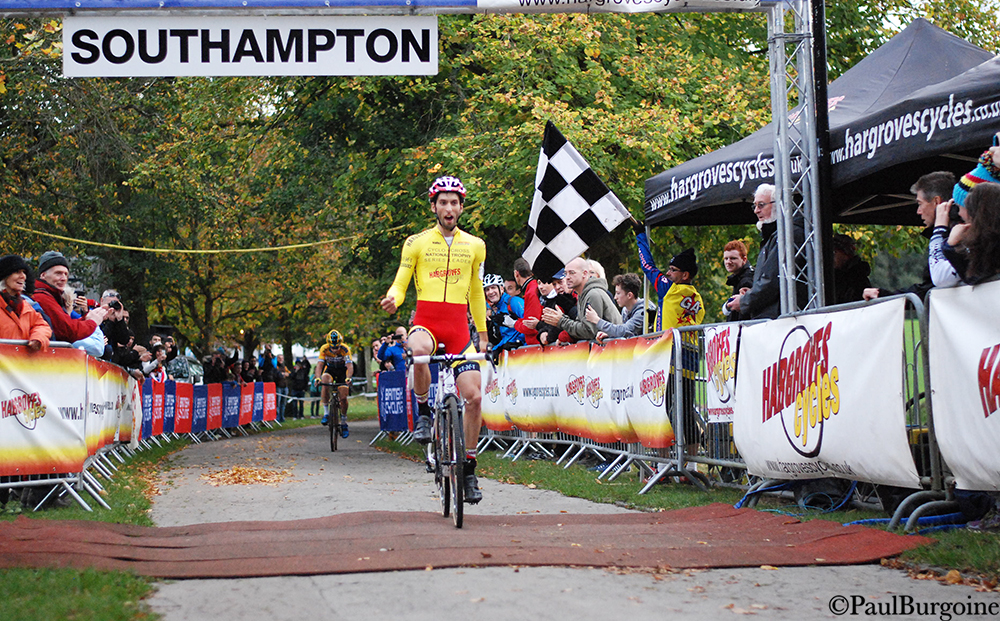 GBR: British champion Ian Field (above) held off the challenge of 19-year-old Telenet-Fidea pro Quinten Hermans to win his second successive UK National Trophy round in Southampton, England on Sunday. Field won the first Trophy round in Shrewsbury and was then disappointed by a illness-affected 30th place in the World Cup in Valkenburg so the win gets him back on track ahead of an important weekend of racing back in Belgium (Koppenbergcross and Zonhoven).
The mighty Belgian Telenet-Fidea team had sent two young riders to Southampton - Hermans who was fourth in CrossVegas in September and Jens Vandekinderen. Twenty one-year-old Vandekinderen was involved in an early crash and also had mechanical problems so he had to fight back to claim third place on the podium which left Field and Hermans to fight it out at the front.
The British champion complimented Hermans afterwards for "sharing the work up front" and not trying to wait for his team mate as the pair built up a substantial lead. Field had a greater knowledge of the Southampton course - home of his sponsors Hargroves Cycles - and sheltered behind Hermans on the last lap before making his move just before the road finish. It was a bit of a gamble for Field, but the move worked and he was understandably pleased with victory in such a thrilling race.
Field thanked those who supported him in Southampton on twitter: "Atmosphere was just a glimpse of what we are going to get at Milton Keynes. Massive support from the crowd today. Thank you!"
The British champion retains the National Trophy leader's yellow jersey as British international Ben Sumner had a troublesome race but still held onto his Under-23 green leader's jersey. The two Belgians were also the leading under-23s with Jack Clarkson in third on the day.
Brief results: 1 Ian Field (GBR); 2 Hermans (BEL); 3 Vandekinderen (BEL). Women: 1 Adela Carter (GBR).
USA: Brian Matter and Sunny Gilbert won on day two of the UCI-ranked Gateway Cross Cup races in America.
EUROPE: The big race in Belgium was the Berencross in Meulebeke and it was Sunweb-Napoleon Games who dominated the race.
The Belgian team had six riders in the lead group and Sven Nys joked that it felt like a Sunweb training camp. Not surprisingly their strength in numbers worked in their favour and they scored a podium 'lock-out'. Victory went to Klaas Vantornout, with Jim Aernouts second and Kevin Pauwels third - Nys finished eighth. Sanne Cant won the women's race from Ellen van Loy.
French champion Francis Mourey scored his fourth UCI win of the season in Steinmaur, Switzerland whilst in Contern, Luxembourg, Thijs van Amerongen took the win ahead of David van der Poel and Sascha Weber (highlights of both below).
Australian team for Tabor Worlds announced
Cycling Australia has announced a six member Australian team for the World Championships to be held in Tabor in the Czech Republic on January 31st-February 1st, 2015.
Nicholas Smith, Tom Green and Noah Burrow will compete in the junior men's category, with Jack Hogan in the under 23 event and Garry Milburn and Paul Redenbach in the elite men's category. It's understood that National champion Lisa Jacobs is unable to travel to the championships and so was not selected.
Photos: ©Paul Burgoine and ©Huw Williams.