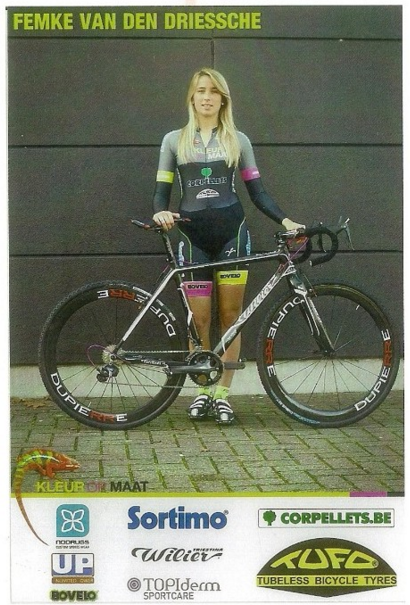 AFTER a thrilling opening day of the 2016 World Championships at Heusden-Zolder, the racing has been overshadowed by a UCI investigation into 'technological fraud' involving Belgian Under-23 rider Femke Van den Driessche (above).

The official UCI statement issued on Saturday read as follows:
"The Union Cycliste Internationale (UCI) confirms that pursuant to the UCI's Regulations on technological fraud a bike has been detained for further investigation following checks at the Women's Under 23 race of the 2016 UCI Cyclo-cross World Championships. This does not concern any of the riders on the podium. Further details will be shared in due course."
On Sunday morning UCI President Brian Cookson confirmed in a press conference that the bike seized had a motor in it and that sanctions will follow.
"Yesterday we sent a clear message to the people who want to cheat: we will catch you and we will punish you, because our technology to detect such fraud works," Cookson announced.
Meanwhile Van den Driessche maintains that it was not her bike, it was taken to her pit by mistake and she did not know it had a motor in it.
Nineteen-year-old Van den Driessche won the European Under-23 championship in November and was billed as a pre-race favourite and one of the host country's best hopes for a rainbow jersey.
As the race, won impressively by Briton Evie Richards, got going though it became clear that Van den Driessche was not going to feature and part way through the race cameras caught her walking with a mechanical problem believed to be a snapped chain.
Meanwhile UCI officials, who had also checked bikes in the earlier Junior Men's race, had found something suspicious with one of the bikes believed to be Van den Driessche's in the pits. Reports later spoke of electrical cables and a motor being inside the down tube of the bike that was seized and taken away from the pits.
Van den Driessche's father maintained that the bike had not been raced, but his statement to the press seems to confirm that the bike was illegal: "It is not one of Femke's bikes," he told Sport Wereld. "Someone from her entourage, who sometimes trains with her, took the bike down into the pit. But it was never the intention that they would ride it. That man has it in the meantime apologised a thousand times. Femke definitely did not ride the bike. Femke is distraught by this."
As the news spread doubts were beginning to be cast over some of the rider's performances earlier in the season such as the European title where Maud Kaptheijns was beaten into second place by Van den Driessche.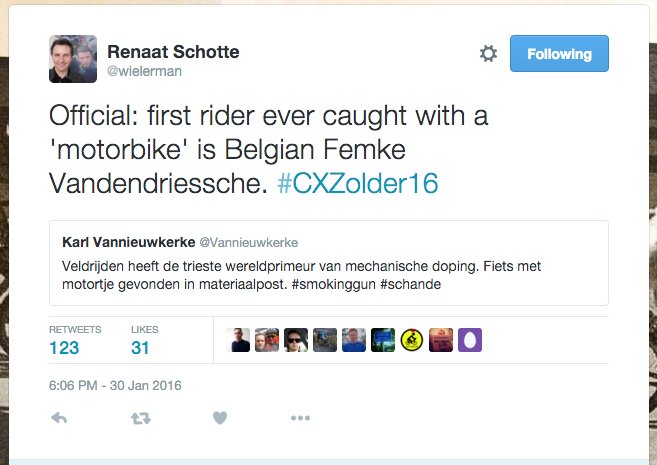 Sporza TV man Renaat Schotte seemed to be clear about what was found in Zolder on Saturday in this tweet.
Interesting data from the Koppenbergcross (below) has also come to light via Velofacts.com - a race where Van den Driessche finished second but beat riders of the calibre of Nikki Harris, Helen Wyman, Sanne Cant and today's elite women's champion Thalita de Jong.
The data shows that Van den Driessche was only the tenth fastest rider on the main downhill section of the race (17 seconds slower than Cant) yet she was third fastest on the flat section and interestingly the fastest on the long climbing section of the lap by a the large margin of almost 10 seconds albeit on the first lap.
Nikki Harris tweeted her doubts about Van den Driessche's performance at the Koppenbergcross even before this data emerged.
The UCI rule concerning this case states that a rider's team will also face disqualification, suspension and a fine, but it seems unlikely that Belgium would be punished when most riders are contracted to trade teams. Van den Driessche's small Kleur op Maat trade team issued a statement to distance themselves from the mechanical fraud. "We as a team are the first victim. We want to give young riders every opportunity to sample top-level sport. We now await further news and will take appropriate action in due course." it stated.
Several reports have also noted that Van den Driessche's brother is currently serving a doping suspension from the sport. It remains to be seen if Van den Driessche can mount any kind of defence to the apparent evidence stacked up against her.

Sven Nys, who will race his final World Championship tomorrow, told the press, "It is painful for the sport that we have now arrived at this point."
Jens Dekker (NED), Evie Richards (GBR) and Thalita de Jong were today's rainbow jersey winners in three great races that have been unfortunately overshadowed by other events.
Koppenbercross data via Velofacts.com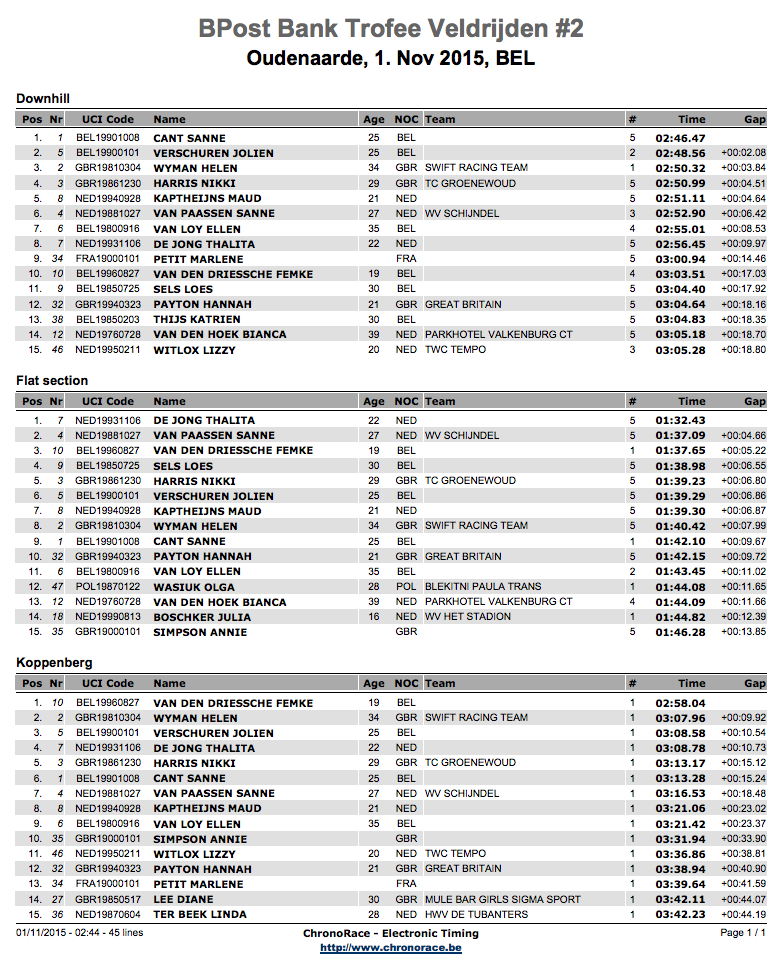 Sunday: Under-23 Men starting at 10.00 UTC/GMT
Sunday: Elite Men starting at 14.00 UTC/GMT