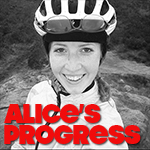 HAVING only ridden a cyclocross bike for the very first time last season (2013-14) I'd ambitiously decided to take the step up to racing 'cross at national level this winter. Back in September, I knew that I might be lacking in experience compared with other riders, but I was keen to challenge myself and see how I would get on in an 'arena' that was new to me.
After a summer of moving house (to Devon, England) and changing jobs I didn't have the best of preparations but I started the season with second place in my new local series, the South West League. This buoyed up my confidence ahead of my first-ever elite 'cross races.
Not having ever raced at elite level, or even watched any national races, I was really quite unsure about how far 'off the mark' I might be, whether my fitness would be up to scratch and whether my lack of experience and technical skills would really handicap me.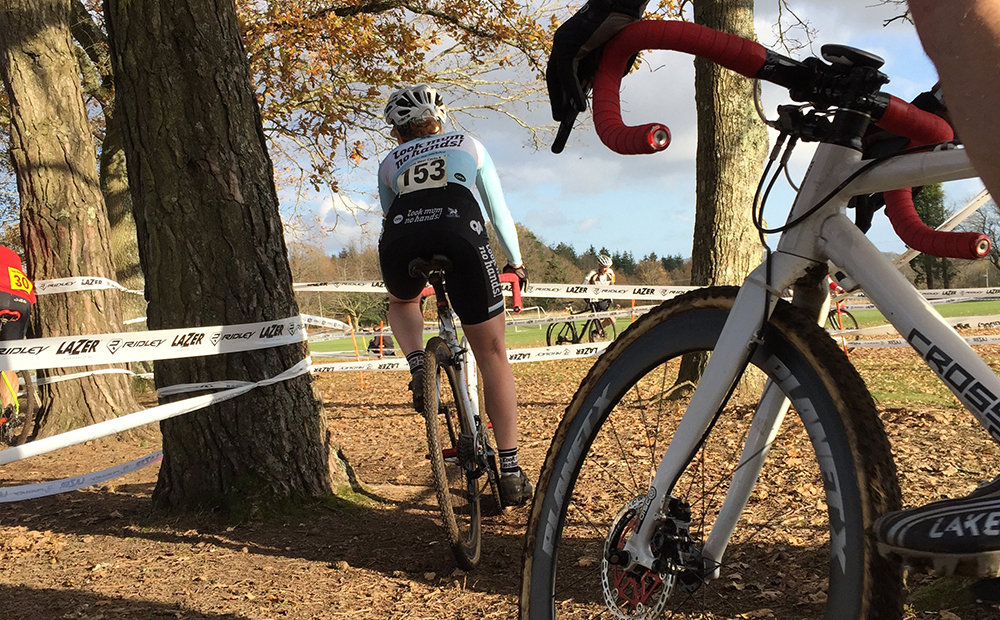 My first elite race was incorporated into The Cycle Show at the National Exhibition Centre (NEC) in Birmingham. Held partially indoors through the huge exhibition hall, it wasn't really a 'proper' 'cross race (only 30 minutes duration and over a very short lap) but I was pleased to find that although I was quite far from the head of the race, I wasn't completely terrible (or last!).
As the season progressed - and I finished four of the British National Trophy events - I began to get a feel for this top level of 'cross racing in the UK. Compared with the local level races the national events were much faster and more aggressive – they are certainly 'full gas' all the way!
I was completely unprepared for the full bore sprint that erupted at the sound of the gun
At the first National Trophy round in Shrewsbury I had expected the start to be fast but even so I was completely unprepared for the full bore sprint that erupted at the sound of the gun. As these races are only 40 minutes long the pace is high throughout (Alice scored her first National Trophy points by finishing inside the top-20 in the second round – Ed). A cyclocross rider is not a stranger to suffering!
On the topic of pain, I was quite fortunate to avoid any major injuries during the season despite regular unplanned dismounts! The worst I suffered was a swollen knee that stopped me walking for almost a week and also sadly meant I couldn't race the Durham round of the Trophy. Otherwise it was just minor cuts and bruises which is amazing when you think about all the crazy obstacles and crashes that go on in 'cross racing.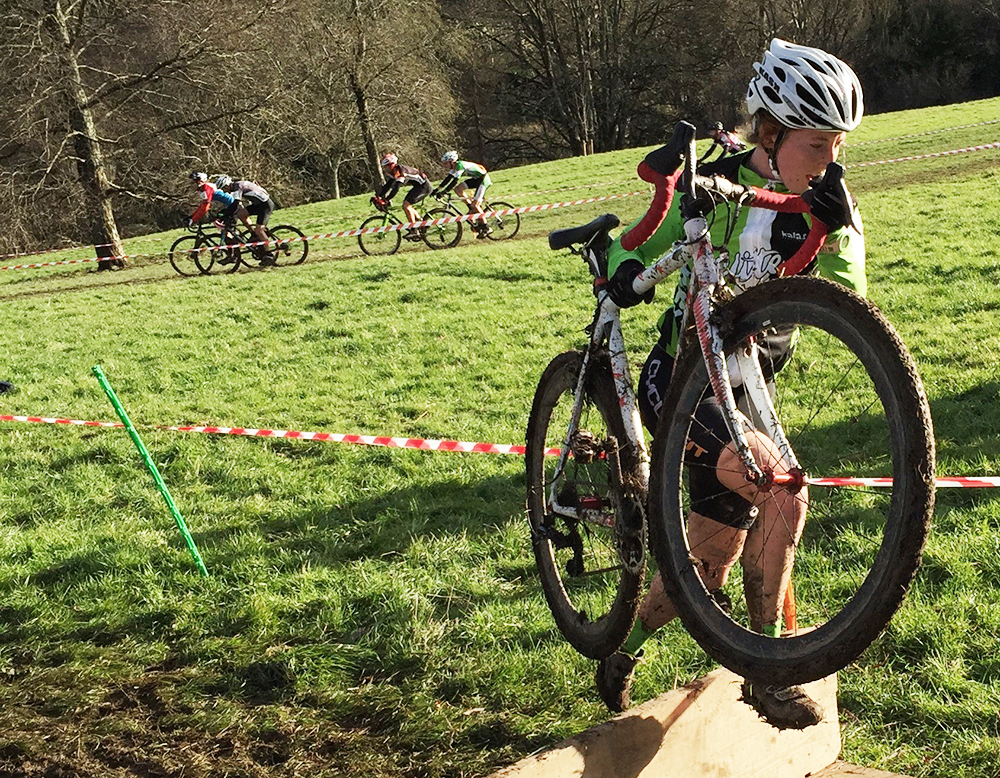 Alice racing in her new colours of eliteVelo-Kalas CRT.
As the weather turned more wintery and the going got tougher I did occasionally lose out to my more experienced competitors. On days when the mud was especially sticky – Milton Keynes for instance – I found it pretty tough going and had to take frequent stops to keep my wheels turning.
Girls with a pit crew were able to benefit from frequent bike changes which kept them on clean tyres and light bikes. Having said this, there were probably only two races this season where a second bike would have made any real difference to my performance – most were, fortunately for me, quite light on the sticky-mud front.
I've now seen the top girls at work and consolidated and improved on my own skills
By the end of the National Trophy series (won by star junior Amira Mellor – Ed) I had learnt a lot of new race craft (and was ready to attack as soon as the whistle blew). Yes, my off-road skills are still a little weak and often hold me back from going full gas as consistently as I would like, but I have certainly learnt what elite level 'cross is like. I've now seen the top girls at work and consolidated and improved on my own skills.
I know what I need to do for next season. I need to gain more confidence through more experience and to get more comfortable with slippery conditions
I rounded off my season with the National Championship in Abergavenny – the first time I'd attempted the race. I found this really interesting because, as I expected, it was a level up again - even on the National Trophy events. Of course everyone wants to win a round of the Trophy but the Nationals is the race where everyone is going to give absolutely everything to get on the podium.
To make it even more exciting all of the pros and continental-based riders come back too so the level of the competition is much higher than your normal national-level race. We did kind of get a kind of preview of this at Milton Keynes when several international riders (including multiple American champion Katie Compton) stayed on for the National Trophy the day after, but I think it was different again in Abergavenny.
Now that my 'cross season is over I'm moving my focus back to road racing. I have joined a new Devon-based women's development team called eliteVelo-Kalas CRT and we will be targeting the British national road (and team) events. Whilst the road will be my main priority I will make sure that I keep on riding my 'cross bike, building up my off-road experience so that I can come into the 2015-16 season with the technical skills to make the most of my summer road-racing fitness.
Whilst that's now a wrap for my winter season, a part of me will be longing all summer long for the muddy fields of cyclocross.
Editor's Footnote: Alice finished third in her first road criterium of 2015 this month and we hope that bodes well for a successful summer of racing and that many more podiums may come her way. With two top-20 National Trophy placings now under her belt, Alice is aiming to finish even higher next winter.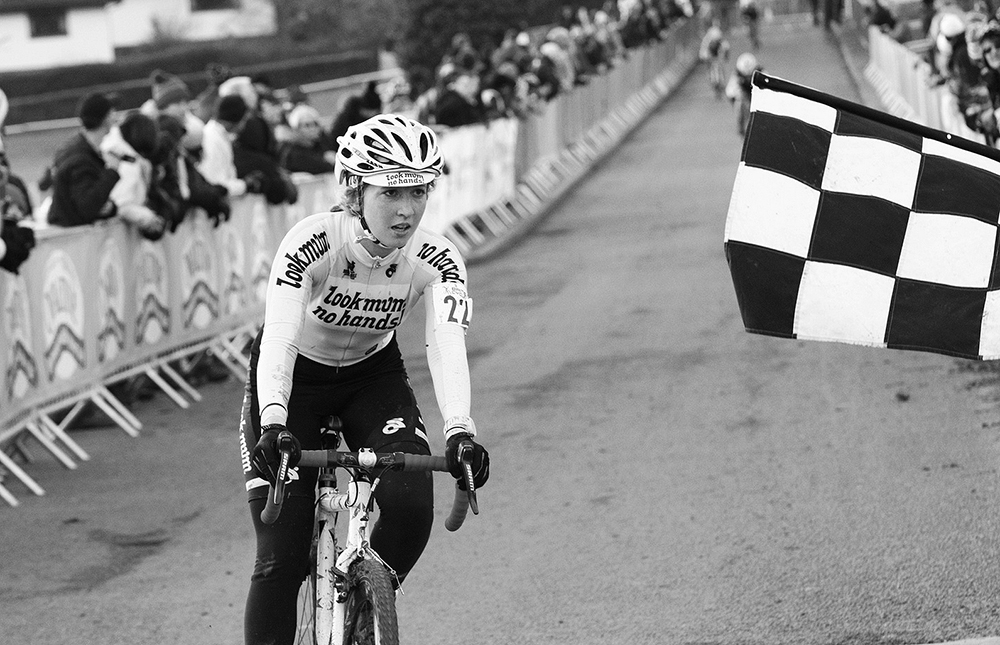 Finishing her first British National Cyclocross Championship in Abergavenny, Wales. ©Paul Burgoine.
Main photo: ©Paul Burgoine. Other photos (unless stated): Tom Staniford.