Here's my personal take on the UK Cycle Show - held at the NEC in Birmingham every September - it's very biased as I'm focusing purely on stuff for cyclo cross racers and riders, there's also loads of other stuff, but we're not here for that. We're here to get down and dirty, so here goes.

The general trend, you won't be surprised to hear, is for 1x and hydro disc brakes, with some kind of thru axle to support the use of discs. I'll not go into all the various standards, you'll have fathom that out for yourselves. There are one or two exceptions though.
First up Ridley, no introduction needed here as we all know Ridley. On display we have the X-Night disc (below) that I noted still has a QR rear, which I had understood was on its way out. Discs are 160 front and 140 rear. Also on display is the X-Ride based around an alu frame. Delving deep into the Dealer spec book though reveals that the X-Night canti is still an option for those interested.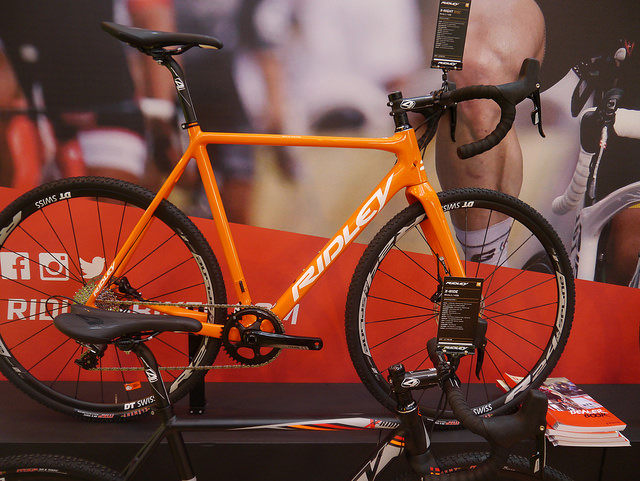 Next up Boardman's CXR 9.8 with Di2 for £2,500 (below) OK, not a cheap bike but still that's a lot of bang. I've been lucky enough to see these Boardman's being ridden in anger by a couple of outstanding tri-athletes (the Brownlees - their race bikes are on the stand) and let me say if those boys ever take up 'cross we are all in trouble. The CXR 9.4 gets you mechanical shifting and a £500 lower price. At the other end of the scale we have the CX comp, alloy frame, cable operated discs, but £599.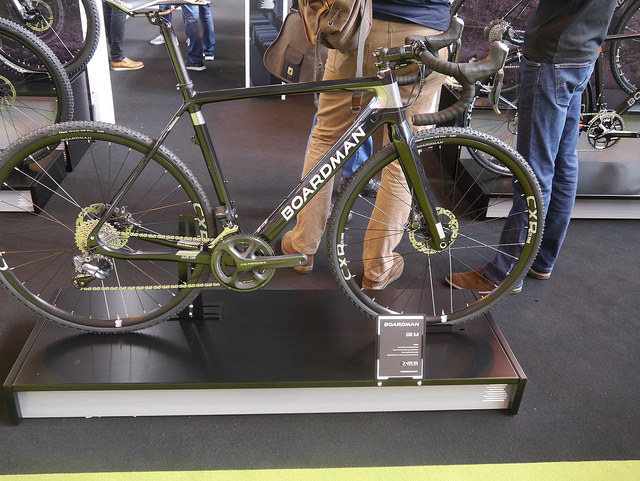 A quick stop at the Garmin stand to see what's available for CX racers, and here I'm assuming you want the Garmin to stay with you and not the bike. Here you'll find the Vivoactive, Fenix 3 and Forerunner 735XT all waiting for when my trusty 610 finally goes blank screen.
Over to the kids favourite Isla bikes to see the new Luath 700 Pro series for all budding youth riders. I think this is a full carbon frame and forks, and discs which is new for this company and a serious bit of racing kit (below). The standard canti brake Luath is a very popular starter bike for young 'crossers.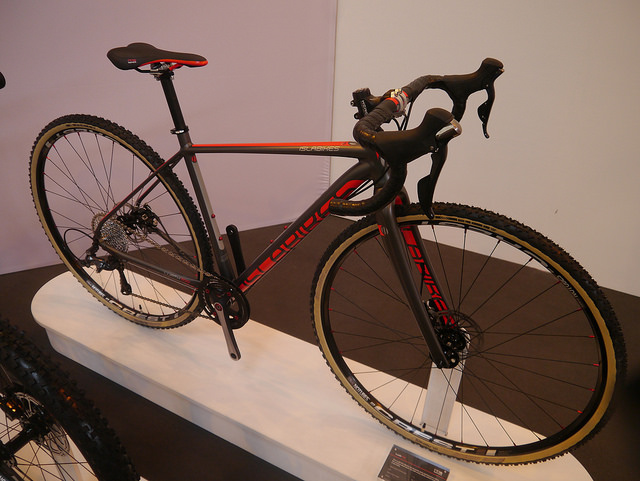 GT had a Grade CX on display, alloy frame, 1x, hydro discs etc. for £1,600 and capped it all off nicely with my favourite all weather Vittoria XGs tyres which I've completed two Three Peaks Cyclocross adventures on puncture free.
While we're on the subject then Vittoria had a big presence at the show, not only wheels and tyres but also the biggest Stilton cheese I've ever seen, so even if you're not in the market for rubber or carbon well worth stopping by. My team uses tubular XGs (all conditions) and XLs (mud tread) for racing and winning.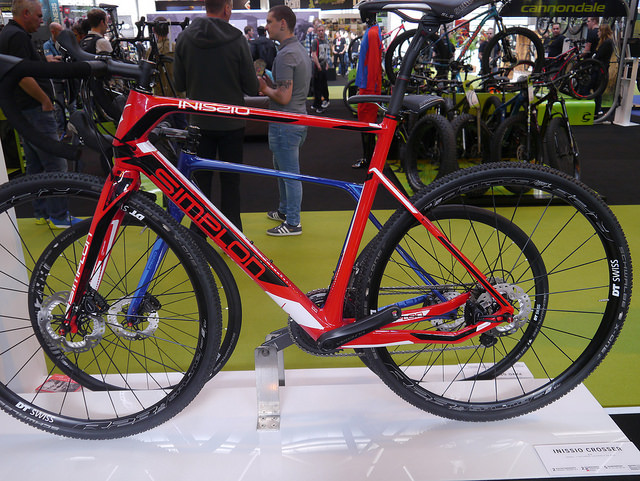 Although not yet available to buy in the UK, Austrian company Simplon were displaying a whole stable of bikes including the INISSIO CROSSER (above). A striking and multipurpose frameset which is also used for their Gravel and Granfondo offerings, which would make this a pretty versatile bike. Plenty of mud clearance and all the usual stuff along with dual 140mm discs. The reps brought along some local Austrian mountain cheese too, yum yum. There's definitely a theme developing here, bike show cheese off anyone?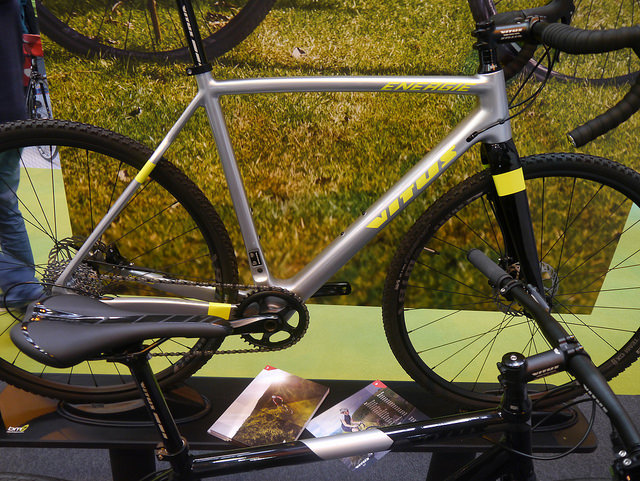 Vitus bikes (from Chain Reaction) displayed their new Energie model (above), full carbon, 1x, hyro disc and get this: a BSA BB, every pit crew's favourite standard. Personally I'm not so keen on the reduced impact paint job versus last year's lime green but that's a pretty personal choice.
Speaking of paint jobs (and don't be fooled by the road wheels) check out the KTM CANIC, available in Shimano or SRAM and raced this season by Ben Dransfield if you want to get a close inspection at the National Trophy or Yorkshire series races this season.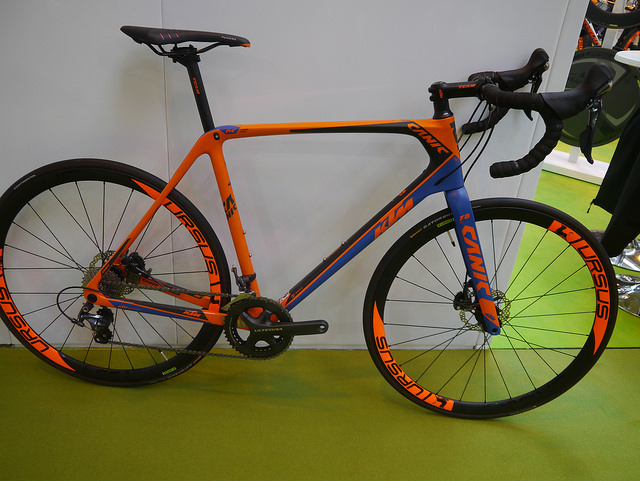 Storck is not a company you'd normally associate with 'cross. Their road bikes get a good rating from owners though and on display here was the T.I.X. pro (carbon) and T.I.X. alloy.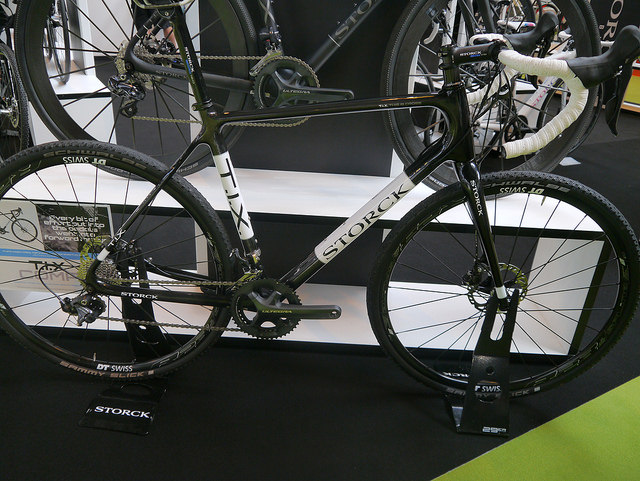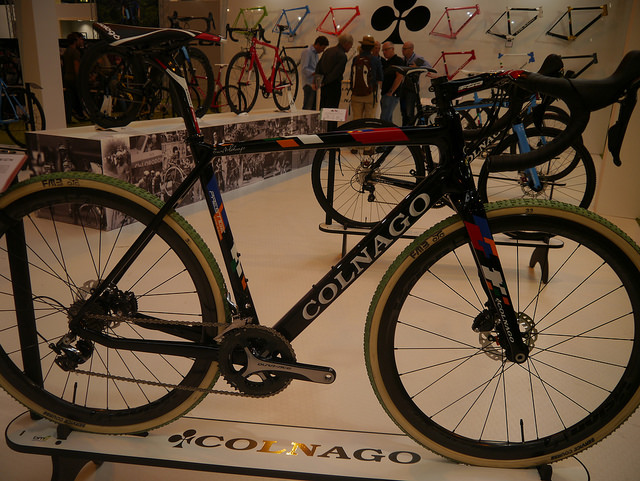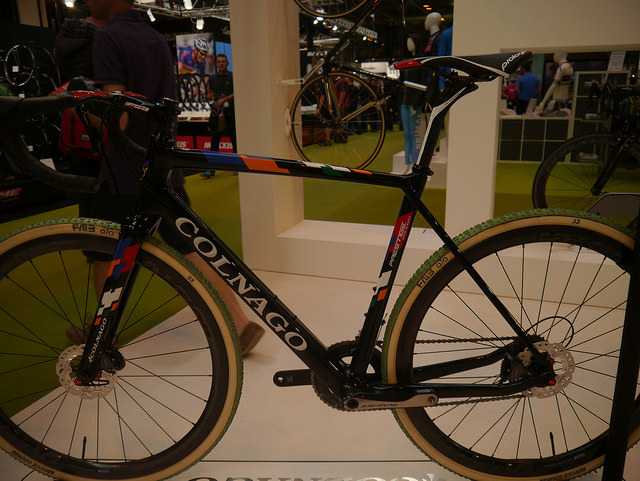 Over to the Colnago stand and we see the new Prestige with thru axles and all the rest. We'll let the picture do the talking there. Also on the stand was the A1rCX based around an alloy frameset.
Now here's a company you'll want to bookmark: betd components. They'll make you any mech hanger you like and even if you've got something rare just take them your frameset and they'll measure it up and sort you out.
Over at British manufacturers Hope components… of interest to 'cross racers has to be their now re-engineered disc brake calipers for retro-fitting onto a SRAM or Shimano system. Hope say you'll get more pad retraction (potentially less disc drag) but you'll also get a choice of six colours, even better. They also have a full range of hubs to suit every wheel standard including splined discs for the first time that I've seen and if you like carbon they have a seatpost available now too.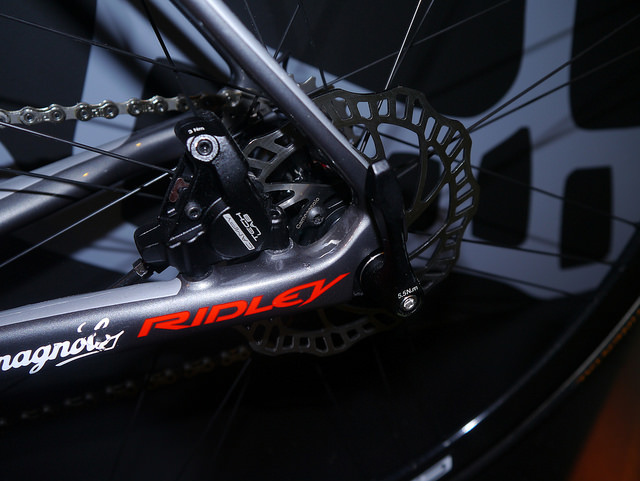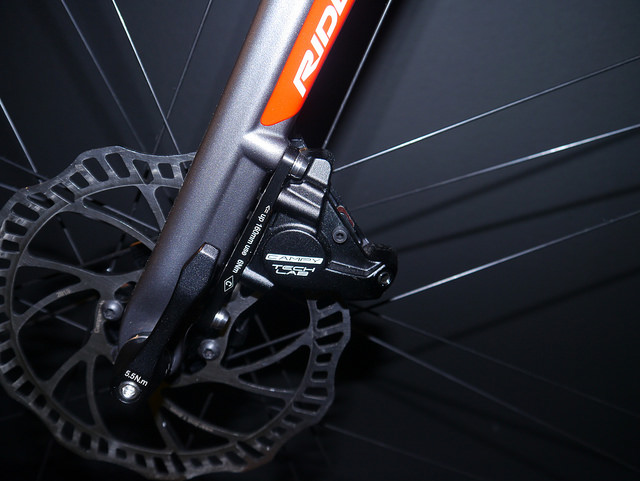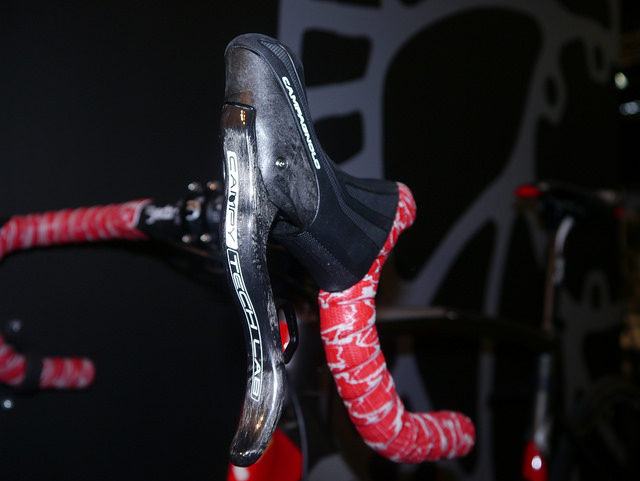 Speaking of disc brakes: Campagnolo. Huh? OK, it's not new news but another first time view for me. Talking to some tech guys the Campag levers should be one of the lightest available and the calipers should be very robust and reliable (but I can't say anymore about that). So a Campag groupset as a serious contender for your shiny new 'cross bike?
Genesis were displaying their new CX machine the Vapour Carbon CX 30 in Ultegra guise.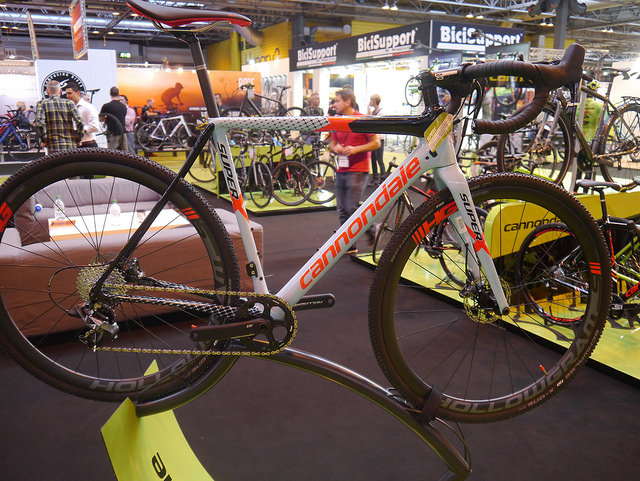 All the Cannondale bikes meet the new norms, carbon, hydro disc, thru axle and they had a few on display including the SuperX Force with some interesting thru axle closure mechanisms. I didn't get a chance to discuss these in detail but I'm guessing if you have one of these bikes, then you probably have two, so you won't be messing with them during a race in the pits.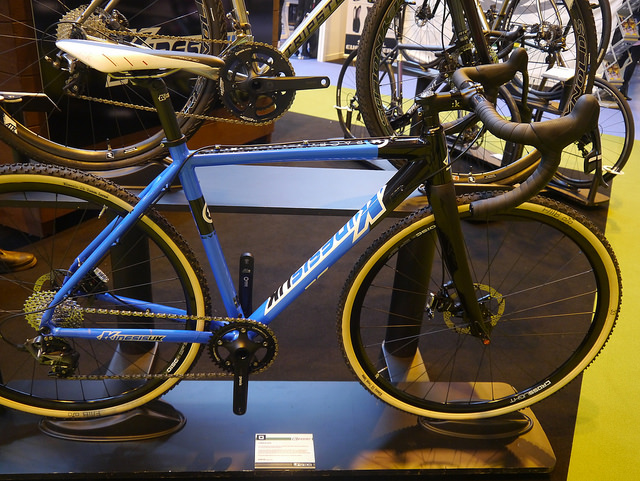 Very racy is the Kinesis Race, and no bottle cage bolts says that louder than anything. Nice of these guys to put back into the sport with UK regional league sponsorship too, remember that when you're racing.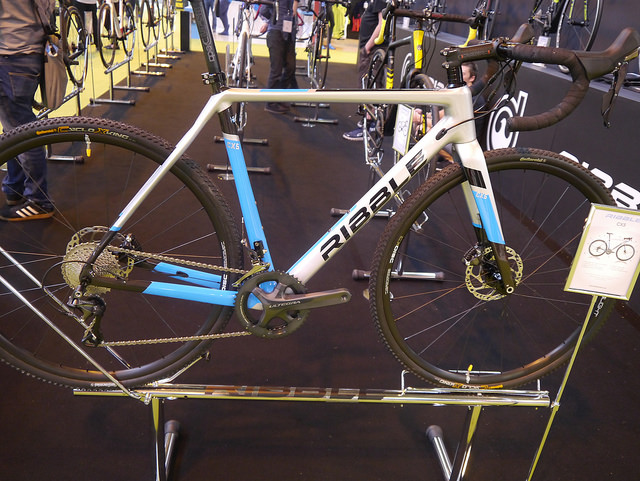 Finally my last stop of the day, and it took me by surprise as well, was the Ribble stand with their brand new all carbon CX5. All the stuff you've come to expect on this one: flat mount discs, 12mm thru axle, integrated cables and tyre clearance aplenty all for £1,300 - £1,500. Ribble will let you spec the CX5 pretty much how you like when their new Bike Builder comes online towards the end of the year.
Well that about wraps it up for this year, hope that gives you some food for thought for your next 'cross bikes and bits. See you next time.