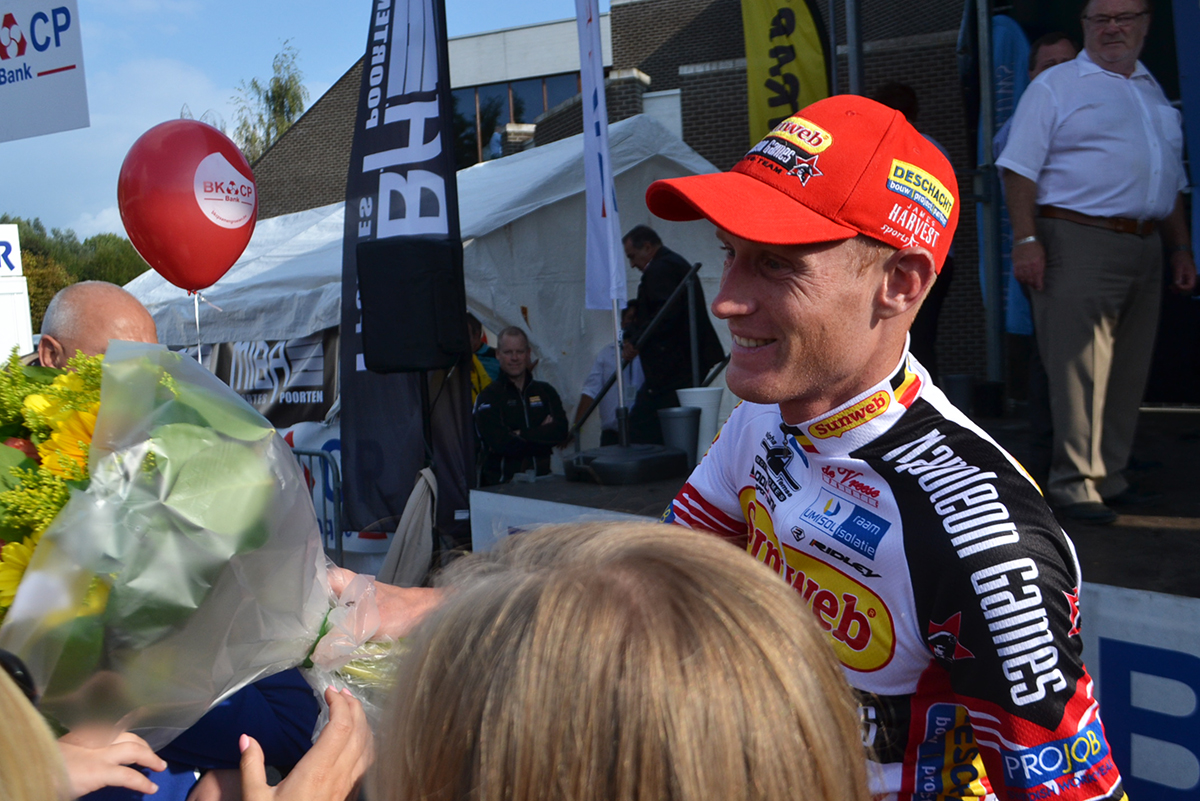 THE new, Belgian pro cyclocross season got started today (September 21st) before a big crowd at the Steenbergcross in Epre-Mere, to the north west of Brussels. Klaas Vantornout was rewarded for a long solo break with victory although there was also a little bit of luck on his side.
It was a sunny afternoon, but a weekend of heavy rain had done it's damage and made the course tricky in numerous places especially in the sun-free, wooded parts.
At the end of the long start straight riders were forced to queue over the first of the three bridges at Erpe-Mere. Whilst those at the front were unaffected, those to the middle or back were already badly disadvantaged, none more so than last man over the bridge, former World champion Bart Wellens (showing signs of an early fall). Despite moving through the field Wellens never really recovered and rode the last quarter of the race with early race leader Rob Peeters and Jan Denuwelaere over two and a half minutes behind the front of the race.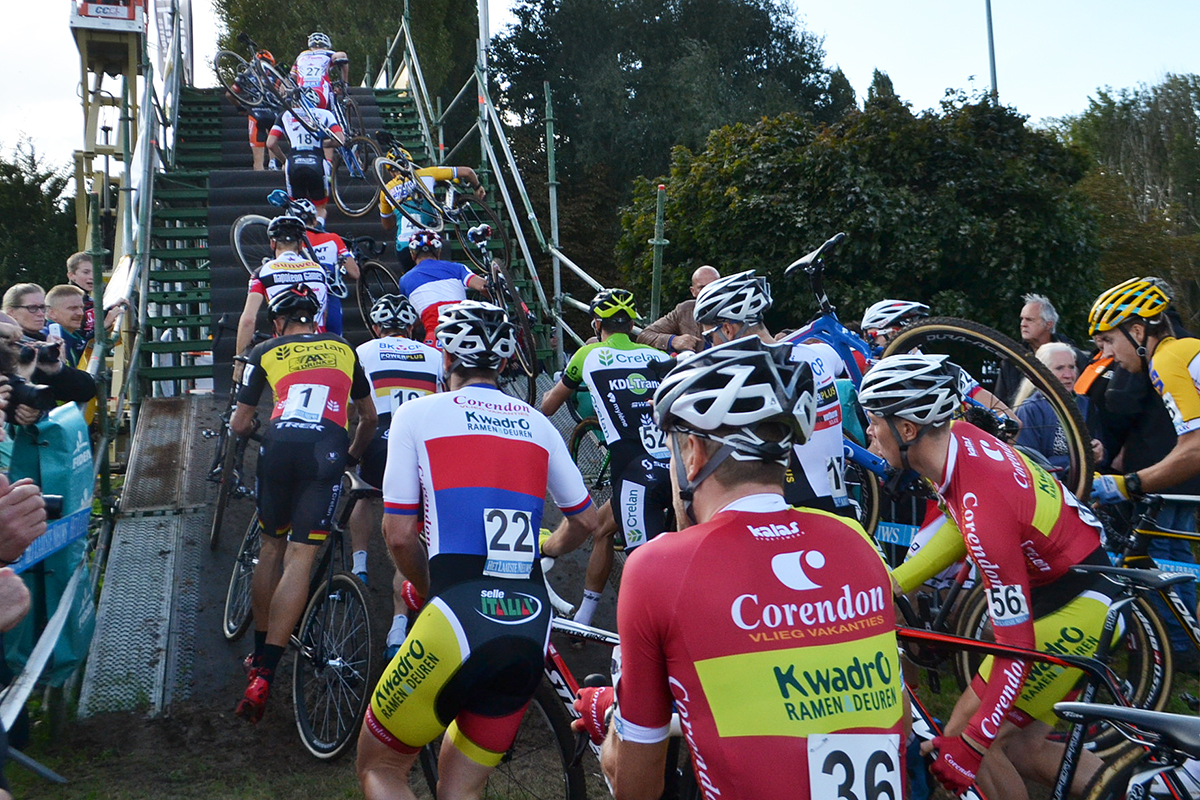 The first bridge at Erpe-Mere begins to cause congestion as Rob Peeters leads.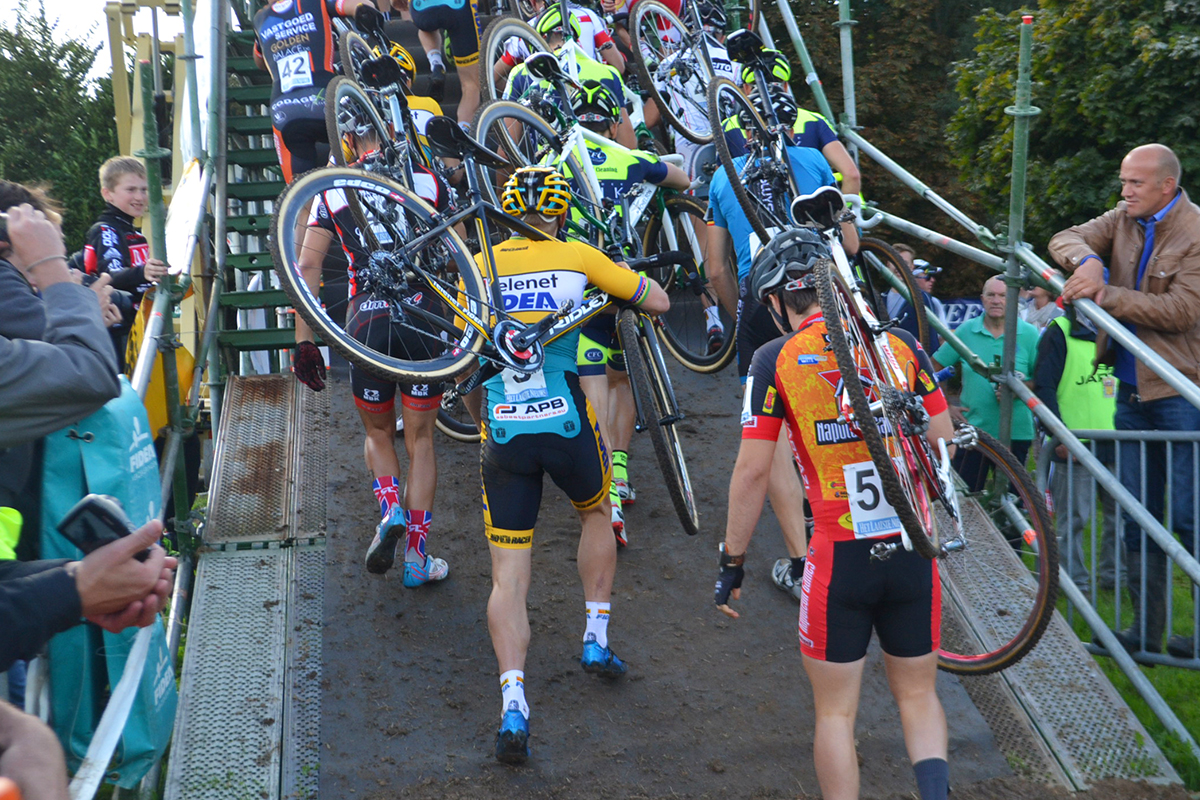 Bart Wellens (3) is pretty much last man over the bridge.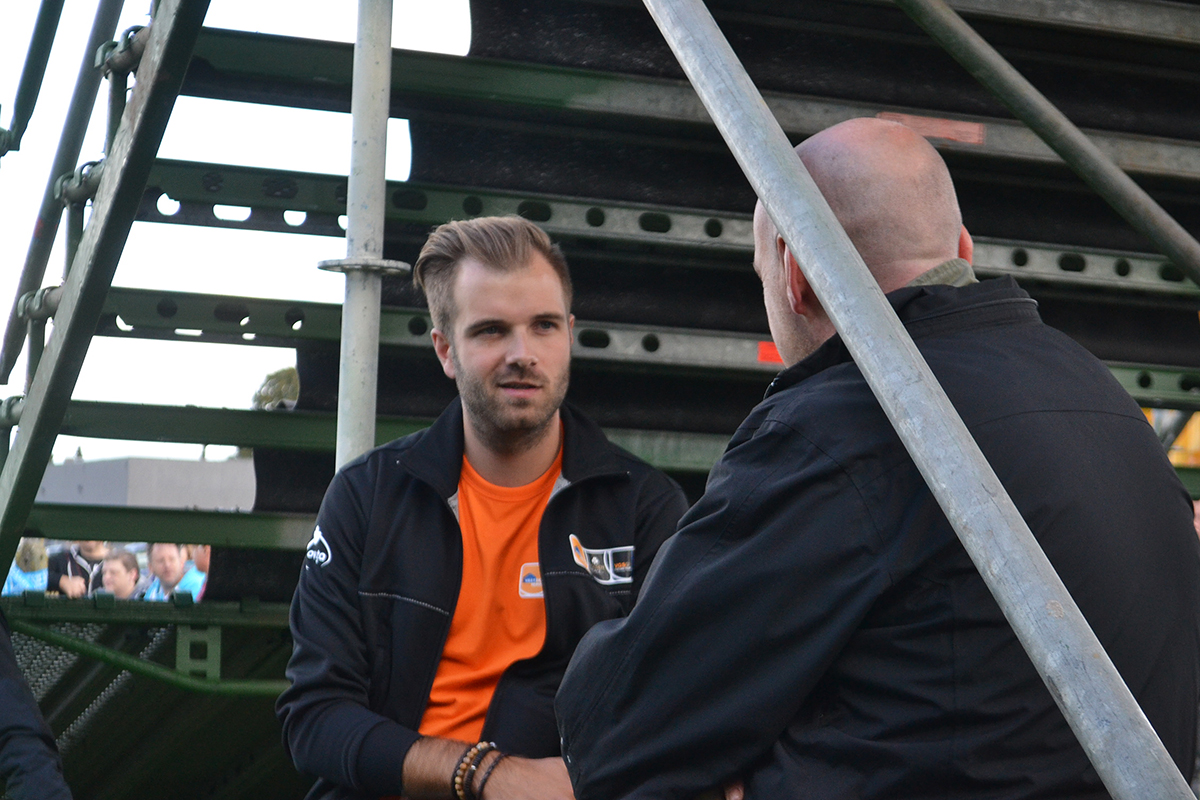 The now retired, 2013 race winner Niels Albert (above) looked relaxed today and he sat under the bridge on lap one being interviewed by a TV crew.
Belgian champion Sven Nys, who was looking for his sixth win in the Steenberg, got a reasonable start and was lying in an unconcerning fourteenth place around the first lap. Nys started the race on a disc-brake bike but was also showing signs of a first lap crash.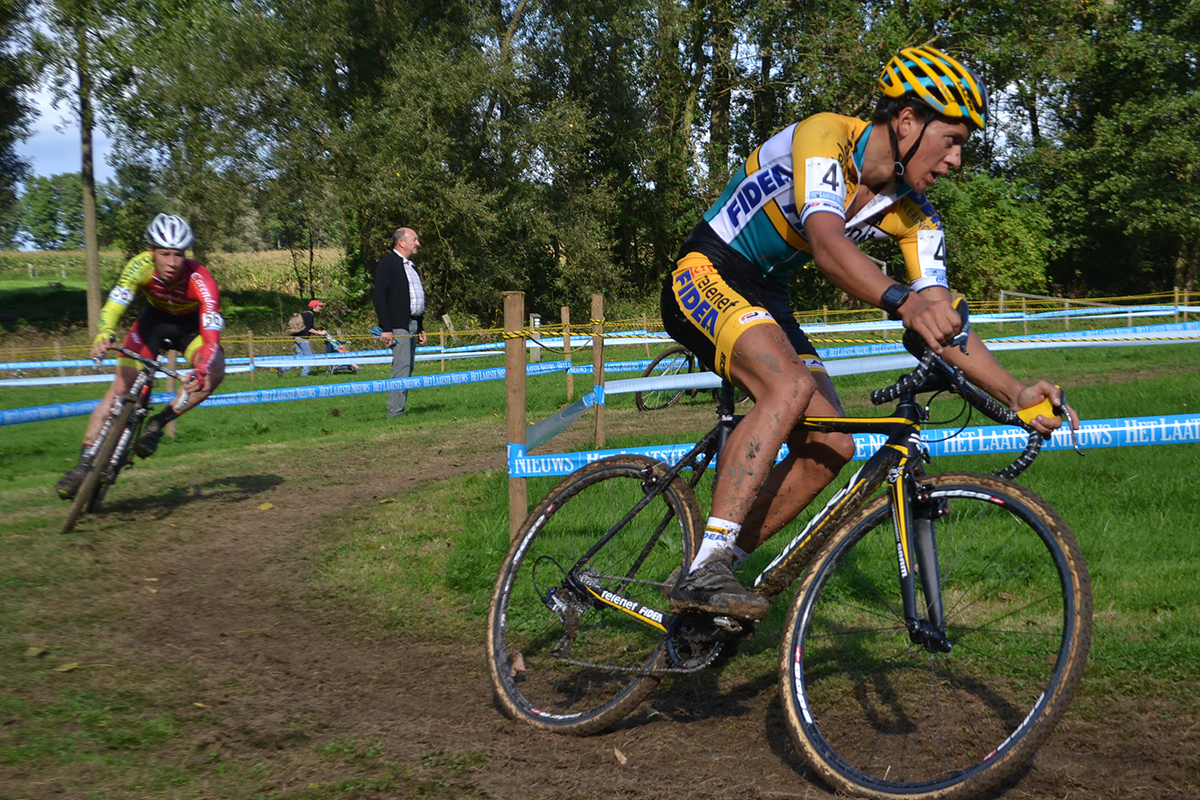 Early leader Tom Meeusen is chased by Laurens Sweeck.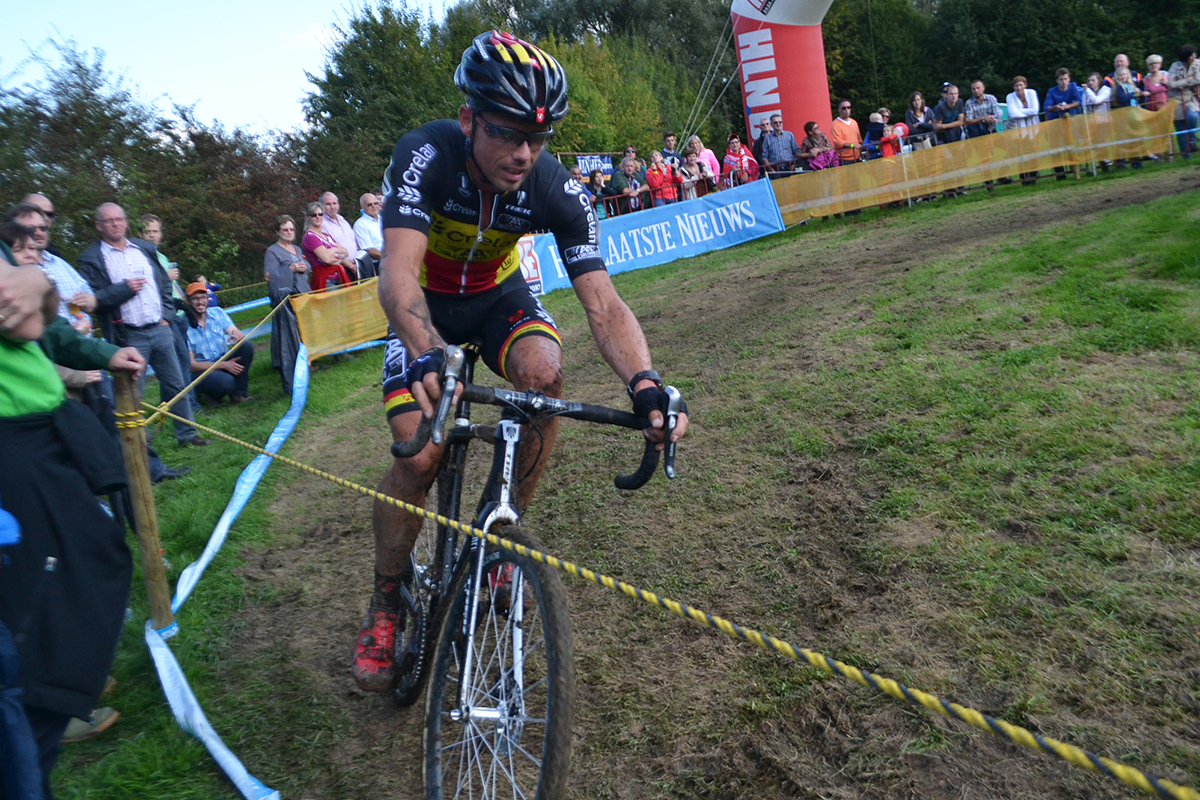 Sven started on a disc bike, but switched to cantis later in the race.
The first big solo attack came from Tom Meeusen and the riders immediately began to be strung out as they started lap two. Meeusen soon fell back though and Michael Vanthourenhout, Philip Walsleben and Klaas Vantornout took over at the front and were joined by Wietse Bosmans and Kevin Pauwels.
Vantornout was in no mood to hang around though and attacked alone and by half-distance had built up a substantial lead. It was German champion Walsleben and Bosmans who were the chasers and Nys looked very impressive as he rode across to them. After 40 minutes of racing though they were 24 seconds adrift of Vantornout. Dutch champion Lars van der Haar was in a big group with Meeusen some 42 seconds down and French champion Francis Mourey had slipped to being a minute down.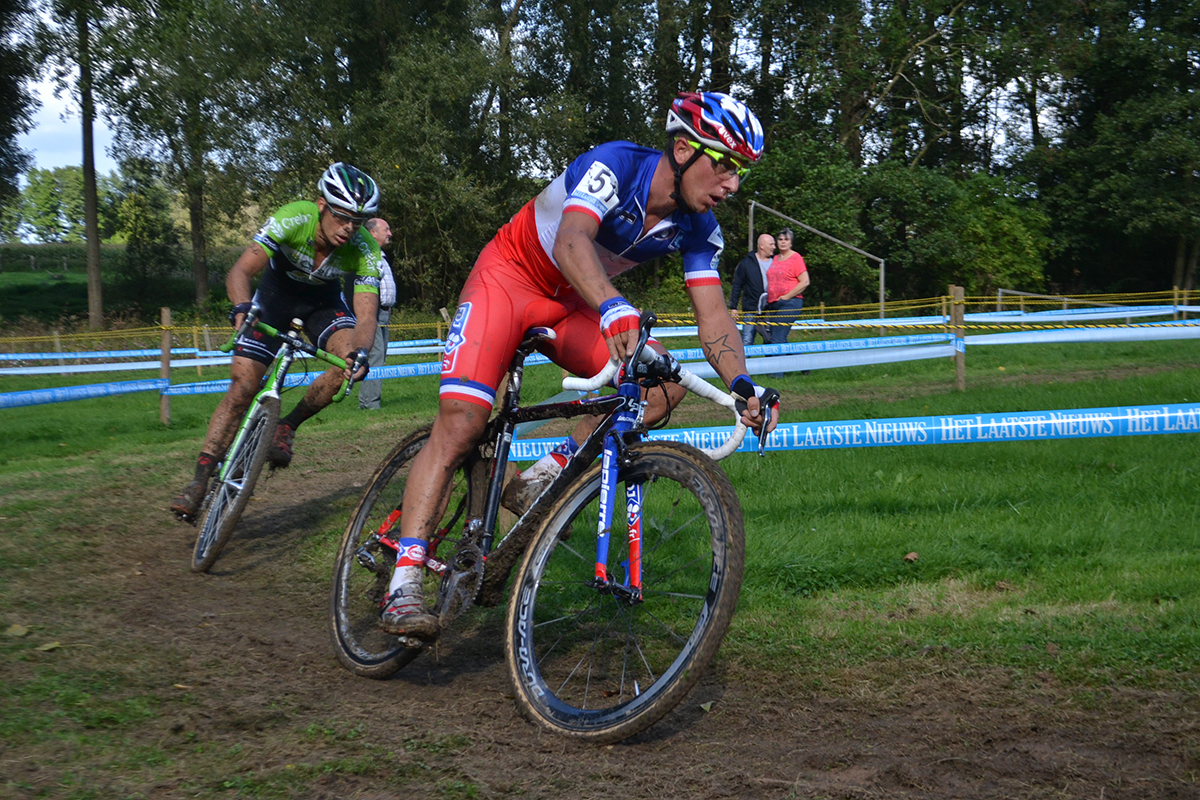 Francis Mourey followed by Sven Vanthourenhout.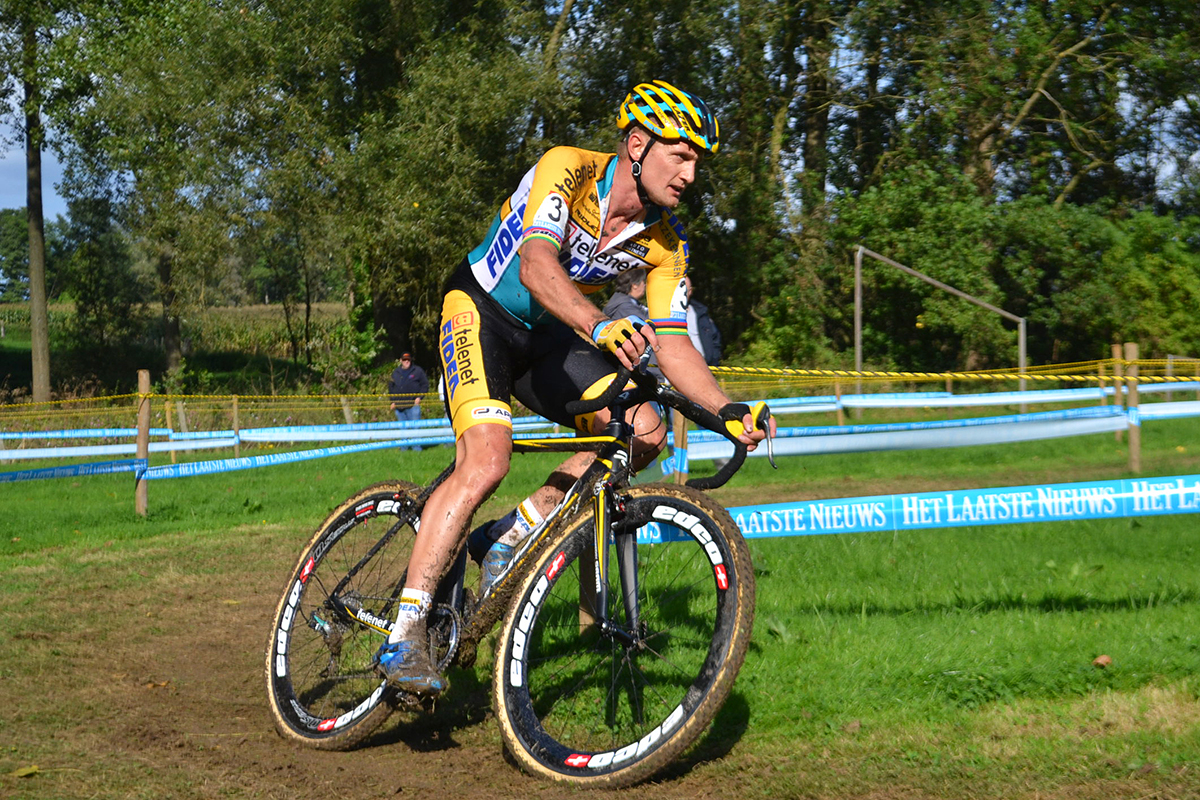 Bart Wellens on his long ride from the back of the race.
A brief moment of panic
Just as it looked like Vantornout had a big enough lead to survive the last 15 minutes of the race there was a brief moment of panic. Rounding a hairpin right in front of his team manager Mario De Clerq, one of Vantornout's tubs exploded, but incredibly he was only 20 metres short of the pit lane and barely lost any time to the chasers.
Nys did close to within 13 seconds of Vantornout on the final lap, dropping first Bosmans and then Walsleben in the process, but he finished head bowed knowing that he'd left his chase too late.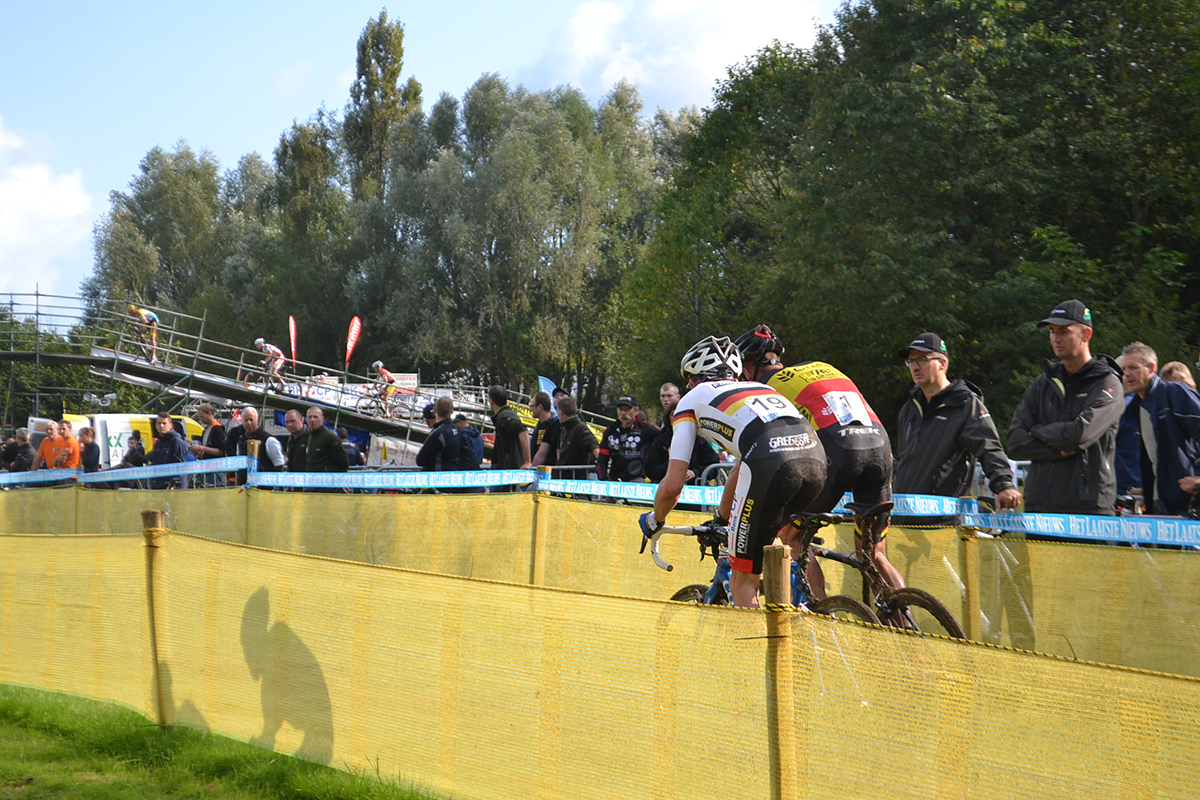 Sven Nys passes Philipp Walsleben and begins his chase of Vantornout in earnest - falling 13 seconds short (below).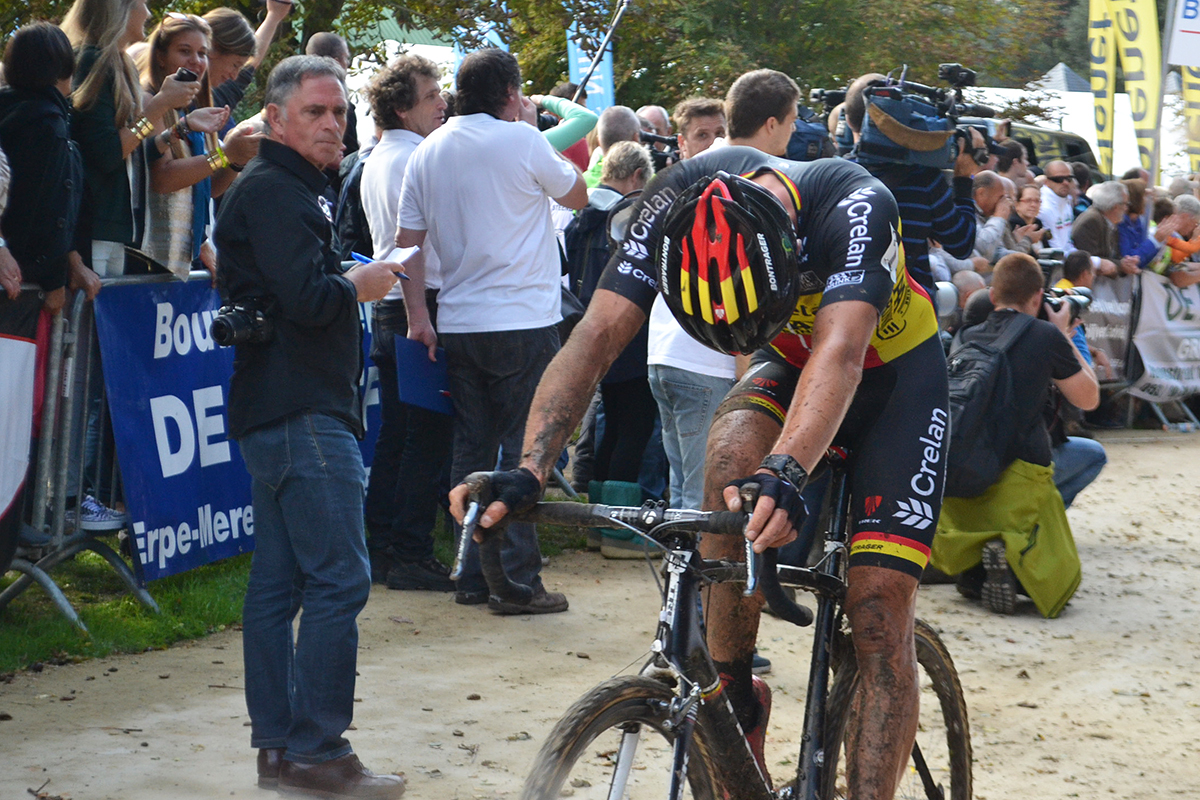 Belgian champion Eli Iserbyt was a runaway winner of the preceding Junior men's race.
The Erpe-Mere season opener took on more significance for the Belgian riders today as in January (2015) it will be the venue of the fiercely contested Belgian Championships. One wonders whether the congestion at the first bridge – which undid Wellens' chances - will be designed out of the Championship course.
Results: 1 Klaas Vantornout (BEL); 2 Sven Nys (BEL); 3 Philipp Walsleben (GER); 4 Wietse Bosmans (BEL); 5 Toon Aerts (BEL); 6 Jim Aernouts (BEL); 7 Laurens Sweeck (BEL); 8 Kevin Pauwels (BEL); 9 Bart Aernouts (BEL); 10 Thijs van Amerongen (NED). Full results: here.
Regional television highlights
Junior Men's race highlights
photos: ©cyclocrossrider.com