Full TV Coverage
AFTER the mud of Milton Keynes most of the top 'crossers returned immediately to Belgium for Sunday's third round of the bpost Bank Trofee in Hamme. The race was over a fast new course and at speeds that made it look like a road criterium at times. There was also a great deal of team tactics and blocking as you might see in a road crit.
Two riders were being talked up as favourites – Under-23 stars Wout Van Aert and Mathieu van der Poel – partly because they'd missed Milton Keynes on account of there being no Under-23 race.
Twenty-year-old Van Aert led straight away closely tracked by Kevin Pauwels, Tom Meeusen; Lars van der Haar, Sven Nys and Klaas Vantornout. Van der Poel sat temporarily in ninth place before a big undertaking manoeuvre took him up to fifth.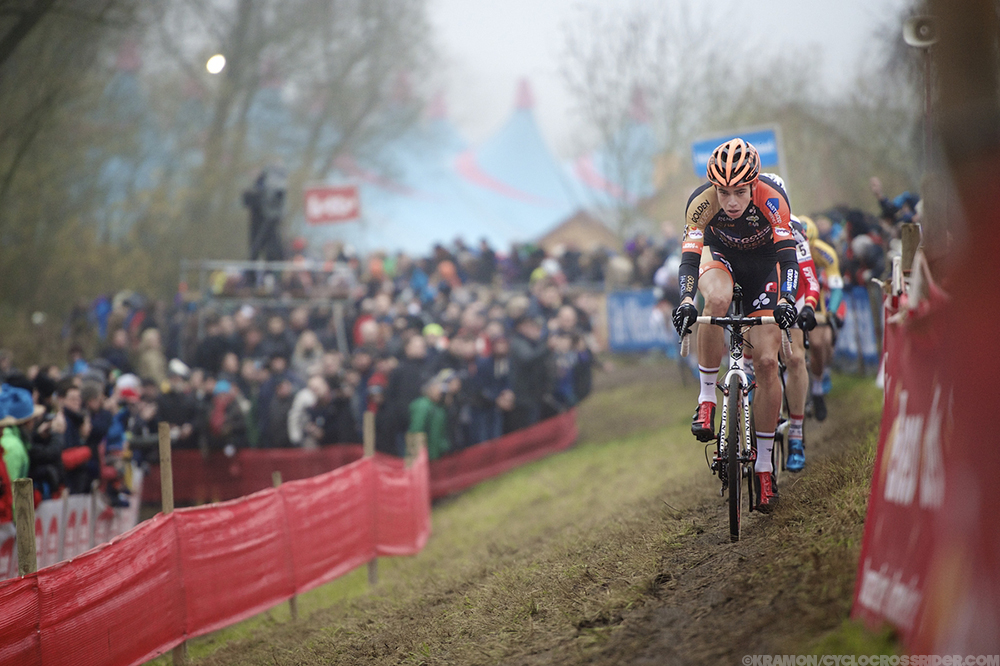 At the end of the opening lap it was a group of eight riders still led by Van Aert that held a slight gap. More injections of pace from Van Aert started stretching things out further and overall leader Nys was forced to close a gap on the leader and Meeusen and Pauwels in this time based series. The momentum was suddenly taken out of the move though as Van Aert slipped off on a left-hander leaving Meeusen at the head of the race to take the 15 bonus seconds from Pauwels (10 seconds bonus) and Nys (5 seconds).
Nys' team mate Sven Vanthourenhout led at the start of the third lap before Van der Poel hit the front for the first time moving right up from fifth as he sensed Vanthourenhout was slowing the race down for his team leader. The young Dutchman attacked relentlessly around this lap but it remained a long line of 13 riders at the front with Van Aert eighth in line.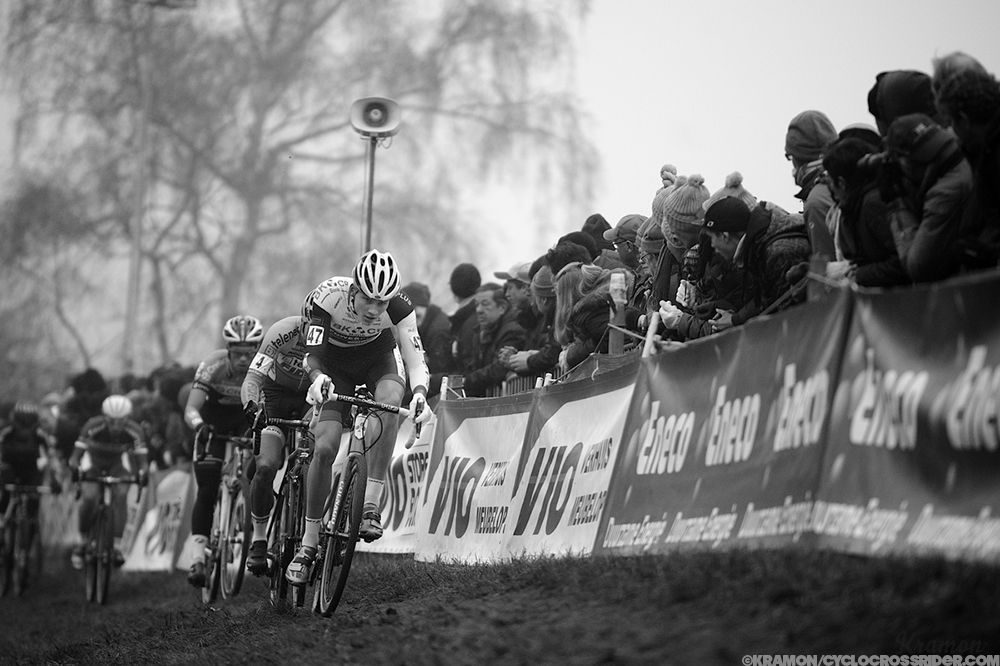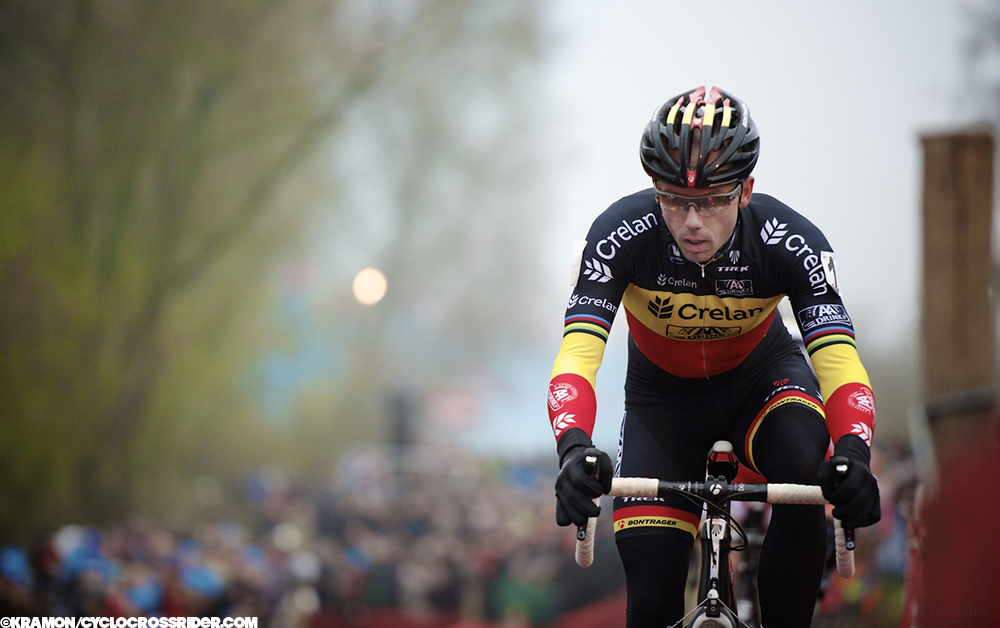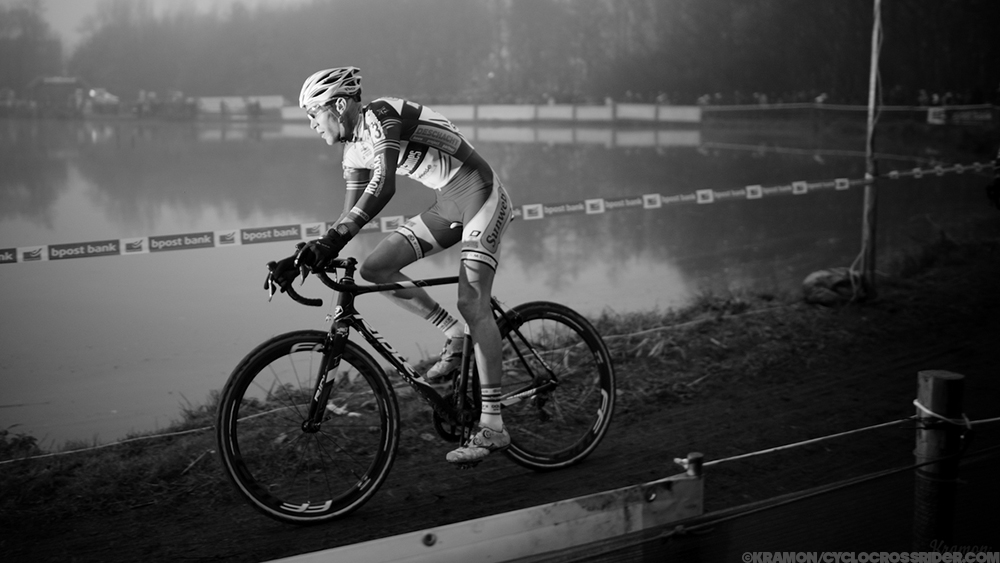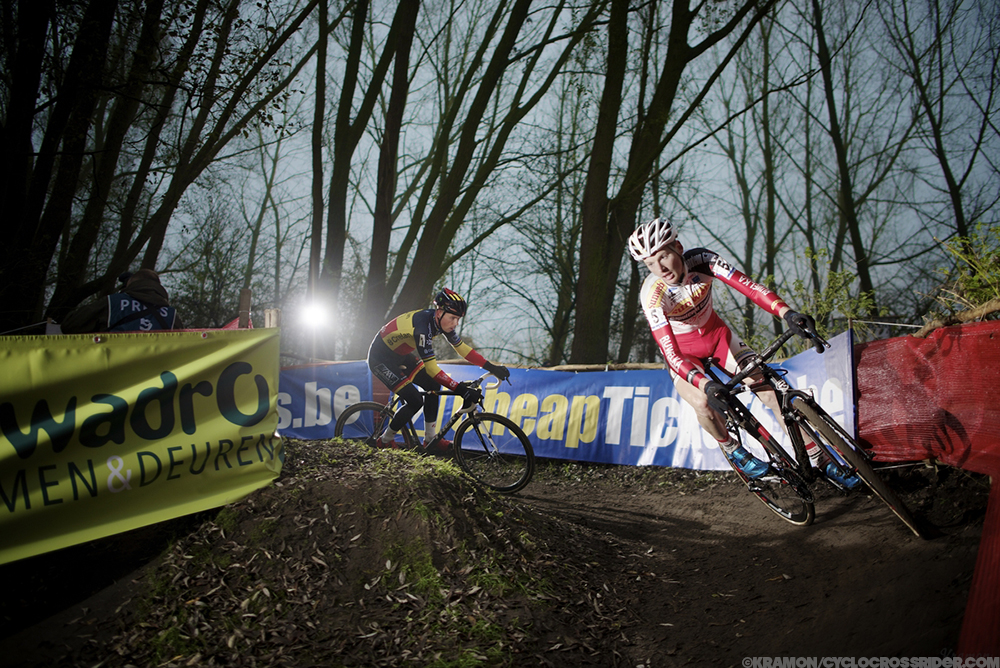 Van Aert was next to lead on the fourth lap before Lars van der Haar took a turn. Nys was covering every acceleration sensibly making the fourth place in the line almost exclusively his own as Van der Poel dropped back to tenth.
Four riders escaped
Four riders had escaped approaching halfway: Van Aert; Van der Haar, Meeusen and Nys so Pauwels, the winner in Great Britain 24 hours earlier, was forced to chase to rejoin. Behind Pauwels, Van der Poel was in a four strong chase group with Jens Adams; Vantornout and Vanthourenhout (Klaas and Sven!).
As the leading five looked around at the start of lap six (of 11 laps) Adams caught them and immediately attacked forcing Nys himself to chase before Van Aert moved in second to slow things down in what was now a big chase group.
With four laps remaining (and around 20 minutes of racing to go) Adams led by 8 seconds from 6 chasers led by Nys as Pauwels was distanced again. Tom Meeusen was the rider to catch Adams with Nys in third, Van Aert fourth, Van der Poel fifth and Van der Haar in sixth place.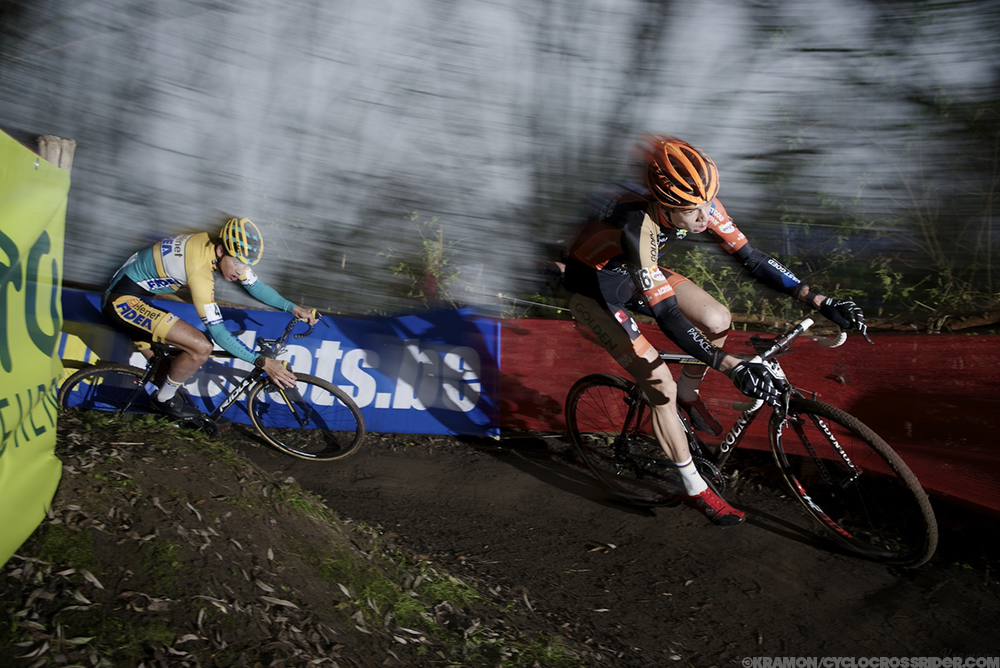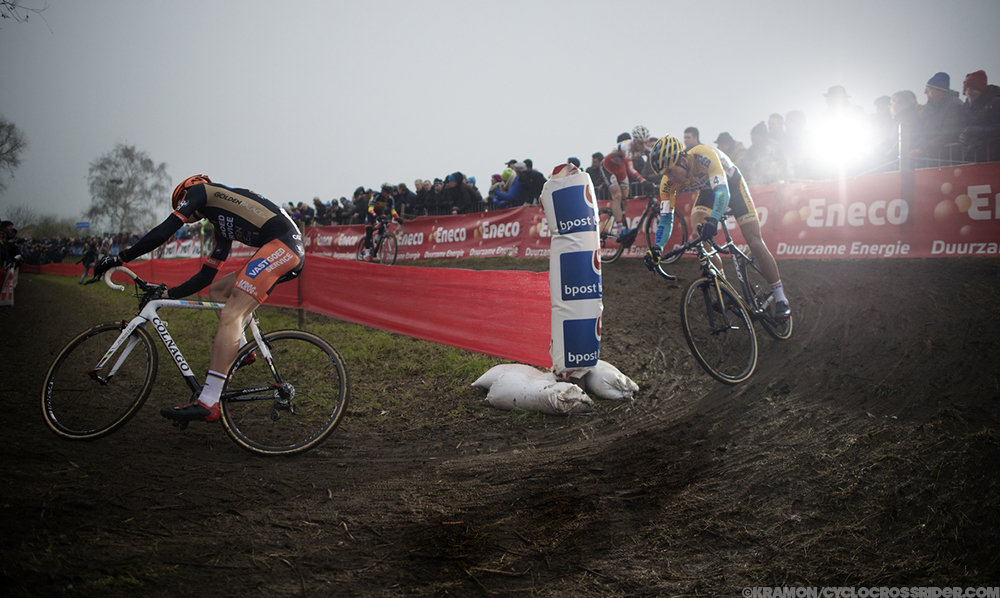 Van Aert went to the front again before Van der Haar, then Meeusen and then Adams led on lap eight as the group swelled again to 13 riders and riders swapped turns in quick succession.
Van Aert's Vastgoedservice-Golden Palace team who were controlling the race though as if it was a criterium
It was Van Aert's Vastgoedservice-Golden Palace team who were controlling the race though as if it was a criterium. Putting Adams in front again, if they weren't at the front setting they pace they were seemingly amassing around Van der Poel and making things hard for the 19-year-old Dutchman. As Van Aert slowed things up Van der Poel sneaked past in the twisty wooded singletrack before the start of the penultimate lap.
Adams held a 4 second lead as the mist began to drift in from the Durne river and the riders were mistakenly given the bell. It was German champion Philipp Walsleben's turn to be domestique now as he led Van der Poel up to Adams with Nys surprisingly down in 9th on the wheel of his teammate Vanthourenhout.
Walsleben passed Adams and immediately injected some pace and opened a gap between himself and Van der Poel as Tom Meeusen's chances were ended by a crash in the singletrack and he dropped down to 13th place.
At the 'real' bell, the German led by seven seconds as behind him Van Aert and Van der Poel began their last lap duel. Van Aert led the chase of Walsleben with Van der Poel glued to his rear wheel with everyone else distanced. As Van Aert dismounted for the planks Van der Poel jumped and moved ahead and started a long run for home, putting Walsleben briefly between himself and Van Aert.
Over the last half of the final lap it was a fantastic two rider slugfest with some clean shoulder-to-shoulder racing going into the singletrack. Van der Poel had the front seat before winding up his finish out of the woods as Walsleben hung on in third.
Van der Poel's final tactic was to stall on the lip out of the woods and he charged away from Van Aert. His long sprint for home failed though as a delighted Van Aert came past him in the last 25 metres to take another great win.
Nys took the bunch sprint for fourth place to keep his overall lead and actually extend it by four seconds as Vanortonout moved into second place with Van Aert now in third.
Results: 1 Van Aert; 2 Mathieu van der Poel; 3 Walsleben; 4 Nys; 5 Pauwels; 6 Van der Haar; 7 Jens Adams; 8 Meisen; 9 Sven Vanthourenhout; 10 Taramarcaz.
Overall standings (after races): 1 Nys; 2 Pauwels +1:58; 3 Van Aert +2:09.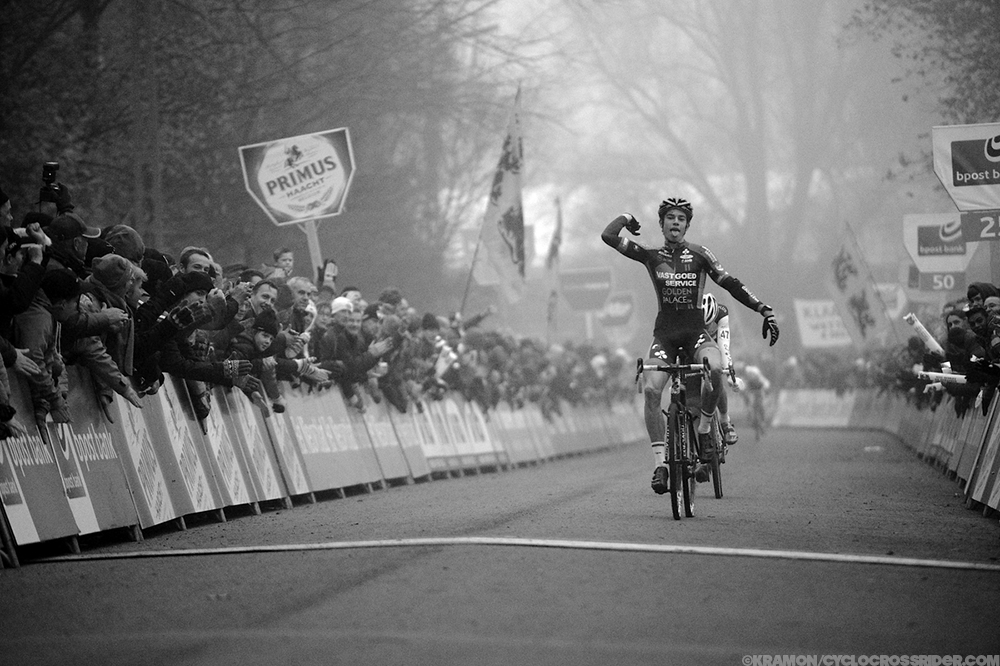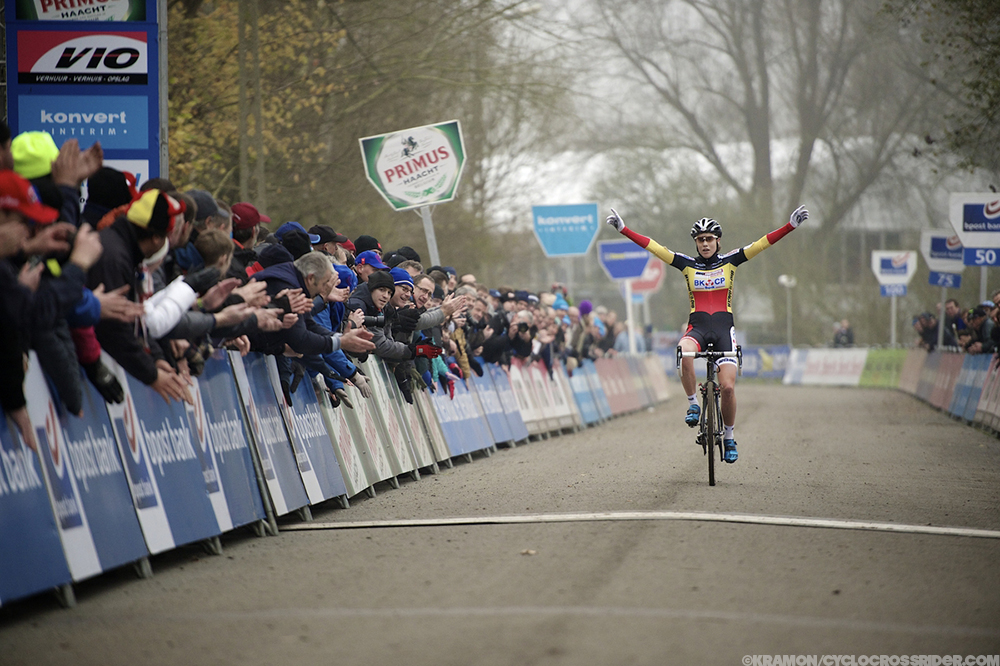 Elite women
Ellen Van Loy (below) was the early leader in Hamme, but was soon joined by Milton Keynes winner Sanne Cant as Series leader Sophie de Boer chased with Pavla Havlikova. The two Britons Helen Wyman and Nikki Harris – surely tired from all the excitement (and racing) of Milton Keynes – were in fifth and sixth.
Van Loy took the second lap sprint time bonus that seemed to be the signal for Cant to take off solo. De Boer crashed on the ramp but fought on bloodied to finish fifth and retain her lead in the time-based series. Up front Cant won by 18 seconds from Van Loy with Wyman moving through to take third place.
Elite women: 1 Cant; 2 Van Loy; 3 Wyman; 4 Havlikova; 5 De Boer; 6 Harris... 8 Kaitlin Antonneau (USA); 10 Elle Anderson (USA); 13 Meredith Miller (USA); 20 Christine Vardaros (USA).
Overall standings (after races): 1 De Boer; 2 Van Loy +1.11; 3 Wyman +2:04.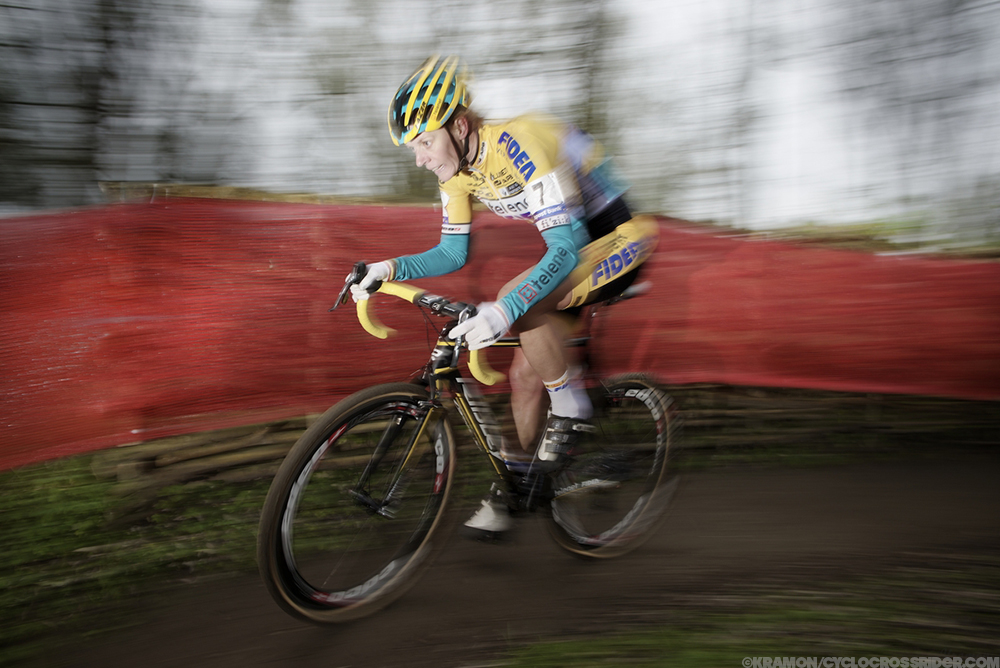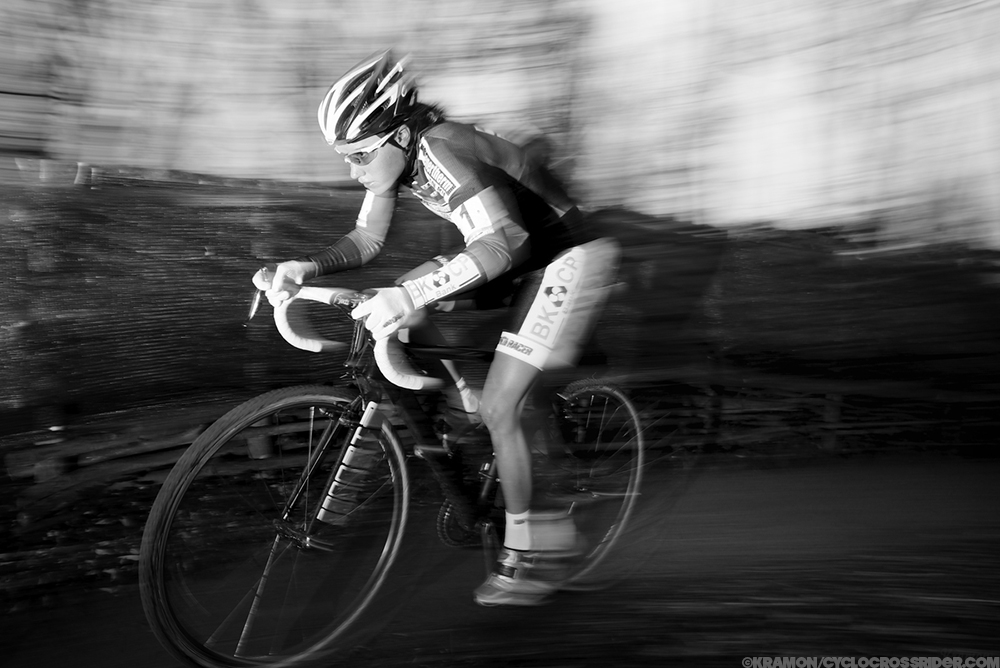 Under-23 men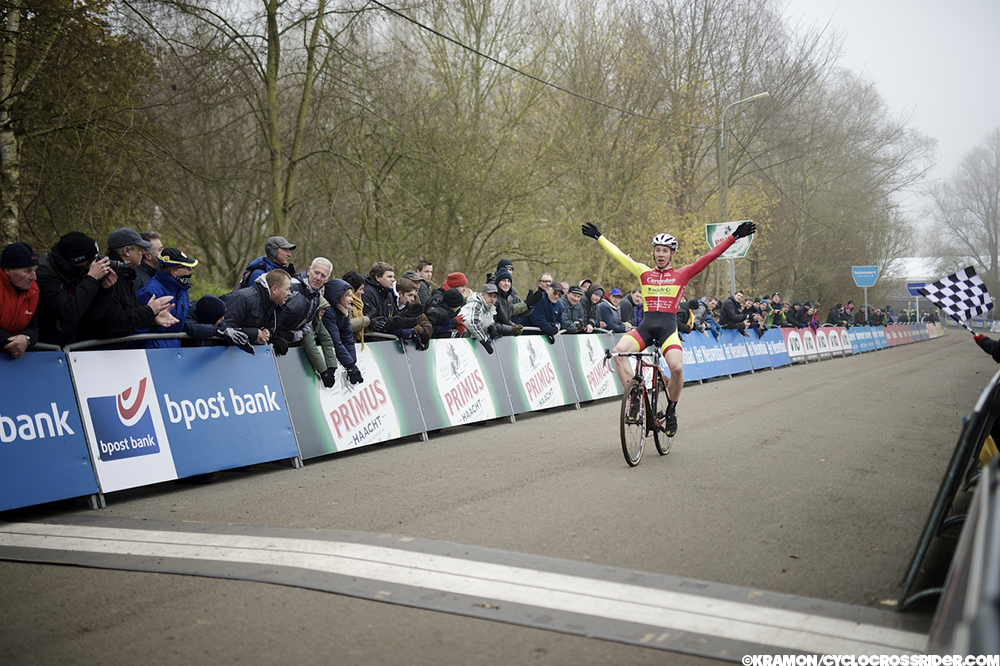 With Wout Van Aert and Mathieu van der Poel contesting the elite race the way was clear for the two Sweeck brothers to set up a win for Laurens Sweeck -attempting to take back some time on Series leader Michael Vanthourenhout. Diether Sweeck went out fast from the start to allow brother Laurens to bridge across to him on the fast course.
Czech Adam Toupalik and former European champion Michael Vanthourenhout were forced into a race-long chase, but Laurens was gone and won solo. Vanthourenhout closed to a ten seconds deficit at the finish and still leads the series by some 2 minutes 28 seconds.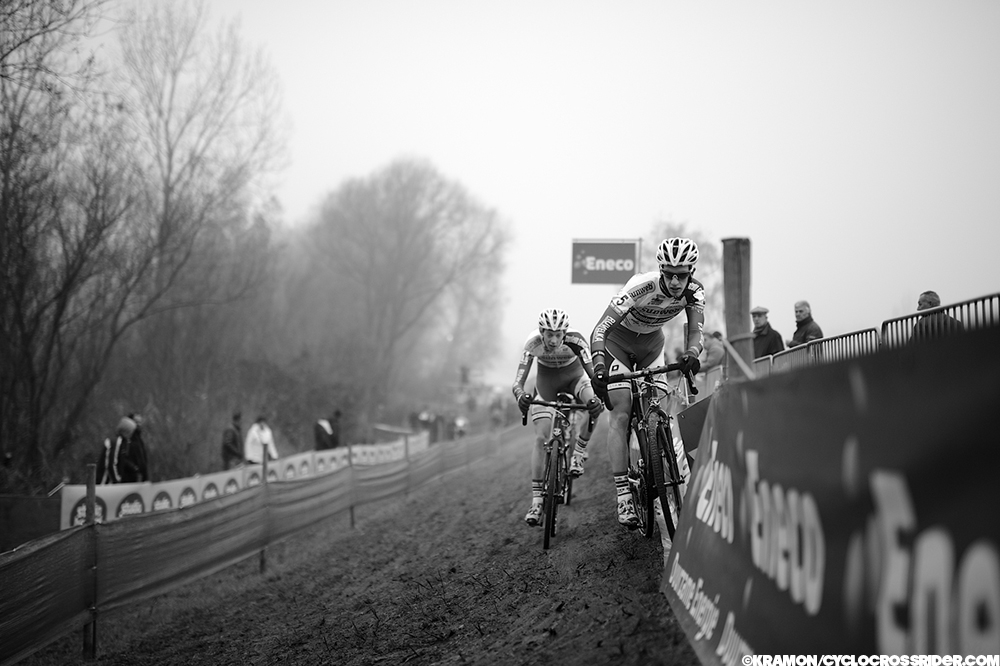 Team mates Michael Vanthourenhout (left) and Yorben Van Tichelt try to chase winner Laurens Sweeck (above).
Under-23 men: 1 Laurens Sweeck; 2 Michael Vanthourenhout; 3 Van Tichelt.
Overall standings (after 3 races): 1 Vanthourenhout; 2 Laurens Sweeck; 3 Toon Aerts.
Junior men: 1 Jaspers; 2 Wolsink; 3 Bonne.