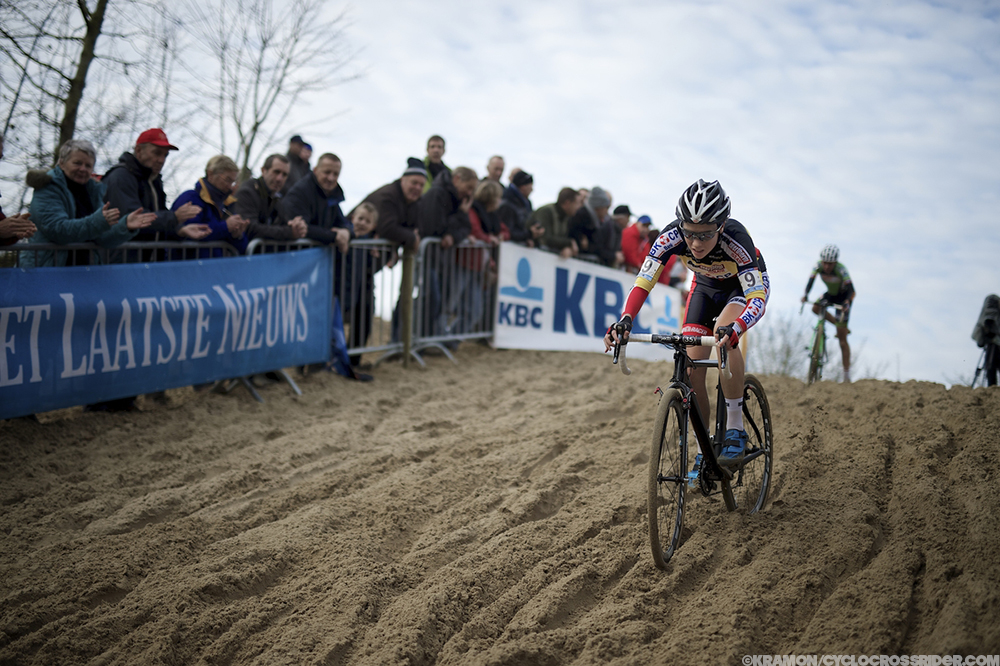 WORLD Cup leader and American champion Katie Compton had been ill (and not raced since November 2nd) going into the Koksijde World Cup and so today would be a test of her potential vulnerability in those circumstances.
It was Sanne Cant, runner-up to Compton here twelve months ago, who took most advantage to win today's race over the Koksijde dunes, but it is third placed Sophie de Boer who takes the American's World Cup leader's jersey.
"It was a goal to win today so I'm very happy," Cant said after the race - still wearing her Belgian champions jersey despite being recently crowned the European champion. "It was a good plan to attack where I did and I was able to push on down the last descent and win. I ride well in the sand but it's still very hard and difficult. I'm in really good shape perhaps not the strongest rider, but my attack plan worked," she added.
The fitness, the sand, the asthma attack made it a hard day - it was a little bit of everything - Katie Compton
Compton finished the race down in tenth place and clearly suffering from the breathing difficulties that sometimes affect her.
"It was an asthma attack and allergy problems," said Katie after the race, "I'm also coming back from being sick so I don't have the fitness. So the fitness, the sand, the asthma attack made it a hard day - it was a little bit of everything. On a sand course like this there is no hiding. I was just suffering and doing the best I could. I got as many points as I could and it was good to see Sanne taking the win, she's been riding really well."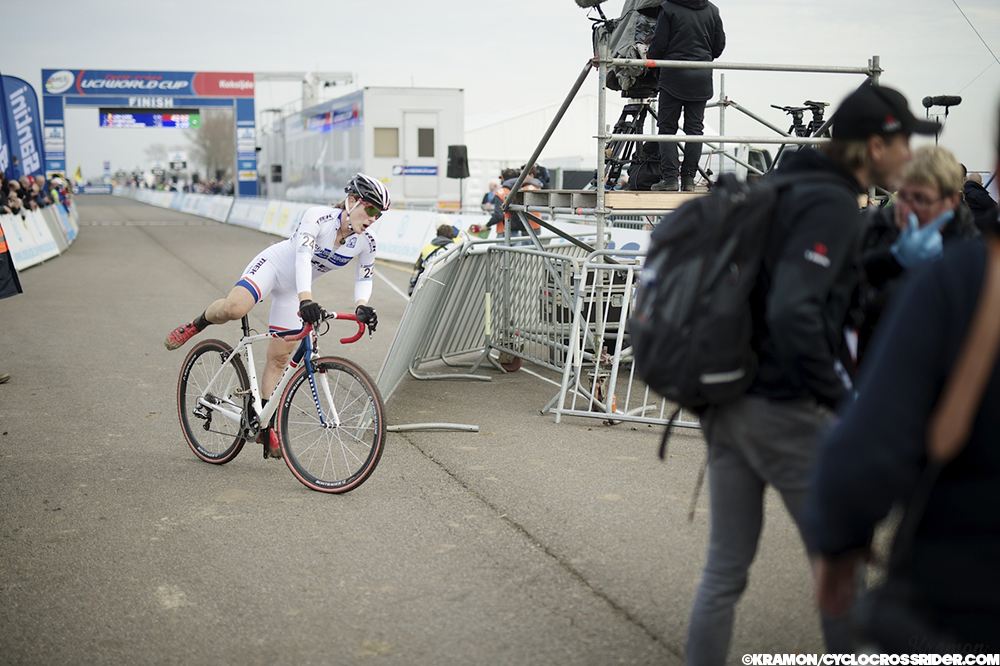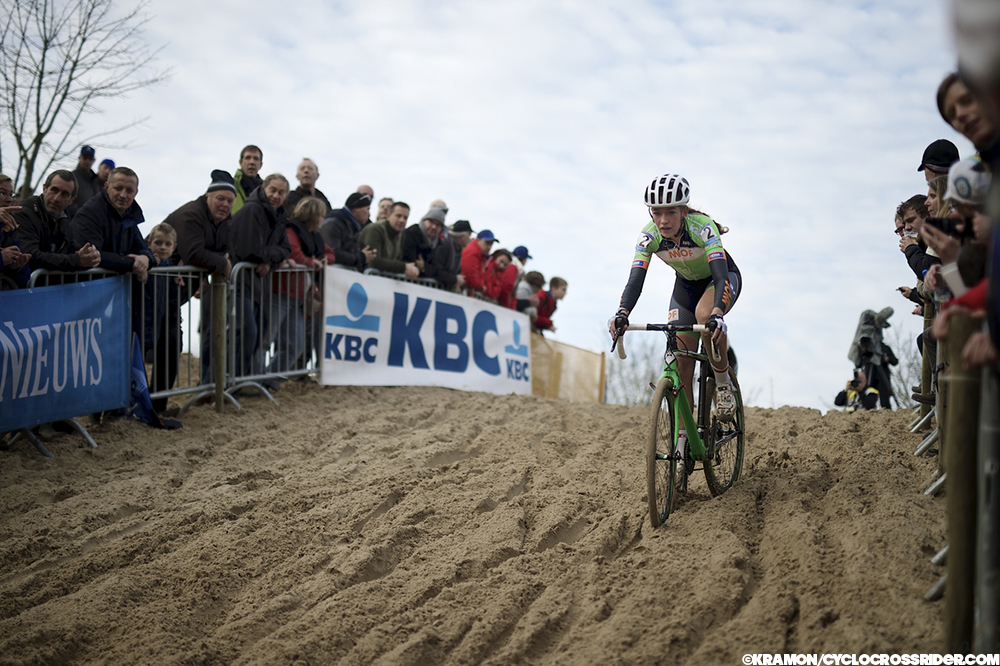 Dutchwoman De Boer (above) was the early leader with Cant and Lucie Chainel-Lefevre as both Compton (who crashed) and British champion Helen Wyman got poor starts. De Boer clearly meant business and built up a six second lead on the opening lap over Cant with Chainel-Lefevre at 10 seconds and Ellen Van Loy and Sabrina Stultiens in fourth and fifth places.
Cant hit the front next as Compton tried to make her way back through the field, climbing up to sixth, but looking to be lacking some of her usual race speed.
De Boer and Cant continued sharing the lead with Stultiens and Chainel-Lefevre fighting for third place and Briton Nikki Harris, who finished third here last season, in fifth place.
After 17 minutes of racing and with three laps remaining, Stultiens had caught the leading pair - with Chainel-Lefevre at 9 seconds and Compton and Harris now together some 31 seconds down.
Cant pushed the pace on this lap as Stultiens dropped away again after making a mistake on the top of a dune, but the three leaders were clearly pulling away from the rest.
With two laps to go, Chainel-Lefevre was over 30 seconds down on the leading trio with Harris in fifth and Compton now a minute behind the leaders. Helen Wyman was in the battle for eighth place.
A mistake by Cant in the sand allowed De Boer to retake the lead and the three-way battle for the podium positions continued. Cant struggled again in another sand section and it looked like advantage to the two Dutchwomen.
At the bell the trio were together again to set up an exciting final lap with Chainel-Lefevre and Nikki Harris looking safe in fourth and fifth. Running across the first sandstrook the three leaders were still well matched, but Cant was forced to ride behind the Dutch pair coming into the closing stages.
The winning move
Then came the winning move - De Boer had led for most of the final lap before Cant sneaked through to the front before a big dune climb and made her attack which opened up a large gap instantly which she was able to hold easily to the finish line. Cant won by seven seconds as Stultiens came around her compatriot De Boer for second place.
The big problem was that my gears stopped working on the final lap and Sanne was able to get past me easily - Sophie de Boer
The new World Cup leader Sophie de Boer was pleased, but explained afterwards that she had gear shifting problems on the final lap. "I'm surprised and I did not expect to be the overall leader," she told reporters. "The last two weeks I've had knee trouble since the Euros and then here I crashed on the second lap and Sanne and Sabrina came back into the race. I then thought that I have to be clever because they are both good sprinters. The big problem was that my gears stopped working on the final lap and Sanne was able to get past me easily - then had to sprint in a low gear."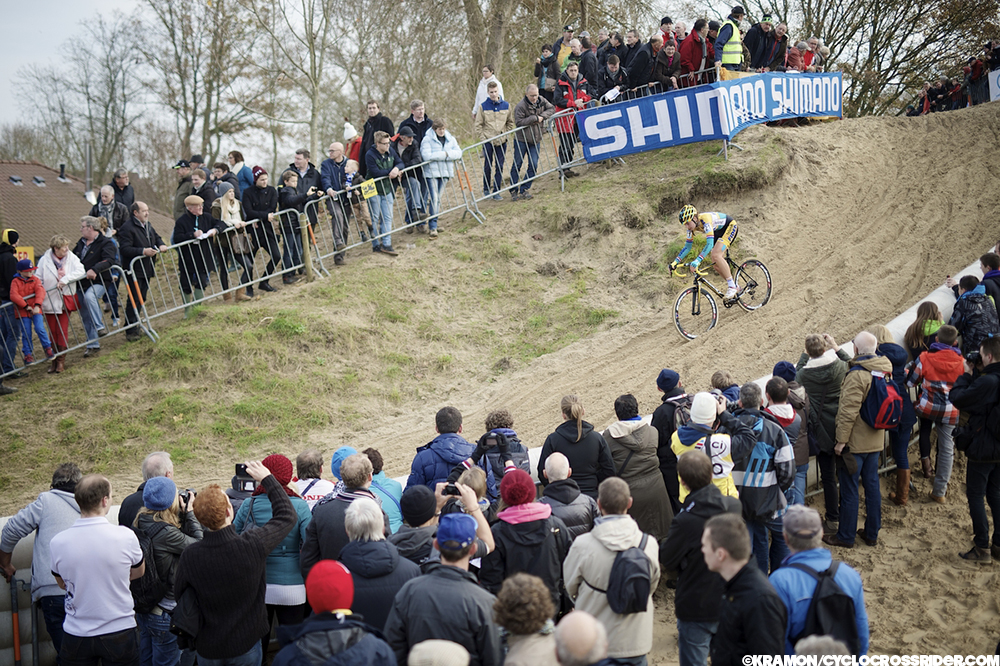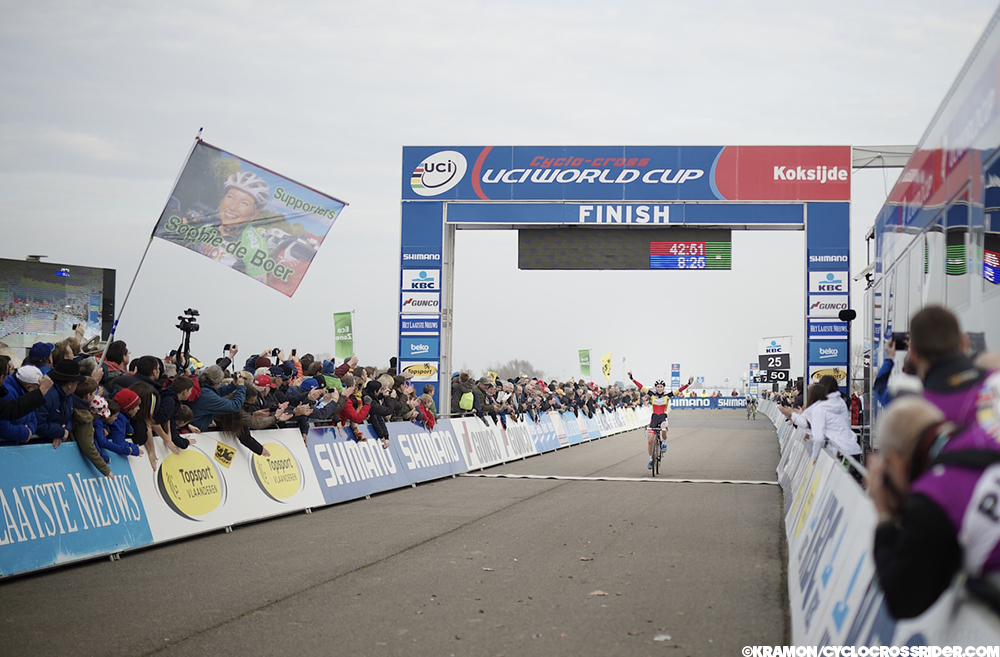 Top finishing Briton Nikki Harris (above top) did not get the best of starts and an early puncture meant she "did not even get the chance to fight for the podium," she tweeted. Gabby Durrin, returning to Europe from the States, said, "I was riding comfortably in the top ten before a nasty crash. I am now looking forward to racing Milton Keynes next Sunday" (there is more from Gabby and husband Jeremy here).
Result: 1 Sanne Cant; 2 Sabrina Stultiens; 3 Sophie de Boer; 4 Lucie Chainel-Lefevre; 5 Nikki Harris; 6 Martina Mikulaskova; 7 Pavla Havlikova; 8 Ellen Van Loy; 9 Helen Wyman; 10 Katie Compton… 12 Rachel Lloyd (USA) 14 Gabby Durrin (GBR) 19 Crystal Anthony (USA); 30 Hannah Payton (GBR); 35 Mercedes Pacios Pujado (ESP); DNF Elle Anderson and Meredith Miller (both USA).
Overall World Cup standings (after 2 rounds): 1 De Boer 90 points; 2 Cant 88; 3 Compton 82.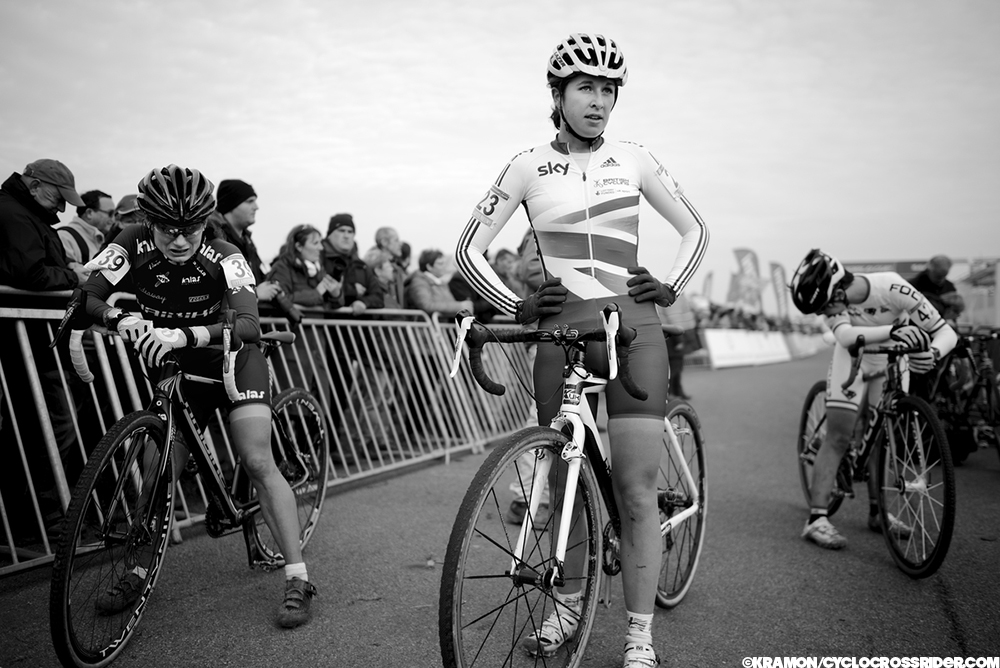 Briton Hannah Payton recovering after the hard race.