Sporza's Race Highlights

Full Sporza TV coverage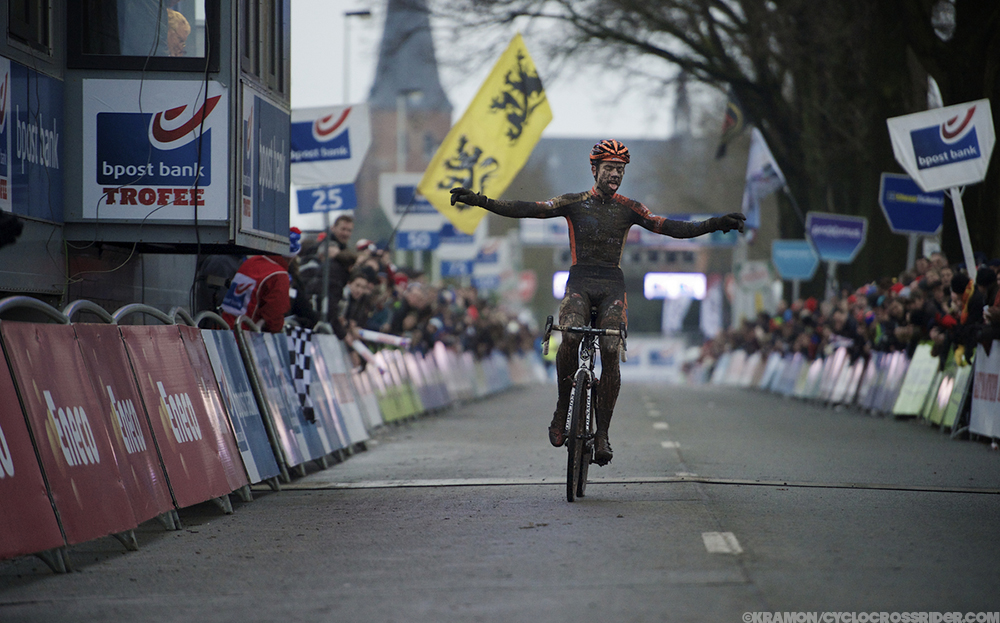 WORLD under-23 champion Wout Van Aert and Dutch under-23 champion Mathieu van der Poel made today's Trofee round in Loenhout into two separate races. Van Aert won the pair's own personal battle - to considerably extend his lead in the time-based series - beating Van der Poel by 37 seconds.
Van Aert told reporters that he had "the perfect partner" in Van der Poel and tweeted afterwards that a win in the notoriously tough Azencross was "yet another dream come true."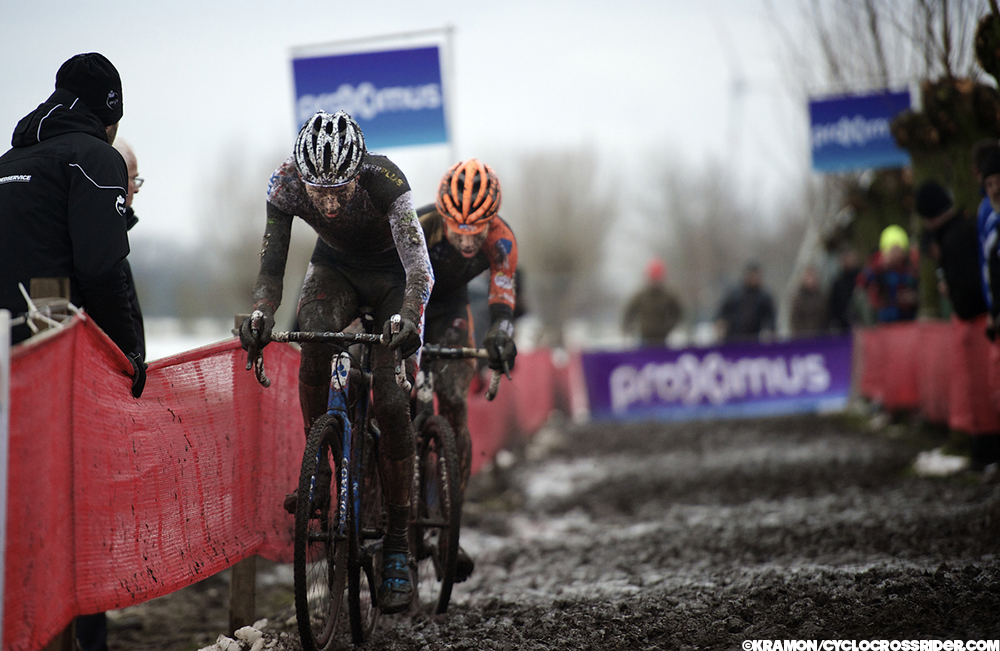 Some way behind them the 'older generation' fought only for third place, but what a fight it was eventually won by Tom Meeusen, but also featuring, to the relief of many, the Belgian champion Sven Nys.
A 'modder'
There was still standing snow in the fields of Loenhout, but between the tapes, on the course itself, the snow had been reduced to stretches of ice cold standing water and long sections of thick mud. If anyone is in doubt about what kind of conditions are described as a 'modder' then they should be directed to the Loenhout highlights.
The surprise early leader, from the back of the starting grid, was Giant-Shimano road pro Ramon Sinkeldam who was a Dutch junior champion in 2007 and finished fourth in the World Championship that year. Sinkeldam was allowed to soak up the glory for the first half lap before Wout Van Aert took over.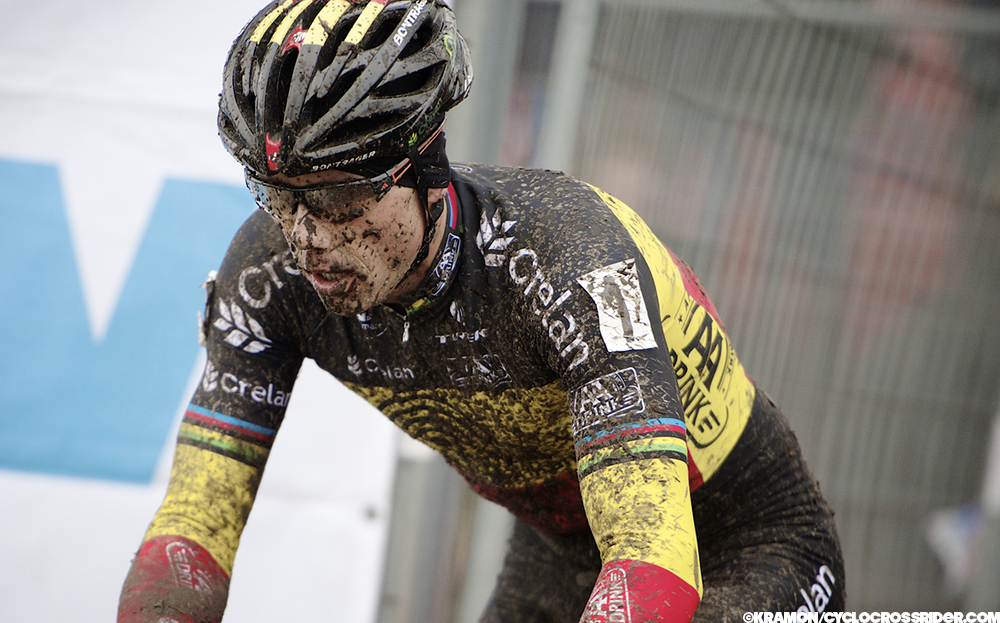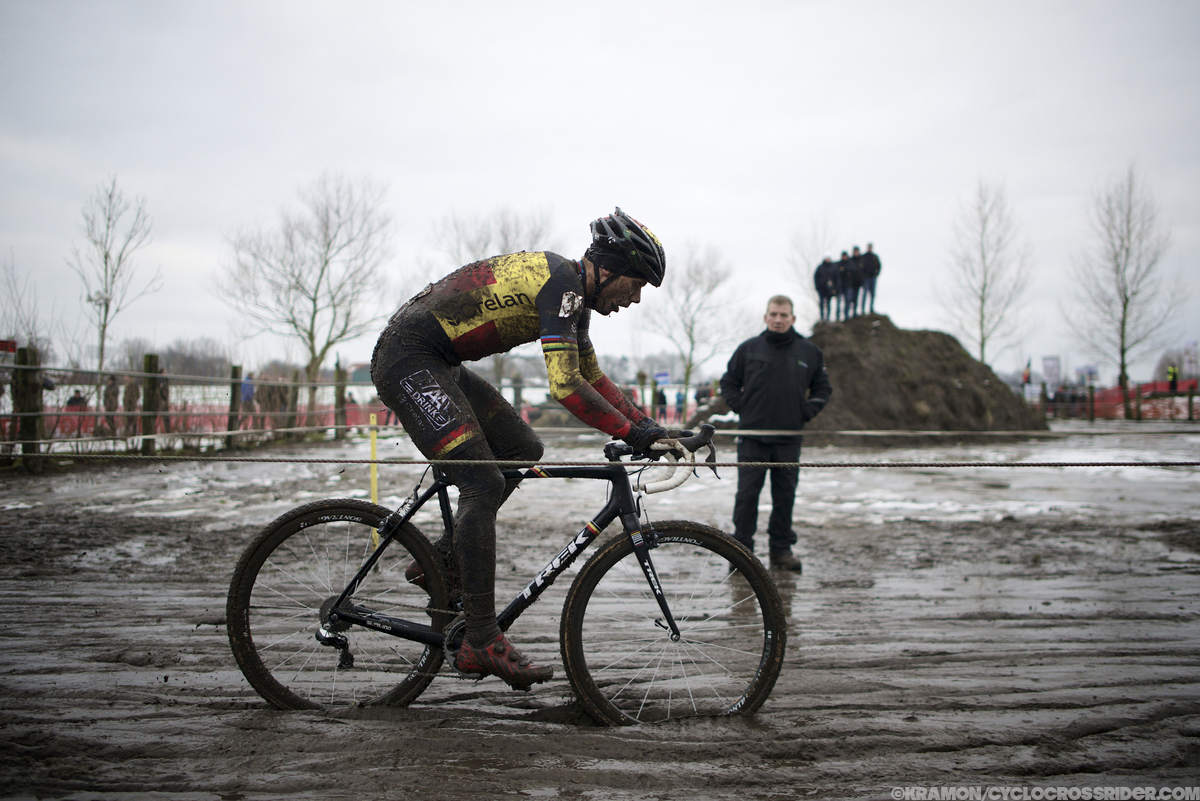 Sven Nys (above), who was wearing a one-off skinsuit carrying the logo of cancer foundation 'Stichting tegen Kanker', did not get the best of starts and was down in twelfth place alongside Kevin Pauwels.
Van Aert had team mate Rob Peeters for company in what looked like a repeat of their successful tactics in the previous round in Essen and Van der Poel was the only rider to go with them initially. At the end of the first lap though it was still anybody's race and Nys was looking more competitive than recently in seventh place - just three seconds behind a leading group of five riders - as Pauwels was on the back foot 14 seconds down.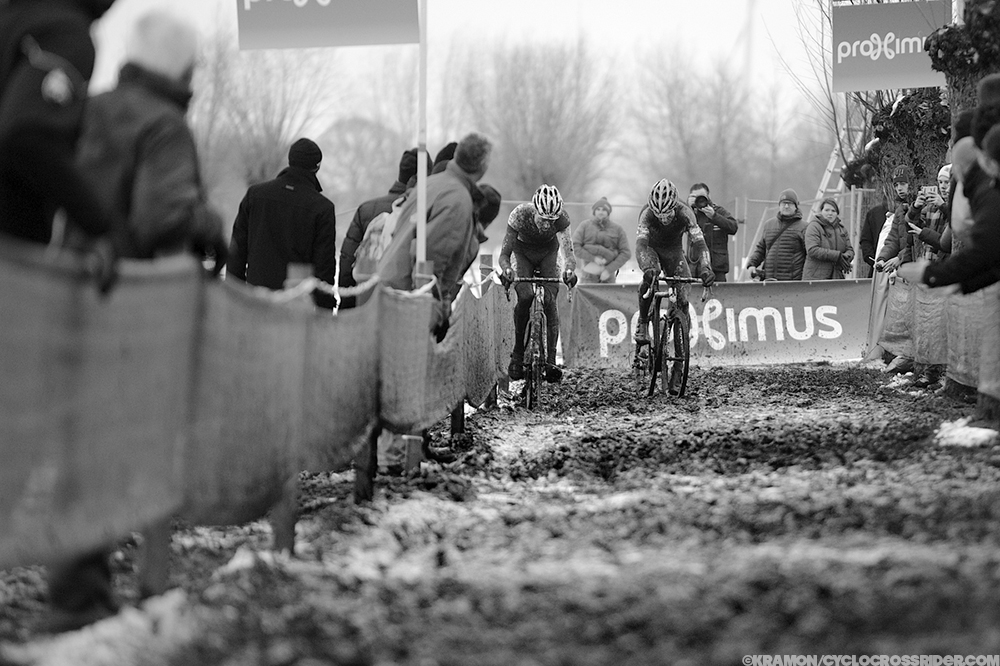 A private duel
Loenhout has three tricky ditches and despite Tom Meeusen spectacularly leaping the biggest, Van Aert was escaping, with Van der Poel chasing, to take the second lap time bonus. This was the point where the race split into two - the two young riders going on to their own private battle and a big group of riders (now including Pauwels) fighting it out for third place.
...the mêlée of riders fighting through the strength-sapping morass
Nys was up into fifth place, but towards the end of the second lap a front wheel puncture signaled that luck was not going to be on his side. Despite the flat Nys remarkably still led the chasers over the start and finish line some 20 seconds behind the leading pair. Given the conditions Nys did not lose much time but it dropped him back down to 11th place and in amongst the mêlée of riders fighting through the strength-sapping morass.
Towards the end of the second lap the order in the chasing group was: Philipp Walsleben; Meeusen; Pauwels; Vincent Baestaens; Peeters; Jens and Joeri Adams; Nys and Gianni Vermeersch. Nys got back into fifth place when Pauwels' front wheel sunk in a large mass of water and he listed over and into the unfortunate Baestaens and caused the chase group to split up.
Van Aert and Van der Poel continued their duel up front and despite both making mistakes their lead over the rest steadily increased from 39 seconds at the end of lap three to 55 seconds after lap four.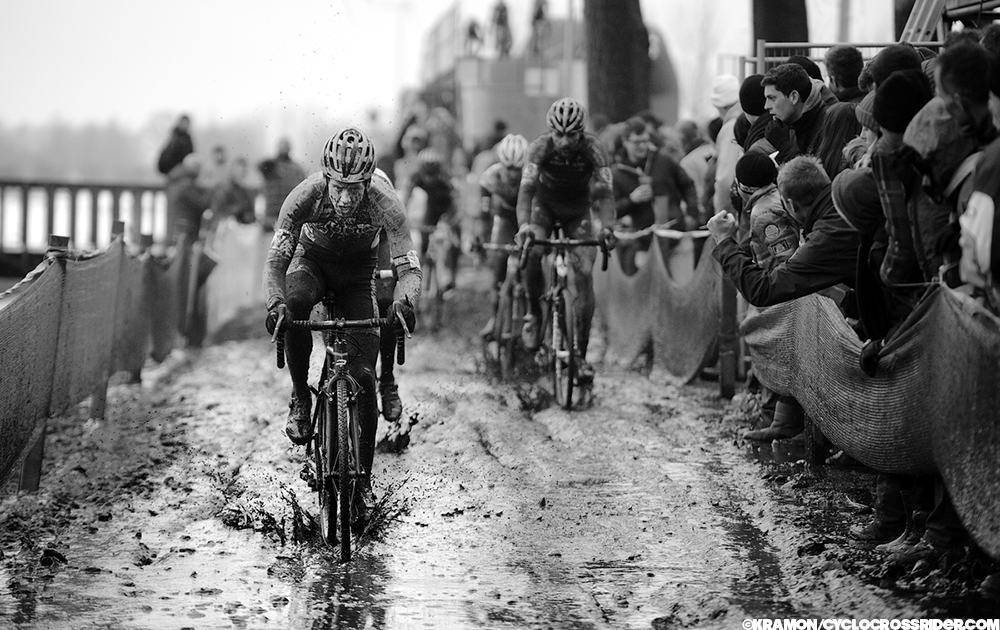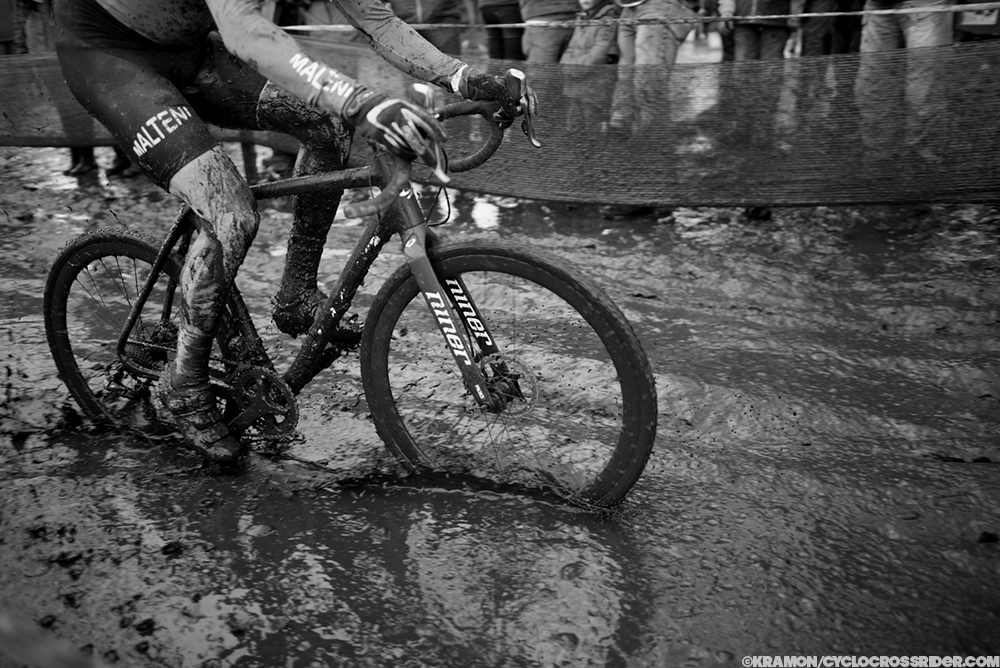 The fight for third place looked like it would now only be contested by Meeusen, Nys and Peeters who had a 17 second advantage of the Pauwels group which now also contained 'mudlark' Jan Denuwelaere.
Nys started to apply the pressure in the way that we had grown accustomed to
With 40 minutes of racing gone, Nys was holding third place and started to apply the pressure in the way that we had grown accustomed to. No sooner had the elastic to Peeters or Meeusen snapped though and the Belgian champion made a small mistake and he was back in their clutches.
With two laps to go Van Aert and Van der Poel led by 1:21 and the three chasers still had 15 seconds advantage over Kevin Pauwels' group. Nys tried again and again to go clear in third place but each time Peeters and/or Meeusen came back and retook him.
Mistake is where the race was won
Then came the critical moment up front. Van der Poel, riding second, hit a corner post that Van Aert had also hit earlier in the race and it was the opportunity for the Belgian to take off. He quickly built a seven second advantage and some of the fight seemed to go out of the unfortunate Van der Poel.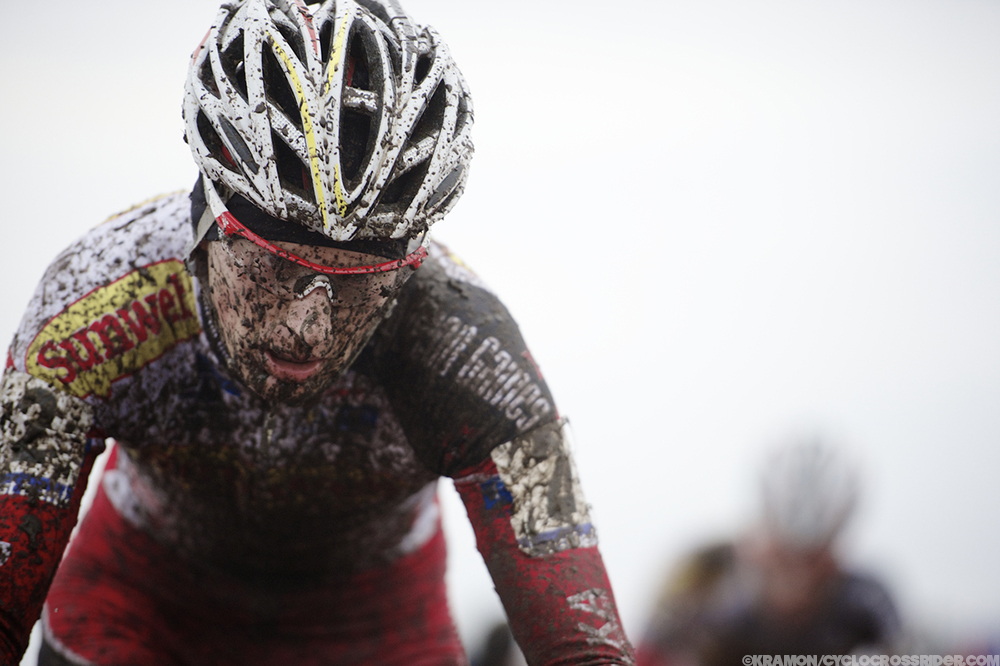 Kevin Pauwels (above) did not have the best of days, but team mate Gianni Vermeersch impressed again finishing fourth.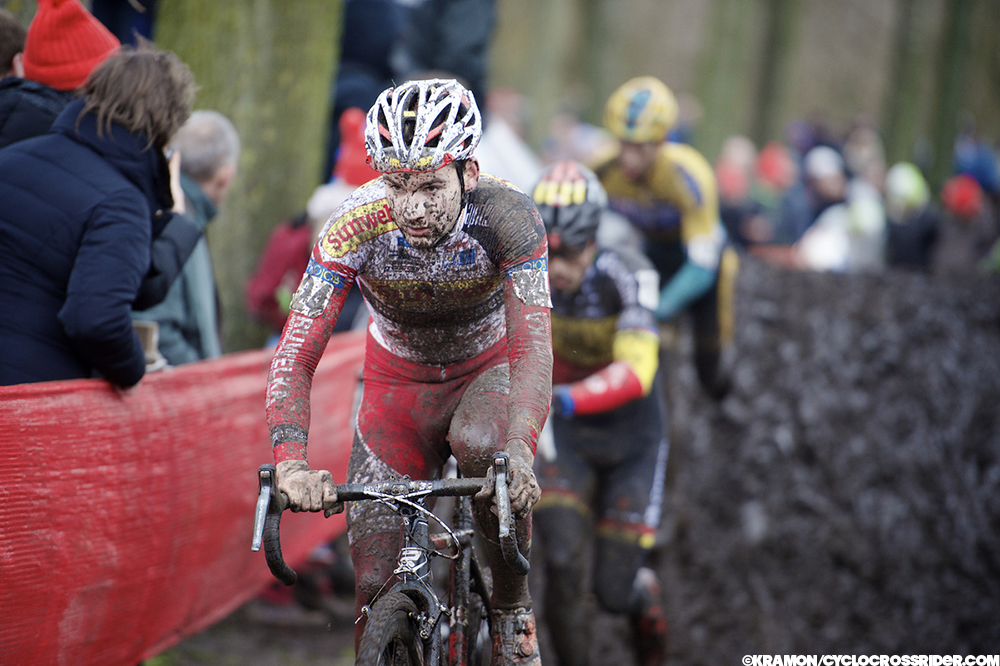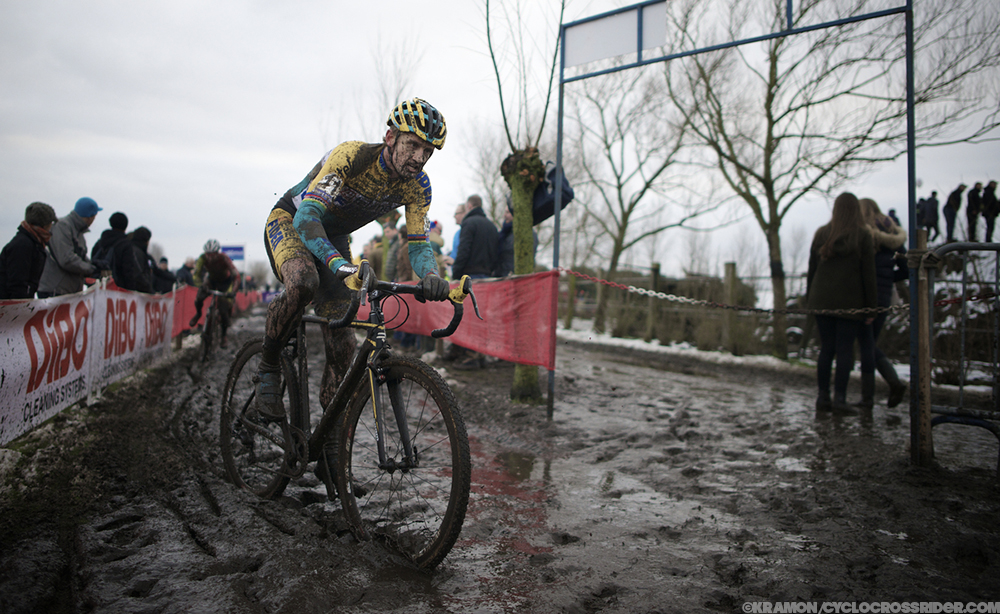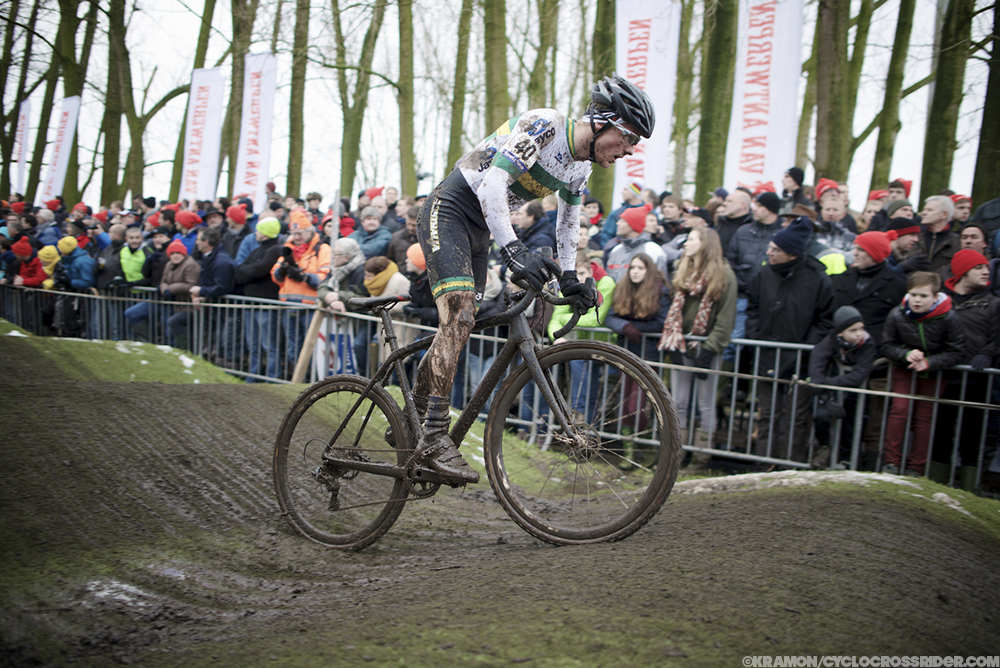 At the bell Van Aert was 16 seconds to the good and further back Meeusen, Nys and Peeters still led their pursuers by 12 seconds. Pauwels was on a charge though and he led three other riders – Vermeersch, Denuwelaere and Tim Merlier back into the fight for third place. First Peeters made a bid for the final podium spot, but it was Meeusen who successfully escaped as Peeters and Nys got swallowed up in a tired looking 'sprint' with a gaggle of riders.
A full two minutes before Meeusen claimed third place, Van Aert had bowed to the crowd and was about to see his lead in the Trofee extended to nearly five minutes.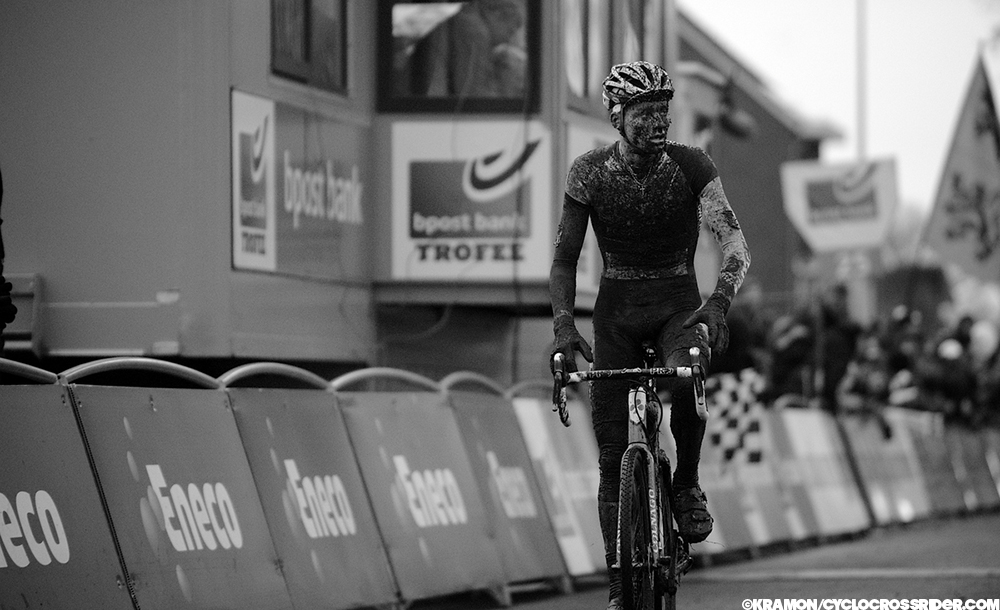 Van der Poel crosses the line in second place.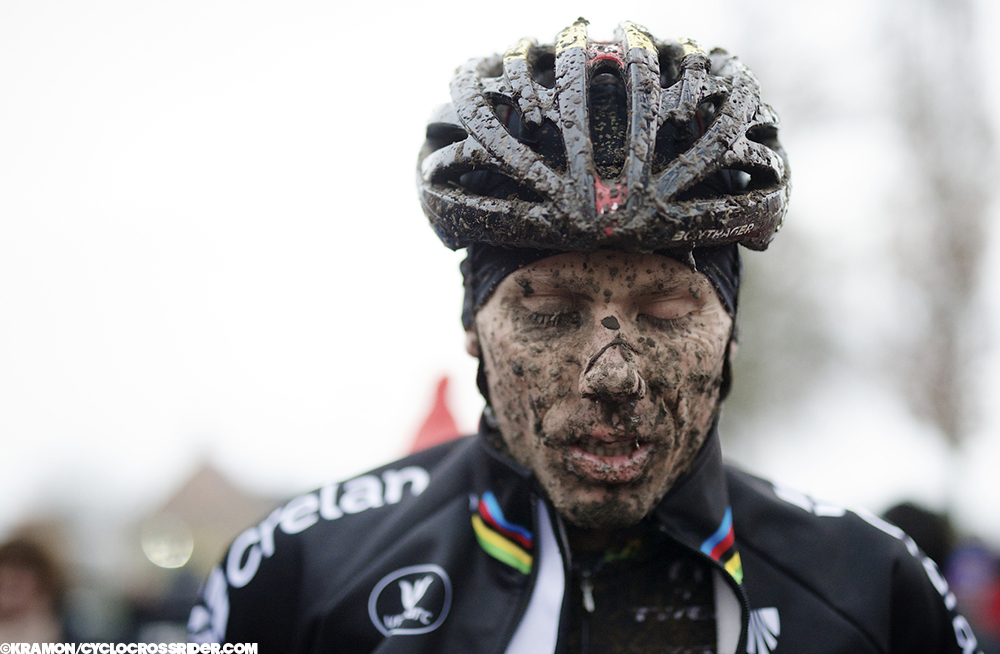 Sven Nys (above) will only take positives away from today and with his home race in Baal coming up next on New Year's Day he told reporters, "I'll be aiming for the podium in Baal."
Looking to the Nationals
The bad news for the 'older generation', however, is that both Van Aert and Van der Poel will race for their respective elite professional national titles on January 11th and who is to say that they aren't in the shape to win at their first attempts.
Elite men
1 Wout Van Aert

2 Mathieu van der Poel

+ 0:37
3 Tom Meeusen

+2:00
4 Gianni Vermeersch

+2:17
5 Jan Denuwelaere

+2:17
6 Kevin Pauwels

+2:20
7 Tim Merlier

+2:24
8 Sven Nys

+2:25
9 Rob Peeters

+2:36
10 Vincent Baestaens

+3:01
Overall Trofee standings (after 6 rounds)
1 Van Aert

2 Nys

+ 4:45
3 Pauwels

+4:46
4 Meeusen

+4:48
2015: The lead-up to the Nationals
Thursday January 1st: bpost Bank Trofee, Baal (C1).
Friday January 2nd: Centrumcross, Surhuisterveen

(C2).
Sunday January 4th: Soudal Classics, Leuven (C1).
January 10-11th: National championship weekend.
Elite women's highlights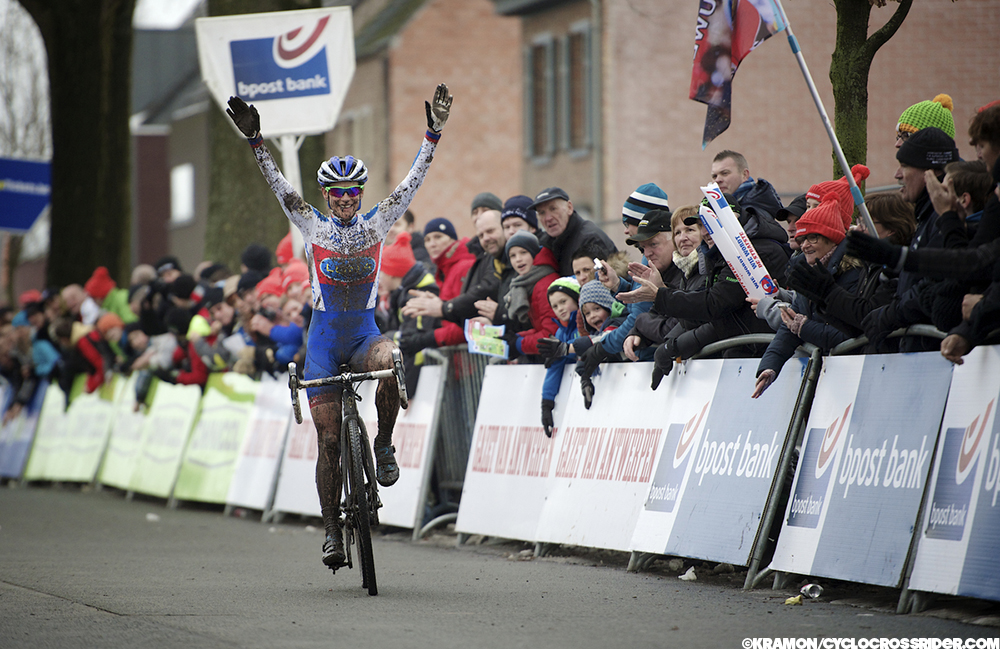 CZECH champion Katerina Nash (above) beat the World champion Marianne Vos for a second time in three races. Vos could not match Nash's pace in the heavy conditions and finished 23 seconds down. Belgian champion Sanne Cant had an off day and finished a minute behind compatriot Ellen Van Loy as Nikki Harris got the better of Helen Wyman by almost a minute.
Series leader Sophie de Boer could only manage ninth place and lost a big chunk of her overall advantage.
Elite women
1 Katerina Nash

2 Marianne Vos

3 Ellen Van Loy

4 Nikki Harris

5 Sanne Cant

6 Helen Wyman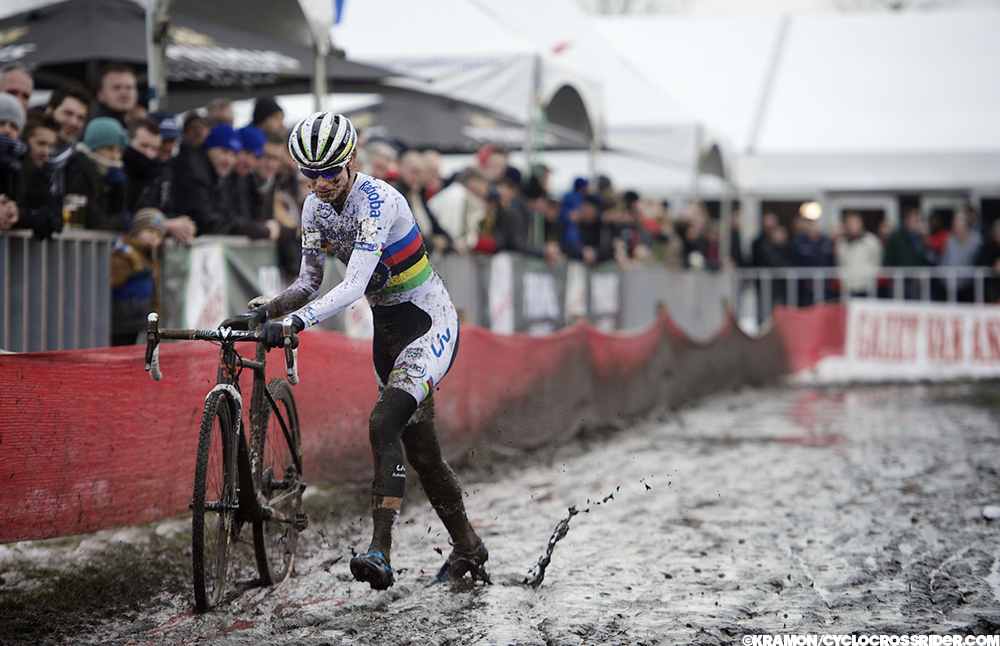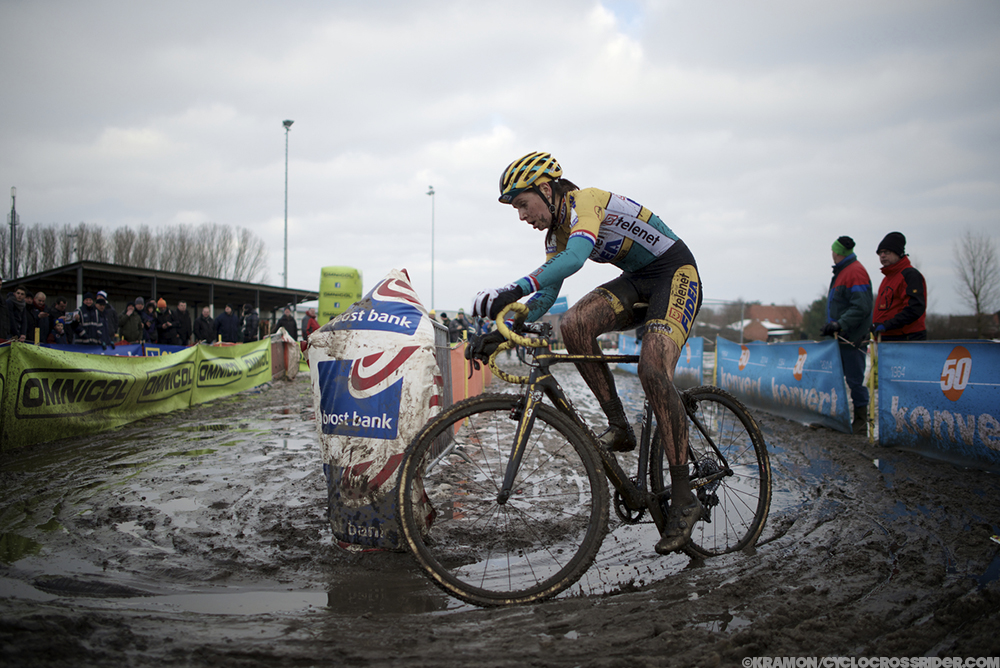 Overall Trofee standings (after 6 rounds)
1 De Boer

2 Van Loy

+1:01
3 Cant

+3:08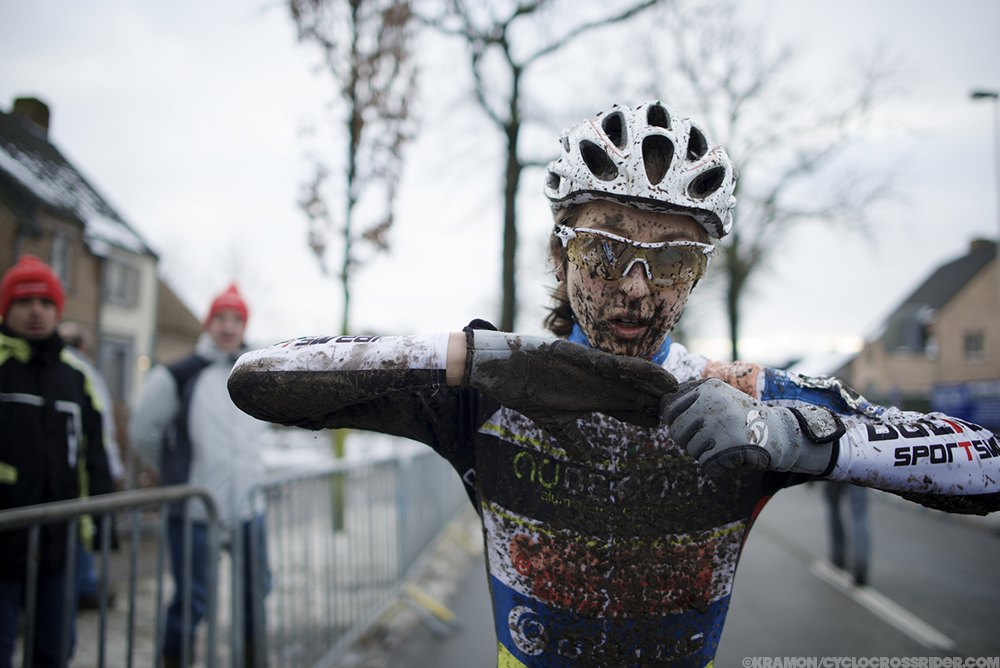 Under-23 men
1 Laurens Sweeck

2 Diether Sweeck

3 Toon Aerts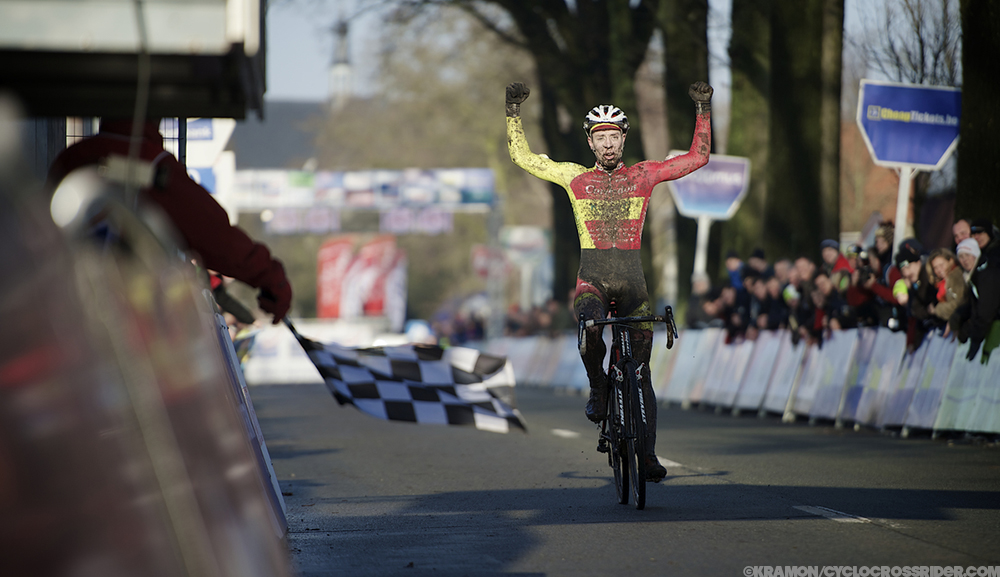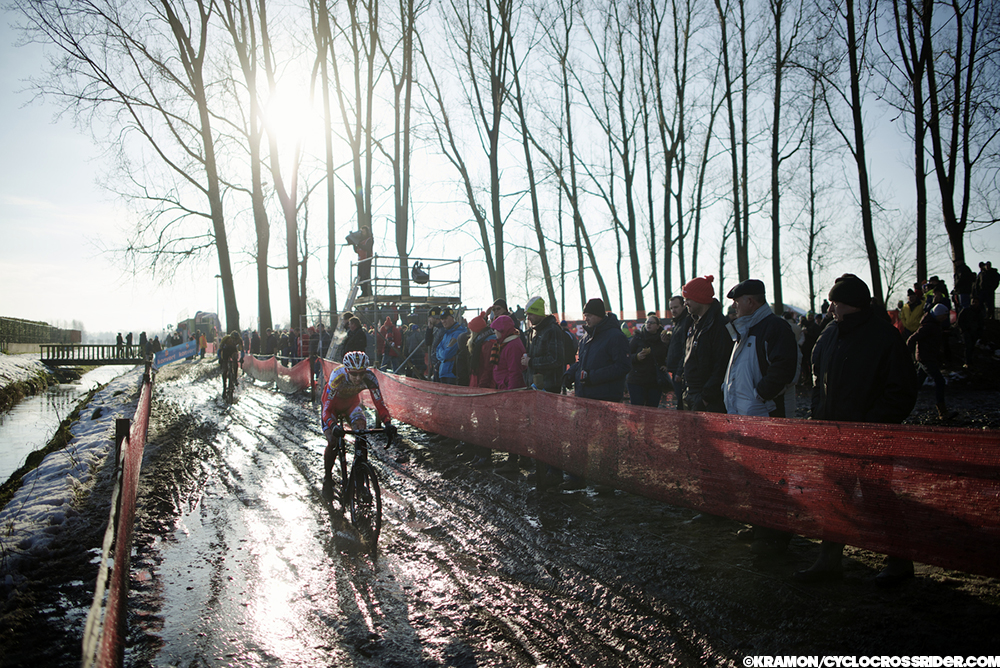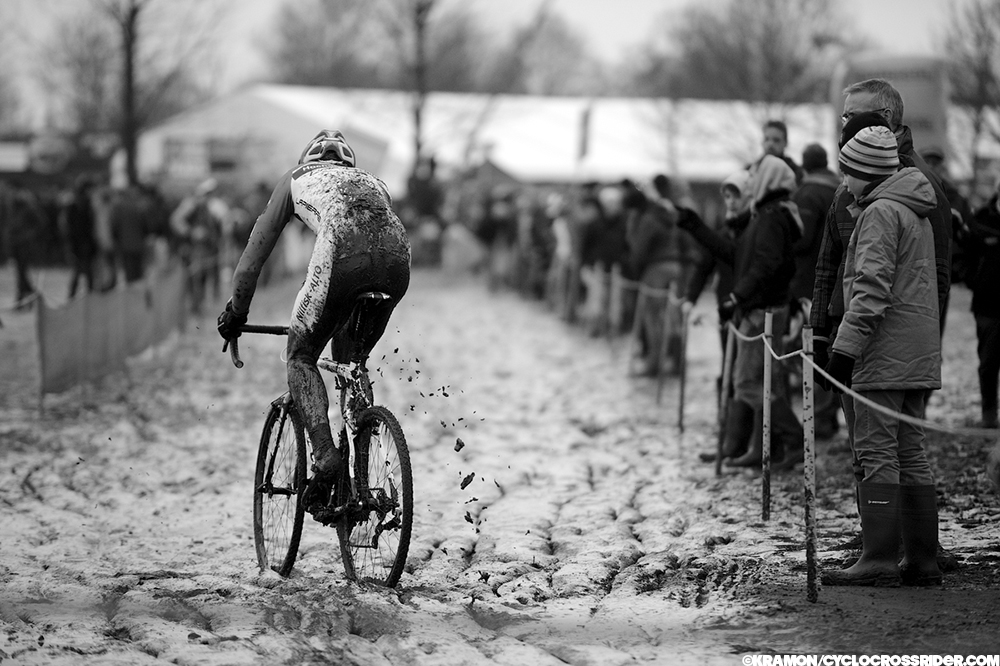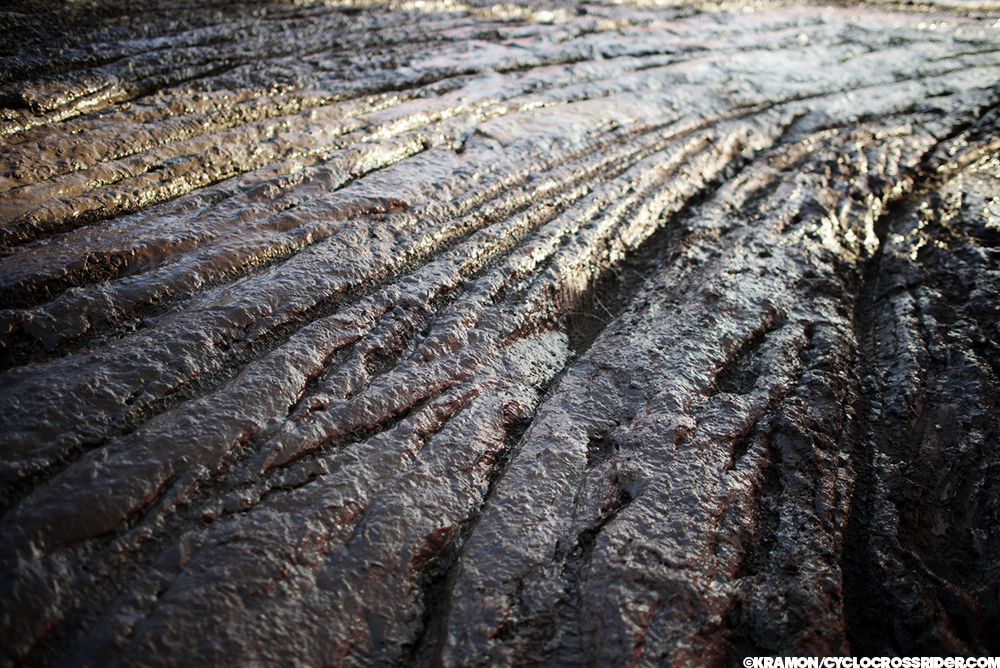 Photos: ©kramon/cyclocrossrider.com