GABBY Durrin has been a familiar face in cyclocross for well over a decade - having taken to the sport as a teenager - and in that time made it all the way to international level. The girl who started out racing around the soggy fields of Lincolnshire (in eastern England) went on to win five British Championship medals and make too many international appearances to remember. Her racing took her to the Belgian 'cross heartland and more recently to married life in the United States.
Twelve months ago Gabby realised that, after so many years at the top of the sport, she had "reached breaking point" and wisely took a step back. She sought sound advice and returned to racing at the beginning of this season – a second place in the C2-ranked Nittany Lion Cross in Pennsylvania boded well. After a slightly disappointing CrossVegas World Cup race Gabby took three more top ten placings in America, but realised that the spark was no longer there. In December she announced her retirement from pro racing.
In a long career Gabby has naturally experienced many highs, but she is also refreshingly open about when the times were not so good. In a 'no holds barred' retirement statement she gave a great insight into some of those experiences and also went on to talk about the dark times and bullying she suffered at school.
"Professional cycling is not an easy journey, especially for a woman. Most women do the sport for the love of it. We are passionate about it and put our heart and soul into it. It is not the most lucrative profession to be in and so we do it because we truly love it and have the drive to succeed and be our very best. Pushing our bodies to the limits and racing hard putting it all out there on the race course is empowering and somewhat beautiful. The community of people that we meet in sport is amazing and special. Being around like minded people who share our passion and understanding feels like a family."
Gabby was perhaps unfortunate to race in Britain in 'the Helen Wyman era' as she won three silver and two bronze National Championship medals behind Helen between 2007 and 2011. The first of her many World Championships was in 2005 in Sankt Wendel where Hanka Kupfernagel took the third of her four World titles. Her best World Cup finish was a sixth place at the famous Roubaix velodrome.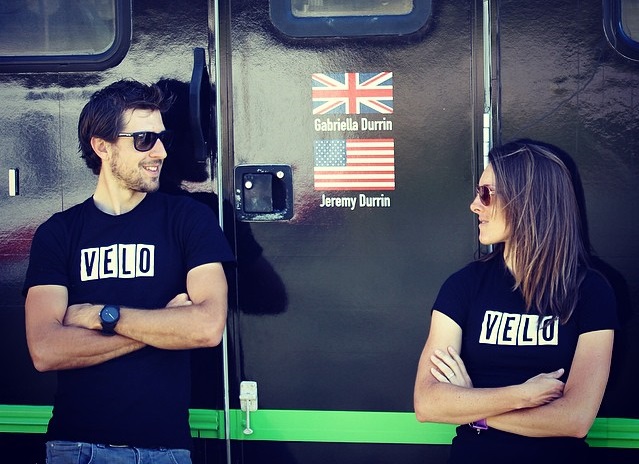 Gabby herself gives a great insight into her career HERE so let's move on to 2016…
"Well the big news is that myself and Jeremy will be crossing the Atlantic to live in the UK," Gabby told Cyclocrossrider. "Jeremy will continue racing for Neon Velo whilst I take charge of the brand's marketing."
The British Neon Velo cycling team was founded over five years ago and with Gabby taking on the role of Brand Marketing Executive there is expansion in the pipeline.
"It is an exciting brand with big ambitions so we're really looking forward to 2016. You will see some big moves and changes," Gabby promises.
We wish Gabby and Jeremy - and indeed all our readers - a successful 2016.
Related articles
A Durrin Diary
Pro Bike: Gabby Durrin's Trek Boone
Photos: Lasala Images and Brad Warren.