A better-paced 'clear' round
IF there was a 'Guess your time' prize at the Three Peaks Cyclocross Race, then I did pretty well. This year was my eighth attempt at the race that can be justifiably described with the much overused word "epic".
One of Britain's top mountain bike internationals of recent years, Oli Beckingsale did the race for the first time and could only finish twentieth. "The Three Peaks is so damn hard, respect to all finishers," he tweeted afterwards.
Training had gone well – OK, not as many hill reps as in previous years – and I told friends and team mates I was hoping for the First Class standard of four hours. I've twice gone under four hours in the race (PB in 2009: 3:50:50), but in my last completion in 2011 I faded to finish nearly a quarter of an hour outside.
And therein perhaps lies the key to a good Three Peaks – not going off too fast and tiring in the second half of the race. That was my plan – not to go into the red and get around safely, as next year I'm in a new age category and that's the time to push harder and take some risks!
A big tangle of riders hit the deck after barely a mile
The first task in the Peaks is to survive the opening road section amongst a bunch of nearly 650 riders and luckily I was on the opposite side of the road to the big tangle of riders that hit the deck after barely a mile. I steadily moved up whenever I could, using the righthand gutter as my path towards the front, but as the road reared up after Horton I made no attempt to hold wheels.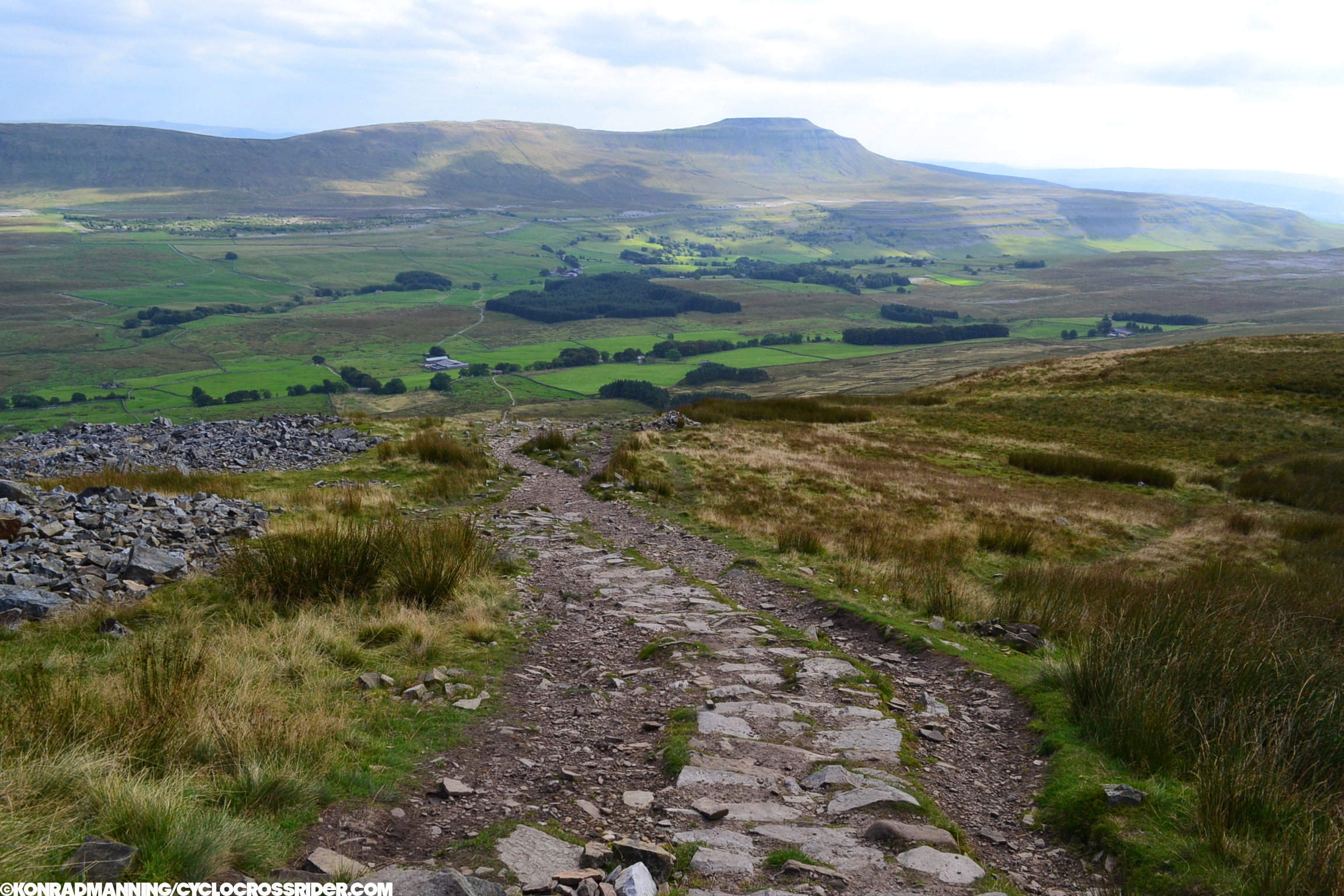 Ingleborough is climbed from left to right in this photo taken from Whernside.
I enjoyed Ingleborough as you may be able to tell from my Hitchcock-style appearance in the film footage I recorded for Benedict Campbell's "For the Love of Mud" project at the top of the feature. The first of the three mountains often sets the tone for your race. It did not seem too congested, I felt fresh and had a trouble-free descent. Looking back at the split times you are given as you cross the finish line, I can now see that I was actually two minutes faster up Ingleborough than in my personal best year of 2009.
Drinking is a priority on the long road section to the foot of Whernside and I forgave the opportunity of riding with a fast group to conserve some energy and not get too carried away. Whernside is probably the hardest of the three mountains, both to climb and descend, and if you are on for a bad day you will start to feel it here. I was losing places on the climb, but kept putting one foot in front of the other as sweat started running into my eyes. Conditions for the race were perfect with no wind and temperatures in the teens and pressed up against the vertical stone staircase of Whernside with a bike on your shoulder can be quite claustrophobic.
My descent of Whernside wasn't too impressive either. Just off the summit are some tricky unrideable sections and a few riders coming from behind shouting "on your right/coming on your left" when it was practically impossible to pass began to annoy me. Yards ahead a recently crashed young rider was lying full length on the floor, but still a rider behind wanted to come charging past on the narrow path as I slowed to check the lad was OK. The same scene was played out at the next slow section – some riders really have to be more realistic about where it's safe to overtake on the upper section of the descent of Whernside.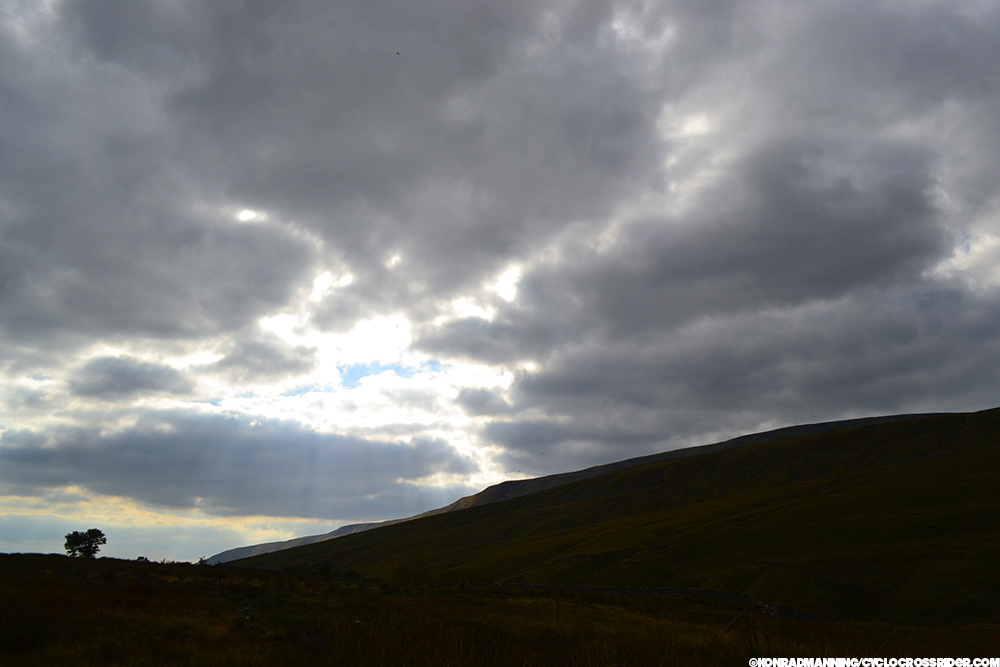 Whernside can be a dark place in more than one sense.
Onto the famous stone slabs I ran the first section and once I'd remounted never felt confident especially after losing the front wheel and crashing. It was not my best descent of Whernside although it could have been worse than one crash and one dropped chain.
I'd travelled to the race (from the Netherlands) with one bike this year which Peaks veteran Andy Whitworth (of Try Cycling in Kirkburton, Yorkshire) had expertly prepared for me a few days before. On went the smaller chainrings, bigger cassette and new cabling and pads. There was just one small thing we'd forgotten to adjust – the chain catcher – which unfortunately didn't catch my chain when I crashed and so lost me a few more seconds on two occasions.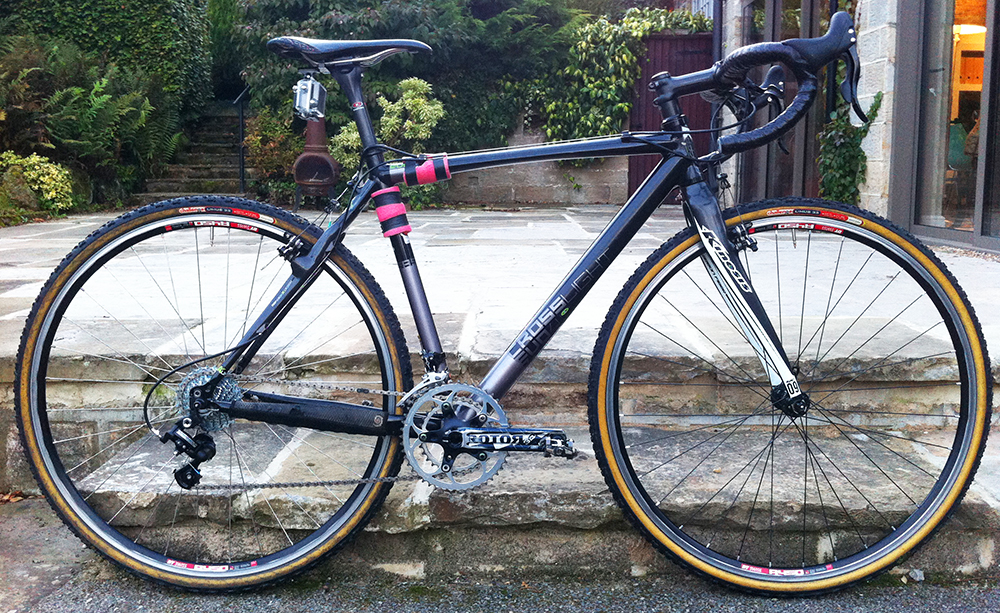 Three Peaks Bike Spec:
Frameset: Kinesis Crosslight EVO4 (canti) - alloy with carbon seat stays
Fork: Kinesis RC09 - full carbon
Shifters: Campagnolo Veloce (mechanical)
Cross top levers: Cane Creek
Brakes: TRP EuroX alloy (canti)
Front mech: Campagnolo Veloce
Rear mech: Campagnolo Xenon
Chain catcher: Deda Dog Fang
Crankset: Rotor 3D (dual BCD)
Chainrings: TA Zephyr & Zelito 32-47
Bottom bracket: Shimano
Chain: SRAM
Cassette: 13-29 (10 speed)
Rims: DT Swiss R450
Front hub: Campagnolo Record
Rear hub: DT Swiss 240
Tyres: Challenge Limus open tubulars
Handlebars: PRO Vibe 7
Stem: BBB Ultraforce
Bar tape (& chainstay protector): Lizard Skins DSP
Seatpost: Easton EC70
Saddle: Selle Italia XC
Pedals: BBB Forcemount
Bike weight: 8.77kg (19lbs 4.5ozs)
On the road to the final peak of Penyghent I was suddenly given a daunting scare. My small group were caught and passed by a line of car traffic, two of which I was able to retake as they were slowed by catching the group of riders ahead. The car that was now ahead of me though was forced to stop at the first humpbacked bridge in Horton and I ground to a halt behind it and began to cramp. I traipsed through Horton at half speed trying to rid myself of the tightness in my calf and then began the long ascent of 'Penyghent Lane'.
My fuzzy calculation estimates that I will finish outside four hours
Penyghent went well, I was losing places, but not in as a dramatic a fashion as in some years. My Cyclocrossrider team mate Paul Errington caught me and that was the spur for me to push harder towards the top and put in some short sections of jogging whilst pushing the bike. A walker near the summit was asked the time and replied "five past one," and my fuzzy calculation estimated that I would finish outside four hours. "Oh well," I thought to myself.
The descent was hard, especially on the hands relentlessly squeezing the cross-top brake levers in an attempt to control speed, but was ultimately issue-free. Onto the final road section and I found myself beside a familiar rider – every year I race the Peaks I seem to be near Yorkshireman Darrell Bradbury (in 2009 for instance he finished a minute ahead of me) – and we pushed on taking alternate pulls.
I vaguely hear Darrell mention "3:59" and the next time I pass alongside he confirmed that he thought we were "on for 3:59." We continued to drive hard until he said "Go on, I'm cramping," on the final rise. My own cramp returns on the very last corner and I crossed the line five seconds inside four hours with Darrell right behind me and sneaking that First Class Certificate once again. Job done.
Konrad's race record
My record in the Three Peaks shows quite a wide variation in times. In 2006, I think I punctured coming off Whernside and despite getting older my last four finishes have all been faster than the first three. In the Three Peaks experience can count for a lot.
2003: 4:17:56. 138th overall.
2005: 4:20:07. 116th & 29th V40.
2006: 4:29:49. 156th & 48th V40.
2007: No race held due to Foot & Mouth disease.
2009: 3:50:50. 70th & 17th V40.
2010: 3:56:29. 93rd & 29th V40.
2011: 4:14:09. 157th & 47th V40.
2012: Did not finish (retired after two peaks).
2014: 3:59:55. 177th & 74th V40.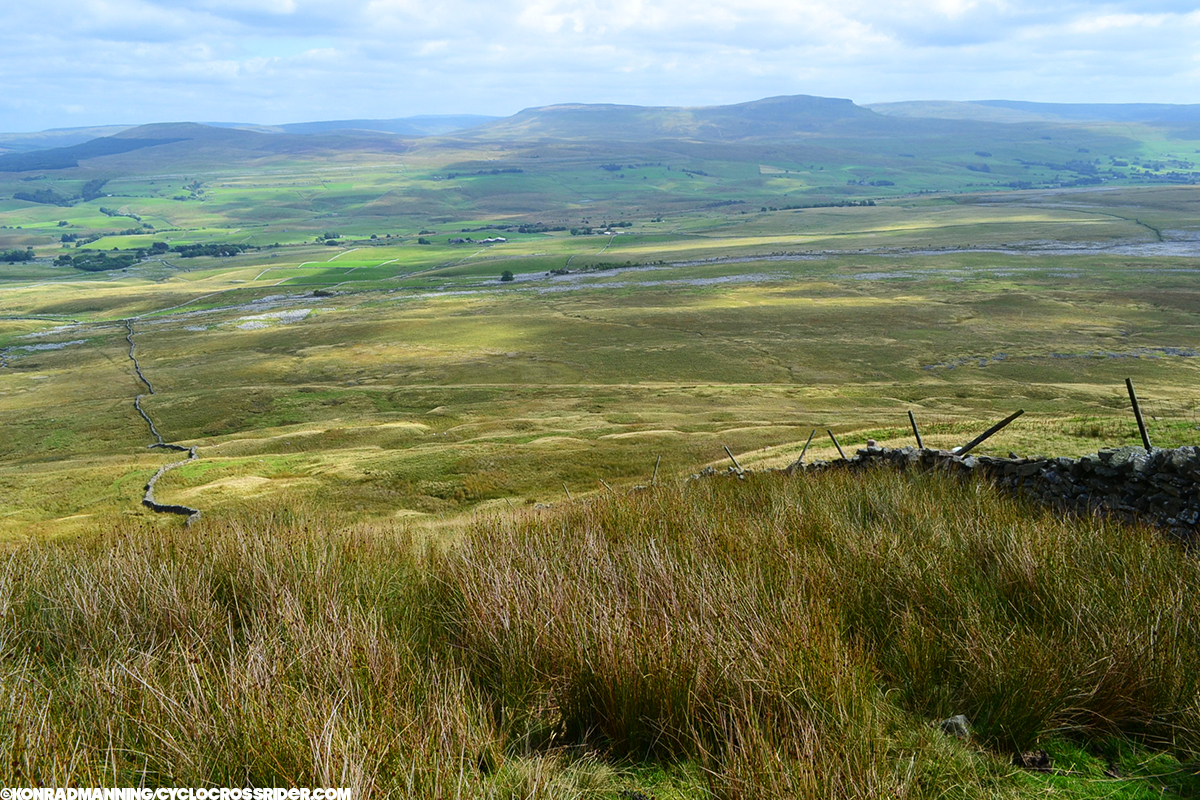 Penyghent, as seen from Simon Fell, is the third peak.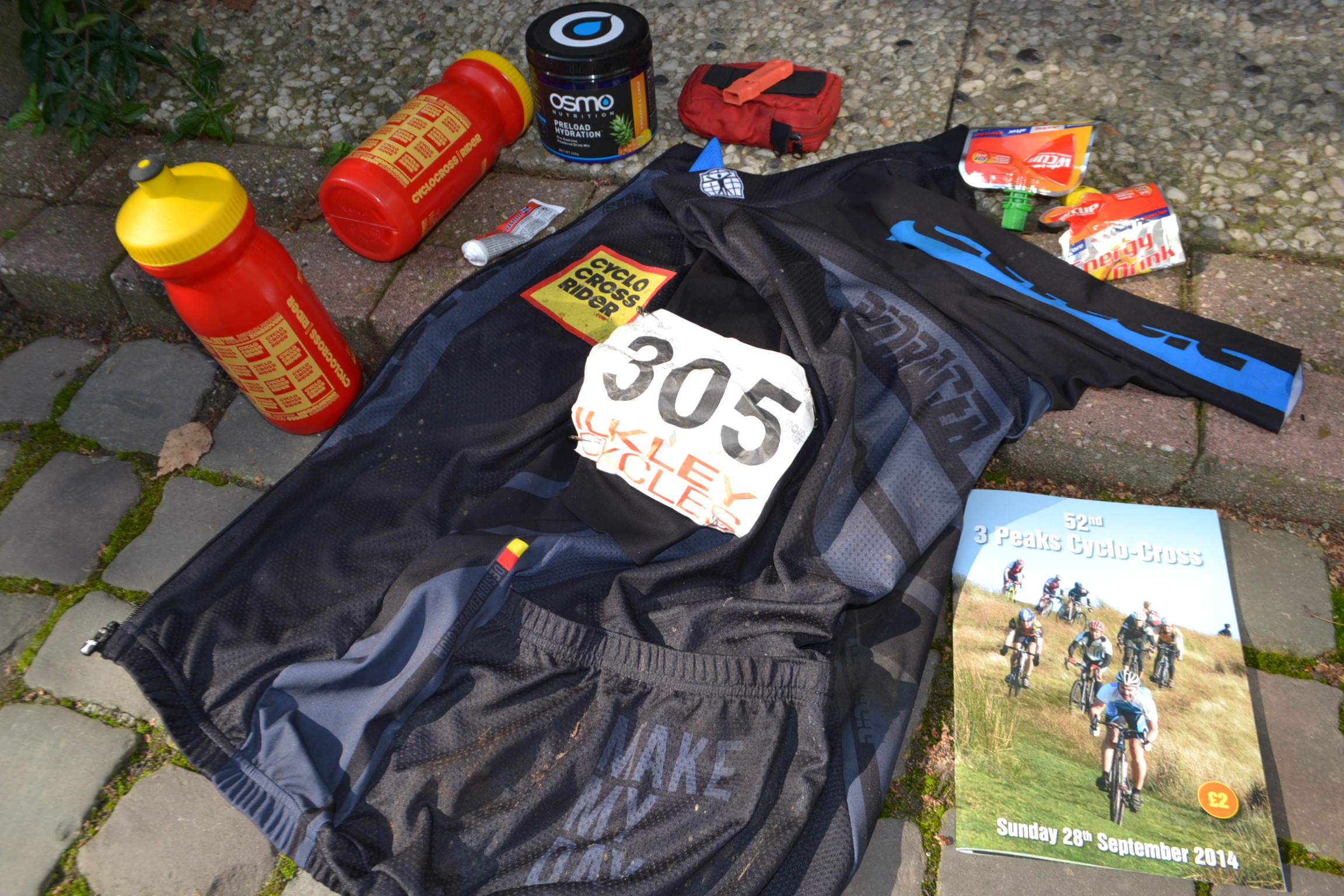 Main photo: Alan Dorrington/Fluent in Cross. Others: Cyclocrossrider.com Film editing: Benedict Campbell (For the Love of Mud).