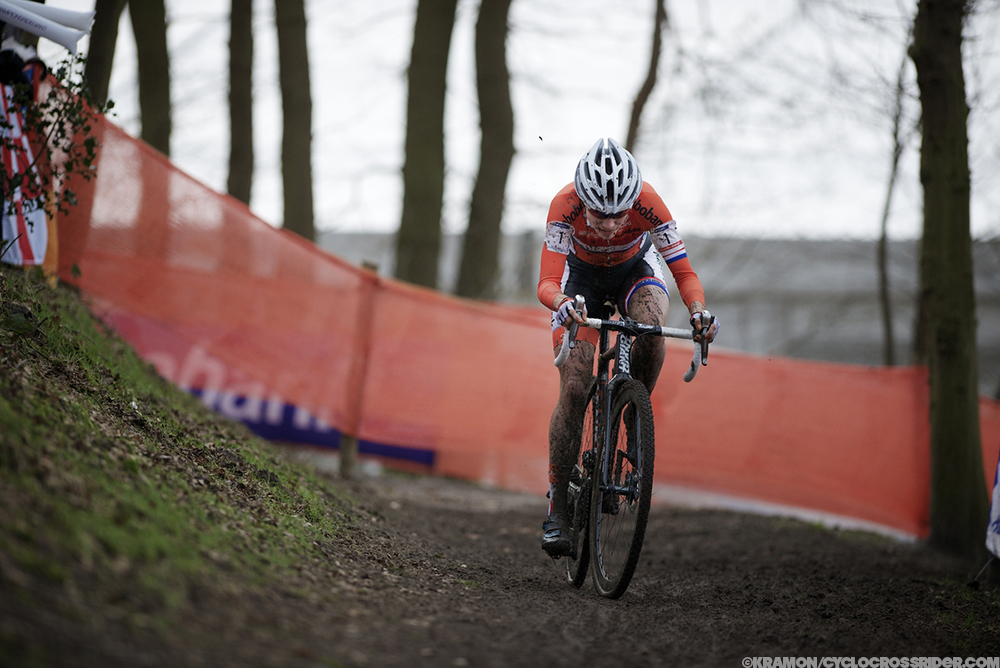 ONE major name that has been missing from European cyclocross racing so far this season is World champion Marianne Vos. We are accustomed to the Dutchwoman racing a selective 'cross season because of her road racing commitments, but she starts her season three races (and two months) 'later' than twelve months ago.
Vos has announced her race programme leading up to the defence of her Dutch national title on January 10th. After the Nationals weekend there will be three more weeks before the World Championship in Tabor, Czech Republic.
Will it be enough racing?
With American Katie Compton (below leading Vos in Zolder last season) likely to be on form and Belgian champion Sanne Cant racing so well this season, it remains to be seen whether only half a dozen (or so) races will be enough for Vos to successfully defend her rainbow jersey in 2015.
This shortened season for Vos will also give hope to other riders like Britons Nikki Harris and Helen Wyman and Dutchwoman Sophie de Boer who have all been racing regularly since September.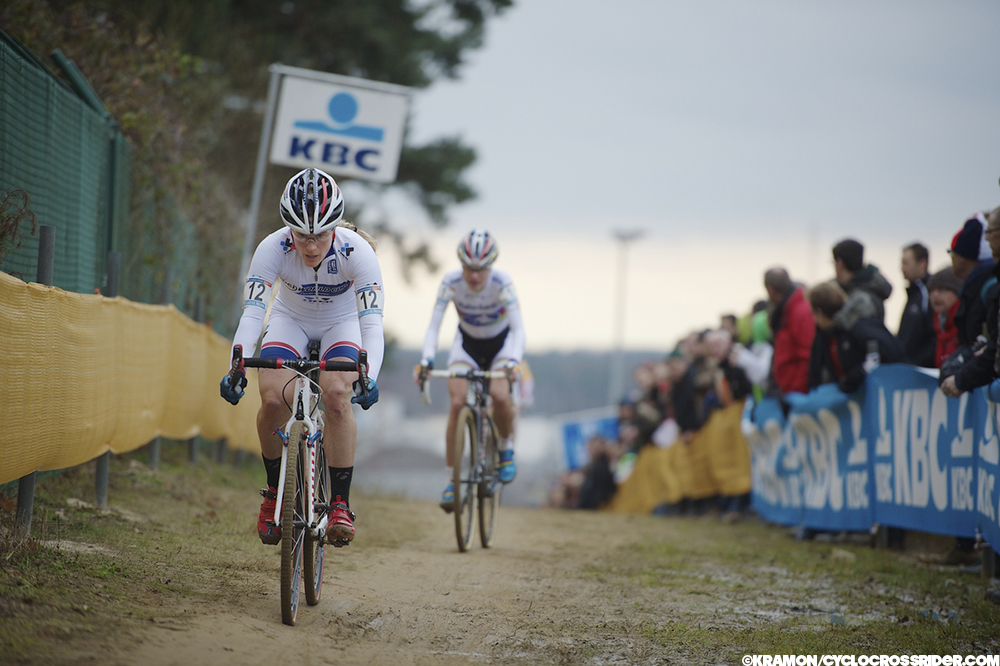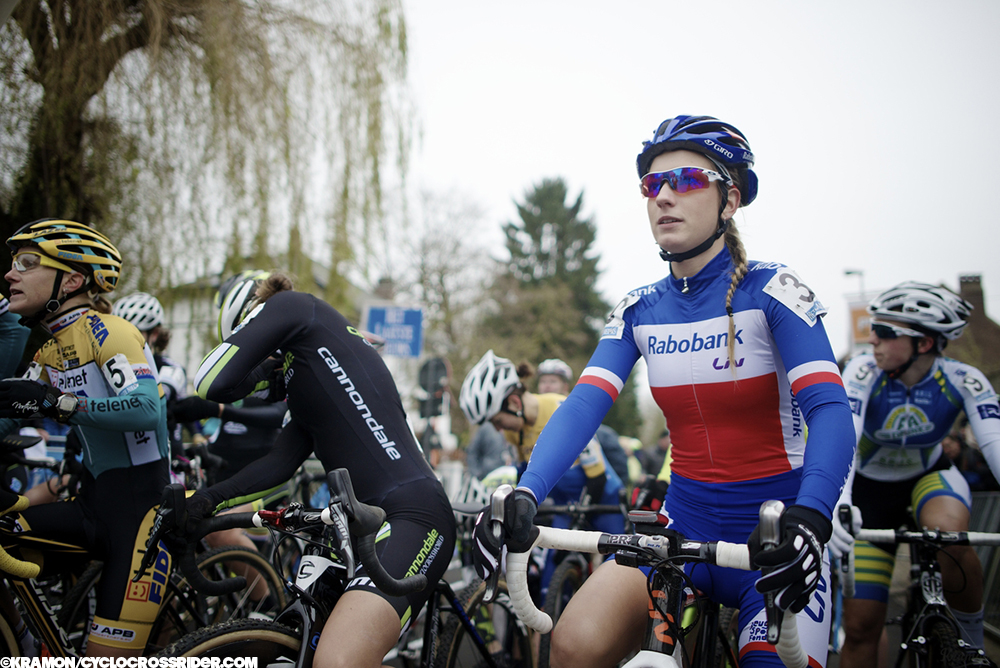 Then there is Pauline Ferrand-Prevot (above) - the World road race champion - who finished a close second to Cant in Overijse - which title is next for the prolific Frenchwoman? Ferrand-Prevot started her 'Belgian' 'cross season well last weekend with two second placings. On Saturday she finished 13 seconds behind Sanne Cant in Hasselt and only five seconds adrift of the Belgian in Overijse on Sunday.
Can we expect to see a close and unpredictable women's race in Tabor?

One of her main challengers Sanne Cant believes Vos' preparation will work to the Dutchwoman's advantage. "I think Marianne knows her body very well and she knows how many races she needs to ride well. She should be less tired than us," the Belgian champion told Cyclocrossrider.

By the time Worlds came along, her (Vos) fitness level was perfectly timed - Christine Vardaros
Belgian-based American pro Christine Vardaros also thinks that Vos will be hard to dethrone. "She may be starting her season late but she remains the one to beat. She will be well rested compared to the others who have already raced about 20 events," says Christine.
"Tabor is also a course that suits her well as it's fast and hilly" adds Christine. "She's proven this at the 2010 Worlds in Tabor when she took the win, crossing the line 45 seconds ahead of Hanka Kupfernagel. Last year, she may have done a handful of early season events, but her block of racing was really kicked off with the Namur World Cup. By the time Worlds came along, her fitness level was perfectly timed to easily take the rainbow jersey."
Harris carrying injury
Hopefully former British champion Nikki Harris will soon be recovered from the tendonitis which prevented her from racing last weekend. It's an injury that Harris had been carrying for a number of weeks but with good form she naturally wanted to perform well in the UK round of the World Cup in Milton Keynes.
Twelve months ago

Last season Marianne Vos won three 'cross races in October (including the Valkenburg World Cup) before finishing runner-up at Namur and Zolder to Katie Compton in December. Vos also managed to squeeze in three wins between her National and World titles last season, and is likely to try and repeat that build-up in 2015.

Vos has recently enjoyed long training visits to South Africa and to Florida where she is currently preparing for her return to cyclocross. Katie Compton is also currently enjoying some warm weather training on Mallorca.

Marianne Vos' race programme
December 21st: UCI World Cup, Namur.

December 26th: UCI World Cup, Heusden-Zolder.

December 28th: Superprestige: Diegem.

December 30th: bpost Bank Trofee, Azencross, Loenhout.

January 2nd: Centrumcross, Surhuisterveen.

January 10th: Dutch National Championship, Veldhoven.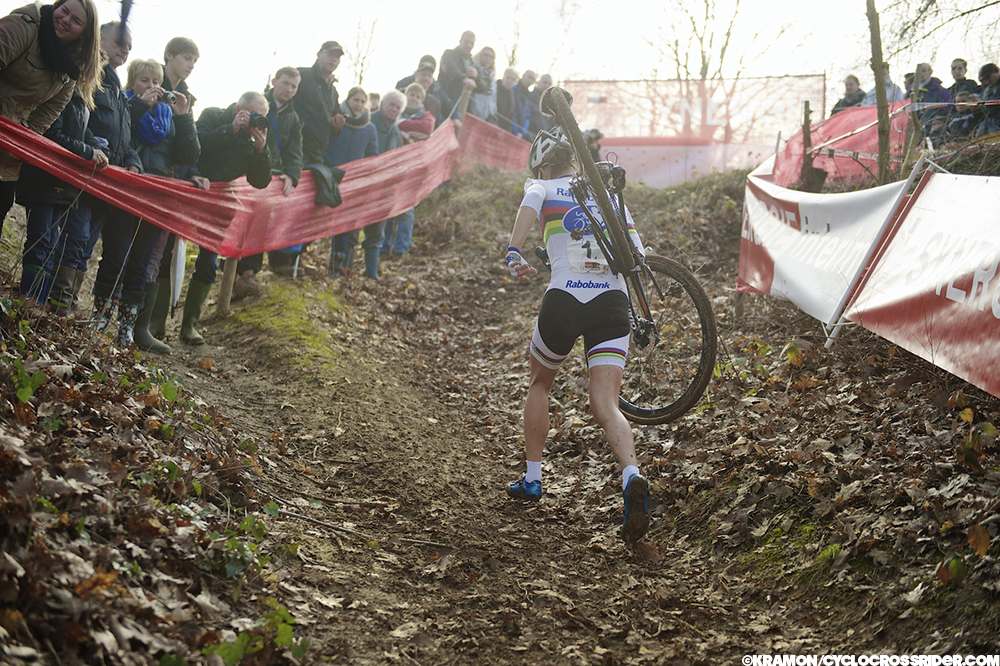 The sight that many riders see when racing Marianne Vos.
Photos: ©kramon/cyclocrossrider.com