MEREDITH Miller surprised practically everyone by outsprinting Katerina Nash and pre-race favourite Katie Compton to win the 2014 women's Cross Vegas. It was the biggest win of Miller's career, a career that has been reignited and inspired by her formation of a team, sponsored by Noosa yoghurts, with Allen Krughoff who rode to a high position (seventh) in the men's race in Vegas.
Just like men's winner Sven Nys (report here), Miller saved her fastest lap for the business end of the race and powered past Nash and Compton in a three-up sprint. Sponsorship from Lazer helmets ensured that Miller walked away with the same prize money as men's winner Sven Nys – or actually more when you take into account his UCI fine for feeding 'early'.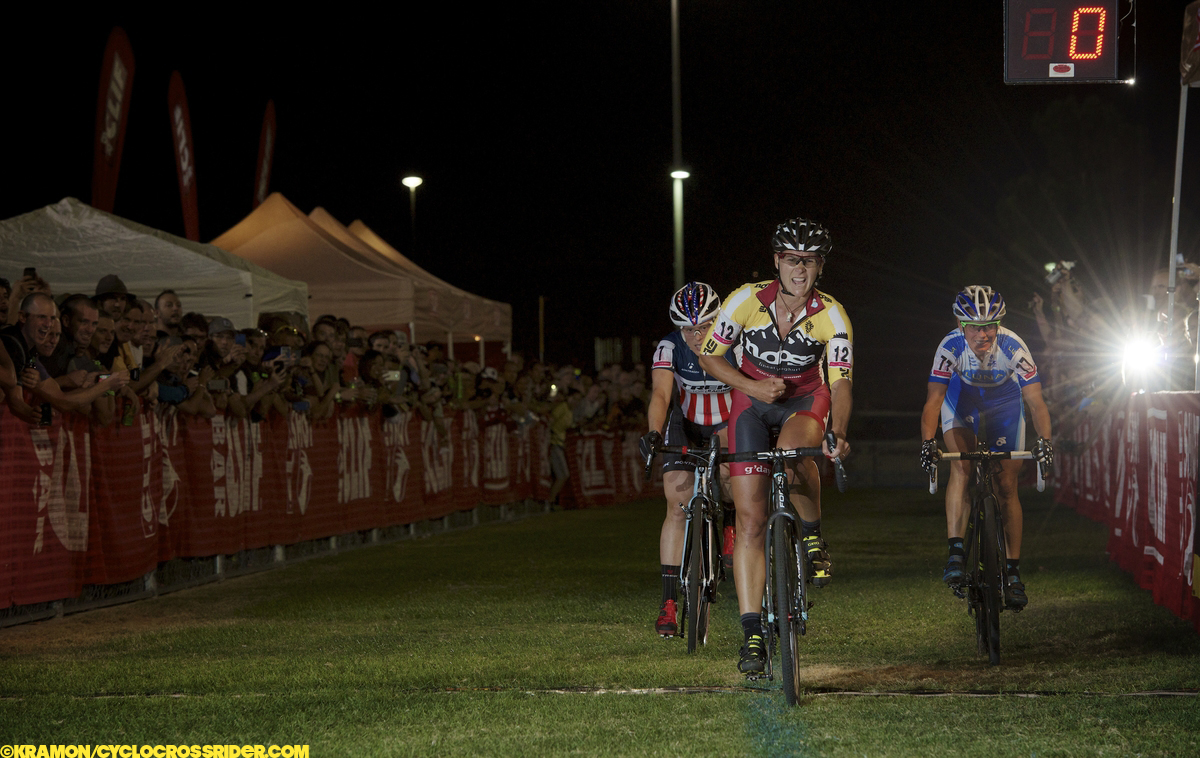 Brit Gabby Durrin, proudly sporting her new Neon Velo colours, was the early leader and was soon joined by British and European champion Helen Wyman. The Brits were set to fade in the Vegas heat and produce mixed results. Durrin did put in a promising performance eventually finishing eleventh, but Wyman pulled up and retired on the second lap.
"Thanks for the concern folks. I'm all good... now. Looking forward to my next race Saturday," tweeted Wyman in the aftermath of the event.
I settled in and took a deep breath. I told myself to just stay with these awesome women
"I knew this is a race of attrition, I had to just follow the right wheels. I did have to jump across, but once I did I felt okay. I settled in and took a deep breath. I told myself to just stay with these awesome women," said Miller afterwards. "The final sprint was the craziest part of the race. I went into it third. I kept trying to pass Katie. I almost took her and myself out. Being patient was the key and I waited to the very last minute to sprint," she added.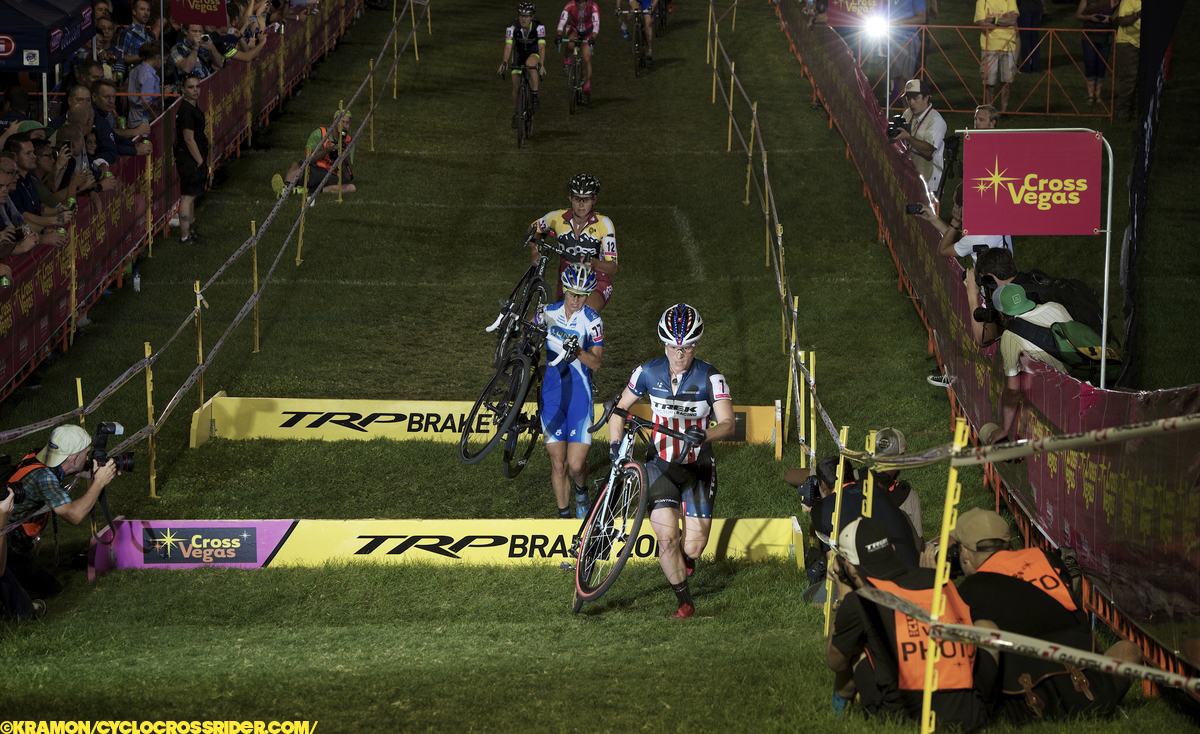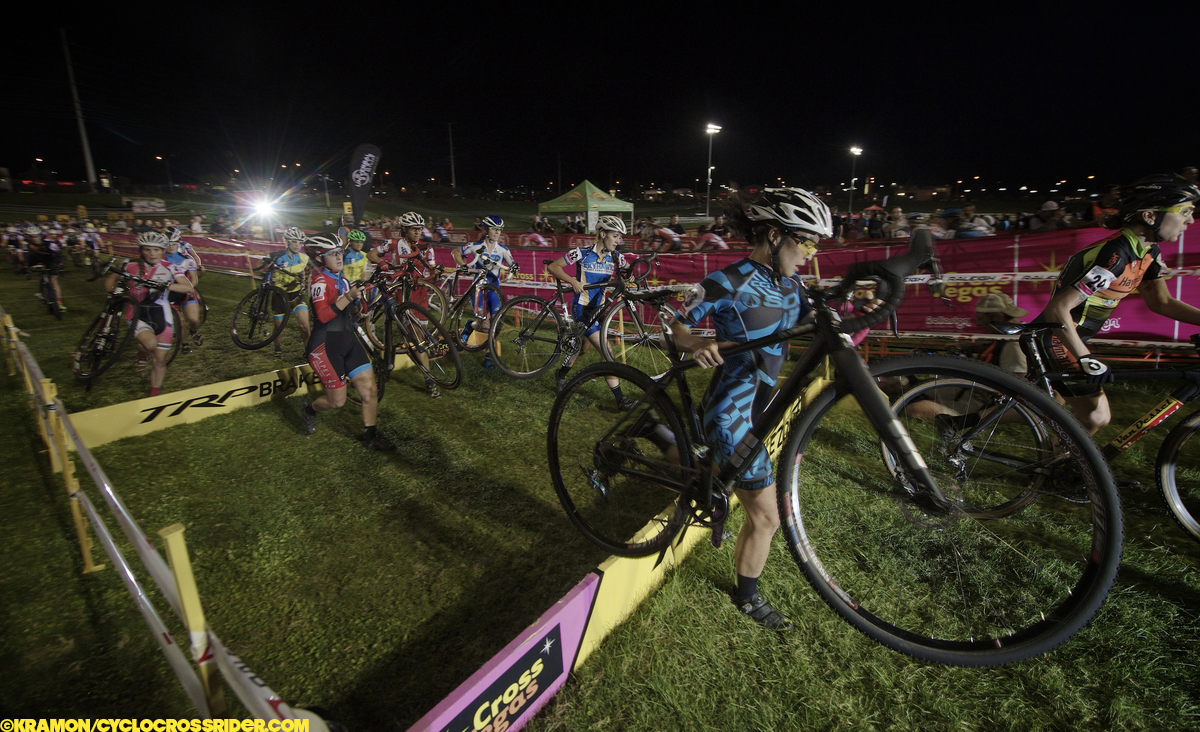 Miller closes the gap
The first lap group, headed by Wyman, was 11-strong, but by the start of the second lap (of five plus the opening loop) Compton and Nash had a small lead over the British champion in third. It was Meredith Miller who closed that gap to the leading pair as Wyman slipped down to eighth place – Durrin sat in fifth.
Canadian 'cross champion Catharine Pendrel flew into the US on Monday after winning her second World Mountain bike championship in Norway and she set about making her way up to the leaders. Pendrel flew up the climbs to the highest part of the Vegas lap and now there was a four rider lead group: Nash; Compton; Miller; and Pendrel. Nash, a Worlds bronze medallist in 2011, showed no concern for her Luna Chix team mate Pendrel and immediately tried to stretch the group out.
Compton as the ten-time American champion went into Vegas as a clear favourite, yet it was newly-married Miller who was next to lead the race. With two laps remaining the group of four were still together although it was now Miller who looked to be hanging on.
The Luna Chix pair did share the attacking on the penultimate lap with Pendrel putting her Canadian champions jersey to the fore, but at the bell it was still a four-woman race.
Pressure forces mistake
Nash began to apply the pressure on the final lap and it was her team mate Pendrel who made a mistake and crashed on the tricky, hard standing corner before the climb. There seemed a faint hope that Pendrel might rejoin the battle up front, but it wasn't to be. All the while Miller was sitting quietly in third wheel.
Miller tried to make a move over the flyover, but Compton protected her position around the final few corners before Nash led towards the final sprint. Compton overhauled Nash only for Miller to come past her in the final 30 metres to win whilst, on the line, Nash clinched silver.
Nash said afterwards, "I had a really solid ride. A little rusty with the dismounts and I made a mistake by being shut down in the sprint. Meredith was strong and smart and has a great sprint."
"I knew that I did not have the best legs today," said Compton. "It's a tactical race here and I was just waiting for the sprint. The last few turns we were all being aggressive and passing each other. I ended up leading out the sprint and Meredith came around me like a rocket."
Meredith was third in last season's American championship and races World Cups in Europe, a sixth place in Tabor being her best result, so the victory will give her great confidence going into the long season ahead.
BRIEF RESULTS:
Women: 1 Meredith Miller (USA); 2 Katerina Nash (CZE); 3 Katie Compton (USA); 4 Catharine Pendrel (CAN); 5 Georgia Gould (USA); 6 Rachel Lloyd (USA); 7 Caroline Mani (FRA); 8 Amanda Nauman (USA); 9 Erica Zaveta (USA); 10 Cassandra Maximenko (USA). Men: 1 Sven Nys (BEL); 2 Lars van der Haar (NED); 3 Jeremy Powers (USA); 4 Quinten Hermans (BEL); 5 Sven Vanthourenhout (BEL); 6 Daan Soete (BEL); 7 Allen Krughoff (USA); 8 Shawn Milne (USA); 9 Ben Berden (BEL); 10 Cameron Dodge (USA).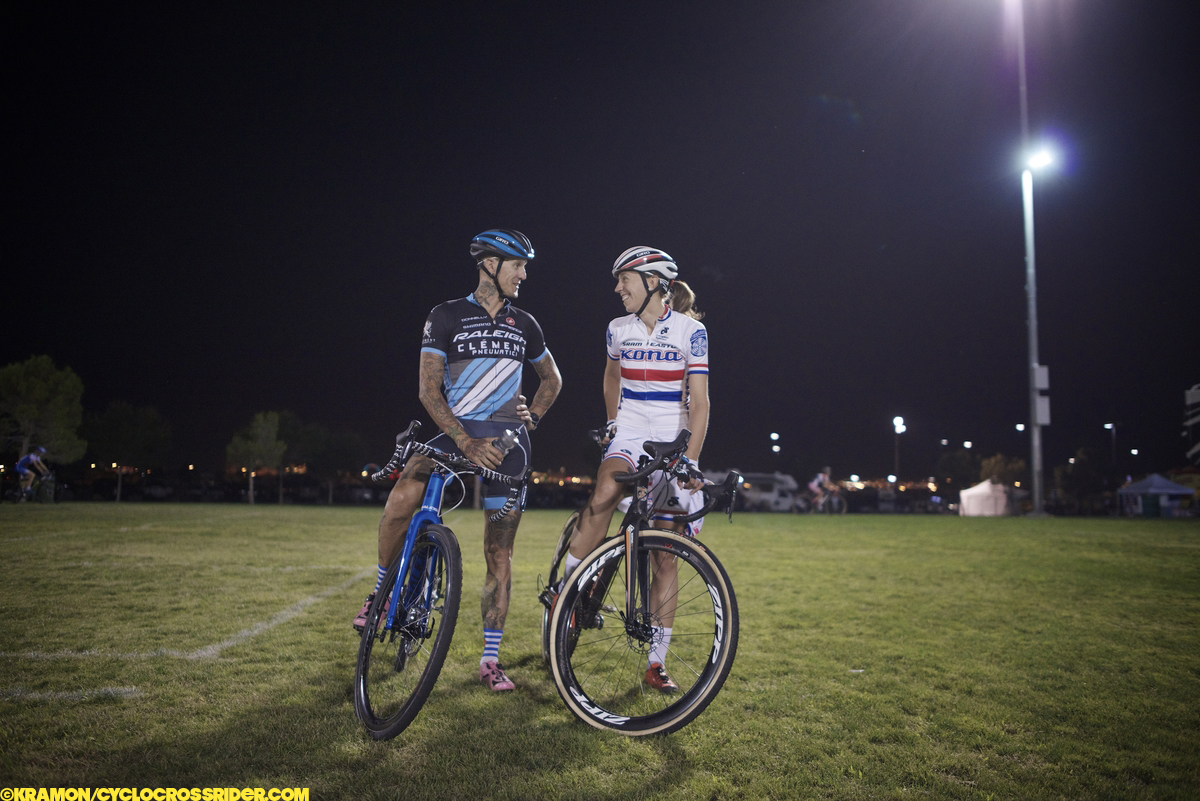 Ben Berden and Helen Wyman enjoy a joke before proceedings.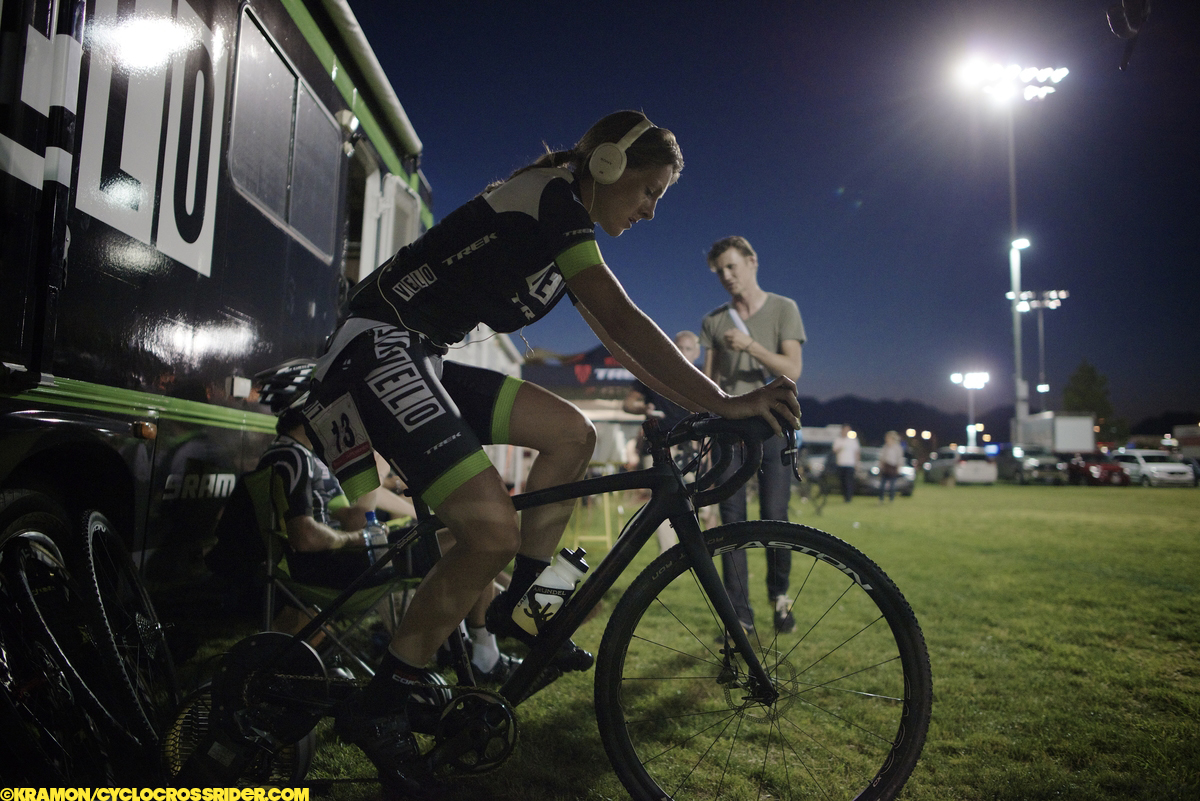 Gabby Durrin warms up outside the new Neon Velo motorhome.