BEFORE I reach for the UCI rule book to check, surely the 'taking on of water in a 'cross race controversy' just played out in Cross Vegas was an needless chapter in the race and the sport's history. At least one elite man racer that I saw started the race with a water bidon in a bottle cage mounted on his bike, yet Belgian champion Sven Nys was lucky to escape disqualification for going into the pit for liquid too early (than the rules* apparently allow) in Nevada's warm evening heat.
Nys' rumoured disqualification (he was absent from the post-race interviews whilst the issue was resolved) was eventually announced as a 1,000 Swiss Franc fine and he took to the podium to receive his cowbell medal and a cheque for the fastest lap. Dutch champion Lars van der Haar finished second and American champion Jeremy Powers third.
"It has become an expensive drink," Nys is reported to have said afterwards!
He was a fair winner. Nys was strong tonight - runner-up Lars Van der Haar
"I saw Sven going in (the pits) after the first lap," Van der Haar said immediately after the race finish, "we'll see what happens, but he was a fair winner. He was strong."
Powers told reporters, "Sven got a gap at the barriers, I'm going to go home and work on my barriers! I felt good and tried to stir it up with two laps to go."
The eighth Cross Vegas race started, in the early hours of the European morning, as if it was going to play out exactly like a Hollywood script. Van der Haar, who won in Vegas in 2011, took the early lead with Nys content in sixth or seventh place. American-based Belgian Ben Berden then took a turn followed ominously by the three Telenet-Fidea riders: Thijs van Amerongen (that's "Tyce van Ammer wrong 'un" should you wish to pronounce it better than the US commentators); Quinten Hermans; and Daan Soete.
Powers was off the back of the lead group in 15th or 16th place around the first full lap as Swiss rider Simon Zahner was the next to show at the front. Nys and Van der Haar meanwhile took the opportunity of a lull in the fast opening pace to move closer to the head of affairs. Twelve months ago Nys played a waiting game before winning his first Vegas title so everyone was speculating on his tactics for the evening.
The controversial pitting
Nys' first actual 'tactic' was the controversial pitting which, it is understood, was earlier than the rules allow and it is also understood that one team made "persistent" objections about it to officials. Rumours circulated and the commentators made reference to a possible disqualification, yet the Belgian was allowed to race on, most likely oblivious to the controversy.
Dutchman Van Amerongen was the next on the front as Powers still yo-yoed on and off the lead group not helped by him riding a set of steps and being slower than the get-off-and-run method employed by most others. Jonathan Page now also showed, sitting in fourth wheel behind Berden, Van Amerongen and Nys with seven laps remaining on the lap board.
Nys was eager to test though and twenty minutes into the race pushed the pace for the first time which immediately reduced the big lead group to just five riders with Van der Haar the first chasing rider. Van Amerongen and Page were the keenest to follow Sven's wheel. Towards the end of the lap the race regrouped and a slip by a Telenet-Fidea rider on a greasy corner (Vegas had suffered a few days of unseasonal rain) caused a little chaos and allowed Van Amerongen to launch a attack.
As the race reached halfway, Van Amerongen lead was growing and Nys' loyal team mate Sven Vanthourenhout was put to domestique duties alongside young American Allen Krughoff. The gap reached 15 seconds and the alarm bells started ringing before Van der Haar jumped, followed closely by Nys.
Rare step-though dismount
With five laps to go Nys led the chasers through and Van Amerongen's lead had been halved despite the Dutchman employing the now rare step-through dismount (anyone else spot that?). As it regrouped at the front there was, for a short interlude, an all-European top five of: Van Amerongen; Nys; Van der Haar; Vanthourenhout; and Hermans. Jeremy Powers was still looking under par before slowly working his way back to the lead group which was 12-strong with four laps to go. Page, Zahner and Vanthourenhout chased as rumours of a possible Nys disqualification circulated.
Dutch champion Van der Haar led for the first time with 15 minutes of racing left, but Nys' warning signal to everyone was his bunny-hopping of the TRP barriers as all others around him dismounted. Powers was next to hit the front with just a lap and a half remaining, but his momentum was curbed when he was clipped by a rider running behind him as he tried to ride another set of shallow steps.
Nys chose this moment to test everyone again and the three national champions – Nys, Van der Haar and Powers – became stretched out at the head of the race. The real show stealing scene, however, was played out over the bell lap as Van der Haar attacked followed by Nys, Vanthourenhout, Powers and Van Amerongen.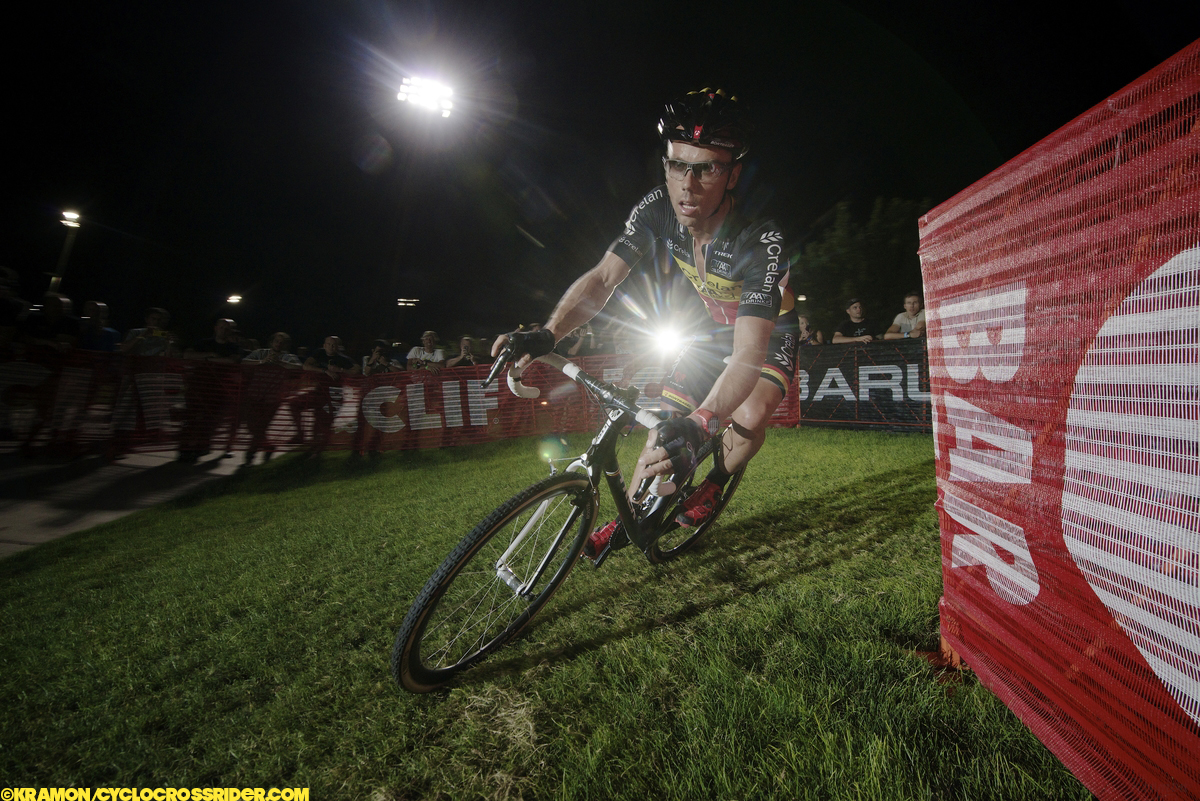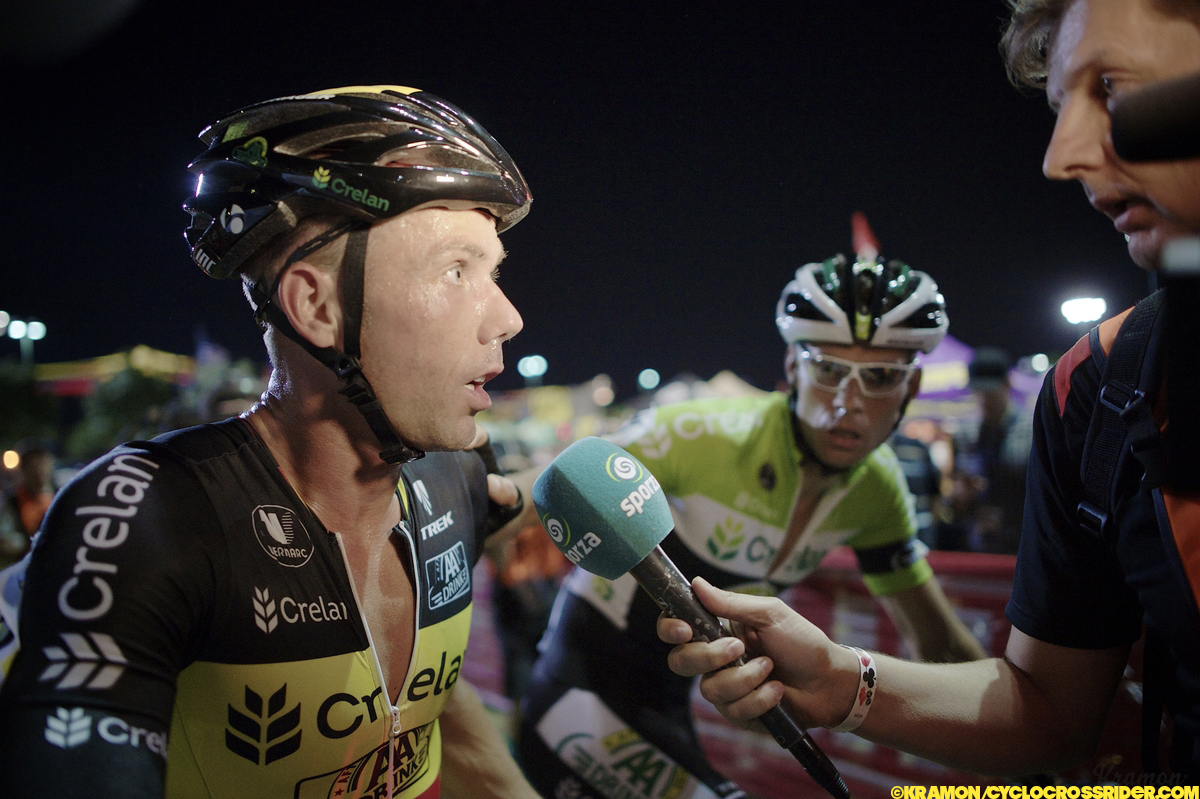 Sven Nys is told by Sporza's Renaat Schotte about his likely disqualification and reacts with disbelief.
The winning move
Nys' mastery of the TRP barriers was the winning move, a gap opened up and, as Van Amerongen crashed out on a corner, it swelled to five seconds advantage. Powers persisted in riding the next set of steps and lost a place in the process. Nys powered up to the high point of the Vegas course as big gaps started to appear before he was able to glance back and ease off for the (still uncertain) victory celebration. This allowed Van der Haar to close to within a few seconds with Powers around 10 seconds down on the 'winner'.
Thankfully common sense prevailed and Nys' 'mistake' was punished by a UCI fine and not by a disqualification.
Postscript
Temperatures were above 20°C so Nys was allowed to pit for feeding. His argument, and the common sense argument, would be that he had passed the finish line twice before pitting. There was an opening loop (part lap) followed by the first full lap before Nys pitted. UCI rules are as follows and were amended as recently as June, 2014...
*"Equipment changes 5.1.038 A rider may only take the pit lane to change his bicycle, wheel(s) or for other mechanical assistance. In the event of warm weather conditions (above 20°C) the commissaires' panel may decide to allow feeding in the pit lane. Under those conditions, feeding is not allowed during the first 2 and the last 2 laps. (text modified on 1.09.04; 1.07.10; 16.06.14)." [source: http://uci.ch/mm/Document/News/Rulesandregulation/...
BRIEF RESULTS:
Men: 1 Sven Nys (BEL); 2 Lars van der Haar (NED); 3 Jeremy Powers (USA); 4 Quinten Hermans (BEL); 5 Sven Vanthourenhout (BEL); 6 Daan Soete (BEL); 7 Allen Krughoff (USA); 8 Shawn Milne (USA); 9 Ben Berden (BEL); 10 Cameron Dodge (USA). Women: 1 Meredith Miller (USA); 2 Katerina Nash (CZE); 3 Katie Compton (USA); 4 Catharine Pendrel (CAN); 5 Georgia Gould (USA); 6 Rachel Lloyd (USA); 7 Caroline Mani (FRA); 8 Amanda Nauman (USA); 9 Erica Zaveta (USA); 10 Cassandra Maximenko (USA).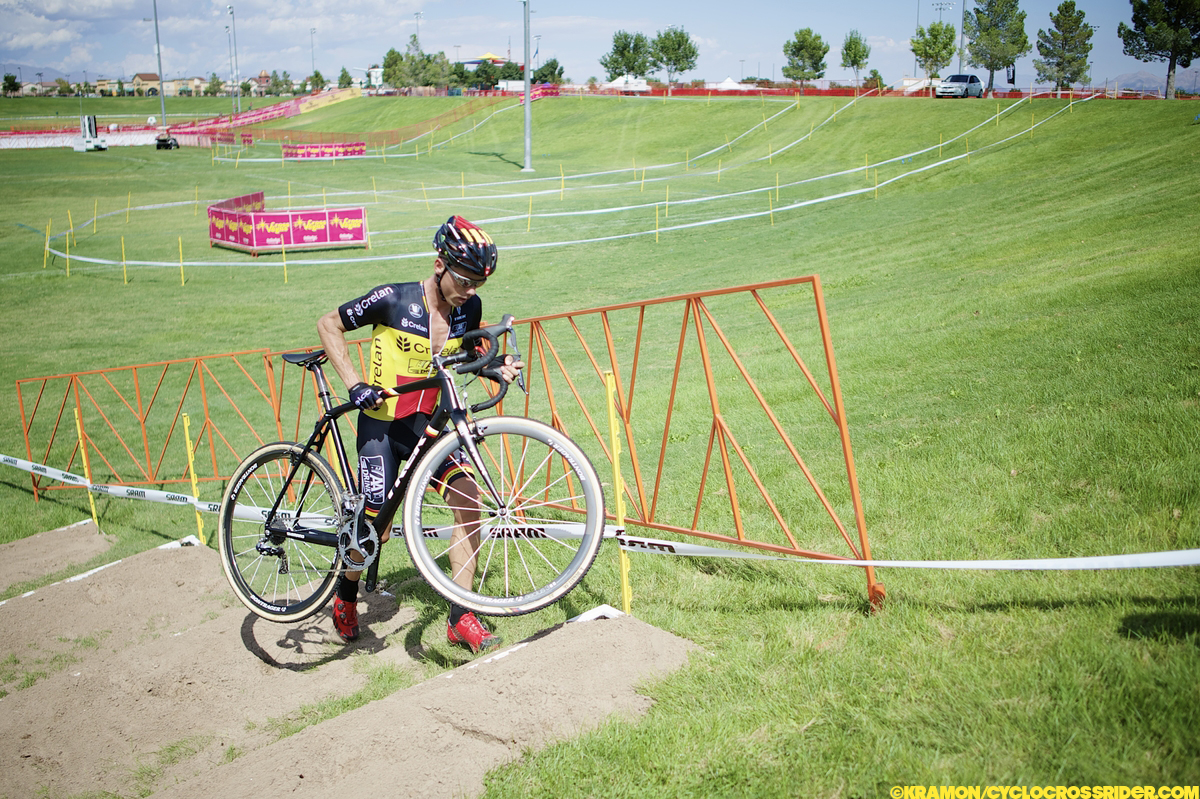 Konrad Manning is the editor of Cyclocrossrider.com